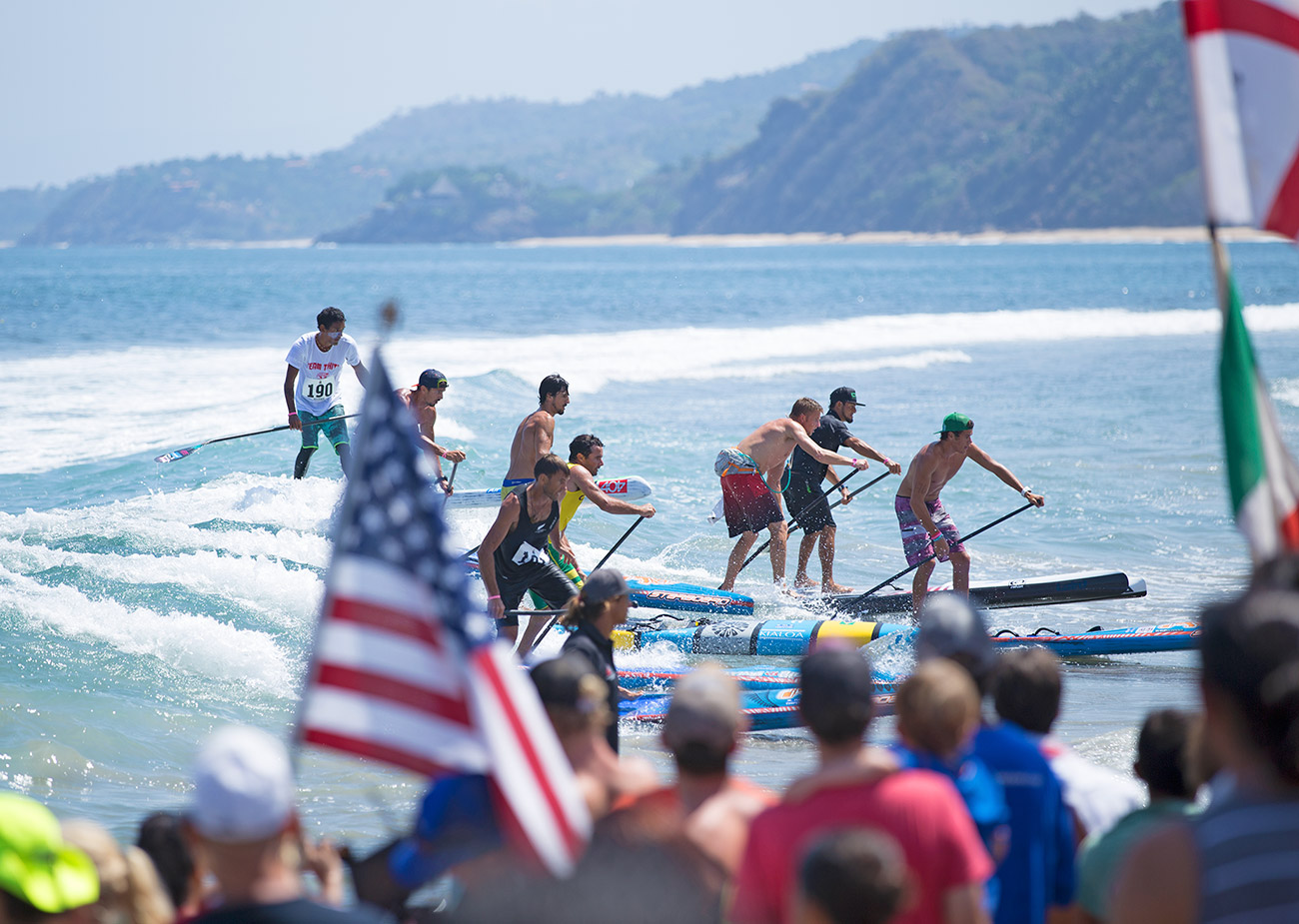 November 3, 2015
by Christopher Parker (@wheresbossman)
Where Will the 2016 ISA Worlds Be Held? Meet the 4x Potential Host Nations
[notdevice] [/notdevice]
With the international SUP racing season all but over for another year, attention now starts turning to 2016. And one of the biggest events on the 2016 calendar will surely be the ISA World SUP and Paddleboard Championship.
Next year will mark the 5th annual edition of the ISA Worlds, and after a shaky start back in 2012 the event has quickly grown to become a fundamental pillar of the sport.
The 2015 Worlds in Sayulita, Mexico was a fantastic event, with an amazing atmosphere and incredible spirit flowing between the teams, while there was also a noticeable increase in both the level of competition and the quality of the venue. I predict 2016 will be even better.
But with the ISA Worlds traditionally in the first half of the year, many paddlers are starting to wonder (and some are openly questioning) where the 2016 ISA Worlds are going to be held.
If the 2016 event follows Mexico's lead (and that of Nicaragua in 2014) and goes for a May time-slot, that would leave just six months between now and the event. The Worlds in Peru (2012 and 2013) were held even earlier in the year.
Unless the ISA breaks with tradition and runs the event in the second-half of 2016, we're going to need an answer pretty soon. So after receiving my 37th Facebook message along the lines of "Hey mate, you know where the Worlds are gonna be next year?!" I decided to press the International Surfing Association for said answer.
Unfortunately they confirmed what we all kinda suspected: The 2016 host nation has not been locked in yet.
But the ISA did share which four nations they're negotiating with to host the 2016 Worlds. And because they want to keep the stand up paddling community up to date with what they're doing behind the scenes on behalf of the sport, they were happy for me to share the news.
The 2016 ISA World Stand Up Paddle and Paddleboard Championship will be held in one of these four countries:

• Fiji
• Mexico
• Argentina
• China

Yep, we're pretty spoilt for choice right there. Any one of those four would make for an absolutely amazing event.
I also heard about a couple of European nations being in the mix a few months ago, but it seems the idea of hosting the Worlds in Europe (which I think is the best possible place for it) will have to wait at least another year.
Important side note: The dates for the 2016 Worlds won't even be considered until a host nation is 100% confirmed. Obviously different nations have very different weather and surf patterns, so there's no point choosing dates until we know exactly where it's going to be.
While Mexico has proven itself as a strong location as far as the athletes are concerned, the other three nations are somewhat unknown in the world of stand up paddling. So which of the four are best suited? They all have their pros and cons, but I'm pretty sure any of these countries would pull off a stellar event.

FIJI
There have been rumours about Fiji hosting the 2016 ISA Worlds for months, going right back to the 2015 Worlds in Sayulita when the ISA publicly mentioned the "South Pacific" was a likely host in 2016.
Fiji would no doubt be an incredible location, but it would also open up a nightmare of logistical and planning issues. While the idea of a major SUP event on an island such as Namotu sounds nice in theory, I'm not sure where we'd all stay… or how we'd get our boards there in the first place… But hey, if the ISA can pull it off, I'm more than happy to hop on a plane to Nadi.
The country has endless, pristine waters for hosting a variety of racing events, while it obviously has plenty of world class waves for the SUP surfing contest (though the waves might be too good; I can't imagine the ISA taking their SUP surfing event to Cloudbreak or any similarly-heavy reef break).
Fiji seemed like a long-shot when I first heard it, but I'm quietly hoping the ISA finds a way to make it happen and that we all get to visit this little slice of paradise next year.
It seems like Fiji was the ISA's clear first choice for the 2016 Worlds, but either a lack of local funding or a lack of logistical solutions have made it less attractive in recent months. If they were talking about it back in May and it still hasn't been locked in, it's probably not going to happen. But how awesome would it be if it did…
Fiji has never sent a team to the ISA Worlds, though the country's local surfing community is now well established thanks to one of the most famous surf breaks on the planet (Cloudbreak) attracting the world's best surfers to region for the past few decades.
MEXICO
This seems an unlikely choice, seeing it hosted the 2015 event, but apparently Mexico really is a chance to host back-to-back ISA Worlds.
The awesome little town of Sayulita was the home of the 2015 ISA Worlds back in May, an event that was roundly praised by the athletes. The ISA has stated that it wants to go to a new location each year, however if there's no suitable candidate on offer, returning to last year's venue is the next best option (we saw this when Peru hosted both the first and second editions of the Worlds in 2012/2013).
If Mexico is awarded the 2016 ISA World SUP and Paddleboard Championship, you'd assume Sayulita is the safe bet. That's something I don't think any of the paddlers would complain about (Sayulita is pretty awesome). Though Sayulita wasn't actually Mexico's first choice for the 2015 Worlds, with local organisers originally scouting locations in the south of the country, so perhaps Sayulita isn't such a lock after all.
Mexico also has the most well established SUP culture of the four candidates. And while the ISA would prefer a fresh host nation, the ease of going back to familiar territory is another definite plus at this relatively late stage.
ARGENTINA
Argentina has a small but growing stand up paddling scene, but it does have a well established surfing community. ISA President Fernando Aguerre was heavily involved in establishing that surfing community back in the 1970s (under the thumb of a military dictatorship that tried to ban the sport), and would surely love to help grow stand up paddling in his home nation as well.
As an added bonus, Aguerre probably has some excellent event organising/fund-raising connections in Argentina, which is critical to pulling off a major event like this (the Worlds aren't cheap to run).
The country has some world class surf breaks and one of the longest coastlines on the planet, so there would be no shortage of great locations. However if Argentina (or Mexico) is chosen as host, the ISA will probably receive some minor backlash from the community in the form of "Why is it always in Latin America?".
Argentina usually sends a team to the ISA Worlds, though they're one of the minnows.

CHINA
Doesn't seem like the most logical place for a SUP world championship, but China isn't such a crazy suggestion. The nation has invested big dollars into attracting a variety of sporting events in recent years, and the ISA already holds an annual event there (the China Cup, which runs alongside a four-star WQS pro surfing event).
If China does become host of the 2016 Worlds, I'd bet on the location of the China Cup, Wanning Riyue Bay, as the host venue. At a stretch, the SUP and Paddleboard World Championships could even be tacked on to the end of the China Cup. Just throwing it out there…
China has never sent a team to the ISA Worlds, and from what I hear there is only a very small SUP community scattered throughout the country. Though knowing how serious China takes its sporting teams, I'm sure they could get a pretty solid squad together in time for the event.
So there you go. We're heading to Fiji, Mexico, China or Argentina. Your guess is as good as mine…
I'm not sure which one I'd prefer really. Kinda spoilt for choice with these four.
I've got a few stamps in my passport but I've never been to Fiji, China or Argentina, so I'd be pretty happy if one of those three gets the nod. All three could offer a great location and excellent conditions for the event, though logistics may be an issue.
Then we've got Mexico. I didn't think there was a chance the ISA would return to Sayulita next year but it seems to have become a realistic option in the past month. I absolutely loved the time I spent in Sayulita this year, and every athlete I spoke with felt the same way, so I don't think any of us would be complaining about "Mexico 2016" (even if it does mean a bit of a groundhog day feeling).
But no matter which country is chosen, I just hope we find out soon.
Many nations have already held their trials and selected their teams, and several more will be decided in the next few weeks. All those teams will want to start planning their logistics sooner rather than later, and there's also the small matter of how the ISA Worlds fits in with the rest of the events that form the international racing season. Plus I know that many of the elite athletes are already setting their schedules for the 2016 season, so they need to know asap.
The ISA is well aware it needs to find a host nation as quickly as possible, and from what I've seen it's doing everything it can to get a venue locked in.
There's no set date for the announcement, but I'm sure that as soon as the ISA knows, we'll know. The Association has done a great job of keeping the community informed of its work in the past year or two, so they'll definitely let us know as when there are new developments.
In the meantime, feel free to speculate on the pros and cons of each of these four countries…\

Correction: An earlier version of this article misstated that Argentina had hosted the 2011 and 2014 ISA World Surfing Games. Argentina has not hosted any recent ISA events.