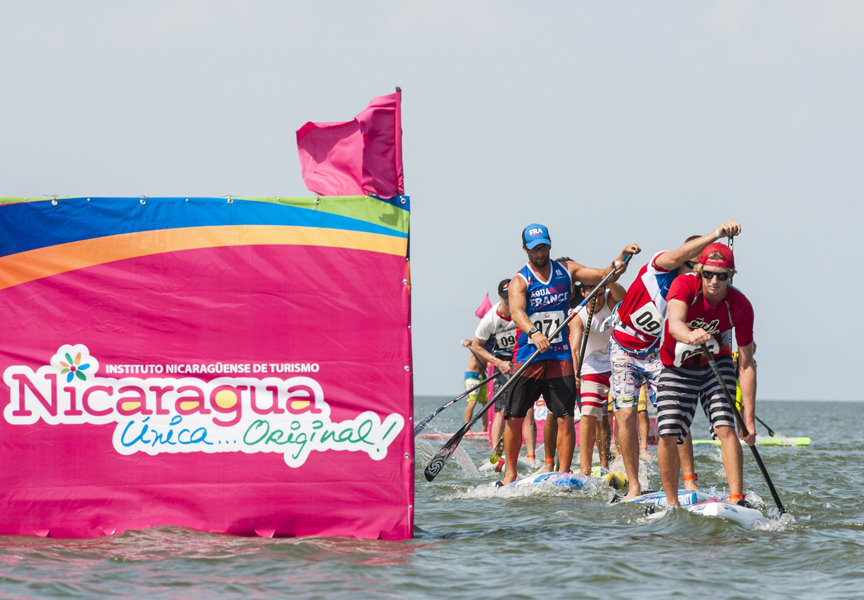 May 8, 2014
by Christopher Parker (@wheresbossman)
ISA Worlds: Recap From The Opening Day Of Racing (Not What We Expected…)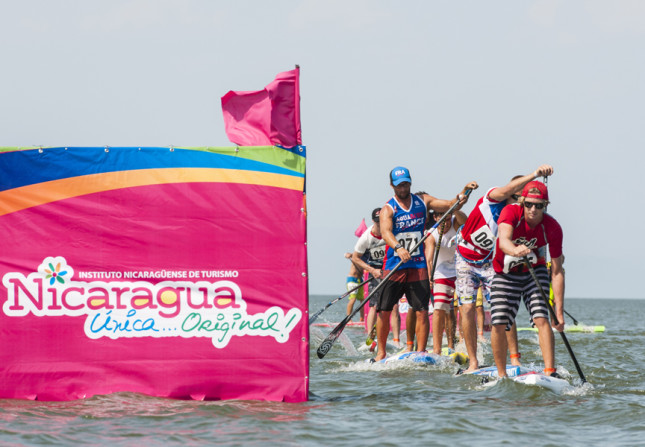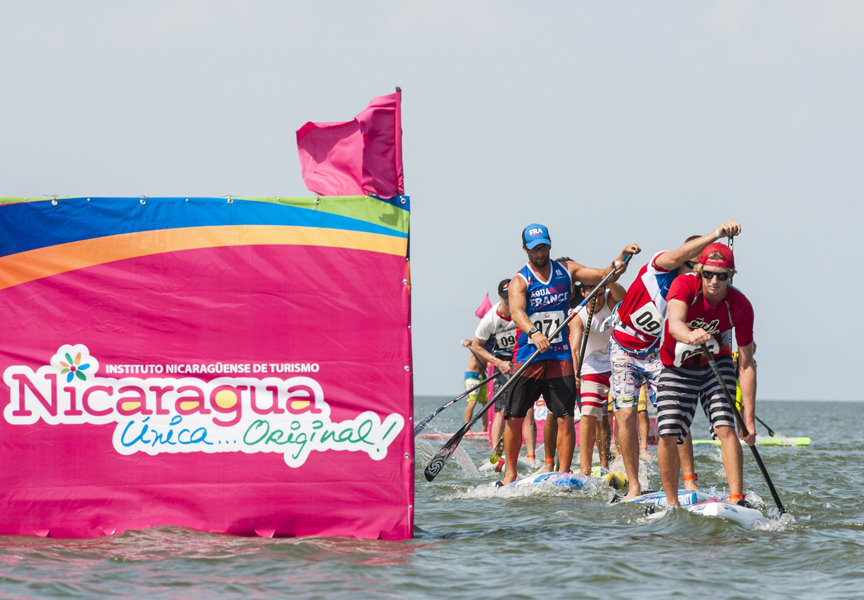 Day five of the 2014 ISA World SUP and Paddleboard Championship was meant to be a slow day. The qualifying heats for the SUP course race, prone course race and team relays were on the schedule, with the favourites expected to cruise around the course and do just enough to qualify while saving their energy for the big final on Sunday. But somebody forgot to tell that to the favourites…
Despite the generous cut-off point meaning all the big names were always going to safely qualify for the final, both of the men's SUP course race qualifying heats were contested at a very solid pace. That was particularly the case in heat #1, which was absolutely stacked with talent and which saw some interesting tactics as the paddlers tested each other out. It looked like there were a few mind games going on out there, with a bit of pride and ego forcing the competitors to throw out their "play it safe and conserve" strategy and go for broke on the final lap.
It wasn't what we expected to see but certainly made for an entertaining day at the Lake.
I talked to a few of the guys after the heats and they all said the same thing: The plan was to take it easy, however as soon as one guy started sprinting they all started sprinting. None of these competitors like to lose, even in a relatively risk-free qualifying heat.
The highlight was seeing Mexico's Fernando Stalla try and steal the win in the first heat. Fernando had a shocker of a start and was sitting in 7th place on the final lap, before he launched a surprise raid to try and capture the lead (perhaps he wanted to land the winner's beach interview with Jodie Nelson…). The daring move almost paid off but Casper Steinfath stepped it up a notch and slammed the door shut in the final 50 metres.
The other stand outs today were…
– Shakira Westdorp (Australia), who showed she's definitely not just a surfer on her way to second place behind the highly-fancied Lina Augaitis of Canada. Shakira looked to be doing it easy today and is suddenly a real threat to win.
– Shae Foudy from the USA was a bit of an unknown quantity coming into this event. At just 15 years of age she hasn't had much of a chance to make a name for herself, but Shae put in a great performance today to safely qualify for Sunday's final and also show that Team USA has a good all-round team for the telay final.
– Some of the guys who showed that they're a medal chance, despite not having the big name status of some of their rivals, were Javier Jimenez (Mexico), the South African duo of Ethan Koopmans and Dylan Frick, as well as Chuck Glynn from the USA. I had Chuck as a medal chance in the distance but didn't rate his podium potential in the course race – again, my predictions are looking pretty shaky after today…
– On the other hand, those who do have the big name status showed they're the favourites for a reason. Casper Steinfath seemed to have an extra gear compared to his rivals in heat #1, while Slater Trout was very strong in heat #2.
– Team Spain. What the…? I had these guys down as #7 overall in my predictions, but the Spaniards impressed everyone today and are suddenly a dark horse threat for the team podium (top four overall). Spain was particularly strong in the prone races where they held pace with the powerhouse nations of USA and Australia.
– Speaking of those two nations, the Aussies and Americans showed their true class, dominating the prone races and setting the pace in the SUP events before easily winning their respective Team Relay heats.
My predictions are officially out the window.
The competitors who made it through today's qualifying heats will have 72 hours to rest before Sunday's course race final. They'll need it. It's drainingly hot out there on the lake. However those competitors who are doubling up in the distance race won't have time to rest, coz they'll be racing again tomorrow (women's distance race) or Saturday (men's distance race) ahead of Sunday's course race and team relay finals. Gonna be a fun few days. Get the full ISA World Champs racing schedule for more details.
Anyway I hope you enjoyed the live webcast from today, we'll return at 8:40am tomorrow morning (local Nicaragua time) for the women's SUP and prone distance race. I'm guessing that's gonna be a grueling affair as the ladies travel along the 18km course. It's seriously hot out there on Lake Nicaragua…
Below are the full results from today's qualifiers. The top 12 men and top 6 women from each heat went through to Sunday's finals, as did the top four teams in the relay. There was drama late in the day as Team France was apparently disqualified from the relay despite qualifying. We'll have more on that later when the official results drop, but considering the team relay counts for triple points, if France really are out of that event then it's going to seriously mix up the overall team rankings order. *Why* did I make those those predictions…
Scroll down past the pics for today's full results…
(all photos copyright International Surfing Association)
---
MEN'S SUP COURSE RACE – HEAT #1
1st: Casper Steinfath (Denmark)
2nd: Fernando Stalla (Mexico)
3rd: Vinicius Martins (Brazil)
4th: Chuck Glynn (USA)
5th: Toby Cracknell (Australia)
6th: Titouan Puyo (France)
7th: Dylan Frick (South Africa)
8th: Belar Diaz (Spain0
9th: Itzel Delgado (Peru)
10th: Moritz Mauch (Germany)
11th: Aaron Rowe (UK)
12th: Cameron McKay (Canada)
13th: …
14th: Rolando Herrera (Costa Rica)
15th: Francisco Hernandez (Venezuela)
16th: Rex Calderon (Nicaragua)
17th: Pedro Vergara (Guatemala)
18th: …
19th: …
MEN'S SUP COURSE RACE – HEAT #2
1st: Slater Trout (USA)
2nd: Lincoln Dews (Australia)
3rd: Javier Jimenez (Mexico)
4th: Ethan Koopmans (South Africa)
5th: Eric Terrien (France)
6th: Ollie Shilston (UK)
7th: Josep Oltra (Spain)
8th: Frederico Benettolo (Italy)
9th: Gabriel Vilarinho (Brazil)
10th: Tamil Martino (Peru)
11th: Eddy Vanega (Nicaragua)
12th: Oliver Hartkopp (Denmark)
13th: Andris Bisnieks (Latvia)
14th: Carsten Kurmis (Germany)
15th: Bruce Climo (New Zealand)
16th: Carlos Martin (Venezuela)
17th: Camilo Marmol (Colombia)
18th: Erick Zamora (Costa Rica)
19th: Ricardo Chiari (Panama)
WOMEN'S SUP COURSE RACE – HEAT #1
1st: Lina Augaitis (Canada)
2nd: Shakira Westdorp (Australia)
3rd: Jenny Kalmbach (Costa Rica)
4th: Barbara Brasil (Brazil)
5th: Shae Foudy (USA)
6th: Marie Buchanan (UK)
7th: Giannisa Vecco (Peru)
8th: Julia Viktorova (Latvia)
9th: Jolieanne Marxen (Panama) DQ'd
WOMEN'S SUP COURSE RACE – HEAT #2
1st: Laura Quetglas (Spain)
2nd: Celine Guesdon (France)
3rd: Edimar Luque (Venezuela)
4th: Brigette van Aswegen (South Africa)
5th: Karen Jacobson (Mexico)
6th: Nicoline Rassmussen (Denmark)
7th: Andrea Aldana (Guatemala)
8th: Ana Urroz (Nicaragua)
TEAM RELAY – HEAT #1
1st: Australia
2nd: Spain
3rd: Brazil
4th: Peru
5th: UK
6th: Nicaragua
7th: Guatemala
TEAM RELAY – HEAT #2
1st: USA
2nd: South Africa
3rd: France DQ'd (full story coming)
4th: Mexico
5th: Venezuela
6th: New Zealand

NEXT READ THIS:
ISA Worlds Day 6 Recap