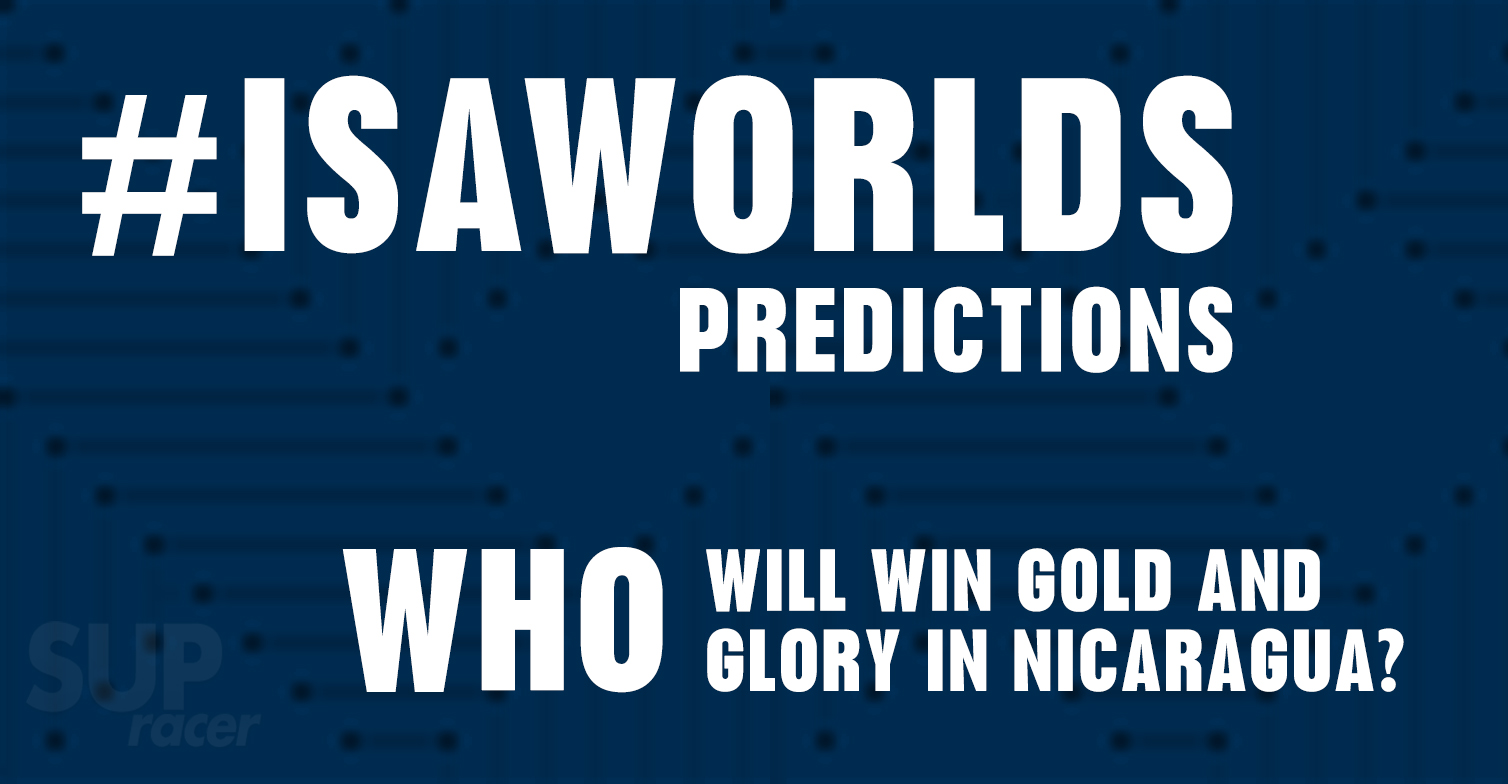 May 4, 2014
by Christopher Parker (@wheresbossman)
#ISAWORLDS PREDICTIONS: Who Will Win Gold And Glory In Nicaragua?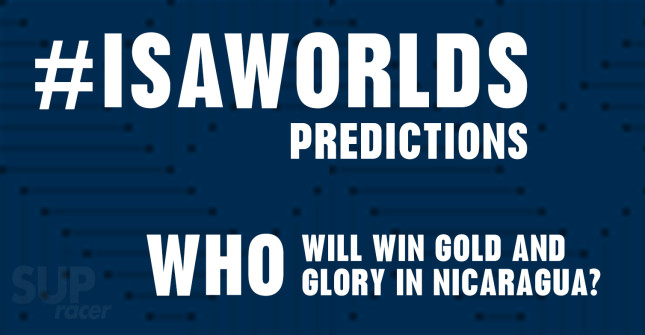 After a very colourful start, the 2014 ISA World StandUp Paddle and Paddleboard Championship is off and running. We've got over 200 athletes from 27 nations assembled here in Nicaragua in a true celebration of the sport. It really is a special event that brings together paddlers from all corners of the globe…
But enough with the formalities: Who's gonna win?!
Which paddlers will claim the gold, silver, bronze and copper medals (yes, the ISA goes four-deep with their medals) that are up for grabs this week? Which nation will take home the prestigious Team Trophy? It's time to have some fun and predict who's going to win the 2014 ISA Worlds…
While there are plenty of big names missing from this event, there are still plenty of elite, international paddlers doing their country proud here in Nicaragua. It's definitely the deepest field of talent we've seen in the three short years of this event, so picking the winner is going to be tough.
However after coming off a respectable performance at the Carolina Cup (I picked the first four women in perfect order and got four of the top five men correct), I'm putting my reputation on the line again… It's time for:
Boss Man's Bold Predictions: ISA Worlds Edition
—————————————
TEAM TROPHY
—————————————
1st: Australia
2nd: France
3rd: USA
4th: South Africa
5th: Brazil
6th: Mexico
7th: Spain
8th: Peru
9th: Canada
10th: Great Britain
While there are plenty of individual medals up for grabs at the ISA Worlds, the overall team standings are what really matters. This event is first and foremost a country-based affair, not an individual pursuit, so while winning gold for yourself must be pretty awesome, the main objective is making sure your team sits as high as possible on the leaderboard.
The overall team standings at the ISA are a peculiar thing. The leaderboard is not based on medal count, like in the Olympics, but rather on combined team points. That team points system involves an intricate ranking system where results from every individual event are tallied up to produce an overall team score. It's quite the mathematical formula to follow, but the basic thing to know is this: If you have a full team, including men's and women's prone paddlers, then you've got a way bigger chance of finishing high up the list.
In fact it's almost impossible to crack the team podium (1st-4th) unless you have a complete squad. Last year we saw Casper Steinfath win a gold and silver for Denmark, which technically would have put the country third on an Olympics-style leaderboard. However as the Danes only had two other competitors in 2013 they finished well down the order.
The rankings have been tweaked a bit this year so that only your highest placed finisher in each event counts. ie. If you have two guys in the SUP course race and one finishes 1st, the other finishes 15th, only the 1st placed points will count towards your overall score. That's a big help to those teams who don't have the depth, while at the same time it brings the powerhouse nations such as Australia back closer to the field.
For that and a few other reasons, Australia is suddenly quite vulnerable this year…
In the first two editions of the ISA Worlds in Peru, Australia finished a country mile ahead of the competition, sweeping three quarters of the individual gold medals and easily walking away with that big Team Trophy on the final afternoon. But not this year.
This year the rest of the competition have beefed up their squads, the rankings formula has changed to make it more even, while the Aussies are missing a few of their international superstars. If there was ever a time for a new champion paddleboarding nation to emerge, it's right here and now in Nicaragua.
A week ago I was actually convinced that France would win this event. They've got depth in every division (except perhaps the prone racing) and have a stronger SUP racing squad than the Aussies. Likewise Team USA is looking very healthy and, if a couple of results go their way, have a very realistic shot at the overall Team Trophy. For a while they were my pick to win, but even though I've bumped them down a couple spots in my final predictions, they're still a lock for the top three.
So while France and the USA are very strong, after looking over the final teams and the form guide I just can't go past the two-time defending champions. Australia doesn't have their absolute strongest lineup, but the Aussies simply have too much all-round depth to lose. It'll be close, but I think they'll make it a three-peat.
It's all going to come down to the men's SUP surfing and SUP racing. The other events are predictable to some degree, but the surfing and SUP racing events on the men's side are wide open. By Tuesday afternoon, when the SUP surfing event wraps up, we'll have a better idea of what's going on. If any of the leading four or five nations bomb out heavily in the surfing, it'll put a huge amount of pressure on their racers to close the gap on the leaderboard.
It will also be very interesting to see how the teams work together when they have two competitors in the one race. Can Slater Trout and Chuck Glynn come up with a system where one does all the work to secure the gold for the other? With Jim Terrell as their race coach you'd expect them to have a solid game plan.
We could actually be in for some exciting, pro cycling-style racing, where a designated team leader is protected by his "domestiques" to save him for the final part of the race. France, USA, Australia, Mexico and South Africa all have very strong duos in the men's racing (this strategy only works in the men's racing, where each  nation can have two competitors – on the women's side every nation is competing solo).
>>> Who's competing? Check out the full team lineups on the official site
————————————————
SUP RACING – Men's Distance
————————————————
1st: Eric Terrien (France)
2nd: Titouan Puyo (France)
3rd: Casper Steinfath (Denmark)
4th: Chuck Glynn (USA)
This one is very, very hard to pick. For the first time ever we've got over a dozen genuine podium chances in an ISA race.
I think the distance race will be an interesting tactical battle. The course is set at 20km around the edge of Lake Nicaragua, passing through the famous Islets of Granada. Although there will be a lot of weaving around these small islands, the course should still be straight enough that drafting becomes the major strategy. That is unless the notorious Lake Nicaragua breeze – which can get up to 30 knots each afternoon – kicks in during the race. That would break up the train and play into the hands of the stronger long distance guys, while penalising those who would otherwise be hoping to hang onto the train and try their luck in the sprint to the line.
There are 13 or 14 guys who could realistically podium in the race, but look for the French workhorse Eric Terrien to set a high pace that will fade most of the field by the second half. Like a Tour de France climber dropping his rivals one by one up the Alpes d'Huez, Eric has the strength and speed that few other stand up paddlers in the world can match.
Eric's team mate Titouan Puyo (aka Ti2) will be one of the only guys strong enough to hold on, along with the likes of Casper Steinfath (Denmark) and Chuck Glynn (USA). Casper has an extremely quick sprinting pace, even at the end of a race, so if he's still on Eric tail within the final kilometre then he'll be a solid threat. However I think this race belongs to the French who, if they can play it smart and work together, have a realistic chance of going 1-2 (and become the only nation to ever do so apart from the Aussie dream team of Jamie Mitchell/Travis Grant in 2012).
Other top contenders include the young Aussie duo of Lincoln Dews and Toby Cracknell, who should go very close but are probably better suited to the course race. USA's Slater Trout is another who's quicker around the buoys but could potentially sneak onto the podium in this one as well. Brazil has a strong chance in Vinicius Martins, Spain's Belar Diaz has had some big results in California this year, while Team GB's Ollie Shilston won't be far behind the lead pack. Ollie's young team mate, Aaron Rowe, might surprise a few of the bigger names as well.
The Mexican duo of Fernando Stalla and Javier Jimenez have an extremely good chance of spoiling my predictions. Javier (aka "Bicho") finished third overall in the recent Rincon Beach Boy event. He was paddling a 12'6. The rest of the field were on 14 footers. Jimenez is my official dark horse pick for the 2014 ISA Worlds. If he and Fernando can work together they could easily walk away with a medal for Mexico in either the distance or course races.
I see Mexico as being on the same level as Team South Africa, who have a strong pairing in ISA first timer Ethan Koopmans plus last year's course race bronze medalist Dylan Frick. These two young guns are lightning fast in the downwind bumps at home in Cape Town, however the flat water of Lake Nicaragua will test them. But again, if that infamous Lake breeze kicks in, these guys might be able to find the glides to pull away from some of their more fancied rivals.
I'm also assuming that one or two of the Latin American nations, with whom I'm not so familiar, will throw up some dark horses. I don't see them getting on the podium, however the likes of Tamil Martino from Peru will probably beat a couple of the established international names. The Kiwis (New Zealand…) are a super strong paddling nation in general but I've yet to see their team members in action, so perhaps keep an eye on them as well.
In short: This is a quality field and the deepest lineup of talent we've ever seen at an ISA Worlds race, so expect a very hard fought battle. It's extremely difficult to predict but I think France has the edge.
The location will play a part, particularly the finishing stretch. The "beach" on the edge of Lake Nicaragua has some very shallow water right where the finish line will be, so we could see as much as 50-100 metres of running through the shallows to the line. If anyone remembers that infamous finish between Jamie Mitchell and Chase Kosterlitz at Lake Tahoe a couple of years back: It's 10x worse here on Lake Nicaragua. This will favour the long-legged sprinter runners such as Slater Trout and Lincoln Dews.
Oh and it's going to be around 37 degrees (100′ F) on Saturday, so hopefully the organisers can get this race started early, otherwise expect a few DNFs due to heat exhaustion. Hope the boys brought their camelbaks…
————————————————
SUP RACING – Women's Distance
————————————————
1st: Lina Augaitis (Canada)
2nd: Marie Buchanan (Great Britain)
3rd: Celine Guesdon (France)
4th: Shakira Westdorp (Australia)
I can't see anyone getting past Lina Augaitis over this distance, especially considering it's all flat (the kind of conditions Lina excels in). The Canadian is simply too fast and too powerful – I wouldn't be surprised to see her win by a minute.
But while I think the gold is locked, the other medals are wide open….
Jenny Kalmbach is only doing the course race this week, leaving the distance door open for the likes of Great Britain, Australia, France, Brazil, South Africa and Spain.
South Africa's Brigette van Aswegen is very strong but prefers downwinders. Spain's Laura Quetglas and Brazil's Barbara Brasil each have the strength and experience but perhaps not the finishing speed to get on the podium.
Australia's Shakira Westdorp is focusing on the SUP surfing event but will back it up in the racing as well. Despite being a surfer by trade these days, Shak was one of the original women's SUP racers (winning the 2009 BOP California) and should have the experience and class to get onto the podium.
I think it'll be a close battle for 2nd between Celine Guesdon of France and Marie Buchanan of the UK, however over the distance I think the very under rated Brit will have a slight edge.
———————————————–
SUP RACING – Men's Technical Course
———————————————–
1st: Casper Steinfath (Denmark)
2nd: Slater Trout (USA)
3rd: Eric Terrien (France)
4th: Lincoln Dews (Australia)
If the men's distance race was hard to pick, the men's technical course race is a downright lottery.
This will be the most intensely fought division of the entire competition, with at least 13 or 14 guys who could fill the four medal positions and no clear favourites. While the distance race will favour the stronger, workhorse-style paddlers, the course race will be won by the athletes who can whip themselves around the two dozen buoy turns without losing much speed. It's these buoy turns that will break up the draft trains, meaning that the winning margin in this shorter course race could actually be longer than the final gap in the 20km distance event.
While there are half a dozen guys that have what it takes, I'm calling Denmark's Casper Steinfath to make it back-to-back course race gold. Casper isn't necessarily the #1 paddler for strength, speed or endurance, but he has the all-round ability and an extremely sharp mental game to make the most of any situation.
Slater Trout has been training like an animal for this event and would love nothing more than to see the national flag and anthem played on Sunday. They call him Captain America for a reason. Look for Slater to be right there all the way to the end. If that shallow water sprint run comes into play, it could be decisive in Slater's favour.
Eric Terrien is better in the distance events and doesn't have the quickest buoy turn skills, however he's still got the strength to chase down opponents in the long flat stretches.
Lincoln Dews won the Aussie Titles course race last November but has been focusing on his surf life saving (prone paddling) career since then. I'm not sure where his SUP form is at right now – last week in Carolina he was 9th behind the Team USA duo of Chuck and Slater, but I think he's got enough speed around the buoys to snatch a medal. Depends how much energy he loses in the Distance Race, which will be held just 24 hours prior (in fact that goes for all the guys… will anyone let their team mate go for broke on Saturday and try to save themselves for Sunday? Could make for some interesting team tactical decisions…).
But really that fourth-placed copper medal is anyone's to take. The strongest contenders will be Lincoln's Aussie team mate Toby Cracknell, the Mexican duo of Fernando and Javier, Brazil's Vini Martins, GB's Ollie Shilston, Chuck Glynn from the USA, plus Dylan and Ethan from South Africa.
Ti2 from France is a bit like his compatriot Eric, in that he's better-suited for the distance, however he should excel in this course race considering there are no waves (which is often his downfall) and may even be able to sneak onto the podium if things go his way.
So again, this one's a lottery but I think USA, Australia, France and Denmark will fill the podium.
————————————————
SUP RACING – Women's Technical Course
————————————————
1st: Jenny Kalmbach (Costa Rica)
2nd: Lina Augaitis (Canada)
3rd: Shakira Westdorp (Australia)
4th: Celine Guesdon (France)
Jenny Kalmbach from Costa Rica will be the favourite in this one. She's not doing the distance race, which will save a huge amount of energy (the women's distance race is Friday while the course race finals are on Sunday).
Canada's Line Augaitis probably has slightly more power in the flat stretches, however Jenny is a course racing Queen and should have the edge around the bouys.
Taking third in my mind is Shakira Westdorp from Australia. While Shak doesn't focus on racing much these days, she has that super fast ability around the buoys thanks to her years of paddling experience and SUP surfing pedigree. Fast buoy turns will be key for Shak to both hold onto the tail of the leaders and break the draft of the women who will be trying to stick with her.
I believe Celine Guesdon will be in a battle for the copper with paddlers from Great Britain (Marie Buchanan), Spain (Laura Quetglas), Brazil (Barbara Brasil) and South Africa (Brigette van Aswegen).
The talent doesn't run quite as deep on the women's side of the competition as it does on the men's (due in large part to the fact that teams can send 2x guys but only 1x girl for each race) however I can still see at least at least eight genuine medal chances in this event, so we should be in for an entertaining race.
————————————————
TEAM RELAY
————————————————
1st: Australia
2nd: USA
3rd: South Africa
4th: France
This is the absolute final event on the calendar and, if the leaderboard is as close as I predict, may actually decide which team holds the championship trophy aloft.
While the SUP racing is a toss up this year, the Aussies still have the strength to win the half SUP/half prone team relay based on their prone paddlers alone. Jordan Mercer is virtually unbeatable and should fulfill her captain's duties to help Australia to one last gold medal for the week. Throw in a strong prone guy in Rhys Burrows, the former BOP champ Shakira Westdorp plus either Lincoln or Toby (who are very fast around a course) as the SUP racing guy and you've got a combo that surely can't be matched.
Though behind the Aussies it'll be tight: I think the USA has the edge on the rest of the field… I'm assuming Slater will be their SUP racing guy, while their prone guy and girl should already have medals around their necks. Their SUP racing female, the young Shae Foudy, is the unknown quantity.
Look for the strong all-round nation of South Africa to be on Americans' tail, while France should sneak onto the podium too. Both those teams will be pushed by at least six or seven other nations that will be fielding respectable relay teams this year (look for Brazil and Mexico in particular to push for an upset).
This team relay is a unique event in that it combines both prone and SUP in the one race. National teams field four paddlers with 1x SUP guy, 1x SUP girl, 1x prone guy and 1x prone girl each racing around a short course. Should be a great race and a cool way to finish the week.
————————————————————————-
So there you go. Those are my picks for the 2014 ISA Worlds in Nicaragua.
Can the Aussies make it three in a row? I think so, but only just. It's going to be very, very close in the overall team standings.
What do YOU think though? Throw down a comment below and let us know which nation you're cheering for and who you think will walk away with the medals…