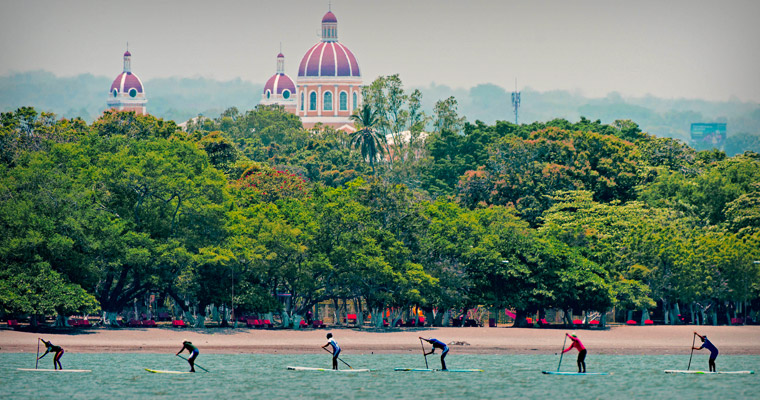 May 7, 2014
by Christopher Parker (@wheresbossman)
ISA World Champs: Racing Starts Tomorrow, Here's The Schedule, Heat Draw, Course Maps + Current Team Standings
After the SUP surfing contest wrapped up yesterday and with the three favourites – Australia, France and the USA – holding almost identical points atop the overall team standings leaderboard, it's time to get down to the business end of the 2014 ISA Worlds. The racing.
Over the next four days we'll see the course race, distance race and team relays in the host city of Granada on Lake Nicaragua. The action starts tomorrow (Thursday) morning at 9am with the course race qualifying heats.
We'll have the whole thing webcast live here on SUPracer.com, so check out the schedule below to see when it's all going down.
Also take a look at our ISA Worlds predictions to see who the contenders are…
---
SCHEDULE
The live webcast will be running here on SUPracer.com during every event.
9am Nicaragua = 8am California, 11am Florida, 3pm UK, 4pm France, midnight Australia EST
Thursday 8th May
8:40am Morning Show
9:00am Paddleboard Technical – Women Heat #1
9:30am Paddleboard Technical – Men Heat #1
10:00am Paddleboard Technical – Women Heat #2
10:30am Paddleboard Technical – Men Heat #2
11:30am SUP Technical – Women Heat #1
12:00pm SUP Technical – Men Heat #1
12:30pm SUP Technical – Women Heat #2
1:00pm SUP Technical – Men Heat #2
2:00pm ISA Relay Heat #1
2:25pm ISA Relay Heat #2
Friday 9th May
9:00am Women's Long Distance Race (SUP and prone)
Saturday 10th May
9:00am Men's Long Distance Race (SUP and prone)
Sunday 11th May
FINAL Paddleboard Technical Race WOMEN
FINAL Paddleboard Technical Race MEN
FINAL SUP Technical Race WOMEN
FINAL SUP Technical Race MEN
FINAL RELAY
Medal Ceremony
Closing Ceremony
---
HEAT DRAW
SUP Technical Course Race – MEN
——- HEAT 1 ——–
(19 start, 12 progress)
Toby Cracknell (Australia)
Dylan Frick (South Africa)
Fernando Stalla (Mexico)
Itzel Delgado (Peru)
Vinicius Martins (Brazil)
Titouan Puyo (France)
Fancisco Hernandez (Venezuela)
Aaron Rowe (UK)
Cameron McKay (Canada)
Belar Diaz (Spain)
Casper Steinfath (Denmark)
Chuck Glynn (USA)
Alan Gunther Vogt (Chile)
Mike Young (Ireland)
Moritz Mauch (Germany)
Rex Calderon (Nicaragua)
Leonardo Toso (Italy)
Pedro Vergara (Guatemala)
Rolando Herrera (Costa Rica)
——- HEAT 2 ——–
(19 start, 12 progress)
Lincoln Dews (Australia)
Ethan Koopmans (South Africa)
Javier Jimenez (Mexico)
Tamil Martino (Peru)
Gabriel Vilarinho (Brazil)
Eric Terrien (France)
Carlos Martin (Venezuela)
Ollie Shilston (UK)
Josep Oltra (Spain)
Oliver Hartkopp (denmark)
Slater Trout (USA)
Bruce Climo (New Zealand)
Carsten Kurmis (Germany)
Ricardo Chiari (Panama)
Eddy Vanega (Nicaragua)
Federico Benettolo (Italy)
Erick Zamora (Costa Rica)
Andris Bisnieks (Latvia)
Camilo Marmol (Colombia)
SUP Technical Course Race – WOMEN
——- HEAT 1 ——–
(9 start, 6 progress)
Shakira Westdorp (Australia)
Giannisa Vecco (Peru)
Barbara Brazil (Brazil)
Marie Buchanan (UK)
Lina Augaitis (Canada)
Shae Foudy (USA)
Jolieanne Marxen (Panama)
Jenny Kalmbach (Costa Rica)
Julia Viktorova (Latvia)
——- HEAT 2 ——–
(8 start, 6 progress)
Brigette van Aswegen (South Africa)
Esperanza (Mexico)
Celine Guesdon (France)
Edimar Luque (Venezuela)
Laura Quetglas (Spain)
Nicoline Rassmussen (Denmark)
Ana Urroz (Nicaragua)
Andrea Aldana (Guatemala)
---
COURSE MAPS
The course for the Technical Course Race and Team Relay are standard "out and around buoys" type race courses. The Course Race will be a water start and a beach finish, which could get interesting as the water is very shallow for a good 50 metres off the shore. The guys and girls with long legs will definitely have an advantage in the final sprint to the line (which will literally be a sprint… expect paddlers to hop off their boards well before the shoreline. Think Lake Tahoe x 10).
The Distance Race course is the really interesting one however. It starts a few kilometres south of the main event site, follows the "Islets of Granada" around the coast and finishes at the main event site. I went out there on a boat today to inspect and can say from first hand viewing that it's a very unique course. Should make for some cool photos, especially when the paddlers go past Monkey Island.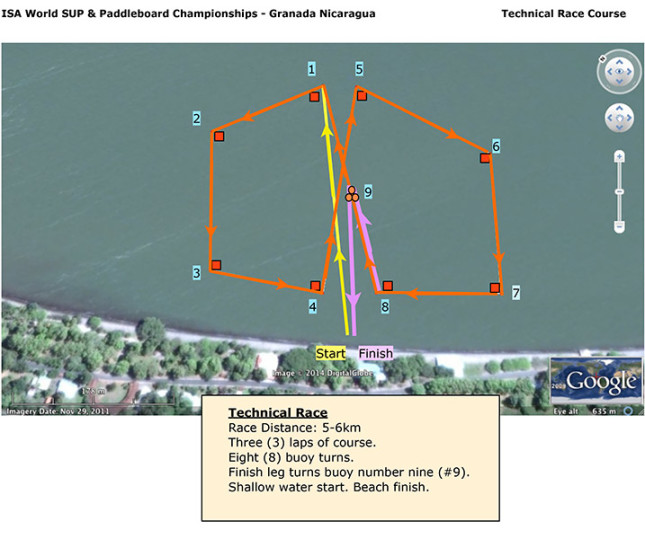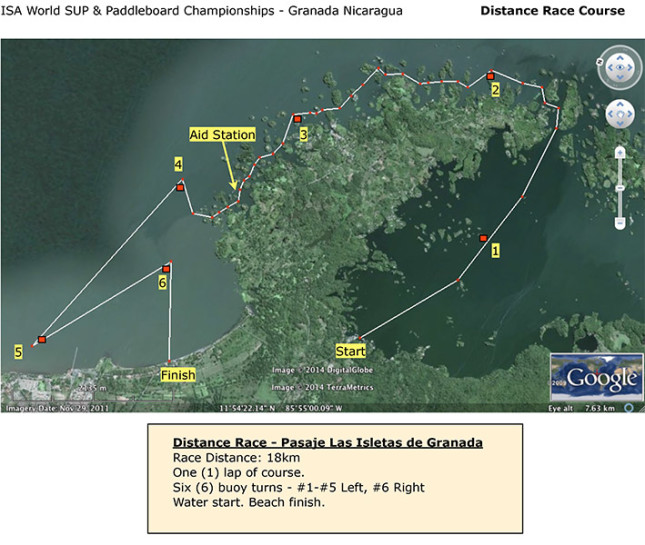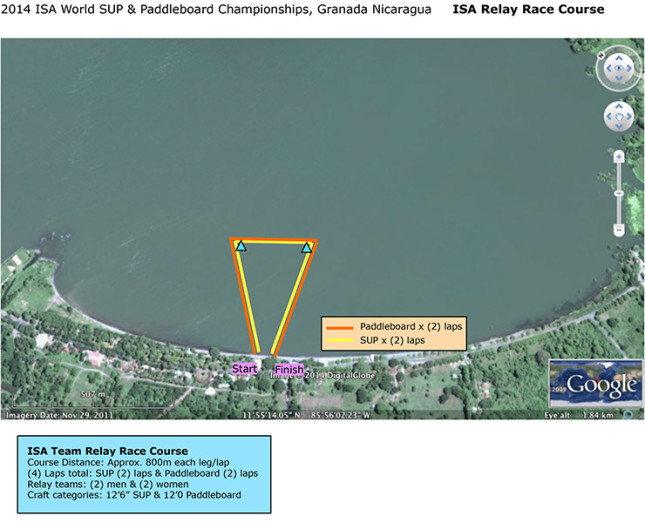 ---
CURRENT TEAM STANDINGS
After the completion of the SUP surf contest, the overall teams leaderboard is starting to take shape. The ISA team points are a hard thing to get your head around, especially early in the competition, so let me try and explain as best I can…
Take a look at the table below for the current team standings.
Note that the *only* events that have counted so far are the men's and women's SUP surfing. All the other events currently have "placeholder points" in the table below, i.e. the maximum points that each team could hypothetically score. Those potential points have been combined with the points from the surfing events to produce the current overall points for each country… which is kinda confusing I know. So while Australia is sitting on 17,450 points right now, they would have to win every single event remaining to keep that score at the end of the week.
Ok so try and stick with me here: There are up to 2x guys and 1x girl in each event, however only the highest placed men's result will count towards a team's overall points. So basically if one guy finishes first and the other guy bombs, you keep the first placed points and write off the other result.
This allows the teams with depth some luxury, in that only one of their guys has to perform in each event. However one of them has to REALLY perform, because men's points are worth twice as much as women's points. Not entirely sure why, but it could be due to the depth of talent running twice as deep on the men's side.
The ISA Team Relay concludes the event on Sunday afternoon. This is when a team fields two SUP racers and two prone racers for a combo relay team. The points for this event count for TRIPLE in the overall team standings. So if things are tight between the likes of Australia, France and the USA, this team relay could decide who claims the overall team trophy.
Also worth noting is that even a low placing carries some half-decent points, which rewards teams that have complete squads and can score at least some points in every event. So basically if you don't have a complete team and you're missing competitors from certain events, there's no way you're going to rank high on the leaderboard. For example, Tahiti won the men's SUP surfing but that's the only result they will carry all week, so they're currently sitting 25th out of 27 on the virtual team standings. Tahiti will definitely climb a few places higher by the end of the week (because the teams above them are ranked based on their maximum possible scores in the upcoming events), however they will still be well behind the nations that have full teams competing.
LONG STORY SHORT: Australia, USA and France (aka the three favourites) are virtually even on points after the surfing, so it's all gonna come down to their racing results…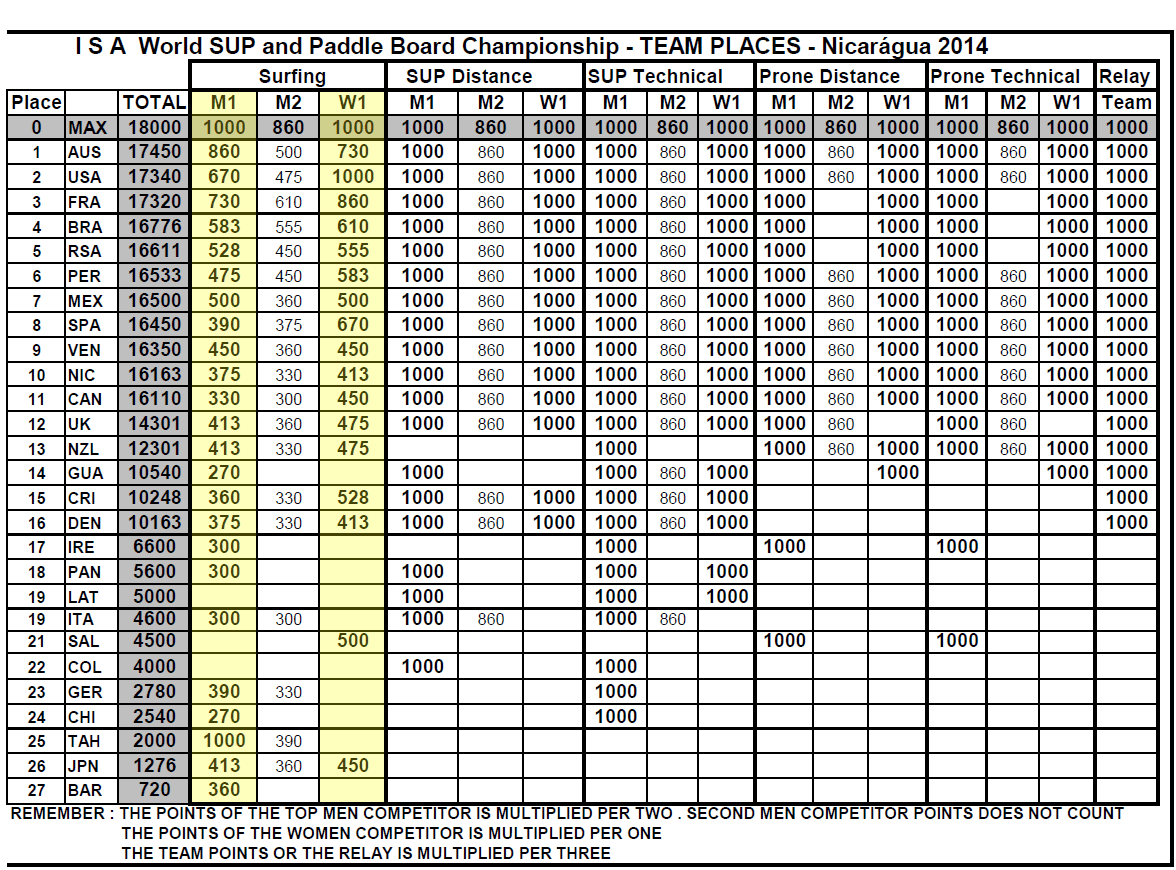 ---
PREDICTIONS
>>> PREDICTIONS for the 2014 ISA World StandUp Paddle and Paddleboard Championship