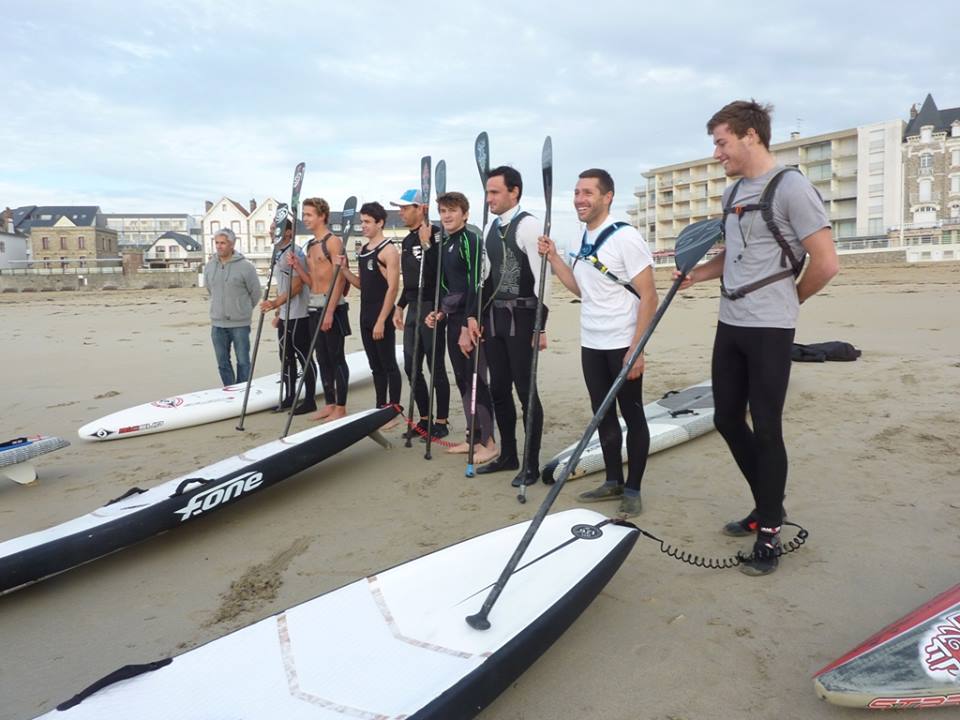 December 17, 2013
by Christopher Parker (@wheresbossman)
France's Finest Battling For A Trip To Nicaragua (UPDATE: Eric Terrien, Titouan Puyo And Celine Guesdon Secure Their Spots)
Update 17th December: The final race of the qualifying week has just finished and it looks like Eric Terrien and the-guy-that-came-out-of-nowhere Titouan Puyo have secured spots for Team France 2014. Meanwhile it's a tie for the one women's spot on the team between Olivia Piana and Celine Guesdon Celine Guesdon takes the women's spot on the team after winning on a countback against Olivia Piana. Scroll down for more…
Original post 13th December: Remember how France decided to go all out in selecting their team for the 2014 ISA Worlds? In addition to their National Titles five weeks ago, the governing body (French Surf Federation) organised a week-long series of racing and training that's essentially a second (and final) round of qualification to decide who flies to Nicaragua next May.
Ten of the best paddlers in France (and, by extension, ten of the best in Europe and even some of the very best in the world) will be battling it out over the next five days in a series of short and long distance races. A win is worth zero points, 2nd place = 2 points, 3rd place = 3 points, and so on… Each paddler's best four out of six results (four races this week plus the two races from last months Nationals) are tallied up and then the two guys / one girl with the lowest score will be invited to compete for Les Bleus in Nicaragua.
By the end of this week, paddlers will have competed in three different distance races and three different beach races (think: flat water BOP), which means that whoever earns a spot on the team will thoroughly deserve it.
The racing starts tomorrow (Saturday) and the wraps up on Wednesday, by which time we should know who made the cut and who gets a shot at taking on the mighty Team Australia in six months time. I think it's a very interesting experiment for the sport and, no matter how it turns out, the French have to be commended for being organised and taking their national team selections seriously.
We'll update as each race happens. Final race on either Tuesday 17th or Wednesday 18th.
SATURDAY UPDATE: The first race was today, with Eric Terrien showing his victory in Puerto Rico last week was no fluke, beating his elite compatriots and setting himself in a very good position for a spot on the team. Meanwhile the women's side of the draw is a two-girl race between Olivia Piana and Celine Guesdon.
SUNDAY UPDATE: Eric has taken out the second race on Sunday. He now has enough points to guarantee a finish no worse than second overall, meaning he has technically secured his spot for the 2014 French National SUP Team.
MONDAY UPDATE: Eric sat out today's race after having already secured his spot on the team. Titouan Puyo (who came out of nowhere to win last month's National Titles distance race) filled the gap best to solidify his #2 ranking on the overall leaderboard. With just one race to go it's now looking very likely that Team France 2014 will include Eric Terrien, Titouan Puyo and Olivia Piana, who has three victories from four races against her main rival Celine Guesdon.
TUESDAY UPDATE: Arthur Daniel won the final race today just ahead of Titouan Puyo, with Eric again sitting this one out and letting the others have a clean crack at the second qualifying spot. Waiting for confirmation from France, but based on results it would seem Eric and Titouan have secured places in Nicaragua, while Olivia and Celine are tied so the Federation will have to decide how to award the one female spot on the team (or they could just pull an Australia and send everyone…).
TUESDAY UPDATE #2: Just got word from Greg Closier (thanks for the updates all week Greg) that Team France 2014 has been finalised, at least in the SUP racing department:
– Eric Terrien
– Titouan Puyo
– Celine Guesdon
From the looks of this post on Facebook from Olivia, it seems Celine took her spot alongside Eric and Titouan after beating Olivia on a very close countback.
*****
OVERALL 

*****
Beach Race #3 (17th December)
1st: Arthur Daniel (0:20:07) – 0 points
2nd: Titouan Puyo (0:20:19) – 2 points
3rd: Greg Closier (0:20:52) – 3 points
4th: Martin Letourneur (0:21:00) – 4 points
5th: Gab Bachelet (0:21:24) – 5 points
6th: Gaetan Sene (0:22:10) – 6 points
n/a: Arthur Arutkin (did not race)
n/a: Eric Terrien (did not race)
1st: Olivia Piana (0:25:59) – 0 points
2nd: Celine Guesdon (0:28:11) – 2 points
Long Distance Race #3 (16th December)
1st: Titouan Puyo (1:17:39) – 0 points
2nd: Arthur Daniel (1:20:10) – 2 points
3rd: Greg Closier (1:20:27) – 3 points
4th: Gaetene Sene (1:21:20) – 4 points
5th: Gab Bachelet (1:21:58) – 5 points
6th: Martin Letourneur (1:23:19) – 6 points
n/a: Eric Terrien (did not race)
n/a: Arthur Arutkin (did not race)
1st: Olivia Piana (1:33:02) – 0 points
2nd: Celine Guesdon (1:35:34) – 2 points
Beach Race #2 (15th December)
1st: Eric Terrien (0:26:26) – 0 points
2nd: Titouan Puyo (0:26:27) – 2 points
3rd: Greg Closier (0:26:56) – 3 points
4th: Gab Bachelet (0:27:18) – 4 points
5th: Arthur Arutkin (0:27:44) – 5 points
6th: Arthur Daniel (0:27:59) – 6 points
7th: Martin Letourneur (0:28:15) – 7 points
8th: Gaetan Sene (0:28:16) – 8 points
1st: Celine Guesdon – 0 points
2nd: Olivia Piana – 2 points
Long Distance Race #2 (14th December)
1st: Eric Terrien (1:57:36) – 0 points
2nd: Arthur Daniel (1:58:49) – 2 points
3rd: Gaetan Sene (1:59:04) – 3 points
4th: Greg Closier (1:59:12) – 4 points
5th: Arthur Arutkin (2:00:15) – 5 points
6th: Titouan Puyo (2:00:55) – 6 points
7th: Gab Bachelet (2:02:48) – 7 points
8th: Martin Letourneur (2:08:40) – 8 points
1st: Celine Guesdon – 0 points
2nd: Olivia Piana – 0 points
Beach Race #1 (10th November)
1st: Eric Terrien – 0 points
2nd: Arthur Arutkin – 2 points
3rd: Titouan Puyo – 3 points
4th: Arthur Daniel – 4 points
5th: Gabriel Bachelet – 5 points
6th: Gaetene Sene – 6 points
9th: Martin Letourneur – 9 points
n/a: Greg Closier (did not race)
1st: Celine Guesdon – 0 points
2nd: Olivia Piana – 2 points
Long Distance Race #1 (9th November)
1st: Titouan Puyo – 0 points
2nd: Arthur Arutkin – 2 points
3rd: Eric Terrien – 3 points
4th: Arthur Daniel – 4 points
5th: Gaetene Sene – 5 points
6th: Martin Letourneur – 6 points
7th: Greg Closier – 7 points
11th: Gab Bachelet – 11 points
1st: Olivia Piana – 0 points
2nd: Celine Guesdon – 2 points
*****
Want more SUP race results from around the world? Check out our revamped Race Results by Riviera feature – it's the ultimate archive of Stand Up Paddle racing…