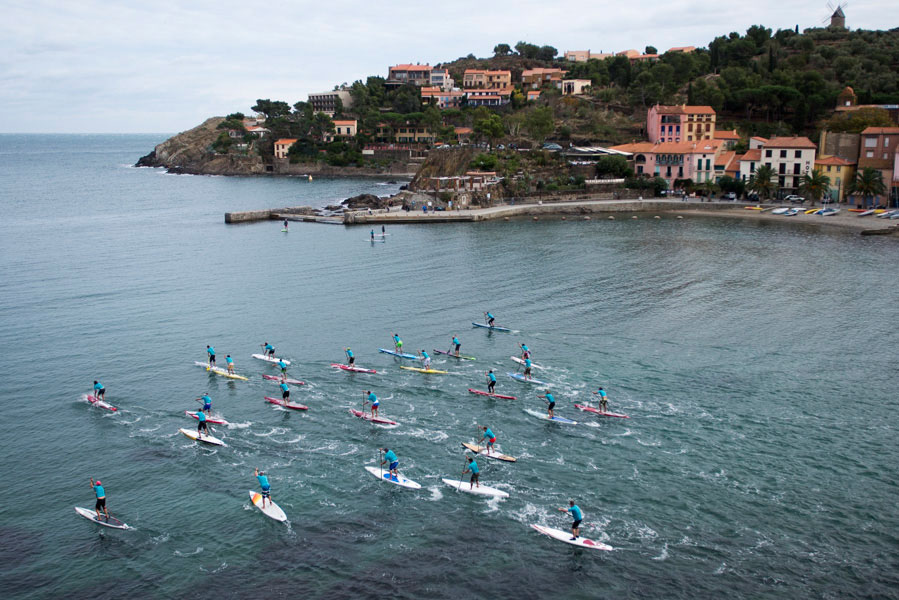 November 10, 2013
by Christopher Parker (@wheresbossman)
Dark Horses Upset And Young Guns Fire Before Eric Terrien Gets His Title @ French National Champs
At the same time as the Aussie SUP Titles were happening in Queensland on the weekend, on the other side of the world there was another elite battle taking place, with glory, bragging rights and a trip to the 2014 ISA World Champs on the line there as well.
The French National SUP Titles ("Championnats de France Stand Up Paddle") have just wrapped up and produced plenty of SUP racing action as well as a couple of interesting surprises. Held in the picturesque town of Carnet on the South of France, the championships featured the best paddlers from one of the strongest SUP nations there is.
The talent pool is France is runs deeper than probably any other nation outside the "Big 3" (Cali/Hawaii/Aus) so this was always going to be a tough event. However nobody would have predicted this result…
On the opening day, hot favourite and the long-time, undisputed king of French (and European) stand up paddle racing, Eric Terrien, was defeated by the unheralded Titouan Puyo in the 18km Distance Race, while young gun Arthur Arutkin also crossed the line ahead of the reigning champ. Titouan was a complete dark horse and surprised many people with his impressive victory. Hailing from New Caledonia, the new French distance champion has a long background in Va'a outrigger canoe paddling, which helps explain his meteoric rise in the world of SUP racing.
Eric would have his revenge on day two though, with a narrow victory in the Beach Race ensuring he still has one foot in the door on the plane to Nicaragua. The look on Eric's face as he crossed the line (see the pic below) shows that while most people assume he's a quiet, humble Frenchman, Eric is actually a fierce competitor who loves to win…
In the women's it was a two-way battle between Olivia Piana and Celine Guesdon, with the pair splitting the wins and giving selectors a dilemma, as generally speaking only one female is on the national team at the ISA Worlds.
There was also a very strong showing by the juniors, including the two Arthurs (Arutkin and Daniel), who have already been making a name for themselves internationally this year, butalso up-and-comers such as Martin Letourneur, Gabriel Bachelet and Pierre Nau. Arthur Arutkin's pair of second place finishes are not only a great sign for the future of paddling in Europe, they may also give national team selectors a bit of a headache. Technically Titouan, Eric and Arthur all finished on the same points from the two races, as Eric and Titouan traded 1st/3rd places, while Arthur split the middle each time.
But no matter who gets the ticket, it's pretty clear that France is going to be a force to be reckoned with at the 2014 ISA World Stand Up Paddle and Paddleboard Championship in Nicaragua…
2013 Championnats de France Stand Up Paddle
MEN'S LONG DISTANCE
1st: Titouan Puyo (1:37:28)
2nd: Arthur Arutkin (1:37:41)
3rd: Eric Terrien (1:38:02)
4th: Arthur Daniel (1:40:44)
5th: Gaetene Sene (1:41:58)
6th: Martin Letourneur (1:42:47)
7th: Greg Closier (1:42:58)
8th: Franck Le Ven (1:43:42)
9th: Florent Dode (1:44:47)
10th: Yoann Cornelis (1:45:18)
WOMEN'S LONG DISTANCE
1st: Olivia Piana (1:57:00)
2nd: Celine Guesdon (2:00:10)
3rd: Sarah Delaunay (2:02:24)
4th: Valerie Vitry (2:07:51)
5th: Cecile Gondre (2:09:28)
MEN'S COURSE RACE
1st: Eric Terrien (0:25:02)
2nd: Arthur Arutkin (0:25:04)
3rd: Titouan Puyo (0:25:24)
4th: Arthur Daniel (0:25:30)
5th: Gabriel Bachelet (0:25:34)
6th: Gaetene Sene (0:25:47)
7th: Yoann Cornelis (0:26:02)
8th: Florent Dode (0:26:14)
9th: Martin Letourneur (0:26:26)
10th: Pierre Nau (0:26:37)
WOMEN'S COURSE RACE
1st: Celine Guesdon
2nd: Olivia Piana
3rd: Sarah Delaunay
4th: Laetitia Isnardson
5th: Cecile Gondre
>>> GetUp SUP Mag has complete coverage of the event including photos and results:
Distance Race recap in French (English translation) || FULL RESULTS: Men, Women, Juniors
Beach Race recap in French (English translation) || FULL RESULTS