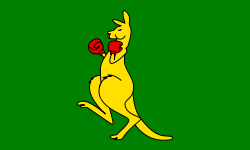 Team Australia's Lineup For 2014 ISA World Champs Revealed (And It's Mighty Impressive…)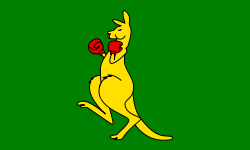 We're exactly five months out from the 2014 ISA World Champs in Nicaragua but we already know which paddlers could potentially be holding up the team trophy on the final day of competition. Despite 25-30 different nations expected to head to Nicaragua next year, all eyes will be on the mighty Team Australia, who are two-time defending champs and already hot favourites for a three-peat in my book.
Well today we got wind of who made the cut for this elite squad and there are a couple of surprises: Namely the fact that Australia has opted to take four different guys in the SUP racing department. And they're four very formidable names…
Captaining the Aussies and competing in the Course Race event will be Kelly Margetts, the ageless, 41-year-old Gold Coaster who's a regular fixture on the Battle of the Paddle podium. After claiming his spot with a runner-up finish in the National Titles Course Race, this will be Kelly's second ISA Worlds event in a row after partnering with Jamie Mitchell @ Peru 2013.
Joining Kelly in the Course Race is young gun Lincoln Dews, who took out the corresponding event last month and is another one of the Aussies who's been on the BOP California podium the past couple of years.
Meanwhile in the Distance Race it'll be Jake Jensen and Beau O'Brian, who battled right to the line for a 1-2 finish at last month's Nationals. Jake has been in red-hot form the past few months (taking out the World Series Finals after finishing top 10 at the BOP) while Beau is an extremely underrated talent (he picked up 4th in the BOP Elite Distance Race and was unlucky not to finish higher).
These are four of the absolute fastest paddlers in the world… Throw in the fact that each of them only has to race once, whereas paddlers from almost every other country will probably double up, and you can see why Australia is going to be very, very hard to beat in Nicaragua.
And that's just the men.
Joining them will be Karla Gilbert, who swept both races at the National Titles to make it an easy decision for selectors. Those wins came just six weeks after her amazing performance at the Battle of the Paddle, where the former Ironwoman Queen took third in the Elite Race and second in the Elite Distance Race.
Throw in some amazingly-talented surfers and world champion prone paddlers and you begin to realise just how big of a mountain the other nations will have standing before them.
It's also interesting to see that Australia has opted to take four different guys in the racing division, whereas they could have easily just chosen two (which they've done in the past). The ISA has cleared up their rules for 2014 and made it easy for teams to take different paddlers for the Course and Distance Races if they wish. With the results at last month's Nationals making a two-man selection very difficult (Lincoln and Kelly went 1-2 in the Course Race while Jake and Beau finished top two in the Distance Race), this was an obvious option for the selectors at Surfing Australia.
Here's the full lineup.
Note: This list hasn't officially been released by Surfing Australia just yet, this is simply the list of names that were invited. Some of these guys or girls may possibly decline their spot, though it sounds like the SUP racing names are pretty set.
TEAM AUSTRALIA 2014
SUP Men
Kelly Margetts (Course Race + Team Captain)
Jake Jensen (Distance Race)
Lincoln Dews (Course Race)
Beau O'Brian (Distance Race)
SUP Woman
Karla Gilbert
SUP Surfing Men
Jackson Close
Justin Holland
SUP Surfing Woman
Shakira Westdorp
Prone Men
Brad Gaul
Rhys Burrows
Prone Woman
Jordan Mercer