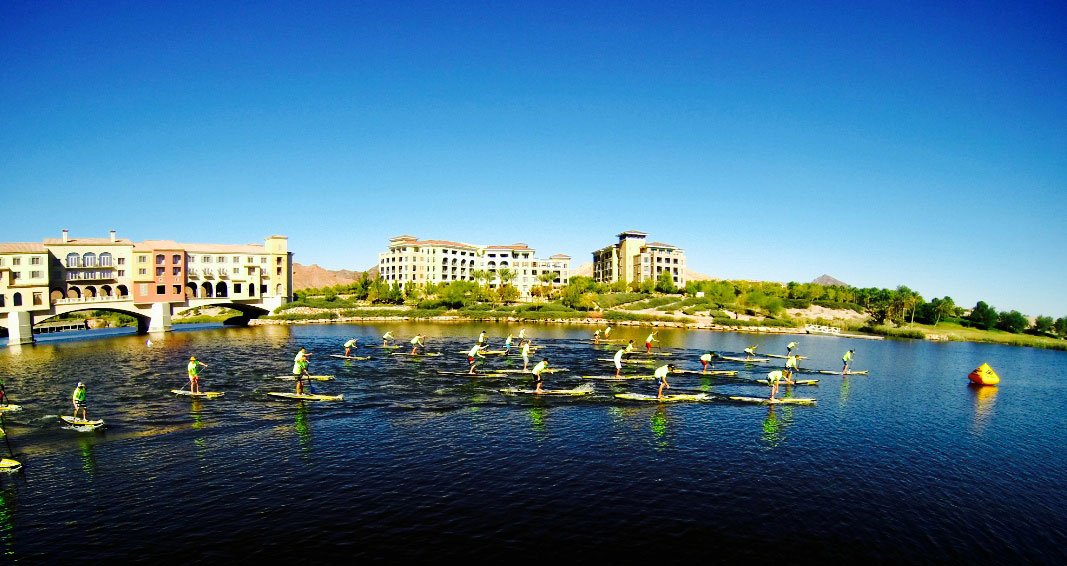 October 12, 2013
by Christopher Parker (@wheresbossman)
Results And Pics From Naish's N1SCO World Champs In Vegas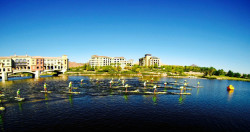 Oahu's North Shore isn't the only place with a championship title on the line this weekend, with the inaugural Naish N1SCO World Championships happening in Las Vegas. This is the one where every paddler is on the same board – a 12'6 Naish inflatable.
Day one saw the 200m and 600m races, with the Team Relays happening later this afternoon and then the Long Distance race up tomorrow. Manca Notar, the Naish team rider who's fast becoming one of Europe's leading girls, took out the women's races while South Africa's Ethan Koopmans (winner of the European N1SCO Champs) won both sprint distances on the men's side.
As we mentioned in our N1SCO World Champs preview, these kind of "one design" SUP race events aren't exactly for the hardcore racing fans or board snobs, but they are a fun way to get people into racing and help grow the sport; filling that vital gap between recreational paddling and high-end racing. It's also pretty cool to be in a race where equipment doesn't change the result.
Plus… it's in Vegas. Doesn't hurt.
The event is still in the water so check out the early results below plus a whole heap of cool pics, then come back tomorrow for full results and a wrap up from the Battle of the Blow Ups.
*****
N1SCO World Championships RESULTS
Women's 200m
1st: Manca Notar
…
Men's 200m
1st: Ethan Koopmans
…
Women's 600m
1st: Manca Notar
…
Men's 600m
1st: Ethan Koopmans
…
Women's Distance Race
…
Men's Distance Race
…
PHOTO CREDITS: © JD Photo Fairy