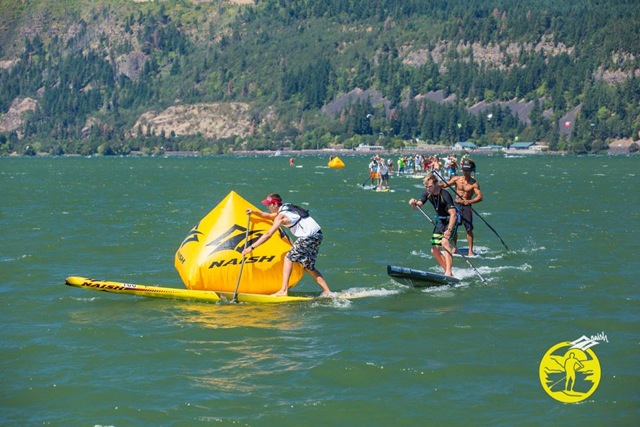 August 19, 2013
by Christopher Parker (@wheresbossman)
Kody Kerbox, Fiona Wylde Win The Naish Columbia Gorge Paddle Challenge (FINAL RESULTS)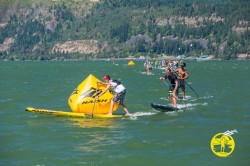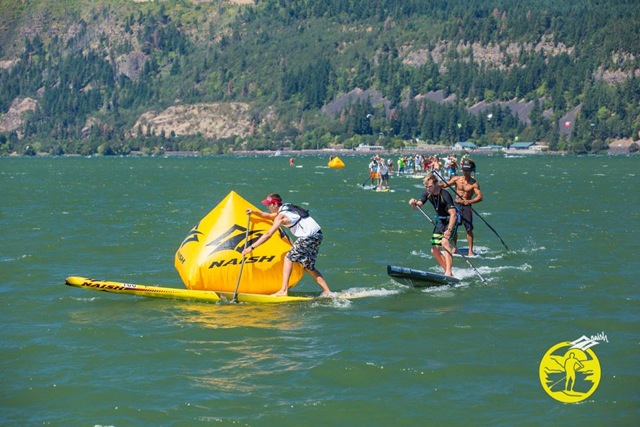 DAY 2 UPDATE: Kody Kerbox and Fiona Wylde have taken out the 2013 Naish Columbia Gorge Paddle Challenge in Hood River, Oregon ahead of a stacked local and international field.
Kody beat some big names in Georges Cronsteadt and Slater Trout, while local surprise packet Fiona Wylde put in a commanding overall performance to knock off the likes of Andrea Moller, Candice Appleby and Jenny Kalmbach.
Georges won today's Course Race but Kody took out the overall title based on combined time from the Downwinder.
Full results below. Also check out the Gorge Paddle Challenge PHOTOS for some great shots of the action.
DAY 1 UPDATE: Kody Kerbox has just taken out the third of today's big three races, winning the Downwind Race at the Naish Columbia Gorge Paddle Challenge. The race was a battle between Kody, Georges Cronsteadt and Slater Trout early on, before Kody and Georges pulled clear. The young Naish team rider eventually ran away with it to finish a minute ahead of the Tahitian powerhouse.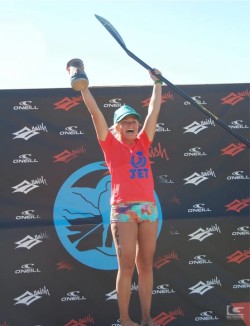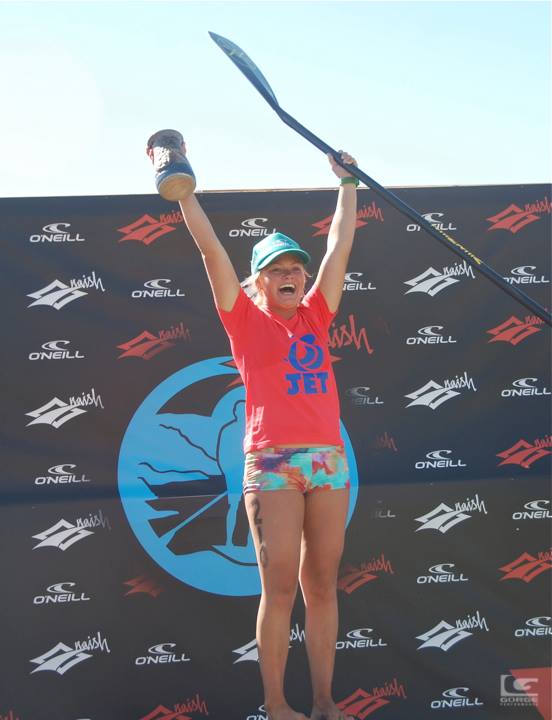 Kody capped off a great day for Naish, winning his sponsor's flagship event on the same day teammate Kai Lenny took out the Sprint Race @ the Hamburg SUP World Cup.
The 2013 Naish Columbia Gorge Paddle Challenge is one of the highlights of the racing calendar, with the unique downwind run at Hood River, Oregon considered to be one of the best in the world. There was plenty of wind for the 200+ paddlers today, but it was Kody who reigned supreme.
Meanwhile in the women's race Andrea Moller got one back for Team SIC, taking out the women's race ahead of some strong local and international paddlers.
Take a look at the early results below then check back later for the full results and pics of the action. Then tomorrow we've got Day Two at the Gorge, which sees the flat-water course race.
*****
2013 Naish Columbia Gorge Paddle Challenge RESULTS
OVERALL STANDINGS
MEN
1st: Kody Kerbox
2nd: Georges Cronsteadt
3rd: Slater Trout
WOMEN
1st: Fiona Wylde
2nd: Candice Appleby
3rd: Jenny Kalmbach
Downwind Race
Click "M/F" to switch between men's and women's results
Click "Class" to show the results from the different board classes
Click "Time" to reset the results

| # | M/F | M/F # | Name | Class | Class # | Time | Age |
| --- | --- | --- | --- | --- | --- | --- | --- |
| 1 | M | 1 | Kody Kerbox | M Elite | 1 | 1:03:56 | 19 |
| 2 | M | 2 | Georges Cronsteadt | M Elite | 2 | 1:04:52 | 33 |
| 3 | M | 3 | Slater Trout | M Elite | 3 | 1:07:30 | 18 |
| 4 | M | 4 | Noa Ginella | M Elite | 4 | 1:07:54 | 19 |
| 5 | M | 5 | Livio Menelau | M Elite | 5 | 1:09:07 | 35 |
| 6 | M | 6 | Jeremy Riggs | M Elite | 6 | 1:10:01 | 41 |
| 7 | M | 7 | Matt Parker | M Elite | 7 | 1:11:02 | 34 |
| 8 | M | 8 | Mark Raaphorst | Unlim | 1 | 1:11:21 | 47 |
| 9 | M | 9 | Jerry Bess | M Elite | 8 | 1:11:40 | 48 |
| 10 | M | 10 | Jan Boersma | M Elite | 9 | 1:12:23 | 44 |
| 11 | M | 11 | Chuck Patterson | M Elite | 10 | 1:12:26 | 44 |
| 12 | M | 12 | Stuart Robinson | M Elite | 11 | 1:12:34 | 32 |
| 13 | M | 13 | Anthony Vela | M Elite | 12 | 1:12:56 | 18 |
| 14 | M | 14 | Derek Fromm | M Elite | 13 | 1:13:09 | 16 |
| 16 | M | 16 | Nicholas Leason | M Elite | 14 | 1:13:33 | 28 |
| 15 | M | 15 | Jon Davies | Unlim | 2 | 1:13:33 | 47 |
| 17 | M | 17 | Dan Gavere | M Elite | 15 | 1:14:14 | 18 |
| 18 | M | 18 | Art Aquino | M Elite | 16 | 1:14:25 | 47 |
| 19 | M | 19 | Matthew Mcdonald | M Elite | 17 | 1:14:31 | 34 |
| 20 | M | 20 | Thomas Maximus | M Elite | 18 | 1:14:47 | 44 |
| 21 | M | 21 | Gary Parsons | M Elite | 19 | 1:15:05 | 53 |
| 22 | F | 1 | Andrea Moller | F Elite | 1 | 1:15:14 | 33 |
| 23 | M | 22 | Brendan Light | M Elite | 20 | 1:15:15 | 18 |
| 24 | M | 23 | Dave Boehne | M Elite | 21 | 1:15:27 | 37 |
| 25 | F | 2 | Fiona Wylde | F Elite | 2 | 1:15:55 | 16 |
| 26 | M | 24 | Braly Joy | Unlim | 3 | 1:16:02 | 42 |
| 27 | M | 25 | Sean Pargchren | M Elite | 22 | 1:16:17 | 26 |
| 28 | M | 26 | Cyril Burguiere | M Elite | 23 | 1:16:27 | 18 |
| 29 | M | 27 | Douglas Hopkins | 14' | 1 | 1:16:32 | 52 |
| 30 | M | 28 | Gregg Leion | 14' | 2 | 1:16:57 | 55 |
| 31 | F | 3 | Candice Appleby | F Elite | 3 | 1:17:19 | 27 |
| 32 | M | 29 | Macrae Wylde | 14' | 3 | 1:17:26 | 49 |
| 33 | F | 4 | Mariko Strickland Lum | F Elite | 4 | 1:17:30 | 26 |
| 34 | M | 30 | Jarkko Simonen | M Elite | 24 | 1:17:32 | 18 |
| 35 | M | 31 | Dustin Sousley | M Elite | 25 | 1:18:00 | 18 |
| 36 | M | 32 | Michael Tavares | M Elite | 26 | 1:18:05 | 18 |
| 37 | M | 33 | Brian Tracy | 14' | 4 | 1:18:09 | 30 |
| 38 | M | 34 | Kristian Mulholland | 14' | 5 | 1:18:11 | 41 |
| 39 | M | 35 | Scott Hiues | M Elite | 27 | 1:18:43 | 59 |
| 40 | M | 36 | Blake Hanley | M Elite | 28 | 1:18:46 | 27 |
| 41 | M | 37 | Tyler Tschritter | 14' | 6 | 1:18:50 | 17 |
| 42 | F | 5 | Jenny Kalmbach | F Elite | 5 | 1:19:13 | 30 |
| 43 | M | 38 | Brad Kingsley | Unlim | 4 | 1:19:23 | 42 |
| 44 | M | 39 | Dave Billenness | 12'6" | 1 | 1:19:49 | 44 |
| 45 | M | 40 | Scott Vande Vusse | M Elite | 29 | 1:19:52 | 34 |
| 46 | M | 41 | Ford Huntington | M Elite | 30 | 1:20:00 | 16 |
| 47 | M | 42 | Sean Thomas | 14' | 7 | 1:20:10 | 36 |
| 48 | M | 43 | Greg Gilbert | 14' | 8 | 1:20:20 | 46 |
| 49 | M | 44 | Rob Dies | 14' | 9 | 1:20:22 | 37 |
| 50 | M | 45 | Matthew Spencer | M Elite | 31 | 1:20:25 | 30 |
| 51 | F | 6 | Talia Decoite | F Elite | 6 | 1:20:40 | 20 |
| 52 | M | 46 | Beau Whitehead | M Elite | 32 | 1:21:05 | 44 |
| 53 | M | 47 | Brody Welte | 14' | 10 | 1:21:25 | 37 |
| 54 | F | 7 | Alyson Fromm | F Elite | 7 | 1:21:39 | 19 |
| 55 | M | 48 | Gerry Lopez | 14' | 11 | 1:21:45 | 64 |
| 56 | F | 8 | Gail Vento | F Elite | 8 | 1:21:48 | 18 |
| 57 | M | 49 | Bruce Barry | 12'6" | 2 | 1:22:11 | 62 |
| 58 | M | 50 | Keith Coleman | 14' | 12 | 1:22:15 | 33 |
| 59 | M | 51 | Jim Stevens | 14' | 13 | 1:22:16 | 45 |
| 60 | M | 52 | Don Wiley | 14' | 14 | 1:22:37 | 52 |
| 61 | M | 53 | Brook Staples | Unlim | 5 | 1:22:46 | 45 |
| 62 | F | 9 | Shannon Bell | F Elite | 9 | 1:22:55 | 18 |
| 63 | M | 54 | Bob Rueter | 14' | 15 | 1:23:06 | 58 |
| 64 | M | 55 | Eric Walker | M Elite | 33 | 1:23:14 | 40 |
| 65 | F | 10 | Karen Wrenn | F Elite | 10 | 1:23:16 | 18 |
| 66 | M | 56 | Dwayne Lotnick | 14' | 16 | 1:23:27 | 52 |
| 67 | M | 57 | Ali Birtwell | 14' | 17 | 1:23:54 | 26 |
| 68 | M | 58 | Corey Lotnick | 14' | 18 | 1:23:58 | 44 |
| 69 | M | 59 | Kristian Dewolfe | 14' | 19 | 1:24:52 | 16 |
| 70 | M | 60 | Tyson Turner | 14' | 20 | 1:25:00 | 35 |
| 71 | F | 11 | Sofia Dewolfe | F Elite | 11 | 1:25:11 | 18 |
| 72 | M | 61 | Joseph Mosquera | 14' | 21 | 1:25:22 | 35 |
| 73 | M | 62 | Nick Johansen | 14' | 22 | 1:25:38 | 34 |
| 74 | M | 63 | Patrick Aio | 14' | 23 | 1:25:52 | 40 |
| 75 | M | 64 | Sam Wiley | 14' | 24 | 1:26:04 | 17 |
| 76 | M | 65 | Mike Field | 14' | 25 | 1:26:18 | 52 |
| 77 | M | 66 | Forrest Wells | 14' | 26 | 1:26:46 | 33 |
| 78 | M | 67 | Jim Dewolfe | 14' | 27 | 1:27:00 | 56 |
| 79 | M | 68 | Tim Quarles | 12'6" | 3 | 1:27:03 | 54 |
| 80 | M | 69 | Nelson Wingard | 14' | 28 | 1:27:08 | 42 |
| 81 | M | 70 | Jason Lexa | 14' | 29 | 1:27:18 | 38 |
| 82 | M | 71 | Lucas Hansen | 14' | 30 | 1:27:39 | 33 |
| 83 | M | 72 | Leif Bergstrom | 14' | 31 | 1:27:52 | 14 |
| 84 | M | 73 | Lance Leasure | 14' | 32 | 1:28:11 | 44 |
| 85 | M | 74 | Christopher Van Tilberg | 14' | 33 | 1:28:21 | 47 |
| 86 | M | 75 | Patrick Corcoran | 14' | 34 | 1:28:37 | 52 |
| 87 | M | 76 | Dennis Oliphant | 14' | 35 | 1:28:50 | 59 |
| 88 | M | 77 | Dean Burke | 14' | 36 | 1:29:22 | 41 |
| 89 | M | 78 | Lukas Dewolfe | 14' | 37 | 1:30:03 | 16 |
| 90 | M | 79 | Nic Jacobssen | 14' | 38 | 1:30:15 | 27 |
| 91 | M | 80 | Ian Light | 12'6" | 4 | 1:30:24 | 14 |
| 92 | F | 12 | Nikki Gregg | F Elite | 12 | 1:30:25 | 38 |
| 93 | F | 13 | Linda De Jong | F12'6" | 1 | 1:30:31 | 54 |
| 94 | F | 14 | Bonnie Fromm | F12'6" | 2 | 1:30:45 | 51 |
| 95 | M | 81 | Oscar Maciel | 14' | 39 | 1:30:49 | 43 |
| 96 | F | 15 | Karen Harjo | F Elite | 13 | 1:30:51 | 35 |
| 97 | M | 82 | Bill Fowler | 14' | 40 | 1:31:29 | 37 |
| 98 | M | 83 | Kelly Bockius | 12'6" | 5 | 1:31:35 | 51 |
| 99 | M | 84 | Jim Moore | 14' | 41 | 1:31:57 | 50 |
| 100 | M | 85 | Nick Ogilvie | Unlim | 6 | 1:32:06 | 29 |
| 101 | M | 86 | Kurt Tamashiro | 14' | 42 | 1:32:24 | 50 |
| 102 | M | 87 | Tom Burke | 14' | 43 | 1:32:26 | 56 |
| 103 | M | 88 | Jerry Ohlson | 14' | 44 | 1:32:47 | 51 |
| 104 | M | 89 | Kyle Turner | 14' | 45 | 1:33:13 | 36 |
| 105 | M | 90 | Chris Anderson | 14' | 46 | 1:34:09 | 49 |
| 106 | F | 16 | Victoria Hopkins | F12'6" | 3 | 1:35:10 | 40 |
| 107 | F | 17 | Lori Park | F14' | 1 | 1:35:20 | 39 |
| 108 | F | 18 | Kim Rueter | F14' | 2 | 1:35:23 | 43 |
| 110 | M | 92 | Corey Dolan | 14' | 47 | 1:35:36 | 31 |
| 109 | M | 91 | Vetea Boersma | 12'6" | 6 | 1:35:36 | 12 |
| 111 | F | 19 | Amy Staples | F12'6" | 4 | 1:36:00 | 43 |
| 112 | M | 93 | Kip Roseman | 14' | 48 | 1:36:05 | 44 |
| 113 | M | 94 | Cole Tschritter | 12'6" | 7 | 1:36:17 | 15 |
| 114 | M | 95 | Timothy Smith | 14' | 49 | 1:36:24 | 48 |
| 115 | M | 96 | Rhys Staples | 12'6" | 8 | 1:36:24 | 9 |
| 116 | M | 97 | William Dewolfe | 12'6" | 9 | 1:36:30 | 10 |
| 117 | M | 98 | Clay Halverson | Surf | 1 | 1:36:39 | 48 |
| 118 | M | 99 | Glenn Haupt | 14' | 50 | 1:36:41 | 47 |
| 119 | F | 20 | Eva Dewolfe | F14' | 3 | 1:36:43 | 49 |
| 120 | M | 100 | Andre Sapp | 14' | 51 | 1:36:55 | 47 |
| 121 | M | 101 | Daniel Haghighi | 14' | 52 | 1:37:28 | 50 |
| 122 | M | 102 | Todd Horn | 14' | 53 | 1:37:46 | 32 |
| 123 | M | 103 | Dave Larkman | 12'6" | 10 | 1:38:00 | 70 |
| 124 | M | 104 | Tyler Mebus | 14' | 54 | 1:38:02 | 49 |
| 125 | M | 105 | Michael Schubert | 14' | 55 | 1:38:44 | 50 |
| 126 | M | 106 | D Pedersen | 14' | 56 | 1:39:22 | 46 |
| 127 | M | 107 | Dean Brewer | 14' | 57 | 1:39:42 | 47 |
| 128 | M | 108 | Weston van Wambeke | Surf | 2 | 1:39:59 | 39 |
| 129 | M | 109 | Jeffrey Fink | 14' | 58 | 1:40:09 | 38 |
| 130 | M | 110 | Bill Babcock | Surf | 3 | 1:40:18 | 50 |
| 131 | M | 111 | Jason Condon | 12'6" | 11 | 1:40:23 | 29 |
| 132 | M | 112 | Ross Creasy | 14' | 59 | 1:40:27 | 47 |
| 133 | F | 21 | Maria Randle | F12'6" | 5 | 1:40:47 | 48 |
| 134 | M | 113 | Bernie Dittenhofer | 12'6" | 12 | 1:41:05 | 58 |
| 135 | M | 114 | Rafael Kolic | 14' | 60 | 1:41:26 | 37 |
| 136 | M | 115 | Claude Bazinet | 14' | 61 | 1:41:34 | 34 |
| 137 | F | 22 | Lysanne Lavigne | F12'6" | 6 | 1:41:36 | 30 |
| 138 | F | 23 | June Scheyer | F14' | 4 | 1:42:28 | 41 |
| 139 | F | 24 | Hannah Hill | F12'6" | 7 | 1:42:33 | 16 |
| 140 | F | 25 | Sarah Sandstrom | F12'6" | 8 | 1:43:42 | 33 |
| 142 | F | 27 | Judy Shasek | F14' | 5 | 1:43:47 | 64 |
| 141 | F | 26 | Sam Davies | F12'6" | 9 | 1:43:47 | 16 |
| 143 | F | 28 | Savannah Boersma | F12'6" | 10 | 1:43:53 | 16 |
| 144 | M | 116 | Steve Britt | 14' | 62 | 1:44:17 | 47 |
| 145 | M | 117 | Ben Russell | 12'6" | 13 | 1:44:27 | 39 |
| 146 | F | 29 | Jennifer Lawson | F12'6" | 11 | 1:45:14 | 32 |
| 147 | M | 118 | Matt Honor | 14' | 63 | 1:45:38 | 23 |
| 148 | M | 119 | Alexandru Pricope | 14' | 64 | 1:45:40 | 46 |
| 149 | M | 120 | Jake Westphal | 14' | 65 | 1:45:42 | 35 |
| 150 | F | 30 | AbigailÊ Leion | F12'6" | 12 | 1:46:15 | 17 |
| 151 | M | 121 | Patrick Flewin | 14' | 66 | 1:46:20 | 40 |
| 152 | M | 122 | Bob Purdy | 12'6" | 14 | 1:47:12 | 60 |
| 153 | M | 123 | Tony Yinger | 14' | 67 | 1:48:06 | 46 |
| 154 | F | 31 | AshleeÊ Redfern | F12'6" | 13 | 1:48:49 | 31 |
| 155 | M | 124 | Jason Webrzyniak | 12'6" | 15 | 1:49:26 | 32 |
| 156 | M | 125 | Ed Shasek | 14' | 68 | 1:49:44 | 63 |
| 157 | F | 32 | Jane Staples | F12'6" | 14 | 1:50:11 | 11 |
| 159 | M | 126 | Darryc Nakahira | 14' | 69 | 1:51:10 | 54 |
| 158 | F | 33 | Mary Anderson | F14' | 6 | 1:51:10 | 18 |
| 160 | M | 127 | Norm Beddows | Surf | 4 | 1:51:45 | 50 |
| 161 | F | 34 | Teressmarie Tucker | F14' | 7 | 1:51:57 | 50 |
| 162 | F | 35 | Donica Shouse | F12'6" | 15 | 1:52:03 | 32 |
| 163 | F | 36 | Mia Howell | F12'6" | 16 | 1:52:36 | 40 |
| 164 | F | 37 | Jax Mariash | F Elite | 14 | 1:52:51 | 33 |
| 165 | M | 128 | Kev Fairchild | 14' | 70 | 1:55:03 | 50 |
| 166 | M | 129 | Scott Williams | 12'6" | 16 | 1:55:04 | 29 |
| 167 | F | 38 | Lilly Paul | F12'6" | 17 | 1:55:54 | 18 |
| 168 | M | 130 | Tim Lynch | 14' | 71 | 1:55:56 | 58 |
| 169 | M | 131 | Rick Pratt | 14' | 72 | 1:56:06 | 54 |
| 170 | M | 132 | Jordan Gregory | Surf | 5 | 1:56:22 | 31 |
| 171 | M | 133 | Lars Bergstrom | M Elite | 34 | 1:56:23 | 44 |
| 172 | M | 134 | Timothy Duenas | 14' | 73 | 1:56:54 | 34 |
| 173 | M | 135 | Charlie Sutherland | M Elite | 35 | 1:57:50 | 15 |
| 174 | F | 39 | Kelli Clarke | F12'6" | 18 | 1:58:56 | 16 |
| 175 | M | 136 | Ron Penner Ash | 14' | 74 | 2:00:14 | 56 |
| 176 | F | 40 | Leanne Mebus | F12'6" | 19 | 2:00:58 | 49 |
| 177 | M | 137 | Tom Nilan | 12'6" | 17 | 2:02:12 | 51 |
| 178 | F | 41 | Katie Puddefoot | F12'6" | 20 | 2:02:46 | 38 |
| 179 | F | 42 | Wendy Trout | Surf | 6 | 2:03:03 | 44 |
| 180 | F | 43 | Katherine Bazinet | Surf | 7 | 2:06:00 | 35 |
| 181 | F | 44 | Susan Williams | F14' | 8 | 2:06:57 | 49 |
| 182 | M | 138 | Barry Paul | Surf | 8 | 2:09:10 | 48 |
| 183 | F | 45 | Tee Wolf | F12'6" | 21 | 2:09:54 | 57 |
| 184 | M | 139 | David Cameron | M Elite | 36 | 2:14:04 | 55 |
| 185 | F | 46 | Monica Blak Kish | Surf | 9 | 2:15:07 | 40 |
| 186 | M | 140 | Greg Kish | Surf | 10 | 2:15:07 | 42 |
| 187 | M | 141 | Dragos Zamfirescu | 14' | 75 | 2:17:11 | 38 |
| 188 | M | 142 | Marcus Ashby | 14' | 76 | 2:17:50 | 29 |
Course Race
ELITE WOMEN
1st: Candice Appleby 0:56:32
2nd: Jenny Kalmbach 0:57:01
3rd: Fiona Wylde  0:57:43
4th: Shannon Bell 0:58:21
5th: Alyson Fromm 0:59:25
6th: Gail Vento 1:00:49
7th: Andrea Moller 1:03:06
8th: Mariko Strickland Lum 1:04:06
9th: Sofia De Wolfe 1:04:32
ELITE MEN
1st George Cronsteadt 0:49:41
2nd Kody Kerbox 0:49:58
3rd Slater Trout 0:50:29
4th Stuart Robinson 0:51:07
5th Noa  Ginella 0:51:30
6th Anthony Vela 0:52:00
7th Jerry Bess 0:52:33
8th Thomas Maximus 0:52:41
9th Cyril Burguiere 0:53:04
10th Derek Fromm 0:53:15
11th Matthew Mcdonald 0:53:49
12th Matt Parker 0:53:57
13th Nicholas Leason 0:53:58
14th Brendan Light 0:54:29
15th Sean Pargchren 0:54:39
16th Chuck Patterson 0:54:44
17th Michael Tavares 0:54:54
18th Jan Boersma 0:55:20
19th Gary Parsons 0:55:47
20th Livio Menelau 0:55:52
21st Spencer Slaven-Lazzar 0:55:56
22nd Jarkko Simonen 0:56:53
23rd Kristian Mulholland 0:57:02
24th Dan Gavere 0:57:10
25th Blake Hanley 0:57:15
26th Matthew Spencer 0:57:23
27th Scott Vande Vusse 0:57:36
28th Sean Thomas 0:58:25
29th Beau Whitehead 0:58:39
30th Nick Stuart 1:06:36
Click here for raw results from the Open Race