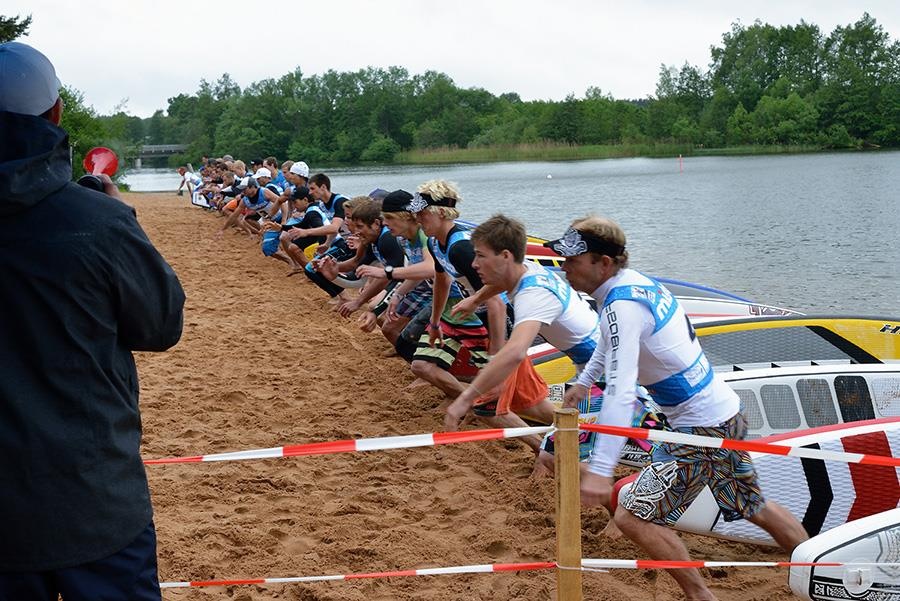 September 9, 2013
by Christopher Parker (@wheresbossman)
UK To Host Survivor SUP Race Series As Jamie Mitchell's Unique Format Continues To Spread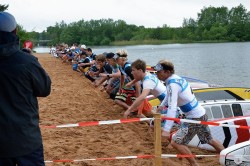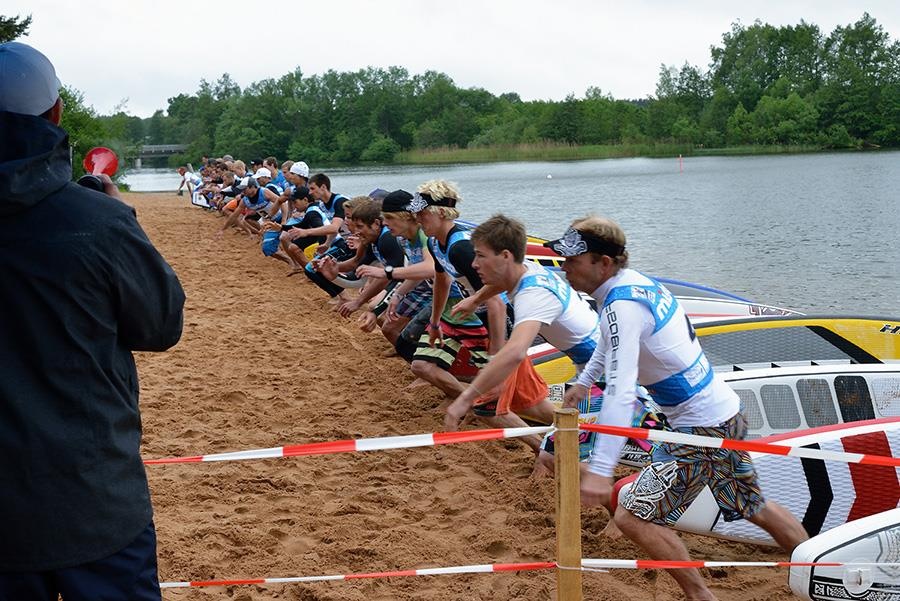 Following the success of the format around the world, the UK will be hosting its own 
Survivor SUP Race
next weekend in Poole. As the UK's largest and most active paddling club,
BaySUP will be hosting the race
on September 14th in Poole, near Bournemouth on the South Coast of England.
The Jamie Mitchell Survivor Race format is becoming very popular, with several events around the world including it in their schedule as an alternative to standard course or sprint races.
For the uninitiated the format is pretty simple:
– Le Mans style start: Begin standing next to you board on the waterline, run and grab your paddle that's stuck in the sand 10 metres up the beach, then run back, grab your board and start paddling (see the pic above)
– Short course race around buoys, either in flat water or through the surf
– Every competitor starts together, with back-to-back heats whittling the field down to a final round of 6-10 paddlers
– There are only two to three minute breaks between heats, with the clock starting from when the first paddler crosses the line
It's an exciting form of SUP racing for spectators and a grueling workout for the paddlers. There's practically no rest between each round, so if you're lucky enough to make it all the way to the final (which usually involves around 5 knockout heats) you're absolutely flogged.
We saw the format debut at the 2012 Waikiki Paddle Festival and it's worked to great effect at other major events, including the big Lost Mills race in Germany a few months back (where the pic up top was taken). Now the UK is having their turn, as BaySUP gets set to host their Survivor Race Series starting this weekend.
The racing side of Stand Up Paddling in the UK has been growing fast the past couple of years, with plenty of events and some solid talent in the Motherland – I was at the Battle of the Thames race earlier this year, where over 100 paddlers braved the cold for a very solid hitout. The nation is home to plenty of SUP racing talent as well, with the likes of Ryan James, Marie Buchanan, Ollie Shilston, Pete Holliday, Mark Slater, Paul Simmons and young guns such as Pete Kosinski and Aaron Rowe regularly making the podiums across Europe.
So if you're within driving distance on the weekend then get down to the race, otherwise well keep you posted with pics and results after the weekend.