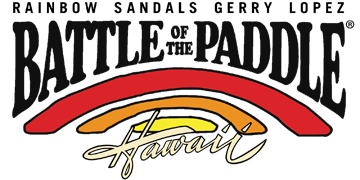 December 17, 2011
by Christopher Parker (@wheresbossman)
[RESULTS] 2011 Battle of the Paddle Hawaii Elite Race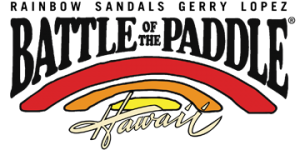 The 2011 Rainbow Sandals Battle of the Paddle, Hawaii, took place the 14 & 15 May 2011 on Waikiki Beach.
The main draw at every BoP is the Elite Race, where paddlers race in and out through the waves. It's become one of the biggest races of the year, and 2011's Hawaii event brought out a stacked field.
Defending champion Danny Ching came in as favourite, after an all conquering 2010 saw him win all four BoP events (both Hawaii and California's Elite and Long Distance races). But the runner-up from BoP Hawaii 2010, Aussie Travis Grant, pushed Ching all the way and eventually broke free on the last lap. The result was a virtual reversal of the previous year, where Ching & Grant also set an early lead and battled the whole race together, before Ching finally stole a lead in the dying minutes.
On the women's side it was another crazy performance from Candice Appleby, beating the 2nd place finisher (Jenny Kalmbach) by just over a minute and keeping her winning streak intact.
(…more from the 2011 Battle of the Paddle Hawaii: Open Age race, Long Distance race)
*****
2011 Battle of the Paddle (Hawaii) Elite Race RESULTS
(click "M/F" to switch between the Men's and Women's results)

| M/F | Place | Name | Time | Overall |
| --- | --- | --- | --- | --- |
| M | 1 | Travis GRANT | 1:21:02 | 1 |
| M | 2 | Danny CHING | 1:21:56 | 2 |
| M | 3 | Connor BAXTER | 1:23:28 | 3 |
| M | 4 | Slater TROUT | 1:24:08 | 4 |
| M | 5 | Kelly MARGETTS | 1:24:33 | 5 |
| M | 6 | Georges CRONSTEADT | 1:25:00 | 6 |
| M | 7 | Matthew BECKER | 1:25:18 | 7 |
| M | 8 | Aaron NAPOLEON | 1:25:28 | 8 |
| M | 9 | Eric TERRIEN | 1:25:36 | 9 |
| M | 10 | Eric PAVAO | 1:25:39 | 10 |
| M | 11 | Kai LENNY | 1:26:10 | 11 |
| M | 12 | Paul JACKSON | 1:26:28 | 12 |
| M | 13 | Armie ARMSTRONG | 1:26:40 | 13 |
| M | 14 | William REICHENSTEIN | 1:27:00 | 14 |
| M | 15 | Andrew LOGRECO | 1:27:40 | 15 |
| M | 16 | Jerry BESS | 1:27:53 | 16 |
| M | 17 | Noa GINELLA | 1:28:02 | 17 |
| M | 18 | Scott GAMBLE | 1:28:04 | 18 |
| M | 19 | Anthony VELA | 1:28:58 | 19 |
| M | 20 | Tyson POPPLER | 1:29:38 | 20 |
| M | 21 | Colin MCPHILLIPS | 1:29:48 | 21 |
| M | 22 | Charles PATTERSON | 1:29:54 | 22 |
| M | 23 | Sepa NAPOLEON | 1:29:59 | 23 |
| M | 24 | Fielding JENSEN | 1:30:03 | 24 |
| M | 25 | Brennan ROSE | 1:30:39 | 25 |
| M | 26 | Bart DEZWART | 1:31:02 | 26 |
| M | 27 | Nick MCDONALD | 1:31:05 | 27 |
| M | 28 | Jim TERRELL | 1:31:10 | 28 |
| M | 29 | Andy DAVIES | 1:31:19 | 29 |
| M | 30 | Dane MORRISSEY | 1:31:20 | 30 |
| M | 31 | Jared VARGAS | 1:31:32 | 31 |
| M | 32 | Byron KURT | 1:31:40 | 32 |
| M | 33 | Noland KEAULANA | 1:31:48 | 33 |
| M | 34 | Steve WALKER | 1:32:25 | 34 |
| M | 35 | Kolaiah JARDINE | 1:33:12 | 35 |
| M | 36 | Steve QUILLER | 1:33:36 | 36 |
| M | 37 | David BOEHNE | 1:33:45 | 37 |
| M | 38 | Brian HAAG | 1:33:55 | 38 |
| M | 39 | Kaeo ABBEY | 1:34:01 | 39 |
| M | 40 | Joseph NAPOLEON | 1:34:23 | 40 |
| M | 41 | Eugene ANCHETA | 1:34:29 | 41 |
| M | 42 | Alex MATERO | 1:34:41 | 42 |
| M | 43 | Simon HUNNYBUN | 1:34:51 | 43 |
| M | 44 | Trevor CABELL | 1:35:52 | 45 |
| M | 45 | Troy MCASEY | 1:36:10 | 47 |
| M | 46 | Tomo MURABAYASHI | 1:36:18 | 48 |
| M | 47 | Kainoa LUM | 1:36:32 | 49 |
| M | 48 | Riggs NAPOLEAN | 1:36:38 | 50 |
| M | 49 | Mo FREITAC | 1:36:44 | 52 |
| M | 50 | Hilton ALVES | 1:36:53 | 53 |
| M | 51 | Tama AUDIBERT | 1:36:55 | 54 |
| M | 52 | Tom HOLBROOK | 1:37:02 | 55 |
| M | 53 | Nestor MAI | 1:38:00 | 57 |
| M | 54 | John GRIFFITH | 1:38:50 | 58 |
| M | 55 | Dane DEBOER | 1:40:45 | 62 |
| M | 56 | Robert TERIITLEAU | 1:42:05 | 64 |
| M | 57 | Travis ROSS | 1:42:31 | 66 |
| M | 58 | Kimo MIRANDA | 1:43:26 | 67 |
| M | 59 | Ozzie CLARKE | 1:43:52 | 68 |
| M | 60 | Marciano WHITFORD | 1:45:06 | 70 |
| M | 61 | Rami ZUR | 1:46:00 | 71 |
| M | 62 | Alika WILLIS | 1:47:36 | 73 |
| M | 63 | Todd CARANTO | 1:49:37 | 78 |
| M | 64 | Akeo CUBAN | 1:50:30 | 79 |
| M | 65 | Gerry LOPEZ | 1:51:05 | 80 |
| M | 66 | Simon OSNER | 1:52:27 | 81 |
| M | 67 | Tim MARTIN | 1:53:21 | 82 |
| M | 68 | Herbie TITCOMB | 1:53:58 | 83 |
| M | 69 | Nate BURGOYNE | 2:00:34 | 86 |
| M | 70 | Helgo WILHELM | 2:01:13 | 87 |
| M | 71 | Mark KOBAYAASHI | 2:06:20 | 88 |
| F | 1 | Candice APPLEBY | 1:34:54 | 44 |
| F | 2 | Jenny KALMBACH | 1:35:55 | 46 |
| F | 3 | Rachel BRUNTSCH | 1:36:38 | 51 |
| F | 4 | Gillian GIBREE | 1:37:52 | 56 |
| F | 5 | Kirsty HOLMES | 1:38:51 | 59 |
| F | 6 | Morgan HOSETEREY | 1:39:51 | 60 |
| F | 7 | Heather BAUS | 1:40:12 | 61 |
| F | 8 | Brandi BAKSIC | 1:40:52 | 63 |
| F | 9 | Mariko STRICKLAND | 1:42:19 | 65 |
| F | 10 | Sondra PURSER | 1:44:20 | 69 |
| F | 11 | Sonja HONSCHEID | 1:46:12 | 72 |
| F | 12 | Krisztina FAZEKAS | 1:47:55 | 74 |
| F | 13 | Jennifer LEE | 1:48:05 | 75 |
| F | 14 | Mary Anne BOYER WILLS | 1:48:56 | 76 |
| F | 15 | Simone HORSFIELD | 1:49:31 | 77 |
| F | 16 | Suzy STRAZZULLA | 1:55:15 | 84 |
| F | 17 | Jodi KEALOHA | 1:57:13 | 85 |
2011 Battle of the Paddle, Hawaii, Elite Race RESULTS provided by SUPracer.com