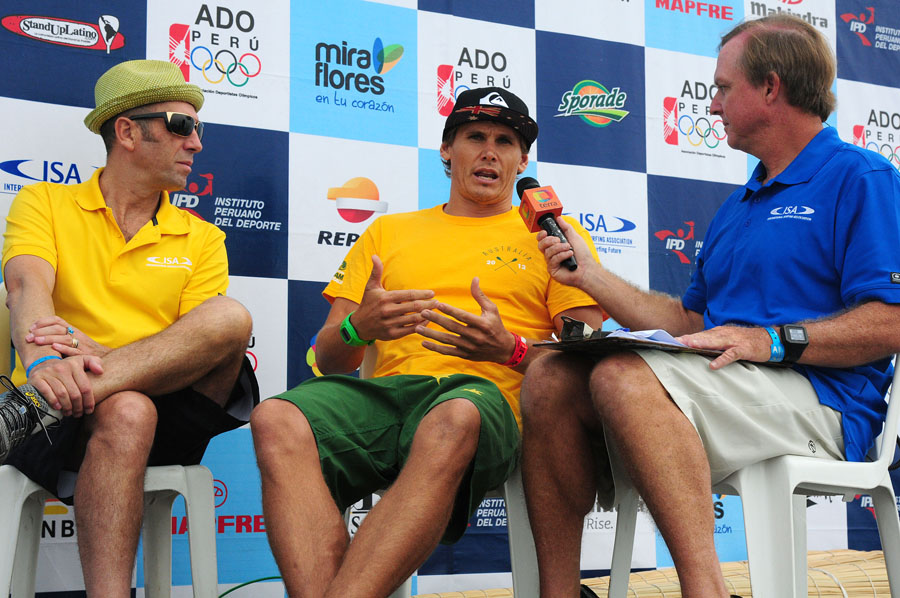 February 25, 2013
by Christopher Parker (@wheresbossman)
ISA World Champs In Peru: Day 1 Recap & Photos + Day 2 Schedule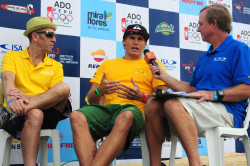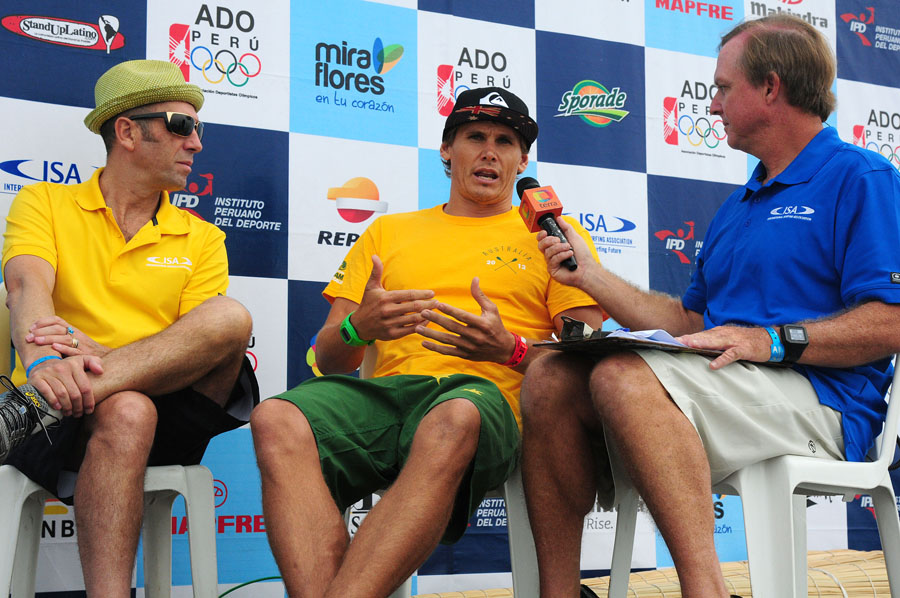 The 2013 ISA World StandUp Paddle and Paddleboard Championship is now under way here in Peru. After yesterday's very colourful opening ceremony, athletes from the 23 competing nations hit the water this morning for the start of the SUP surfing competition.
There were dark horses galore throwing up big scores, but in the end the favourites stepped it up and posted the highest heat totals. Australia's Beau Nixon posted the single biggest heat score of the day and his team mate Justin Holland wasn't far behind, while the USA, Brazilian, French and Mexican contenders also performed well.
>>> Click here for full SUP Surfing results from Day 1
Another highlight was the live webcast Morning Show, which featured 10x World Champion Jamie Mitchell and the charismatic ISA President Fernando Aguerre. The two living legends chatted about the week ahead but also touched on a major topic: Stand Up Paddling in the Olympics. This goal is a huge part of the ISA's charter, so to hear two of the most influential figures in the sport discuss the possibility of it actually happening was very exciting.
Tomorrow the action really gets going though, with the first of the Stand Up and Prone Paddleboard races set to decide four individual Gold Medallists. The big Long Distance race gets going at 11am local time (that's 8am California, 5pm France and 3am the following day in Sydney) and will feature four separate races: Men's SUP racing, Women's SUP racing, Men's Prone Paddleboarding and Women's Prone Paddleboarding.
So check out the photo highlights from the opening day below, as well as the full schedule for the very exciting Day 2. Then stay tuned tomorrow for the LIVE WEBCAST here on SUPracer.com from 8am local time (5am California, 2pm France, midnight Sydney).
ISA World SUP and Paddleboard Championship: Day 2 Schedule
07:40am – The Morning Show
08:00am – Men's SUP Surfing, Round 1 Repechage
09:00am – Women's SUP Surfing, Round 2 Repechage
09:40am – Long Distance Race Preparation
11:00am – Start of the SUP and Prone Long Distance Race
8am Peru = 3am Hawaii // 5am California // 8am Florida // 10am Brazil (BRT) // 1pm U.K. // 2pm France // 3pm South Africa // 10pm Japan // 11pm Queensland // midnight New South Wales // 2am (following day) New Zealand
ISA World SUP and Paddleboard Championship: Day 1 Highlights
>>> See plenty more photos from Day 1 on the official site.