February 24, 2013
by Christopher Parker (@wheresbossman)
Photo Recap Of The ISA Peru Opening Ceremony (Plus The Symbolic "Sands Of The World")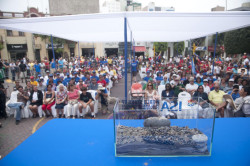 The 2013 ISA World Standup Paddle and Paddleboard Championship got under way here in Peru today, with the parade of Nations and Opening Ceremony marking the official start of the event. It was great to see paddlers from all over the world getting into the festivities of the parade; Peru got the biggest cheers, Mexico were the craziest, South Africa (courtesy of their vuvuzelas) were the loudest, while Canada won points for proudest rendition of a national anthem.
Though the highlight for me was the awesome "Sands of the World" feature. This is where each country pours a cup of sand (that they brought with them from their home beaches) into a glass box. After 23 countries have added their sand (or stones) you end up with a very cool looking mix of colours and shapes. This is something that seems very symbolic of this entire event, where cultures mix with each other; "We're different but the same" was ISA President Fernando Aguerre's common theme.
So check out some photo highlights of today's opening ceremony below, then check back in the morning for the live webcast of Day 1 here on SUPracer.com.
You can check out even more photos on the official site.