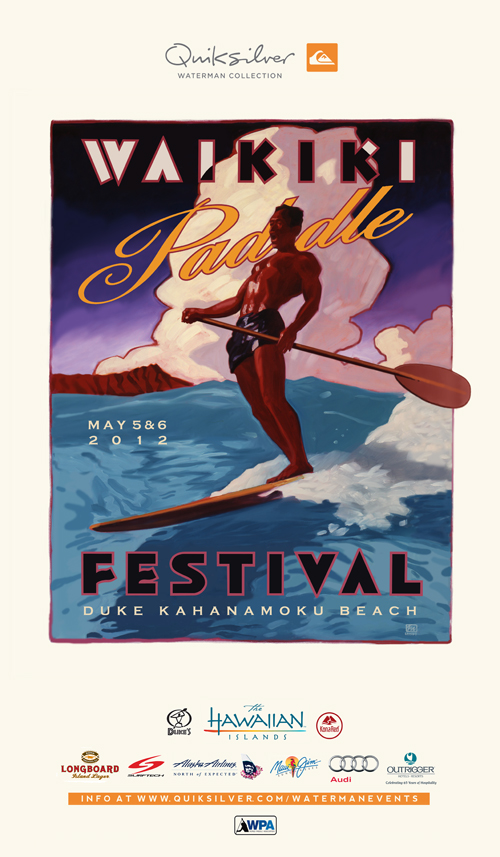 March 8, 2012
by Christopher Parker (@wheresbossman)
[VIDEO] Jamie Mitchell Talks Waikiki Paddle Festival (Big Names, Big Races, Big $$…)
*****
Original Story:
Here it is! We've heard rumours and whispers about this one for weeks, but now the details are finally out of the bag and it sounds like this'll be one of the biggest and most exciting SUP races of the year…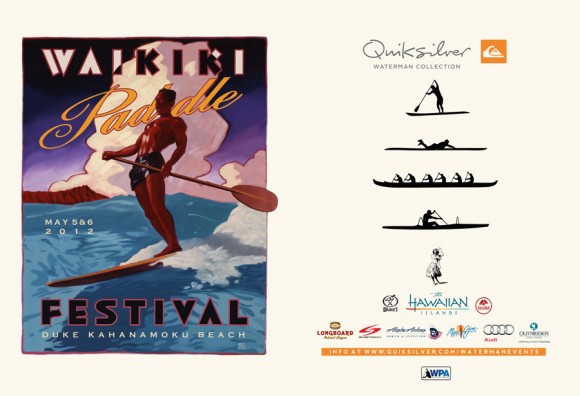 The Waikiki Paddle Festival is a major new Stand Up Paddle event presented by Quiksilver Waterman Collection on May 5th & 6th.
Watch the video below to see Jamie Mitchell and Peter Mel announce all the details.
The Waikiki Paddle Festival will be a two-day event filled with a tonne of races, a tonne of big name paddlers, and a tonne of prize money. Plus the whole thing will be streamed live via webcast around the world.
The focus is on Stand Up Paddling, though in the true waterman spirit, there's also going to be OC-1, OC-6 and Prone Paddleboard races.
Quiksilver Waterman Collection is the main sponsor and organisers of the event, but they're being well supported by the crew at the World Paddle Association as well (plus a host of other companies have jumped on board to sponsor the event).
You'll be able to register for the event starting March 20th, but until then here's all the details you need to know…
Waikiki Paddle Festival
Dates: 5th-6th May 2012
Location: Waikiki, Hawaii
Races: Survivor Format Race, Open Race, Team Relays, Hawaii Kai Run (long distance) plus races for OC-1, OC-6 and Prone Paddleboarders. Male and female divisions in all races.
UPDATE: Info about another race has just come through: the Ultimate Waterman Challenge.
Prize Money: To be decided (but we're hearing it should be $25,000 plus..!)
Survivor Format Race
This is going to be the main event, sort of like the "Elite Race" at the Battle of the Paddle but with a new (and pretty exciting) format. Boards will be 12'6″ for both men and women.
Everything depends on the numbers, but there's most likely going to be 2x Qualifying Heats in the morning and a Multi-Race Final in the afternoon.
So how's this new "Survivor Format" work exactly?
OK so let's say that 120x paddlers enter the Men's Race:
– 2x Qualifying Heats with 60 paddlers each
– Each heat is 2x laps of an M-shaped course (roughly 30 minutes race time)
– Top 25 from each heat go through to the final
So the field would get whittled down to the Top 50 paddlers after the Qualifying Heats. At that point we get to the really cool part; the multi-race "Survivor" final.
If 50 paddlers qualified for the final, the Multi-Race Final would look something like this:
– Five consecutive 1x lap races (roughly 10-15 minutes each)
– All 50 paddlers would line up in Race #1
– Top 40 go through to Race #2, bottom 10 are eliminated
– Five minutes after the winner of Race #1 crosses the finish line, Race #2 begins (no matter when all the other paddlers finish)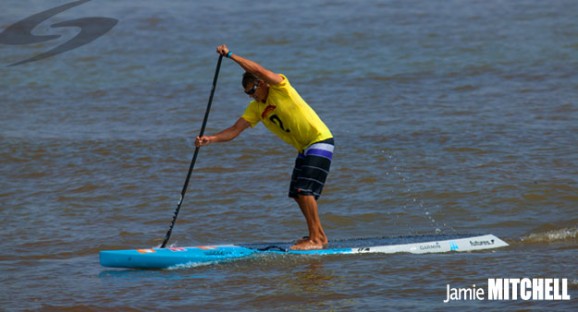 So if you finish in 40th place in Race #1 you'll be the last paddler to qualify for Race #2.
If you finish 4 minutes 30 seconds behind the winner, you'll have 30 seconds to get ready for the next race. Sounds tough, but that's why it's called the Survivor…
– This knockout format continues with 10 paddlers being eliminated from each race. So Race #1 = 50 paddlers, Race #2 = 40 paddlers, Race #3 = 30 paddlers, etc.
– This non-stop action keeps going until there are just 10 paddlers left standing before Race #5. The winner of that race is the Survivor Format Race Champion.
– To mix things up, there's going to be overall prize money plus bonus cash prizes for each individual race.
*****
Sounds like a pretty cool new SUP race format and means the action will be non-stop all afternoon, both for the paddlers and the spectators.
Plus the crowd on the beach (and online – this whole thing is webcast) will be watching not only to see who wins each race, but to see who "Survives" and scrapes through to the next round.
It could also throw up plenty of interesting race strategies for the paddlers themselves;
Do you hang back and conserve your energy for the other races, but risk missing the cut? Or do you go hard and try to guarantee your progression plus have a crack at the prize money, but lose energy for the next race?
Either way, should be a lot of fun for both the paddlers and the crowd.
*****
So whether you can make it to Waikiki in May or not, keep following SUPracer for all your info about the Waikiki Paddle Festival.