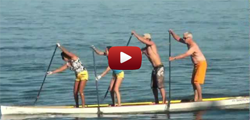 June 30, 2012
by Christopher Parker (@wheresbossman)
[VIDEO] The "Quadnundrum" Tandem SUP Board By Infinity
Check out the awesome "Quadnundrum" – Infinity's Tandem SUP race board that has room for four paddlers. Check out the video below to see the board in action…
Length: 21 feet (6.4 metres!)
Yeah it's pretty long…
So far in 2012 the Quadnundrum SUP board has been raced at both the Hano Hano SUP Race and the Dana Point Ocean Challenge.
However it actually debuted last September at the Battle of the Paddle Long Distance Race, when Slater Trout, Dave Boehne and Chance Fielder paddled the Quadnundrum into 2nd (unofficially) behind Danny Ching.
The Quadnundrum SUP board was hand-shaped by Steve Beohne @ Infinity Surfboards (the same crew that look after Slater Trout). They've got a whole line of Infinity Tandem SUP boards, but the Quadnundrum is the big one.
I think it'd be cool if some savvy race director hired the Quadnundrum and four good paddlers to use it as a pacemaker…
Hat tip: SUP The Mag