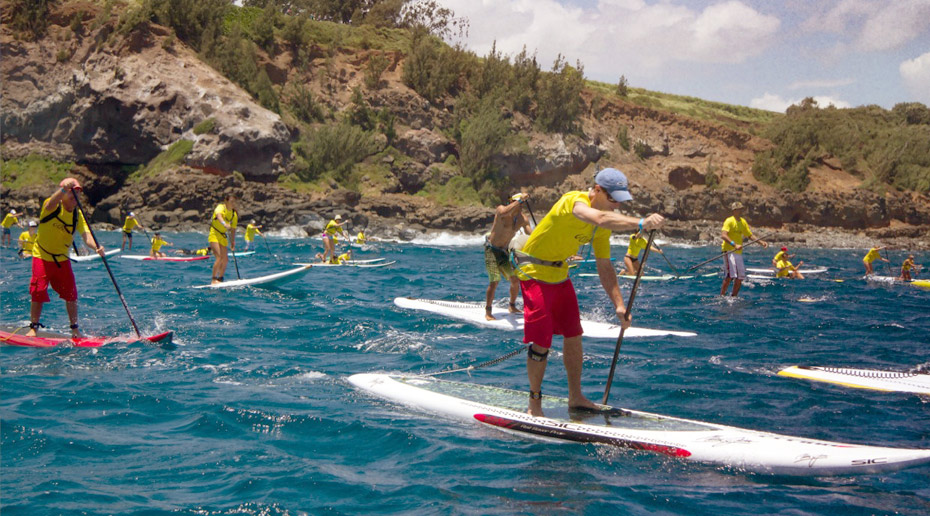 July 25, 2013
by Christopher Parker (@wheresbossman)
The Sticker Debate: Should Sponsored Athletes Be Using Rival Gear?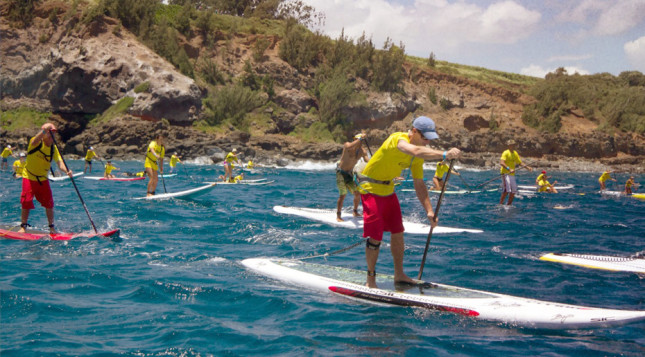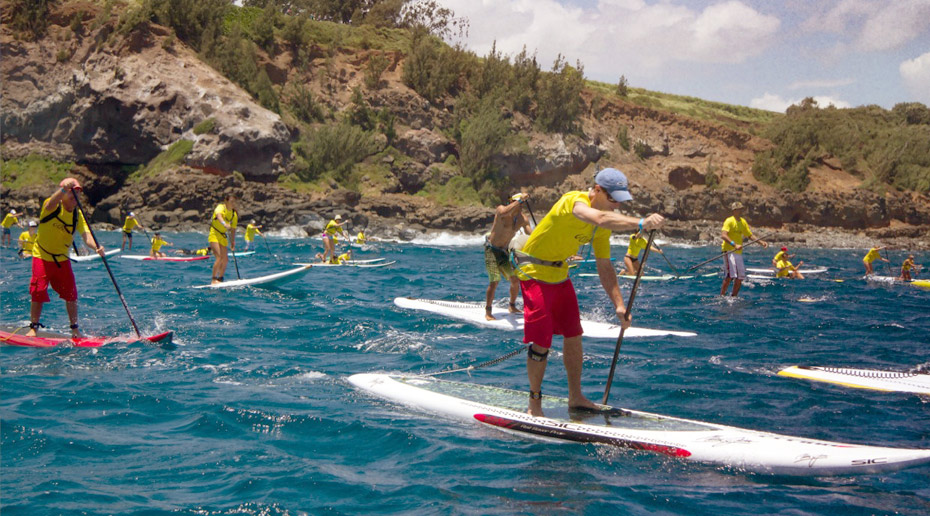 UPDATE: With apologies to Connor Baxter…
This article has become bigger than Ben Hur the past couple of weeks and it's pretty clear most readers are missing the main point. And that's entirely our fault for the way it was written…
This was never supposed to be about one paddler, it was supposed to be an industry-level discussion about whether or not this kind of issue is OK in our sport. But it turned into a Connor-fest, which really isn't fair on the kid, because many other paddlers do the exact same thing. In a strange way it was actually a compliment to Connor; we used him as an example because everyone knows who he is. But still, this meant the article unfairly focused on one single paddler.
So just to be clear: This isn't about one person. Many paddlers do the same thing. I remember last year's OluKai when the top 5 guys all paddled SIC boards, despite all of them having other sponsors. In this year's Molokai the top 7 women were on SIC boards, again many of them with different sponsors.
This debate is about whether or not this kind of thing should happen in the sport. Most brands don't make unlimited boards, so it's probably going to continue well into the future as sponsored riders from the rest of the world converge on Hawaii for "Downwind Month" each July (where Unlimiteds are the boards du jour). I think it's only a real problem when brands start promoting their athletes using results that were attained on other brands' equipment. 
So anyway, read the original article below but just keep in mind: This isn't about Connor.
****
There's a new debate in the world of SUP racing (yes, another one, no, not that one, or that one, or that one, another one…) revolving around sponsored athletes using boards and paddles from rival brands.
It's a touchy subject and one that keeps cropping up over and over, but with the way the SUP industry is taking off, there's suddenly a lot of money at stake (not to mention pride). And that's just for the brands. For the paddlers it could mean the difference between winning and losing a major race.
There are countless examples… this paddler used that board even though he's sponsored by those guys, some chick raced with a paddle from brand X but carried a paddle from brand Y onto the podium, this sticker got airbrushed out of that ad, etc etc.
But of course for anyone that follows the sport of SUP racing closely, the most famous and not-so-secret example is Connor Baxter paddling a custom SIC Bullet with Starboard stickers on it. The Maui superstar has probably won more SUP races than any other paddler in the world, and he's certainly won more downwind races than anyone. But despite being sponsored by Starboard, most of those wins come on an SIC Bullet (or a custom equivalent).
Is this right or wrong?
Either way I don't blame Connor. This whole article is nothing against Connor. I love the kid. If his sponsor can't make him good equipment in time for a race then of course he's going to use something else. I think this is more about the sponsors than the paddlers.
And besides, if I was Connor, I'd be less worried about offending SIC and more worried about my sponsor, a company as big and wealthy as Starboard, not being able to build me with a realistic alternative to the SIC Bullet in the past twelve months.
On the other side of the coin, if I was SIC I'd be kinda pissed. And they kinda are. After one of their boards won yet another downwind race last week, SIC put out a straight-to-the-point press release that made it clear which brand was winning:
"This past Sunday in Hawaii was the 27 mile Maui to Molokai SUP race. With most of the world's best paddlers converging on Hawaii for the month of July the competition has never been tougher. Connor Baxter finished first on an SIC MAUI Bullet 17 the same board he set the course record on in 2012. Conner has been unbeatable in every downwind race this year when paddling his SIC Bullet 17."
(…of course SIC isn't actually pissed off. They're stoked. And why wouldn't they be: The entire podium at most downwind races, and almost always the winner, is paddling an SIC board)
So despite the Starboard stickers, Connor was winning on an SIC, and that's something SIC wants the world to know. And so they should: SIC wants to sell boards around the world and has the basic right to claim victory if one of their boards crosses the line first. The fact that Connor then went on to dominate the Maui Paddle Champs a week later – again he was paddling his SIC, as was the entire Top 5 – raised the issue further. This weekend Connor will go for a three-peat of Molokai-2-Oahu, and, again, it'll be on an SIC.
But to understand this particular side of the debate we have to rewind a little…
Connor, and virtually every paddler on Maui (save for a few Naish riders) had always paddled an SIC Bullet or a custom variation. SIC was created by local Mark Raaphorst, who used his years of experience in the oceans around Maui to create what many consider the best unlimited downwind SUP board.
Even after Connor became Starboard superstar, there was still a general understanding that he'd use SIC boards for the unlimited races. After all, Starboard had no interest in the niche unlimited market and SIC was a relatively small brand that posed no real threat to Starboard's traditional markets. It was win win win. SIC got recognition and Starboard got a superstar without spending money on a prototype unlimited, while Connor had a fast and reliable board.
But then something big happened: SIC got bought out by Flow Sports, who have grand plans for the Maui brand and who suddenly gave Starboard a lot more market competition. There were calls among a couple of leading teams for their riders to stop using SIC equipment, as it would be promoting a company that was suddenly a big rival rather than just a harmless niche brand.
Though while Naish have developed a new unlimited race board (the Naish LE17), Starboard have been a little slower. Despite some sightings of an Unlimited Starboard Ace and another prototype being used by Bart de Zwart at OluKai, Connor's best (and fastest) option still remains his old faithful SIC board (word is a better SB Unlimited is in the works, but it wasn't ready in time for this year's downwind season).
The problem is, and in Starboard's defence, Unlimited boards just aren't a big retail market, and the relatively small market that does exist has already been monopolised by SIC and their world famous Bullet. Unlimited boards are generally too long, too expensive and in too short a demand to be a commercial success for the major SUP board manufacturers. That means most paddlers crossing the Ka'iwi Channel this weekend, whether they're sponsored or not, will be on an SIC Bullet, either a full production board or a custom made by Mark Raaphorst.
Sure, some paddlers have made their own: Danny Ching just built a couple of custom 404 unlimiteds ahead of his Molokai assault, Eric Terrien had a custom BIC unlimited prepared for the same race, while Travis Grant got a locally shaped unlimited for his crack at the Channel. However most guys and girls know their safest bet is an SIC Bullet.
So what's the point of all this? Personally I don't think there's anything wrong with Connor using an SIC Bullet. This sort of thing only becomes an issue when the sponsors try and claim credit for another brand's equipment. So again, it's more about the actions of the sponsors than the paddlers. If Starboard had a great unlimited board on the market and Connor ignored it in favour of his SIC, that would be a problem. But right now he's got no alternative, so of course he's going to use it.
We know Starboard have been working on an Unlimited for their top paddlers, such as Connor, Bart de Zwart and Annabel Anderson, and apparently a good prototype design will be arriving on Maui next week for testing, though obviously too late for Connor to switch over before Molokai.
So we'll just have to wait and see. For now, it's not the hugest issue, but certainly one that is causing plenty of chatter on the forums and at the races.
But while SIC/Starboard are at the centre of this debate right now, they're not the only ones involved. Nor is Connor Baxter the only SUP athlete using equipment. And again this isn't bashing Connor, he's just doing what he has to in order to win races. Outside of the unlimited board debate, there's plenty of other examples of sponsored paddlers using rival gear:
– Plenty of sponsored paddlers competing in Molokai this weekend will be on SIC or other custom unlimited boards, because their sponsors, just like Starboard, have little to no interest in the Unlimited SUP race board market. In fact Molokai seems to be where this debate always centers. Whether it's boards (just about everyone using SICs) or paddles (eg. Kai Lenny used a stickered-over Quickblade Paddle during Molokai 2012).
– Several elite paddlers have been known to walk up on the podium holding their sponsor's paddle, despite having raced with a superior blade from an entirely different brand (there's actually too many examples of this to even bother mentioning names…).
– A few leading board brands have also been pressuring their top riders to stop using niche paddle brands (such as Quickblade, Kialoa and Werner) and start using their own branded designs, even if those blades are perhaps inferior and will cost their paddlers valuable seconds in the next race. The theory being that the while board brands sometimes do more for their riders, it's the paddle brands always getting the glory on the podium (because it's slightly easier to walk up onto the podium with your paddle rather than your board…).
– Some "one design" inflatable races have become a farce because paddlers elite weren't allowed to be seen on a rival brand's board, though some paddlers choose to ignore team orders and race for the fun of it anyway.
– And just like the in the world of pro surfing, paddlers will often get a board custom-built locally and then sticker it up with their own sponsors, not just in Hawaii but also in California and beyond. Which also brings up the important question: if you buy something (or get it given to you no strings attached) can you do whatever you want with it?
All of these points generate an interesting debate.
So what's right or wrong? I'm not really here to answer that, nor do I particularly want to, however this is something that is happening so I figured it was worth having a debate about it.
What do you reckon?