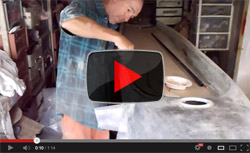 January 11, 2013
by Christopher Parker (@wheresbossman)
Does This Video Show A New "Unlimited" 18ft Starboard Ace? (UPDATED)
UPDATE: There's a new vid down below showing the finished board on the water.
Looks like Starboard could be working on the ultimate unlimited board to give its star paddlers the edge in Hawaii. The video (see below) shows what is apparently an 18′ Starboard Ace prototype in the shaping bay. Up until now, Starboard (and almost all major SUP board manufacturers) have largely ignored the "Unlimited" market. There are simply too few races focusing on the unlimited board class. There's also very little money to be made from 16-20 ft boards that are difficult to make, expensive to buy and a pain to transport.
The great irony of all this is obvious: Starboard's wonder boy, Connor Baxter, has largely made a name for himself in Hawaii's unlimited downwind SUP races, in particular the Molokai-2-Oahu. To achieve this, Connor has had to ride an SIC Bullet with Starboard stickers, which has caused a bit of controversy in the past. I don't see anything wrong with it myself, but I'm sure Starboard would love Connor to win the big Hawaiian SUP races on one of their own shapes.
That's where this new 18′ Starboard Ace unlimited prototype board comes in.
Up until now, the Starboard Ace has only been available in 12'6″ or 14′ models. Anyone that's paddled the current 14 footer in decent downwind conditions will probably agree: it's one very slick board. Plus the 2013 range includes a 23 inch wide model, which is even faster again, so the thought of an 18 foot version is pretty exciting.
My guess is that this will all come to a head at the 2013 Molokai-2-Oahu, when Kai Lenny will most likely be paddling the long-awaited Naish Javelin 18 LE (which has been listed as "coming soon" on the Naish site for months) and Connor Baxter could very well be on this new Starboard Ace 18′ board.
It's generally accepted that Naish have held off releasing their new 18 footer until they could build a board faster than the Bullet, in order to give Kai a genuine shot at stealing Connor's Molokai crown. Perhaps Starboard realised this and decided to go one up again, perhaps they want Connor to beat the Naish prodigy on one of their "own" boards, or perhaps they just like testing out new shapes (this may in fact have nothing to do with Molokai at all…).
UPDATE: Sounds like Starboard might be making their own unlimited board now that SIC has been bought out by Flow. SIC *was* a little niche brand out of Maui, but now it's owned by a global company that will compete head on with Starboard, so it makes sense that Starboard wouldn't want their team riders winning races on boards made by their competition.
Starboard may also be working on more than one. This shape is from JL Colmas, but Brian Szymanski, who shapes a lot of Starboard's race boards, may also be involved in producing some different unlimited prototypes.
No matter what/when/where/why Starboard is building an 18′ Ace, the thought of Connor and Kai going head to head across the Channel of Bones on 18′ production boards is pretty exciting. For those saying the Unlimited SUP board class is dying a slow death (which it is), this could breathe new life into it.
But anyway, here's the video that got this rumour started. It doesn't show a lot, but it seems like the featured shaper is none other than Jean-Louis Colmas from New Caledonia. JL helped Svein Rasmussen (Starboard's founder) build the very first Starboard windsurfing prototypes back in 1994 and he also pioneered the use of light-weight wood technology in board manufacturing. JL Colmas has been active with Starboard ever since, so if the board in this video really is 18′ long, it's probably a very real prototype.
The video was uploaded to YouTube three weeks ago, so this board should be out on the water by now…
*****
UPDATE 13th Jan: Here's another vid showing the board on the water.
Source: David John Peterson via The Breeze