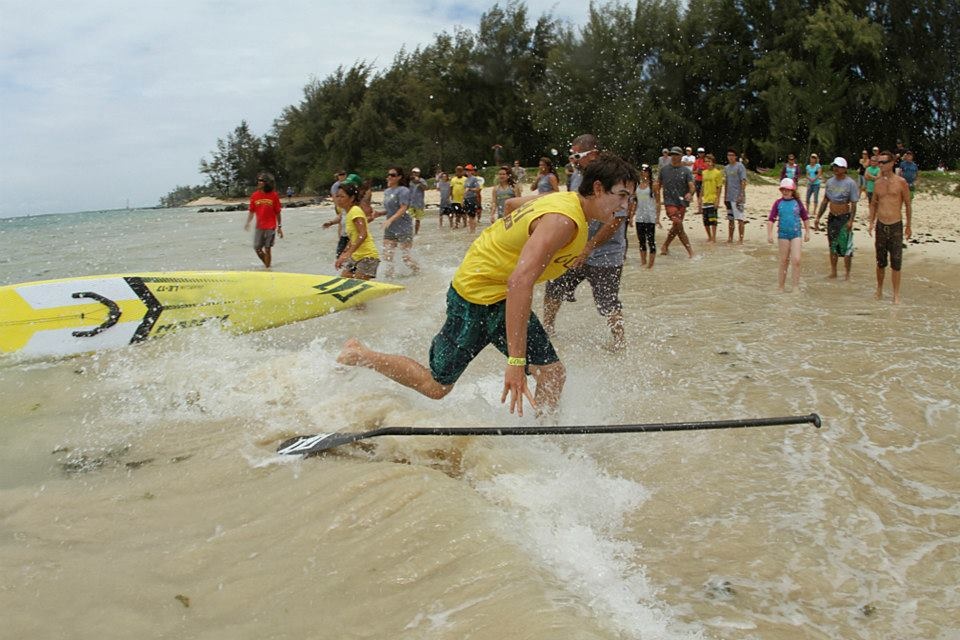 May 12, 2013
by Christopher Parker (@wheresbossman)
First Look At The Looong-Awaited Naish Javelin LE-17′ Race Board
Time for some new-race-board-spy-photo fun…
One of the most eagerly anticipated (and slightly overdue) new SUP race boards is the Unlimited Naish Javelin, which would replace the old 17′ Glide and extend Naish's latest range of Javelin boards from 12'6 and 14′ all the way up to the Unlimited class.
Well we finally got to see the Naish Javelin LE-17 in action, as Kody Kerbox and Kai Lenny paddled the board in yesterday's big OluKai race. As you can see from the pics above and below, it's got a super narrow, diamond shape and of course the rudder steering system, which is unique to the Unlimited class.
The Naish Javelin LE-17′ has been listed on the official site for close to a year as "TBD" and "Coming soon". In fact it's been there so long that it's still called the "Javelin LE-18". This board was originally set to be 18 feet, but somewhere along the way, as the Naish team worked to perfect the shape, it got scaled back to 17.
But now the board might finally be ready for production.
Of course the other obvious reason for the delay, apart from the endless testing, is the fact that very few paddlers actually buy Unlimited boards, meaning Naish doesn't really have a huge commercial incentive to make one of these. It's a tiny niche in the sport, generally limited to mad-keen downwind enthusiasts, people with a lot of money or paddlers who like to race in Hawaii.
Apart from a small outpost in Southern California (manned by the likes of Rob Rojas and Thomas Maximus) and a few die-hards in Australia, the Hawaiian islands are really the only place you see 17 and 18 ft. boards being raced seriously.
Coincidentally, Bart de Zwart was seen yesterday testing out what could be the Javelin LE-17's main rival; the new Unlimited creation from Starboard (which we saw a few months ago, though apparently this is a totally different version). Connor Baxter, meanwhile, was paddling an older board on the weekend, so it looks like only Bart was the guinea pig this time round.
What's the point of all this? Well apart from the fun (though fairly pointless) speculation that us amateurs enjoy, this is actually all leading somewhere, as we could just see a whole new line-up of SUP race boards challenging for the 2013 Molokai title.
It would be fascinating to watch Kai Lenny on the Naish Javelin LE-17 vs. Connor Baxter on the Unlimited Starboard vs. a whole bunch of challengers on the latest version of the classic SIC Bullet (which still holds the title of leading downwind board in Hawaii).
Throw in the rumoured appearance of guys like Danny Ching (who would be on a custom, Hawaiian-shaped 404 Unlimited board), Travis Grant (who's now with NSP and seems to get his hand on a new prototype board every week) and Dave Kalama, who beat everyone except Connor at OluKai yesterday, and we should have the most diverse and exciting Molokai-2-Oahu SUP race of all time…