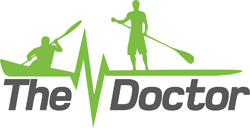 January 19, 2013
by Christopher Parker (@wheresbossman)
Travis Grant, Angie Jackson Win "The Doctor" (UPDATED)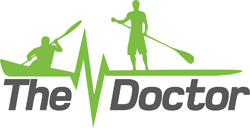 Australia's premiere SUP race, "The Doctor", was held today near Perth, Western Australia. Most of the country's best paddlers were in action, chasing $5,000 in cash plus the all important bragging rights for the next 12 months.
Crossing the line first was World Champ Travis Grant, followed half a minute later by fellow Gold Coaster Beau O'Brian. Young Lincoln Dews was next, making it a Queensland 1-2-3.
Angie Jackson took out the women's race, with Michelle England in 2nd and young up and coming Gold Coast paddler Molly Walker in third. Bad luck for Paul Jackson, who was sitting around 5th mid-race before his board filled up with about 20kgs of water.
But the day belonged to Travis Grant. After being sidelined with injury for six months in 2012 and recently switching board sponsors, the champ finally looks like he's back on top. We just spoke to Travis on the phone and this was his take on today's race:
"Epic, tough, fast race. Wind was light at the start but then really picked up. After the first kilometre, Beau, Lincoln and myself made a jump on the others. Not long after that, Lincoln took off in the lead, but we eventually caught up and overtook him.
Lots of technical downwind racing/surfing the bumps. Started feeling really good as the wind picked up. Thought I'd dropped Beau but he came back really hard towards the end and was within 30 seconds or so at the finish. Lincoln paddled very well (first time on the board he was using). I'm stoked to win!"
*****
The Doctor SUP Race Results
Click "M/F" to switch between Men's and Women's results
Click "Time" to reset the results
Note: There were a few mistakes in the official raw results that we're trying to get fixed

| # | M/F | Name | Time | Class |
| --- | --- | --- | --- | --- |
| 1 | M | Travis Grant | 2:21:19 | 14' |
| 2 | M | Beau O'Brian | 2:21:52 | 14' |
| 3 | M | Lincoln Dews | 2:24:14 | 14' |
| 4 | M | Jake Jensen | 2:26:30 | 14' |
| 5 | M | David Kissane | 2:26:51 | 14' |
| 6 | M | Sam Parker | 2:27:37 | 14' |
| 7 | M | Paul Jackson | 2:32:19 | 14' |
| 8 | M | Zane Schweitzer | 2:35:50 | 14' |
| 9 | M | Andy Davies | 2:39:17 | 14' |
| 9 | M | Marcus Tardrew | 2:39:17 | 14' |
| 11 | M | Dale Chapman | 2:45:35 | 14' |
| 12 | M | Steve Walker | 2:48:30 | 14' |
| 13 | M | Mike Galvin | 2:50:00 | Unlimited |
| 14 | M | Ben Tardrew | 2:51:10 | 14' |
| 1 | F | Angela Jackson | 2:53:46 | F14' |
| 15 | M | Roger Goodwin | 2:55:53 | 14' |
| 2 | F | Michelle England | 2:56:13 | F14' |
| 16 | M | Peter Pridmore | 2:57:58 | 14' |
| 3 | F | Molly Walker | 2:58:32 | F14' |
| 17 | M | Cameron Mckay | 2:59:55 | 12'6 |
| 18 | M | Jackson Shaw | 3:02:00 | 14' |
| 4 | F | Alison Fullagar | 3:04:04 | F14' |
| 19 | M | Scott McCluskey | 3:07:42 | 14' |
| 20 | M | Scott McKercher | 3:08:00 | 14' |
| 21 | M | Greg Kerr | 3:09:00 | 14' |
| 22 | M | Peter Baldwin | 3:10:00 | 14' |
| 23 | M | Gordon Stimson | 3:11:00 | 14' |
| 24 | M | Luke Jenkins | 3:14:00 | 14' |
| 25 | M | Brett Hall | 3:17:00 | 14' |
| 26 | M | Justin Ormonde | 3:18:00 | 14' |
| 27 | M | Wes Stansfield | 3:23:43 | 14' |
| 28 | M | Christopher Gage | 3:23:45 | 14' |
| 29 | M | Piran Holloway | 3:31:00 | 14' |
| 30 | M | Kent Wright | 3:34:25 | 14' |
| 31 | M | Ian Grose | 3:41:39 | 14' |
| 32 | M | Steve McCullough | 3:41:50 | 14' |
| 33 | M | Gordon McKercher | 3:54:38 | 14' |
| 34 | M | Ian Nichol | 4:07:33 | 14' |