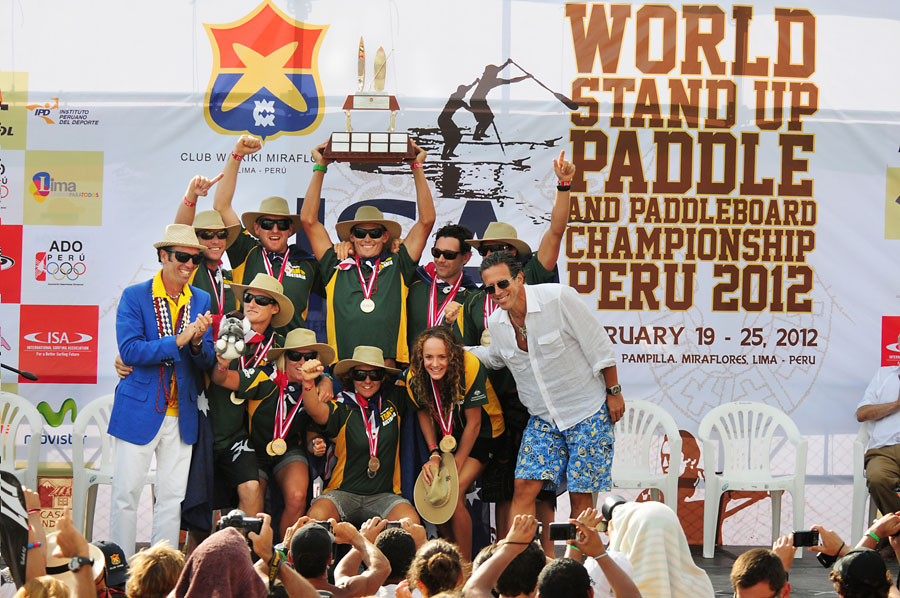 November 18, 2012
by Christopher Parker (@wheresbossman)
Team Australia Announced For ISA Worlds In Peru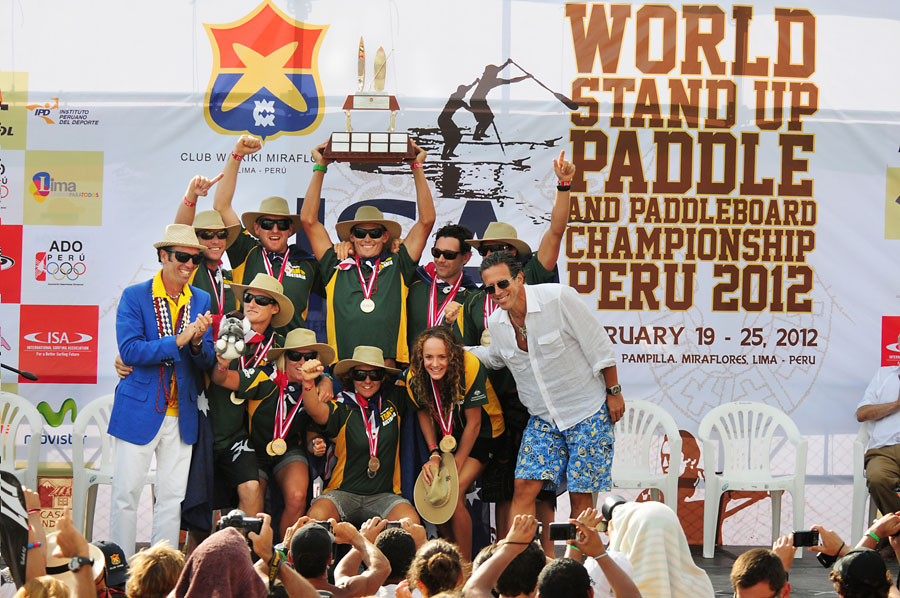 Surfing Australia has just announced the team that's heading to Peru next February, in defence of the ISA World SUP Championship title the Aussies won earlier this year.
The SUP Racing side of the team consists of 10x World Champ (and ISA Distance Race champion) Jamie Mitchell, Australian Technical Course Champion and #4 at the recent Battle of the Paddle, Kelly Margetts, and the Aussie women's champ, Angie Jackson.
"TravelSIM Team Australia" will head to Peru from 24th Feb-2nd March 2013 to contest the ISA World Standup Paddle and Paddleboard Championships at Miraflores (the same location as the 2012 event).
Young gun Lincoln Dews will also travelling to Peru, though he'll be competing in the prone paddleboard events rather than the SUP racing. In addition to racing, Jamie Mitchell will also reprise his role of Team Captain. Here are JM's comments from the official press release:
Mitchell said he was proud to be returning as team captain after the success earlier this year, but warned several other countries were preparing well to take on the Australians.
"The team looks really strong again," Mitchell said. "We have a few new faces in the team and a lot of our existing team from last year so that should make for a great blend of experience, youth and enthusiasm.
I definitely think that all the countries will be looking to put forward their best team possible. I know Hawaii will compete as a team this year and they will have a super strong team. As always USA will have a great team and other countries like South Africa, France, Mexico and New Zealand will definitely be stronger than last year so it will be a very tough competition and we will have to be at our best to defend our title."
After claiming the inaugural ISA World Paddle Championship title nine months ago in dominant fashion, the Aussies are going to be very tough to beat second time round. Kelly and Jamie would line-up as favourites in practically any SUP race around the world, while Angie Jackson showed she can match it with the best by claiming 4th in the Waikiki Paddle Fest back in May. Throw in the virtually-unbeatable prone paddleboarding team and a few very talented SUP surfers, and the Aussies are sure to start favourites in Miraflores next February.
Their most obvious rivals will be the United States and Hawaii (who are entered as separate nations in ISA events). If either of those two sends a full-strength team (which didn't happen at the 2012 event; the U.S. were missing Ching/Appleby, and Hawaii didn't compete), the Aussies will definitely have to fight hard. Throw in some seriously talented dark horses like France/South Africa and you've got a pretty stacked field. But still, you'd expect the Aussies to start the clear favourites.
There's been plenty of jostling in the SUP racing world over the past twelve months, with various organisations hosting their own "World Championship" events. However none of them have been able to attract the type of all-star line-up you'd see at the Battle, so it'll be interesting to see how many of the world's best make it to Peru next year.
Just to recap, here's the format of the ISA World SUP Championships. Each nation sends a small team of their best paddlers, comprised of a maximum of:
– 2x men and 1x woman in the SUP racing events
– 2x men and 1x woman in the SUP surfing events
– 2x men and 1x woman in the prone paddleboard racing events
There are 12 gold medals up for grabs: Short and Long Distance races for both men and women in SUP and prone paddleboarding, plus SUP surfing for both men and women. The eleventh medal goes to the Team Relay, which consists of 2x SUP racers (1x guy/1x girl) and 2x prone paddlers (1x guy/1x girl) from each country.
Results from all those events are added up to crown the champion nation, which is where the twelfth and final Gold Medal goes. Australia dominated the 2012 event, taking out 7x Golds en route to the overall team victory. The U.S. finished second while South Africa claimed third (FULL RESULTS from the 2012 ISA World SUP Championship).
You'd be brave to bet against the Aussies second time round, but no matter what happens at the 2013 ISA World SUP Champs, we'll keep you covered with all the info, news and results here on SUPracer.com.
*****
The TravelSIM Team Australia line-up:
Men's SUP Racing
– Kelly Margetts
– Jamie Mitchell
(for both the Technical Course + Long Distance races)
Women's SUP Racing
– Angie Jackson
(for both the Technical Course + Long Distance races)
Men's SUP Surfing
– Beau Nixon
– Justin Holland
Women's SUP Surfing
– Shakira Westdorp
Men's Prone Paddleboard
– Brad Gaul
– Lincoln Dews
Women's Prone Paddleboard
– Jordan Mercer