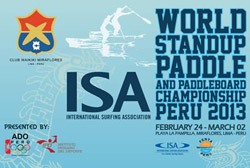 November 9, 2012
by Christopher Parker (@wheresbossman)
…And Just To Make It Official, Here's The Event Poster: 2013 ISA World SUP Championship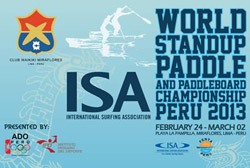 Here's the official announcement for the 2013 ISA World Standup Paddle and Paddleboard Championship event (let's just call it the ISA Worlds for short).
The event is heading back to Miraflores, Peru from the 24th Feb to 2nd March 2013, the ISA have now made the full details public. You can read the full ISA announcement here.
There's a bit of news in the announcement, including…
– Cap on competitors. For the SUP racing, it's 48 men and 24 women. There's 2x men and 1x woman from each nation, so if every country sends a full team, that's technically a cap of 24 countries. Last year the event attracted 17 nations and we assumed the ISA would want to double that for 2013, but maybe not…
– The "Technical Course Race" (which is a rather dry way of saying "Battle of the Paddle-style race") will be 5-6km
– The Distance Race will be 18-20km. Seems the ISA might have dropped the term "Marathon Race" this time round (which never really seemed to fit anyway, seeing the course is less than half the distance of an actual marathon).
– The full schedule is in the official announcement, but here are the days that involve SUP racing…
Tuesday 26th February
Distance Race (men and women)
Thursday 28th February
Technical Course Race HEATS (men and women)
Friday 1st March
Team Relay (2x SUP + 2x Prone) HEATS
Saturday 2nd March
Technical Course Race FINAL (men and women)
Team Relay (2x SUP + 2x Prone) FINAL
Teams for the ISA Worlds are starting to get finalised: The other day Team GB revealed their lineup, while Australia, Spain and the United States will be revealing full squads shortly. The French National SUP Champs are happening this weekend while the South African SUP team is just about to be finalised. As we mentioned there were 17 nations at the inaugural event and you'd expect that number to rise for the second edition.
The ISA Worlds were first held in February 2012, but if you weren't following the event the first time round you can catch up with our full coverage >>> ISA World SUP Championships. 
And of course we'll keep you up to date with everything to do with the 2013 edition as well…