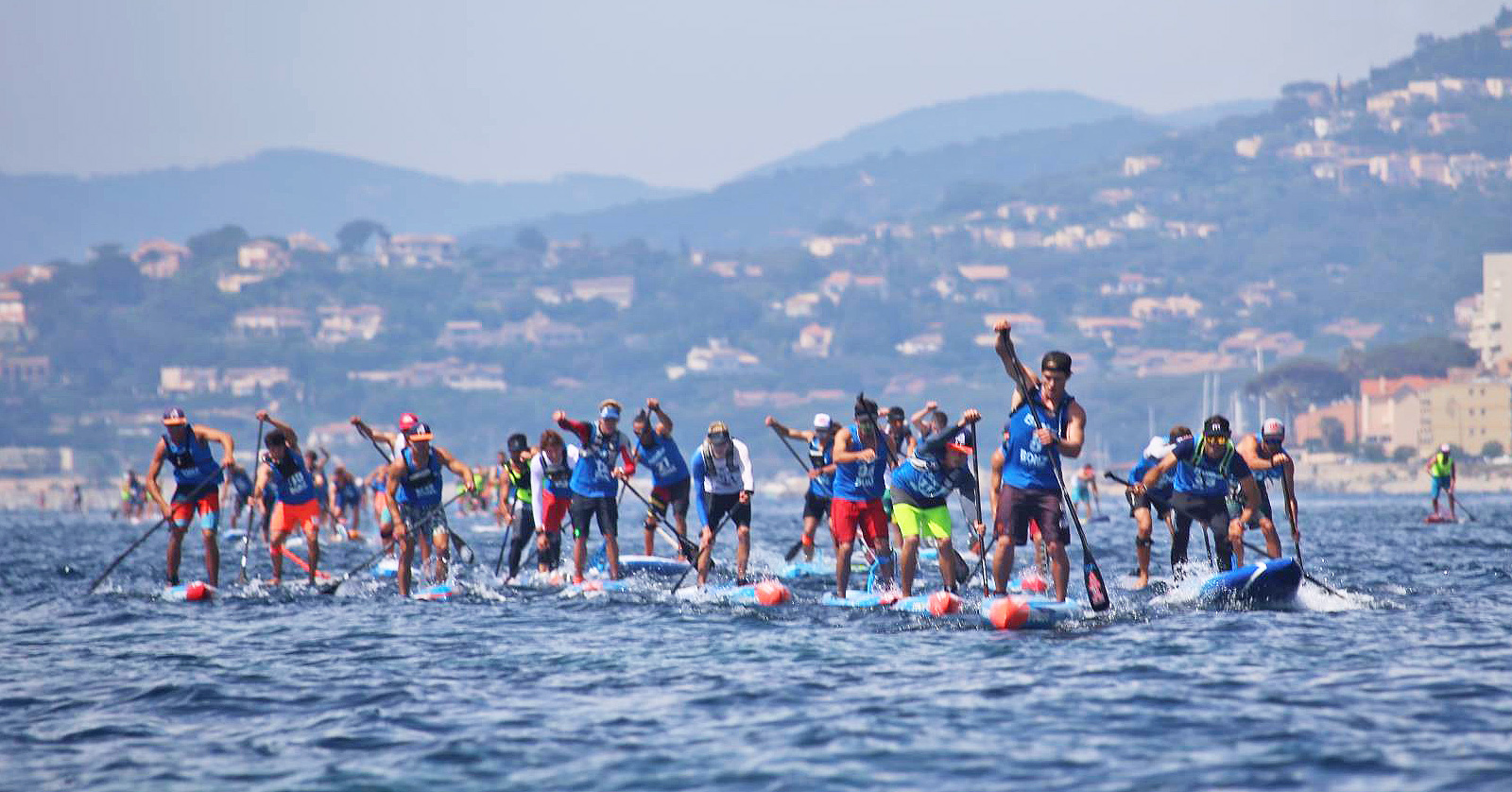 May 17, 2017
by Christopher Parker (@wheresbossman)
Get Set for Six Weeks of Summer Showdowns: The EuroTour 'Prime' Events Start This Weekend in St. Maxime
And just like that, it's summer.
With the sun starting to shine and the weather warming up across the Continent, the 'European Summer of SUP' officially begins this weekend with France's classic, long-running SUP Race Cup in St. Maxime lighting up the French Riviera.
While the 2017 Tour has already had two regional stops, the big guns are only just starting to arrive, which means the EuroTour 'Prime' level races begin now.
And you'll be able to watch it all from a front row seat with SUP Racer's signature Facebook Live streams.
Starting in St. Maxime and continuing on through Hossegor, Thonon les Bains (Lake Geneva), Bilbao, San Sebastian and Narbonne, we're going to see six weeks of super summer showdowns between many of the world's best, all of Europe's finest, dozens of local dark horses and plenty of junior prospects.
Following the six back-to-back EuroTour Prime events we've got the Mercedes SUP World Cup in Germany, which is a combined EuroTour/APP weekend that will probably attract the strongest field all summer.
The Contenders
Just some of the names that'll be in action between now and early July include Connor Baxter, Michael Booth, Mo Freitas, Titouan Puyo, Georges Cronsteadt, Casper Steinfath, Arthur Arutkin, Leo Nika, Trevor Tunnington, Martin Letourneur, Bruno Hasulyo, Slater Trout, Giorgio Gomez, Toby Cracknell, Sonni Honscheid, Candice Appleby, Fiona Wylde, Olivia Piana, Seychelle Hattingh and several more.
Connor is the two-time defending EuroTour champion, but I know Boothy is very keen to go one better this year while Titou showed world-best form in Carolina. My early prediction says it'll once again be a battle between these three guys for the overall 'Champion of Europe' title, though right now it's pretty damn tough to predict which one it'll be.
Also keep an eye on guys like Mo, Georges, Arthur, Bruno and Leo to try and spoil the party and snag at least one race wins of their own, with the deep field on the 2017 Tour set to have a big impact on the World Rankings.
I'm still waiting to see exactly which top women have committed to a full month on tour, but Sonni Honscheid is the two-time defending champion and always a clear favourite at home in Euro land.
Though what I really love about the European Summer of SUP is watching the up-and-coming regional athletes punch above their weight and rub shoulders with the heavyweights from Australia, Hawaii and the USA–the European guys and girls that have been training the house down over winter and are now hungry to take down a few big scalps on their home turf.
All of this means we're in for a series of mouth-watering clashes over the next six weeks.
The Prime Events
The SUP Race Cup in St. Maxime is a true staple of the European summer, with this year marking the 8th annual edition. There are few races in the world of SUP racing that have been running as long.
The Hossegor Paddle Games is a first year event that could prove to be the most entertaining race of the summer for one simple reason: There will be waves.
Meanwhile, on Lake Geneva, the Thonon les Bains SUP Race is going to be one of the truly unique stops on the tour that will offer competitors not only an immense challenge but also a cool little cultural experience (we'll have more on this event tomorrow).
Then it's down to the Basque Country in north-west Spain for two of my absolute favourite races: Bilbao and San Sebastian, which are held in two of the coolest cities in Europe (you'll come for he paddling, you'll stay for the 'pintxos'). Narbonne is another first year race that we're excited to take a look at.
Following that, the roadshow heads north to the German beach town of Scharbeutz for the grandeur of the SUP World Cup, which carries an illustrious title sponsor (Mercedes-Benz) and offers one of the most professional setups in the sport thanks the local organising team. I'm still not exactly sure how this event format will work between two sanctioning tours (EuroTour/APP), but I'm definitely interested to sit back and watch.
The Facebook Live Streams
If you can't join us in Europe for the baguettes, croissants, pintxos and patxaran, don't worry too much: SUP Racer will give you a front row seat for the next six weeks of EuroTour races via our Carolina-style Facebook Live streams.
Our live coverage of the Tour starts this weekend in St. Maxime, where we'll present something of a first: The SUP Race Cup will be a bilingual broadcast as SUP Racer teams up with French-speaking Mathieu Astier from TotalSUP.
We'll announce all the details (when/where/how) for the EuroTour 'SUP Race Cup' Facebook Live stream tomorrow.
But on top of all this is what really makes the EuroTour special: It's more than just a race series, it's a summer holiday in Europe with good food, great friends and no shortage of adventures. The racing is just one part of what makes it so much fun, so make sure you're following the Instagram Stories of @supracer and @wheresbossman to see what's going on behind the scenes.
Buckle up, it's going to be a big summer…
The 2017 EuroTour Lineup
Week 1: Crete (1-star) April 29th
Week 2: Namur (1-star) May 13th
Week 3: St. Maxime (4-star) May 20th
Week 4: Hossegor (4-star) May 27th
Week 5: Thonon (4-star) June 3rd
Week 6: Bilbao (4-star) June 10th
Week 7: San Sebastian (4-star) June 17th
Week 8: Narbonne (3-star) June 24th
Week 9: Scharbeutz (combined EuroTour/APP event) July 1st
Week 10: Fuerteventura (1-star) July 8th
Week 11: Finland (1-star) July 15th
Week 12: UK (1-star) July 22nd
MORE:
– Season 2017
– EuroTour Leaderboard
– World Rankings