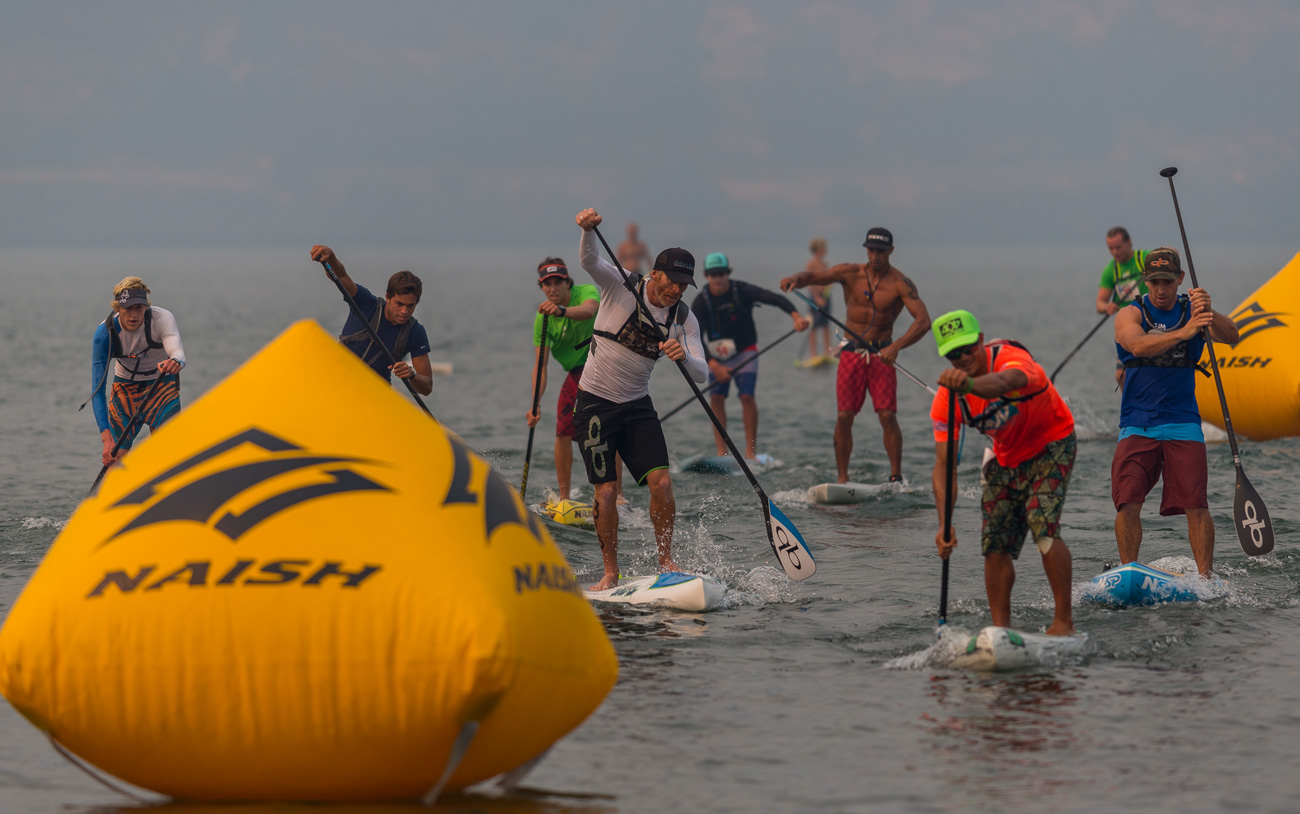 August 25, 2015
by Christopher Parker (@wheresbossman)
'The Gorge' Shakes Up The SUP Racer World Rankings (We've Got A New World Number One…)
There are big changes to the
World Rankings
following an incredible weekend of racing up in the Gorge. We have a new world number one, a top 10 debutante, several bolters and dozens of other +/- movers on the Men's Top 100 Leaderboard.
The Naish Columbia Gorge Paddle Challenge has truly cemented its reputation as one of the "majors" in our sport. Hood River attracted the second most competitive lineup of the year so far (just behind Carolina), which meant a whole lot of world ranking points were up for grabs on the weekend.
Never have we seen so many positions change hands in just one weekend, so let's take a look at the new rankings and then analyse (and explain) the latest changes.
---
SUP Racer World Rankings: Top 10 Men
| # | +/- | Name | Points | +/- | Races | Nation | Brand |
| --- | --- | --- | --- | --- | --- | --- | --- |
| 1 | +1 | Danny Ching | 245.83 | +20.80 | 9 | USA | 404 |
| 2 | +2 | Travis Grant | 211.50 | +14.10 | 11 | Australia | NSP |
| 3 | - | Kai Lenny | 208.08 | +2.63 | 9 | Hawaii | Naish |
| 4 | -3 | Connor Baxter | 202.10 | -24.90 | 18 | Hawaii | Starboard |
| 5 | +3 | Titouan Puyo | 158.68 | +25.50 | 15 | France | Starboard |
| 6 | -1 | Jake Jensen | 157.24 | -4.34 | 15 | Australia | Fanatic |
| 7 | -1 | Mo Freitas | 147.95 | - | 11 | Hawaii | Focus |
| 8 | +9 | Kelly Margetts | 129.95 | +53.98 | 9 | Australia | Lahui Kai |
| 9 | -2 | Georges Cronsteadt | 115.59 | -25.88 | 8 | Tahiti | SIC |
| 10 | -1 | Casper Steinfath | 110.61 | - | 12 | Denmark | Naish |
– View the complete Men's Top 100 Leaderboard
– Check out the Gorge Paddle Challenge results to see exactly how many points each paddler scored this weekend.
SUP Racer World Rankings: Top 10 Women
| # | +/- | Name | Points | +/- | Races | Nation | Brand |
| --- | --- | --- | --- | --- | --- | --- | --- |
| 1 | - | Annabel Anderson | 208.58 | -8.50 | 11 | New Zealand | Lahui Kai |
| 2 | - | Lina Augaitis | 177.55 | -10.38 | 11 | Canada | SIC |
| 3 | - | Candice Appleby | 174.75 | -6.50 | 8 | USA | Bark |
| 4 | - | Fiona Wylde | 151.38 | +3.75 | 12 | USA | Starboard |
| 5 | - | Sonni Hönscheid | 142.00 | -2.39 | 12 | Germany | SIC |
| 6 | - | Angela Jackson | 123.98 | -3.63 | 12 | Australia | One |
| 7 | - | Terrene Black | 105.39 | +14.50 | 8 | Australia | ECS |
| 8 | - | Shae Foudy | 89.84 | +3.40 | 9 | USA | Riviera |
| 9 | +2 | Shannon Bell | 68.62 | +14.09 | 5 | Canada | Starboard |
| 10 | - | Celine Guesdon | 61.75 | - | 8 | France | BIC |
– View the complete Women's Top 50 Leaderboard
– Check out the Gorge Paddle Challenge results to see exactly how many points each paddler scored this weekend.
---
There was little change inside the women's top 10, with Shannon Bell replacing Andrea Moller being the only news. So we're going to focus on the Men's World Rankings, where the Top 100 Leaderboard currently resembles a game of snakes & ladders.
For the most part, the Leaderboard is easy to understand. Paddlers are ranked on their best five results from all the big races over the past 12 months. However there's one column that may be confusing: +/- points. Those numbers don't indicate how many points a paddler scored in the most recent event, but rather how much their total points tally changed since the last update.
Results are only held in the rankings database for 12 months (or whenever a race is repeated the following year). So whatever an athlete scored at the 2014 Gorge Paddle Challenge was dropped this week and (hopefully) replaced with points from the 2015 Gorge event.
Guys that did well last year, such as Connor Baxter, Travis Grant and Georges Cronsteadt, had a lot of work to do just to tread water, let alone improve their respective points tallies. However the guys that had poor results 12 months ago, including Danny Ching and Kai Lenny, had a lot more to gain because they were dropping a lot less points this week (or, in the case of Kai, weren't including the 2014 results in their "best five" at all).
Then you've got the guys who raced the Gorge for the first time this year, such as Titouan Puyo and Kelly Margetts. They were dropping absolutely nothing this week (because they scored no points at Gorge 2014), which meant they had the most to gain out of anyone on the weekend.
A further note: Unlike most events, the Gorge Paddle Challenge is actually two separate races – the course and the distance – which each count separately in the World Rankings. It's the same way the BOP Elite Race and BOP Distance Race always counted as two separate races.
Here's my rule of thumb: If organisers award prize money based on combined results, the event only has one result in the World Rankings. However if the event awards two separate podiums (and two separate rounds of prize money), I count each race as a separate result.
Ok so with all that in mind, let's take a closer look and see how/why the top athletes moved up or down.
[notdevice] [/notdevice]
[notdevice] [/notdevice]
The big news is that Connor Baxter has been replaced as world number one by Danny Ching, with Danny's herculean victory in Saturday's course race more than enough for him to assume the top spot. Connor had a solid weekend, picking up a 4th and a 5th in the course and distance races respectively, however the former world number one always had a mountain to climb in Oregon.
Up until this weekend, Connor was holding onto a pair of wins from the 2014 Gorge Paddle Challenge, where he swept the event and scored massive points in two of the biggest races of 2014. That was great for his world ranking up until now, but it meant he had to repeat his heroics just to tread water.
The 2015 event was worth almost the same as last year, and because Connor dropped his 2014 results this week, he had to replace them with two more wins to avoid sliding backwards.
Gorge Course Race
2014: 53% / 2015: 52%
Gorge Distance Race
2014: 46.5% / 2015: 56%
(check out the Race Index to see where the Gorge ranks alongside the other big races)
So even though Connor finished top five on both days, which for most athletes would be a phenomenal performance, he lost 24.90 points from his overall tally and slid three spots down to world number four.
[notdevice] [/notdevice]
[notdevice] [/notdevice]
As I said, Danny Ching had everything to gain in the Gorge, and he certainly made the most of it. The 404 front man had a below par performance at Gorge 2014, where he finished 3rd in the course (his 5th best result from the past 12 months) and 5th in the downwind/distance race (not counting in his best five at all). That means he was only dropping a handful of points this week, so even if Danny didn't show up in Hood River this year he still would have lost fewer points than Connor.
But Danny did show up, and he proceeded to blow up the course race, paddling away from the field at the start of the second lap and racing on his own until the final 100 metres (and he was only caught after he started heading for the wrong buoy and had to change tack). The well deserved win earned Danny 52.00 points, which lifted his tally +20.80 to a total of 245.83. His 8th place in Sunday's distance race had no impact on his ranking, but Saturday was more than enough for him to sit on top of the table.
Connor Baxter has been world number one every single week since the SUP Racer World Rankings began in September 2014, but he falls just short of a 52-week streak.
Travis Grant was another big mover on the weekend, leapfrogging both Connor and Kai to become the world's second highest ranked paddler.
We already showed that Trav is the in-form paddler of 2015 so far (see: Mid Year World Rankings), and he continued that stellar run on the weekend. Despite two dozen of the world's best paddlers to contend with, the Aussie picked up a pair of runner-up finishes to claim the overall "Gorge Waterman" award for the best combined time.
[notdevice] [/notdevice]
[notdevice] [/notdevice]
Trav scored 39.00 points for his course race performance and 42.00 in the distance race, which pushes his tally up 14.10 points to 211.50. The Aussie could easily move to the very top of the Leaderboard in the first week of October, with the "BOP-pocalypse" set to have a dramatic impact on the World Rankings. More on that down below.
So now the "older" guard of Travis and Danny rule the world, with the superstar young guns Kai and Connor taking a back seat for once.
Speaking of Kai Lenny, he had a weekend to forget at Gorge 2014, where he finished 10th in the course race and skipped the downwind/distance race altogether. That meant the young superstar wasn't carrying any points from last year's Gorge Paddle Challenge inside his "best five," and therefore his total points tally wouldn't have suffered even if he didn't show up this weekend.
Kai didn't have a spectacular campaign at this year's Gorge event either, but it was still good enough to nudge his tally up slightly. Kai had a shocker on Sunday, finishing 25th in the distance race after making a few tactical errors. However he was looking very strong in the course race, and would have finished better than 6th if he didn't fall at the final buoy. But even that 6th place yielded 18.20 points, which was enough to marginally improve his overall points tally.
Kai now holds 208.08 world ranking points, just enough to push his long time rival Connor Baxter down to fourth, but not enough to hold off the inevitable charge of Travis Grant.
[notdevice] [/notdevice]
[notdevice] [/notdevice]
It's very difficult for an athlete to improve their position once they're inside the top 10, as they often have to score a huge result just to tread water, let alone move up (see the example of Connor above). If a paddler gains more than one spot inside the top 10 at a time they're doing very well, which makes the jump by Titouan Puyo from 8th all the way up to 5th particularly special.
Titou followed Travis' model of consistency on the weekend, claiming third in both the course and distance races to cement his reputation as one of the world's absolute finest paddlers. The humble champion from New Caledonia moves into the world's top five for the first time, where I believe he firmly belongs.
In many ways Titou is a younger version of Travis Grant. They're both exceptional competitors that honed their silky smooth paddling techniques in the outrigger world, and they're both humble, witty and very likeable guys off the water. If the 24-year-old continues enjoying the sport, I wouldn't be surprised to see him hit number one in another year or two.
[notdevice] [/notdevice]
[notdevice] [/notdevice]
However the single most significant move of the week comes from the hero of Sunday, Australia's Kelly Margetts. Kelly put on a masterclass in the long, hot and draining eight mile distance race, which was held in dead flat (and smokey) conditions instead of the usual downwind bumps the Gorge is famous for.
After setting the pace with Danny Ching for much of the afternoon, the Lahui Kai team rider out-sprinted the other eleven guys in the lead draft train to claim a memorable and much deserved victory. One of the most likeable guys on tour, Kelly crossed the line to a hero's welcome. To highlight just how much of a sentimental favourite he is, I even heard Noa Hopper, who was sitting near the back of the main train, yell out "Go Kelly!" as the group rounded the marker buoy for the 200m sprint to the beach.
Kelly was holding a poor 4th and 5th best result before this weekend, so his victory on Sunday, and his gallant 7th place finish on Saturday, had a big impact on his overall points tally. His victory in the distance was the second highest score by any paddler this year, worth a whopping 56.00 points (only Travis' win in Carolina was worth more), while his 7th in the course race was worth an additional 15.60. That was over 70 points in one weekend. Subtract his previous 4th and 5th best results, which his Gorge scores now replace, and it was enough to skyrocket Kelly +53.98 points, landing him inside the Top 10 for the first time.
Kelly's change of +9 positions is the single biggest ever move by a top 30 ranked paddler, and speaks volumes both of Kelly's talent and also the significance of the Gorge Paddle Challenge in general.
He turns 43 tomorrow.
[notdevice] [/notdevice]
[notdevice] [/notdevice]
But not everybody had a great weekend in the Gorge, with the thick blanket of smoke from a nearby forest fire, which descended on Hood River in a ghostly haze all weekend, suffocating the Leaderboard hopes of several big names.
We've already analysed why Connor lost his world number one crown, but he wasn't the only one to slide.
Georges Cronsteadt had a pair of big results last year, but only had one decent result this weekend to replace them. Georges finished 5th in the course race (he was 4th last year) and 15th in the distance race (he was 2nd in 2014), which sent his score plummeting -25.88 to 115.59. Georges had a buffer against a few of his top 10 rivals, however he still lost ground to Titou and Kelly, which means the Tahitian has dropped two spots to #9 in the world.
Kody Kerbox had a great result at last year's Gorge course race but couldn't repeat his heroics in 2015, which sent him sliding -9 positions. France's Arthur Daniel didn't return to Oregon this year, so his great result from 2014 was wiped out and he lost a whopping 15 places. Doesn't help that Arthur now only has four results from the past 12 months, which means there's a zero point donut in his "best five" results tally.
There were a lot more winners than losers this weekend, with dozens of athletes making solid gains on the Top 100 Leaderboard.
Slater Trout did a lot of work in Saturday's course race, leading the "peleton" train for the entire second half of the race before holding his 20 odd passengers at bay during the sprint to the line. Slater had a similarly workmanlike performance on Sunday, sticking with the front group right til the final buoy to make it a pair of top 10 finishes. The Infinity team rider leapfrogs Chase Kosterlitz and Matt Nottage to return to the top 20. Look for Slater to mount his assault on the top 15/top 10 at the Pacific Paddle Games in October.
Bernd Roediger made the biggest leap, finally filling his best five quota, including with a very solid effort in Saturday's course race, to jump 50 spots and move inside the Top 100 for the first time.
[notdevice] [/notdevice]
[notdevice] [/notdevice]
Anthony Vela wound back the clock on Saturday afternoon, hitting the Golden Buoy in second place, behind Slater Trout and right in front of Connor Baxter, Danny Ching, Kai Lenny and Travis Grant. Vela faded over the next few laps but still had enough of a result to jump +20 spots to #76.
Garrett Fletcher was another big mover, filling his best five quota and storming +19 to #68. It's a very similar story to Chance Fielder, who jumped +16 and sits one spot and 0.05 points behind Garrett.
Young guns Noa Hopper and Giorgio Gomez both had great showings on the weekend. I was particularly impressed with this pair on Sunday, when they stuck with the lead draft train that was dropping big name after big name in the second half of the race.
Noa moves +16 positions to #38, right behind Giorgo who jumped +13 to #37. Giorgio is far better known as a SUP surfer, but clearly has the all round talent to go far in all segments of this sport.
One guy that deserves special mention is Kenny Kaneko from Japan. The SIC team rider put in one of the unseen but no less heroic performances during Sunday's grueling long distance race.
At around the four mile mark, Danny Ching surged and only Kelly Margetts and Travis Grant could go with him. That broke the main train, which at that point was rolling 21 deep after the two main trains, which started off taking very different lines up the river, had merged into one super group.
For the next ten minutes, Danny, Kelly and Travis looked as if they'd turned it into a race of three, however they forgot to give the script to Kenny. The Japanese National Champion, one of the most respectful guys you'll ever be lucky enough to spend time with, worked tirelessly to single-handedly close the gap.
[notdevice] [/notdevice]
[notdevice] [/notdevice]
Inch by inch, Kenny reeled in Kelly, Danny and Travis to re-attach the train. His pace had dropped a few guys off the back, with just a dozen of the world's best sticking together over the closing miles. Kenny must have been absolutely spent after his solo effort, but he still had enough in the tank to sprint home for a fantastic 6th place finish. That earned him 19.60 points (he also scored a solid 7.80 points for his 13th place finish on Saturday), which was enough to push him +11 spots to #26 in the world.
As I mentioned up top, there's going to be another big shakeup to the World Rankings in the first week of October, when the 2014 Battle of the Paddle is dropped from the system. The BOP-pocalypse.
The BOP was by far the highest scoring race of 2014 but was canceled earlier this year. That means all the athletes who starred at Salt Creek will see their points tallies chopped to pieces in six weeks' time. Hardest hit will be Kai Lenny, who's counting 92.00 points from his Elite Race win. Jake Jensen will also suffer, as he finished runner-up to Kai, while Danny Ching will be hard hit as well. Danny was 3rd in the Elite Race and victorious in the Distance Race, both of which are in his "best five" results from the past 12 months.
Guys that didn't do so well at Salt Creek, such as Travis Grant, Connor Baxter and Titouan Puyo, will be the biggest beneficiaries. Travis may very well move into the world number one position without having to lift his paddle, while Titou will almost certainly move ahead of Kai.
Kai has the slight advantage of the 2015 Huntington Pro being the same weekend as the 2014 BOP gets dropped from the system. If he scores a big result there he'll give himself a bit of a cushion when his Battle of the Paddle bounty disappears. Same goes for Jake.
Danny hasn't competed at Huntington in the past, so unless he changes his mind this year he'll have to wait until the Pacific Paddle Games a week later to fill his points back up. The PPGs are on track to become the highest scoring race of the year. I doubt it'll match the BOP Elite Race's 92% on the Race Index, but it should trump both the Gorge and Carolina. Though one drawback: The PPGs are using combined results this year, so Danny and a few other guys will drop two big results from last year's BOP and only be able to replace it with one result at Doheny.
All of this means one thing: We're going to see a lot more change to the Men's Top 100 Leaderboard before the end of the season. Until then, check out the current World Rankings to see who the big movers were up at the Gorge.
[notdevice] [/notdevice]
[notdevice] [/notdevice]
[notdevice] [/notdevice]