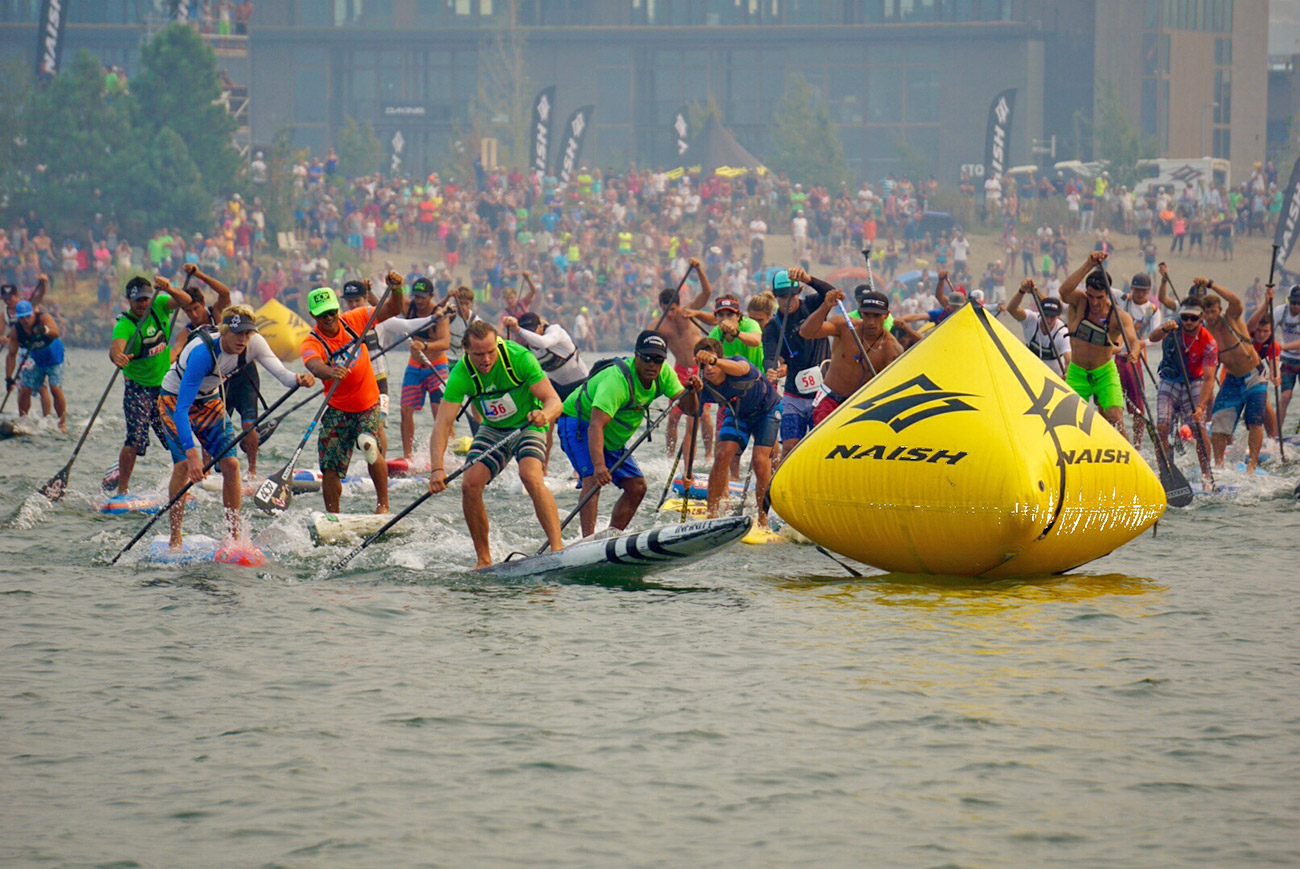 August 21, 2015
by Christopher Parker (@wheresbossman)
Gorge Paddle Challenge: Annabel Anderson, Danny Ching and Kelly Margetts Triumph in Hood River
Wow… What a weekend of racing we've just witnessed. We'll have a full recap from the 2015 Naish Columbia Gorge Paddle Challenge up shortly, but in the meantime here are the results from the Elite Races and changes to the world rankings.
The Gorge had a massive impact on the World Rankings – check out the updated Men's Top 100 Leaderboard to find out who the new world number one is.
Annabel Anderson (clean sweep), Danny Ching (course) and Kelly Margetts (distance) were the champions, with amazingly consistent performances from Travis Grant (two runner-up finishes to claim the overall "Waterman" award) and Titouan Puyo, who scored third in both races to make a big jump on the rankings.
Scroll down below the results to re-live our play-by-play live blog from Saturday and Sunday. Thanks for tuning in.
Elite Men – Course Race
Conditions: Flat (and smokey)
Course: five laps of approximately one mile technical course
Boards: 14′
Race Index: 52%
View the updated World Rankings

| # | Name | Time | Points |
| --- | --- | --- | --- |
| 1 | Danny Ching | 0:56:58 | 52.00 |
| 2 | Travis Grant | 0:56:59 | 39.00 |
| 3 | Titouan Puyo | 0:57:04 | 31.20 |
| 4 | Connor Baxter | 0:57:08 | 26.00 |
| 5 | Georges Cronsteadt | 0:57:09 | 22.10 |
| 6 | Kai Lenny | 0:57:10 | 18.20 |
| 7 | Kelly Margetts | 0:58:31 | 15.60 |
| 8 | Slater Trout | 0:59:25 | 13.00 |
| 9 | Mo Freitas | 0:59:25 | 11.70 |
| 10 | Beau O'Brian | 0:59:30 | 10.40 |
| 11 | Vinnicius Martins | 0:59:32 | 9.36 |
| 12 | Kody Kerbox | 0:59:35 | 8.32 |
| 13 | Kenny Kaneko | 0:59:36 | 7.80 |
| 14 | Paul Jackson | 0:59:37 | 7.28 |
| 15 | Martin Letourneur | 0:59:38 | 6.76 |
| 16 | Giorgio Gomez | 0:59:40 | 6.24 |
| 17 | Niuhiti Buillard | 0:59:43 | 5.72 |
| 18 | Cyril Burguiere | 0:59:45 | 5.20 |
| 19 | Bernd Roediger | 0:59:45 | 4.68 |
| 20 | James Casey | 1:00:23 | 4.16 |
| 21 | Hapowa Mai | 1:00:29 | 3.90 |
| 22 | Josh Riccio | 1:00:30 | 3.64 |
| 23 | Oliver Shilston | 1:00:35 | 3.38 |
| 24 | Connor Bonham | 1:00:42 | 3.12 |
| 25 | Anthony Vela | 1:01:22 | 2.86 |
| 26 | Garrett Fletcher | 1:01:31 | 2.70 |
| 27 | Jeramie Vaine | 1:01:32 | 2.55 |
| 28 | Noa Hopper | 1:01:32 | 2.39 |
| 29 | Riggs Napoleon | 1:01:32 | 2.24 |
| 30 | Tucker Ingalls | 1:01:40 | 2.08 |
| 31 | Belar Diaz | 1:02:09 | 1.98 |
| 32 | Chance Fielder | 1:02:11 | 1.87 |
| 33 | Michael Tavares | 1:02:18 | 1.77 |
| 34 | Noa Ginella | 1:02:27 | 1.66 |
| 35 | Derek Fromm | 1:02:36 | 1.56 |
| 36 | Christopher Norman | 1:02:40 | 1.46 |
| 37 | Jarkko Simonen | 1:02:47 | 1.35 |
| 38 | Matthew Abbott | 1:03:02 | 1.25 |
| 39 | Brian Meyer | 1:03:14 | 1.14 |
| 40 | Thomas Maximus | 1:03:23 | 1.04 |
| 41 | Byron Kurt | 1:03:33 | 0.99 |
| 42 | Jason Bennett | 1:03:36 | 0.94 |
| 43 | Thomas King | 1:03:43 | 0.88 |
| 44 | Jack Bark | 1:04:10 | 0.83 |
| 45 | Kaihe Chong | 1:04:52 | 0.78 |
| 46 | Jedd Hasay | 1:05:51 | 0.73 |
| 47 | Scott Vande Vusse | 1:06:12 | 0.68 |
| 48 | Ridge Lenny | 1:06:48 | 0.62 |
| 49 | Erik Sieber | 1:12:46 | 0.57 |
Elite Men – Distance Race
Conditions: Dead flat (and against the current)
Course: eight miles (Viento State Park to Hood River)
Boards: 14′
Race Index: 56%
View the updated World Rankings

| # | Name | Time | Points |
| --- | --- | --- | --- |
| 1 | Kelly Margetts | 1:19:28 | 56.00 |
| 2 | Travis Grant | 1:19:30 | 42.00 |
| 3 | Titouan Puyo | 1:19:32 | 33.60 |
| 4 | Beau O'Brian | 1:19:33 | 28.00 |
| 5 | Connor Baxter | 1:19:36 | 23.80 |
| 6 | Kenny Kaneko | 1:19:37 | 19.60 |
| 7 | Niuhiti Buillard | 1:19:40 | 16.80 |
| 8 | Danny Ching | 1:19:43 | 14.00 |
| 9 | Giorgio Gomez | 1:19:50 | 12.60 |
| 10 | Slater Trout | 1:19:54 | 11.20 |
| 11 | Noa Hopper | 1:19:56 | 10.08 |
| 12 | Martin Letourneur | 1:19:56 | 8.96 |
| 13 | Georges Cronsteadt | 1:20:59 | 8.40 |
| 14 | Paul Jackson | 1:21:11 | 7.84 |
| 15 | Vinnicius Martins | 1:21:19 | 7.28 |
| 16 | Belar Diaz | 1:21:27 | 6.72 |
| 17 | Kody Kerbox | 1:22:11 | 6.16 |
| 18 | James Casey | 1:22:16 | 5.60 |
| 19 | Chance Fielder | 1:22:26 | 5.04 |
| 20 | Garrett Fletcher | 1:22:33 | 4.48 |
| 21 | Mo Freitas | 1:22:42 | 4.20 |
| 22 | Hapowa Mai | 1:22:49 | 3.92 |
| 23 | Jake Jensen | 1:23:07 | 3.64 |
| 24 | Thomas Maximus | 1:23:10 | 3.36 |
| 25 | Kai Lenny | 1:23:18 | 3.08 |
| 26 | Jeramie Vaine | 1:23:23 | 2.91 |
| 27 | Bernd Roediger | 1:23:25 | 2.74 |
| 28 | Derek Fromm | 1:23:25 | 2.58 |
| 29 | Anthony Vela | 1:23:27 | 2.41 |
| 30 | Josh Riccio | 1:23:30 | 2.24 |
| 31 | Oliver Shilston | 1:23:40 | 2.13 |
| 32 | Connor Bonham | 1:23:42 | 2.02 |
| 33 | Brian Meyer | 1:23:45 | 1.90 |
| 34 | Noa Ginella | 1:24:53 | 1.79 |
| 35 | Stuart Robinson | 1:24:59 | 1.68 |
| 36 | Christopher Norman | 1:25:22 | 1.57 |
| 37 | Kelvin Humenny | 1:25:32 | 1.46 |
| 38 | Matthew Abbott | 1:25:33 | 1.34 |
| 39 | Kaihe Chong | 1:25:42 | 1.23 |
| 40 | Riggs Napoleon | 1:26:36 | 1.12 |
| 41 | Chuck Patterson | 1:27:26 | 1.06 |
| 42 | Tucker Ingalls | 1:27:35 | 1.01 |
| 43 | Jedd Hasay | 1:27:39 | 0.95 |
| 44 | Ridge Lenny | 1:27:59 | 0.90 |
| 45 | Scott Vande Vusse | 1:28:21 | 0.84 |
| 46 | Thomas King | 1:29:17 | 0.78 |
| 47 | Adam Cole | 1:29:22 | 0.73 |
| 48 | Jan Boersma | 1:29:33 | 0.67 |
| 49 | Corey Curtis | 1:31:42 | 0.62 |
| 50 | Jacy Shimahara | 1:34:39 | 0.52 |
| 51 | Gregg Leion | 1:35:26 | 0 |
| 52 | Tre Hendricks | 1:35:28 | 0 |
| 53 | Livio Menelau | 1:38:17 | 0 |
| 54 | Simon Noling | 1:43:54 | 0 |
| 55 | Isaac Levinson | 1:45:20 | 0 |
| 56 | Chip Jameson | 1:49:35 | 0 |
Elite Women – Course Race
Conditions: Flat (and smokey)
Course: five laps of approximately one mile technical course
Boards: 12'6
Race Index: 42.5%
View the updated World Rankings

| # | Name | Time | Points |
| --- | --- | --- | --- |
| 1 | Annabel Anderson | 1:03:35 | 42.50 |
| 2 | Angela Jackson | 1:04:07 | 31.88 |
| 3 | Fiona Wylde | 1:04:08 | 25.50 |
| 4 | Shannon Bell | 1:06:24 | 21.25 |
| 5 | Terrene Black | 1:06:50 | 18.06 |
| 6 | Lexi Alston | 1:07:00 | 14.88 |
| 7 | Alyson Fromm | 1:07:21 | 12.75 |
| 8 | Kimberly Barnes | 1:07:27 | 10.63 |
| 9 | April Zilg | 1:08:44 | 9.56 |
| 10 | Marie Buchanan | 1:09:14 | 8.50 |
| 11 | Mariko Strickland Lum | 1:10:32 | 7.65 |
| 12 | Hannah Hill | 1:10:38 | 6.80 |
| 13 | Jennifer Lee | 1:10:43 | 6.38 |
| 14 | Sarah Sandstrom | 1:10:52 | 5.95 |
| 15 | Tarryn King | 1:11:24 | 5.53 |
| 16 | Morgan Hoesterey | 1:14:15 | 5.10 |
| 17 | Evan Trosin | 1:20:13 | 4.68 |
Elite Women – Distance Race
Conditions: Dead flat (and against the current)
Course: eight miles (Viento State Park to Hood River)
Boards: 12'6
Race Index: 43%
View the updated World Rankings

| # | Name | Time | Points |
| --- | --- | --- | --- |
| 1 | Annabel Anderson | 1:32:57 | 43.00 |
| 2 | Fiona Wylde | 1:33:39 | 32.25 |
| 3 | Terrene Black | 1:33:39 | 25.80 |
| 4 | Angela Jackson | 1:34:29 | 21.50 |
| 5 | Shae Foudy | 1:34:30 | 18.28 |
| 6 | Shannon Bell | 1:34:38 | 15.05 |
| 7 | Kimberly Barnes | 1:35:23 | 12.90 |
| 8 | April Zilg | 1:35:25 | 10.75 |
| 9 | Alyson Fromm | 1:35:29 | 9.68 |
| 10 | Marie Buchanan | 1:35:33 | 8.60 |
| 11 | Lexi Alston | 1:36:53 | 7.74 |
| 12 | Sarah Sandstrom | 1:39:21 | 6.88 |
| 13 | Jennifer Lee | 1:40:32 | 6.45 |
| 14 | Tarryn King | 1:43:44 | 6.02 |
| 15 | Hannah Hill | 1:45:50 | 5.59 |
| 16 | Andrea Moller | 1:50:33 | 5.16 |
(results from opens and juniors on Paddle Guru)