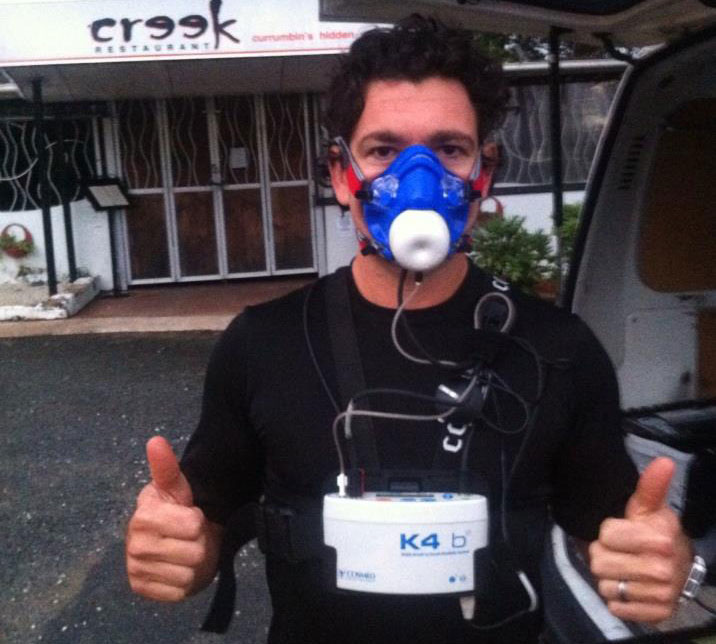 March 12, 2013
by Christopher Parker (@wheresbossman)
[VIDEO] Travis Grant Channels His Inner Tom Cruise In The Name Of Science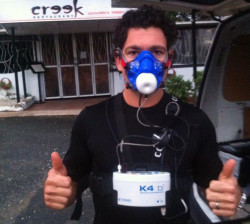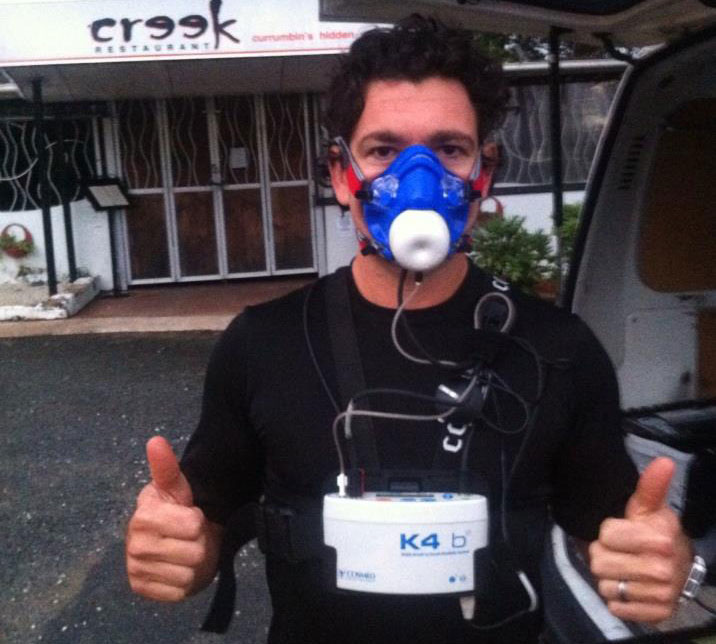 See that pic to the left? That's World Champ and Battle of the Paddle winner Travis Grant. See that thing strapped to his chest? That's a $20,000 piece of equipment that measures VO2 max.
While it might look like Trav is doing his best Top Gun impression, the whole thing is actually part of a study into Stand Up Paddling that's happening on the Gold Coast. The project aims to quantify the health benefits of SUP and a whole bunch of the world's best paddlers have been taking part in it.
Last week Travis Grant, Paul Jackson, Chase Kosterlitz and Steve "Wild Man" Walker were on the water, wearing these funky blue gas masks while they paddled their regular SUP race boards. Then today they switched over to the lab, where they were hooked up to even more elaborate gear while paddling the SUP ergo machine.
So how'd the guys score? Results aren't final yet, but it seems they were getting between 46 and 54 in the lab, and as high as 60 on the water. Jacko claimed bragging rights in the lab with a score of 54, while Travis was hovering around 50.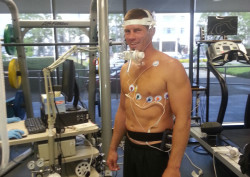 To put that in perspective, the "normal" VO2 max rate for men aged in their late twenties/early thirties is between 38 and 40. The highest ever recorded score is a staggering 97.5 by young Norwegian cyclist Oskar Svendsen, while two of his cross country skiing compatriots are the only other athletes to go past 95 (the VO2 max record books are filled with Scandinavian cross-country skiiers, along with cyclists and runners).
This isn't the first time we've seen Stand Up Paddlers hooked up to funky looking machines though, with Team Quickblade's VO2 testing video getting plenty of attention last year. But either way it's very cool to see this sport evolving and getting into some higher level performance tests, so we'll keep you posted with how this whole research project on the Gold Coast turns out.
In the meantime, here's Travis going for broke on the ergo…