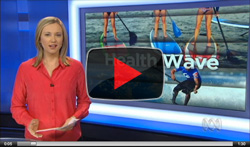 December 18, 2012
by Christopher Parker (@wheresbossman)
World Champ Travis Grant Gets All Sciencey, Talks SUP On National TV
World Champ and Battle of the Paddle winner Travis Grant was featured on last night's edition of ABC news. The new NSP team rider was talking up the health benefits of SUP after he took part in a pilot study on the topic. Bond University researcher Ben Schram is currently trying to get some definitive science on a topic a lot of us already believe in: that Stand Up Paddling has awesome health benefits, especially for problems such as back pain.
ABC Australia (not related to ABC America) is kind of the high-brow, respectable news channel over here in Aus, so this is a pretty good spot to be featured.
Apart from getting some data on the health benefits of SUP, the research team also wants to figure out the profile of an elite paddleboarder:
"As with any new sport, we are interested in what it takes to succeed," Schram explained.
"Similar to the emerging research on surfing, investigation of the aerobic and anaerobic fitness, strength and balance required for Stand Up Paddle Boarding will provide an insight in to the physiological demands required to participate in this sport at an elite level.
"Determining the ideal physiology of the elite athletes in this sport along with tracking of training and events is knowledge required to advance this sport to the next level.
"With paddle boarding now growing as surfing did many years ago, an insight into this sport is beckoning to be discovered," said Mr Schram.
Public trials will be starting soon and if you live near the Gold Coast you might be able to join in. If you wanna know more then click here for more info on the study or contact Ben Schram directly.