February 9, 2015
by Christopher Parker (@wheresbossman)
Australia's East Coast Comes Alive With 4x Big Races In 6x Weekends
Over the next six weekends we'll see four big SUP races on the East Coast of Australia, with everything from flatwater to downwind to surf to distance to sprints and everything in between. With a few internationals joining a plethora of local talent, and with the great summer conditions, we should be in for a solid month and a half of paddling.
Australia has always been a bit of an anomaly in the SUP racing world: The country is home to a disproportionately high number of elite racers but a disproportionately low number of elite races. There have always been a few decent events here and there but no international majors.
Things are looking good for Western Australia's King of the Cut (late November/early December) to become the country's first big international race, while there are rumours that a very well-known international event could be making it's Australian debut around the same time/location this year. However it's the East Coast of Australia where the paddling numbers (and the rich paddling talent) are concentrated, so it's great to see New South Wales and southern Queensland offering a series of good races.
And while none of these upcoming contests are on the level of the Carolinas and the Gorges of the world, they're still a positive sign for the sport in Australia. A couple of these may even attract enough elite paddlers to qualify for the SUP RACER WORLD RANKINGS (though no guarantees).
Some of the local-but-internationally-recognised names that'll be on show over the next month include: Jake Jensen, Angie Jackson, Beau O'Brian, Karla Gilbert, Lincoln Dews, Shakira Westdorp, Kelly Margetts, Sondra Purser, Paul Jackson, Sam Parker, Terrene Black, Jayden Jensen, Toby Cracknell, Trevor Tunnington, Matt Nottage, Michael Booth and a few other world-ranked paddlers that call New South Wales or Queensland home (international stars Travis Grant and Jamie Mitchell also called Queensland home until recent moves to Hawaii).
But anyway, without further ado…
---
#1: Forster Island Paddle Festival
February 14/15, Forster, New South Wales
Combo of a Battle of the Paddle-style race in the surf plus a 10km flatwater distance event in the protected inlet. There are also open races, kids races, surfski races and even a 200m Dash For Cash. World #14 Titouan Puyo is in town but he'll have some tough competition from the half dozen world ranked guys who are heading down from the Gold Coast.
This is the first ever edition of the Forster race, however entries are already up over 150 and could push 200+ by the time the horn blows. That number may not sound impressive to paddlers from Florida but is huge by Australian standards.
---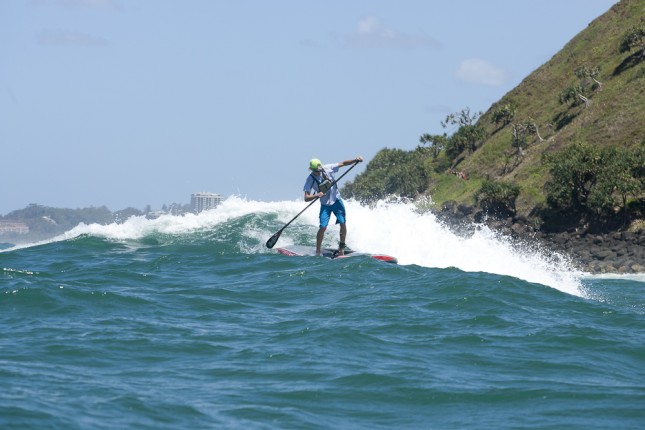 #2: The 12 Towers
February 21/22, Gold Coast, Queensland
A very well known event on a very well known paddling strip, the 12 Towers is the Gold Coast's biggest SUP race. Saturday's downwinder, which runs from the world famous surf break at Kirra to another world famous wave at Burleigh Heads, is the showpiece race, while Sunday will feature a BOP-style course in the waves.
Now in its 4th year, the 12 Towers looks set to be another fun weekend of paddling. New Caledonia's world beater, Titouan Puyo, will stick around after Forster to defend his downwind title. This is one of the first events where Titou announced himself to the racing world, surprising a star-studded Aussie field twelve months ago to claim victory. The defending ISA Distance World Champ will start with a slightly larger target on his back this time round, with the locals no doubt keen to make amends for 2014.
Here are last year's highlights…
---
#3: Australian Flatwater SUPFest
March 14/15, Sydney, New South Wales
Definitely the most unique event of the four, the Australian Flatwater SUPFest is a cross between a SUP race an Olympic canoe/kayak regatta. Held at the Olympic Regatta Centre in Penrith, Sydney, the event was originally modeled San Diego's Silver Blade Regatta but has since taken on a life of its own. The showpiece race at SUPFest will certainly be the 200m sprint, which mirrors the distance in the C-1 and K-1 Olympic events.
Some say this is what SUP should look like if it ever gets into the Olympics. I couldn't disagree more, however I do still like this format and believe it offers a fun, unique and novel format at a time when the sport is flooded with BOP-inspired "Course Race/Distance Race" combo events. So I hope these kind of events are successful, just not *too* successful.
Here's how the "racing in lanes" event looked last year: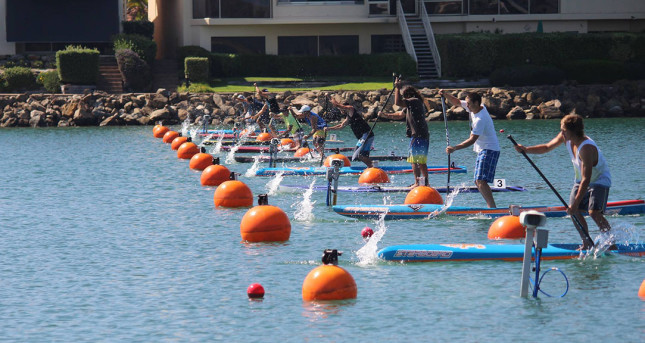 ---
#4: Harry's Paddle
March 21/22, Stockton, New South Wales
Harry's is a charity event (all proceeds go to the Harry Meyn Foundation) that's been around for a couple of years and has built up a pretty good reputation. Similar to the Forster event, Harry's Paddle will feature a BOP-style race in the waves and a flatwater distance event (the descriptively titled "Race To The Bridge and Back").
One unique addition to the event will be the SUP vs. Prone challenge in the distance race, which will see the old school paddleboarders go head to head with their stand up cousins in the distance race.
---
UPDATE – #5: The Noosa Festival of Surfing BOP Race on March 7 fits in with this "Big Month Of Racing On The East Coast" theme quite nicely as well.
---
So that's what's happening on the East Coast of Australia the next month or so. Should be a great run of quality racing. If you want to see what's happening everywhere else in the world, head on over to the trusty Rogue Race Calendar.