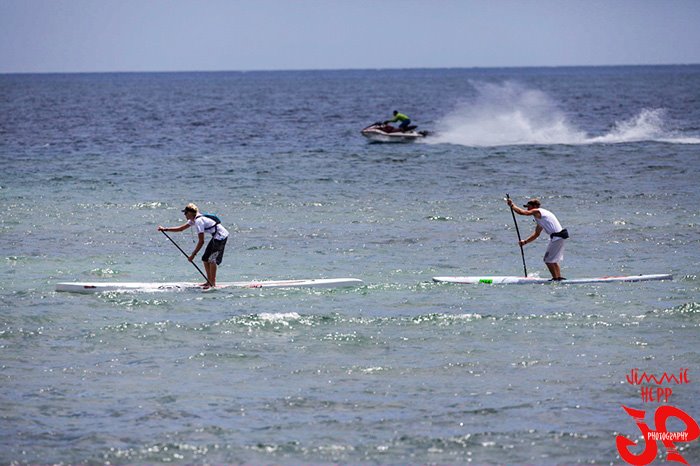 July 9, 2012
by Christopher Parker (@wheresbossman)
[RESULTS] 2012 Triple Crown Of SUP – Race #2 (Kihei)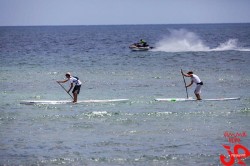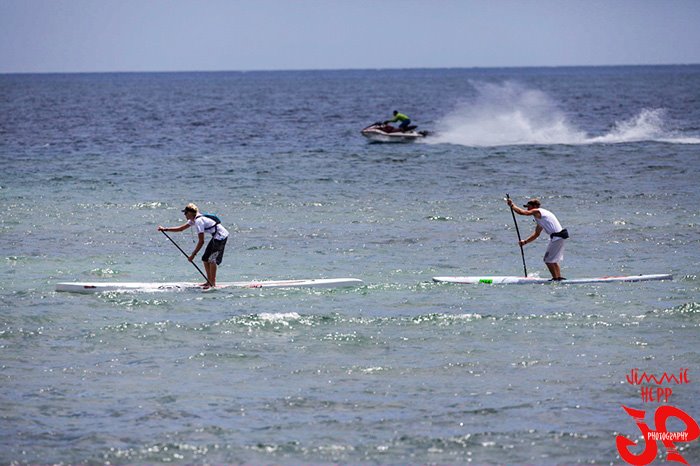 The Triple Crown of Stand Up Paddling continued on the weekend, with Connor Baxter taking out Race #2 (aka the Warrior Cup) at Kihei on Maui's south side.
The race was set to be a 10 mile downwinder but conditions weren't looking too friendly, so the organisers cut it down to a 6 mile course from the Maui Canoe Club to Kihei Boat Ramp. There were cross winds at the start and headwinds near the finish, making it a tough day for the traditional unlimited boards and allowing a couple of 14 footers onto the podium.
Connor Baxter (Unlimited) was followed closely over the line by Bart de Zwart (14′) with Kai Lenny (14′) in third place overall. Meanwhile in the women's race Andrea Moller was again totally unstoppable.
The Triple Crown of SUP wraps up next weekend with the biggest and best race of the series: the epic Maui to Molokai 27 miler. In the meantime you can check out some great shots of the action thanks to Jimmie Hepp, or scroll down to see the full race results.
*****
2012 Triple Crown­ Of SUP – Race #2 RESULTS
OVERALL RESULTS
(we're still waiting on a full list of times)
1st: Connor Baxter (Unlimited)
2nd: Bart de Zwart (14′)
3rd: Kai Lenny (14′)
4th: Luiz Guida (Unlimited)
5th: Noa Ginella (14′)
6th: Zane Schweitzer (Unlimited)
DIVISION WINNERS
Elite Men's Unlimited
1st: Connor Baxter
2nd: Zane Schweitzer
3rd: Livio Menelau
4th: Scott Trudon
5th: Jim Glinn
Elite Men's 14'
1st: Kai Lenny
2nd: Noa Ginella
3rd: Dylan Frick
Elite Women's Unlimited
1st: Andrea Moller
Amateur Men's 12'6
16 years & under
1st: RJ Whener
Amateur Men's 14'
16 years & under
1st: Tucker Ingalls
30-45
1st: Bart de Zwart
2nd: Renato Spiritus
46-59
1st: Ron St. John
2nd: Roger Casey
60+
1st: Brue McKinney
Amateur Men's Unlimited
29 & under:
1st: Luiz Guida
2nd: Noah Garfield
30‐45:
1st: Ed Wheeler
2nd: Justin Gordon
3rd: Claudio Chian
46‐59:
1st: Mike Bennett
2nd: Gregory Harbottle
3rd: Ron Gallemore
60+:
1st: Marciano Sado
Amateur Women's 14'
30‐45
1st: Sharon Li
Amateur Women's Unlimited
29 & under:
1st: Terrene Black
30‐45:
1st: Marjorie Kahookele‐Pea
2nd: Gina Lawless
46+:
1st: Margaret King