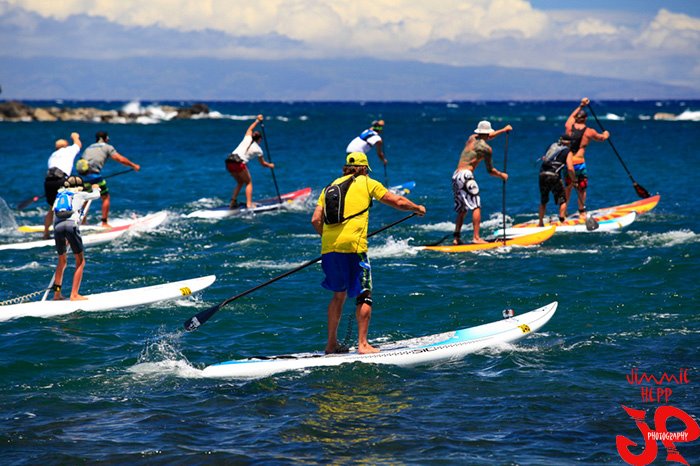 July 2, 2012
by Christopher Parker (@wheresbossman)
[RESULTS] 2012 Triple Crown Of SUP – Race #1 (Maliko)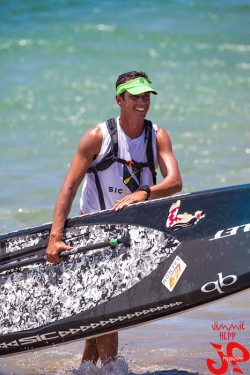 Full results are in from Race #1 of the 2012 Triple Crown of SUP, where local charger Livio Menelau has taken out the victory ahead of Australia's Dave Kissane. No surprises in the women's race, with Andrea Moller notching up yet another downwind victory.
The 2nd annual Triple Crown of SUP is happening all this month in Hawaii and, outside the Molokai-2-Oahu, provides arguably the toughest test for ocean SUP racers.
The first race was the classic 9 mile Maliko Run, from Maliko Gulch to Kahului Harbor on Maui. Race #2 is next weekend, on Maui's south shore from Kihei to Makena and again it's another 9 mile downwinder.
Race #3 is the big one though; a 27 mile ocean crossing from Maui to Molokai.
Paddlers earn points from each of the three events, which are combined to crown the Triple Crown Champion. Maui's Livio Menelau is looking good for the title; he's taken an early lead plus he's already been there before, having finished 2nd overall in the 2011 Triple Crown (behind only Connor Baxter).
Scroll down for full results from the Triple Crown of SUP Maliko Race. Big thanks to Jimmie Hepp Photography for the pics (check out his work on Facebook).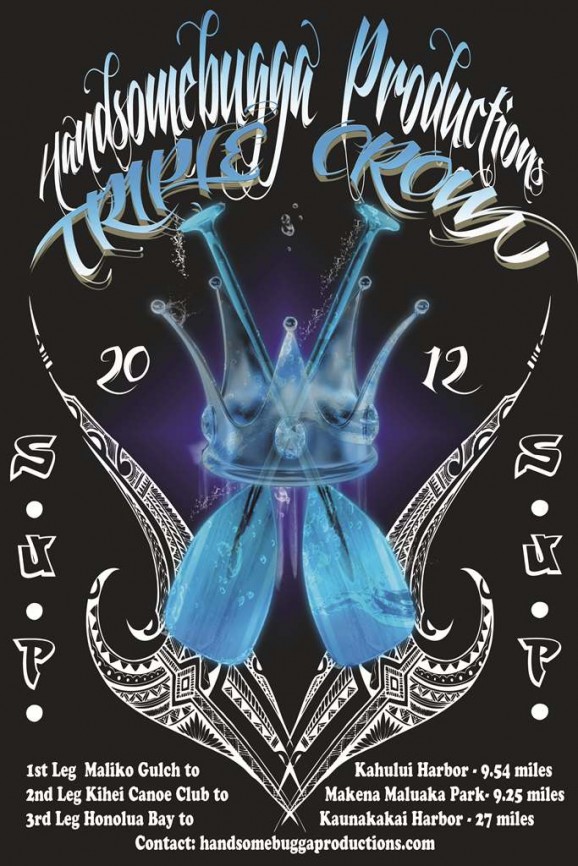 *****
Triple Crown of SUP Race #1 RESULTS
Click "Class" to sort results by Board Class
Click "#" to reset the results

| # | Name | Time | Class | Class # |
| --- | --- | --- | --- | --- |
| 1 | Livio MENELAU | 1:11:14 | Unlimited | 1 |
| 2 | David KISSANE | 1:12:45 | Unlimited | 2 |
| 3 | Scott TRUDEN | 1:13:47 | Unlimited | 3 |
| 4 | Noa GINELLA | 1:17:21 | 14' | 1 |
| 5 | Andrea MOLLER | 1:17:37 | F Unlimited | 1 |
| 6 | Will ANIDO | 1:17:44 | Unlimited | 4 |
| 7 | Masao FUKAYAMA | 1:21:14 | Unlimited | 5 |
| 8 | Dylan FRICK | 1:21:21 | 14' | 2 |
| 9 | Michael SCHWEIGER | 1:23:59 | 12'6" | 1 |
| 10 | Edward WHEELER | 1:25:40 | Unlimited | 6 |
| 11 | Claudio CHIAN | 1:27:25 | Unlimited | 7 |
| 12 | Ron ST. JOHN | 1:27:39 | 14' | 3 |
| 13 | Rebecca JAKENAY | 1:28:45 | F Unlimited | 2 |
| 14 | Izaak TYRRELL | 1:29:42 | 14' | 4 |
| 15 | Jim GLINN | 1:31:38 | Unlimited | 8 |
| 16 | Justin GORDON | 1:32:16 | Unlimited | 9 |
| 17 | Roger CASEY | 1:33:15 | 14' | 5 |
| 18 | Sonja HOWCHEID | 1:33:35 | F 14' | 1 |
| 19 | Robert STONER | 1:33:42 | Unlimited | 10 |
| 20 | William BOYUM | 1:34:01 | Unlimited | 11 |
| 21 | Scott MERCIER | 1:34:47 | Unlimited | 12 |
| 22 | Mike BENNETT | 1:35:57 | Unlimited | 13 |
| 23 | Marjorie KAHOOKELE-PEA | 1:37:48 | F Unlimited | 3 |
| 24 | R.J. WHENER | 1:39:17 | 14' | 6 |
| 25 | Vetea RIBET | 1:39:48 | 14' | 7 |
| 26 | Andrew MCGINNIS | 1:40:13 | 14' | 8 |
| 27 | Ron GALLEMORE | 1:41:07 | Unlimited | 14 |
| 28 | Sharon LI | 1:43:43 | F 14' | 2 |
| 29 | Margaret KING | 1:44:19 | F Unlimited | 4 |
| 30 | Kim HERRERA | 1:46:51 | F Unlimited | 5 |
| 31 | Abby STONER | 1:48:11 | F 14' | 3 |
| 32 | Pat MCCARTHY | 1:48:36 | Unlimited | 15 |
| 33 | Josh SANDS | 1:50:00 | 12'6" | 2 |
| 34 | Hillary RUNNER | 1:52:43 | F 14' | 4 |
| 35 | Axel ROSENBLAD | 1:57:03 | 12'6" | 3 |
| 36 | Bruce MCKINNEY | 2:00:08 | 14' | 9 |
| 37 | Amber LEE | 2:05:22 | F 14' | 5 |