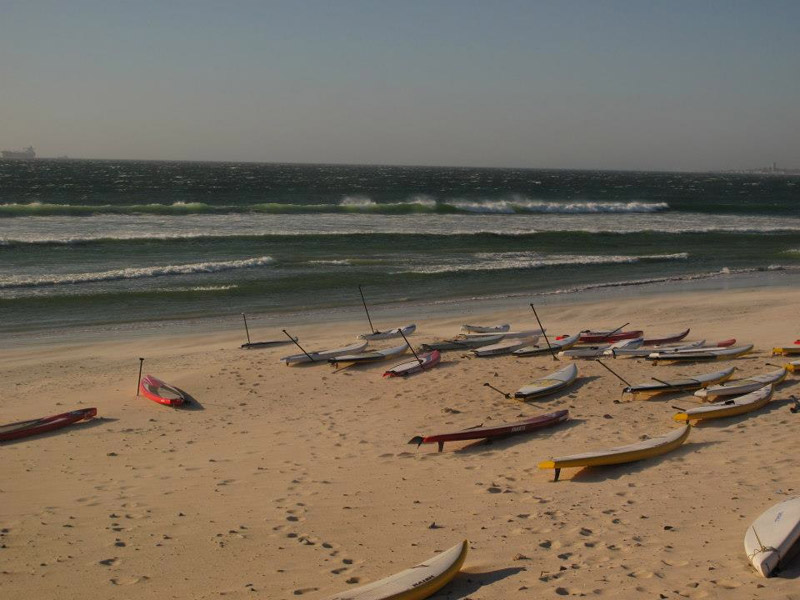 November 7, 2012
by Peter Petersen
[RESULTS] PRIMI Naish Downwind Dash Series, South Africa: Awesome Conditions For Race #4
35 knots of cranking South Easterly wind, record participation and a stack of Personal Best times!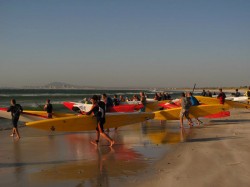 Fifty SUP's and 40 surf-skis lined up to make this a record field in the 4th round of the 2012 PRIMI Naish Downwind Dash Series. Conditions were close to epic with the strongest winds and biggest runners we've seen so far this year.
These conditions clearly suited our SUP championship leader Chris Bertish (Naish) who was first out the back and never looked back. Chris caught runner after runner and although brother Greg (Coreban) was keeping up initially, it wasn't long before Chris dropped him and the rest of the field like pieces of hot coal.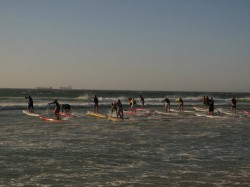 Greg held 2nd to the line, but only just, as surprise of the night, Justin Bing (Coreban) tore through the field to take his first podium finish in only his 3rd downwinder! Justin Bing is the reigning South African SUP surfing and Longboarding Champion and represented South Africa at the last ISA Worlds – so he is clearly used to winning and will be a man to watch in the future!
In the ladies class Brigette van Aswegen (Starboard) once again took the win but young Mishka Steyn (Starboard) had her best downwinder ever and is closing the gap every week. Mishka even lost her paddle in a fall and was gracious that Wayne Robertson spotted the distress call and was there to pick it up! In third was Monica Wohlgemuth (Naish), who nearly cracked the one-hour mark, also setting a personal best in the process.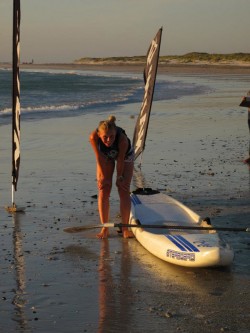 In total 42 out of the 50 paddlers set a personal best time – plenty of proof that conditions were exceptional.The juniors are getting fast, very fast, with PB's to all of our top three in Ethan Koopmans (Naish), Kimon Dos Santos (Naish) and Joshua Robertson (Fanatic).
The 4th completed race means everyone gets a discard in the overall standings, and Chris Bertish maintains his lead over Dylan Frick and Greg Bertish.
We had a couple of exciting newcomers, notably Nico Pfitzenmaier who is an ex-professional Xterra tri-athlete and Nick Hulm, also with a profesional tri-athlon background. Both dipped under one hour on their first ever downwinder and Nick placed mid-field with a 56.27 after having set foot on a SUP for the first time only last week!
Full race results below (…catch up with the results from the first three races >>> 2012/2013 PRIMI Naish Downwind Dash Series).
– Peter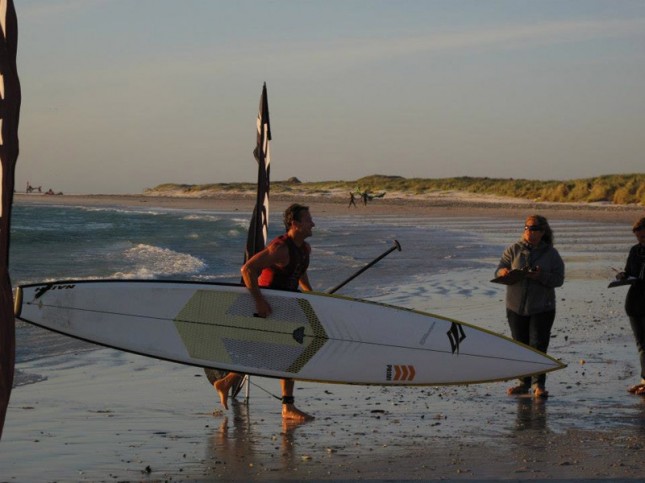 PRIMI Naish Downwind Dash Series – LEADERBOARD

PRIMI Naish Downwind Dash Series – Race #4 RESULTS
Date: 7th November, 2012
Wind: SSE 25-35 knots
Course: 10.1km

| # | Name | Time | Class | Division | % of 1st | Grade | km/h | min/km | Board |
| --- | --- | --- | --- | --- | --- | --- | --- | --- | --- |
| 1 | Chris Bertish | 0:45:51 | 14' | Open | 100.00 | Elite | 13.22 | 0:04:32 | Naish 14 Glide 2012 |
| 2 | Greg Bertish | 0:47:11 | 14' | Open | 97.17 | Elite | 12.84 | 0:04:40 | Coreban 14' Dart |
| 3 | Justin Bing | 0:47:52 | 14' | Open | 95.79 | Elite | 12.66 | 0:04:44 | Coreban 14' Alpha |
| 4 | Brad Adams | 0:48:00 | 14' | Open | 95.52 | Elite | 12.63 | 0:04:45 | Fanatic 14 Falcon |
| 5 | Colin Heckroodt | 0:49:20 | 14' | Open | 92.94 | A | 12.28 | 0:04:53 | Starboard 14' OO |
| 6 | Andrew Cillie | 0:49:28 | 14' | Masters | 92.69 | A | 12.25 | 0:04:54 | Starboard 14 'OO |
| 7 | Gary van Rooyen | 0:49:34 | 14' | Masters | 92.50 | A | 12.23 | 0:04:54 | Coreban 14 Dart |
| 8 | Pietro Muscas | 0:50:08 | 14' | Masters | 91.46 | A | 12.09 | 0:04:58 | Naish 14 Glide 2012 |
| 9 | Peter Petersen | 0:50:27 | 14' | Masters | 90.88 | A | 12.01 | 0:05:00 | Naish 14 Glide (2012) |
| 10 | Matthew Linden | 0:50:34 | 14' | Open | 90.67 | A | 11.98 | 0:05:00 | Naish 14 Glide AST |
| 11 | Nicky Carstens | 0:50:40 | 14' | Masters | 90.49 | A | 11.96 | 0:05:01 | Custom 14' |
| 12 | Ethan Koopman | 0:50:52 | 14' | Junior | 90.14 | A | 11.91 | 0:05:02 | Naish 14 Glide |
| 13 | Dylan Frick | 0:51:24 | 14' | Open | 89.20 | B | 11.79 | 0:05:05 | Starboard 14' Ace Pro |
| 14 | Francois Frick | 0:51:46 | 14' | Open | 88.57 | B | 11.71 | 0:05:08 | Starboard 14' Ace Pro |
| 15 | Tom King | 0:51:55 | 14' | Open | 88.31 | B | 11.67 | 0:05:08 | Fanatic 14' Fly |
| 16 | Glen Thompson | 0:53:05 | 14' | Open | 86.37 | B | 11.42 | 0:05:15 | Naish 14 Glide AST |
| 17 | Dave Maxwell | 0:53:15 | 14' | Masters | 86.10 | B | 11.38 | 0:05:16 | Naish 14 Glide |
| 18 | Kimon Dos Santos | 0:53:18 | 14' | Junior | 86.02 | B | 11.37 | 0:05:17 | Naish 14 Glide |
| 19 | John Du Rooy | 0:53:40 | 14' | Open | 85.43 | B | 11.29 | 0:05:19 | Coreban |
| 20 | Joshua Robertson | 0:53:48 | 14' | Junior | 85.22 | B | 11.26 | 0:05:20 | Fanatic 14 Falcon |
| 21 | James Taylor | 0:54:09 | 14' | Open | 84.67 | C | 11.19 | 0:05:22 | Naish 14 Glide AST |
| 22 | Rob Munro | 0:54:18 | 14' | Masters | 84.44 | C | 11.16 | 0:05:23 | Fanatic 14 OO |
| 23 | Tyran Cooper | 0:55:31 | 14' | Open | 82.59 | C | 10.92 | 0:05:30 | Coreban |
| 24 | Brigette van Aswegen | 0:56:05 | 14' | Lady | 81.75 | C | 10.81 | 0:05:33 | Starboard 14' Ace Pro |
| 25 | Nick Muhl | 0:56:27 | 14' | Open | 81.22 | D | 10.74 | 0:05:35 | Naish 14 Glide AST |
| 26 | Gavin Dace | 0:56:37 | 14' | Open | 80.98 | D | 10.70 | 0:05:36 | Naish 14 Glide AST |
| 27 | Michael Fiet | 0:56:55 | 14' | Open | 80.56 | C | 10.65 | 0:05:38 | Coreban 14' Dart |
| 28 | Guy Bubb | 0:57:18 | 14' | Open | 80.02 | C | 10.58 | 0:05:40 | Naish 14 Glide (2012) |
| 29 | Neal Esterhuysen | 0:58:35 | 14' | Open | 78.26 | D | 10.34 | 0:05:48 | Coreban |
| 30 | Mishka Steyn | 0:58:55 | 14' | Lady/Junior | 77.82 | D | 10.29 | 0:05:50 | Starboard 14' OO |
| 31 | Wayne Robertson | 0:59:25 | 14' | Open | 77.17 | D | 10.20 | 0:05:53 | Coreban 14 Dart |
| 32 | Nico Pfitzenmaier | 0:59:36 | 14' | Open | 76.93 | D | 10.17 | 0:05:54 | Naish 14 Glide AST |
| 33 | Brad Orkin | 1:00:00 | 14' | Open | 76.42 | D | 10.10 | 0:05:56 | Naish 14 Glide |
| 34 | Craig Ginsberg | 1:00:18 | 14' | Masters | 76.04 | D | 10.05 | 0:05:58 | Naish 14 Glide (2012) |
| 35 | Steve Tripney | 1:00:29 | 14' | Masters | 75.81 | D | 10.02 | 0:05:59 | Coreban 14 Dart |
| 36 | Monika Wohlgemuth | 1:00:46 | 14' | Lady | 75.45 | D | 9.97 | 0:06:01 | Naish 14 Glide (2012) |
| 37 | Tammy Robarts | 1:02:24 | 12'6 | Lady | 73.48 | D | 9.71 | 0:06:11 | Naish 11'6 Nalu |
| 38 | Naas Terreblanche | 1:03:38 | 14' | Open | 72.05 | D | 9.52 | 0:06:18 | Naish 14 Glide AST |
| 39 | Christina Fernandez | 1:04:22 | 12'6 | Lady | 71.23 | D | 9.41 | 0:06:22 | Cabrinha 10'6 |
| 40 | Patricia Kohrs | 1:04:22 | 14' | Lady | 71.23 | D | 9.41 | 0:06:22 | Naish 14 Glide AST |
| 41 | Deon Bing | 1:04:47 | 12'6 | Masters | 70.77 | D | 9.35 | 0:06:25 | Coreban Soft Top |
| 42 | David van der Spuy | 1:04:49 | 14' | Open | 70.74 | D | 9.35 | 0:06:25 | Coreban |
| 43 | Brendon Scharfetter | 1:05:01 | 14' | Open | 70.52 | D | 9.32 | 0:06:26 | Fanatic 14 OO |
| 44 | Jonathan Donner | 1:05:21 | 12'6 | Open | 70.16 | D | 9.27 | 0:06:28 | Naish 12' Glide |
| 45 | Craig Girdlestone | 1:05:30 | 14' | Masters | 70.00 | D | 9.25 | 0:06:29 | Naish 14 Glide AST |
| 46 | Craig Ziman | 1:05:57 | 14' | Open | 69.52 | D | 9.19 | 0:06:32 | Coreban |
| 47 | Paul Ruger | 1:11:54 | 14' | Masters | 63.77 | D | 8.43 | 0:07:07 | Coreban 14 Dart |
| 48 | Justin Trent | 1:12:04 | 14' | Masters | 63.62 | D | 8.41 | 0:07:08 | Naish 14 Glide (2012) |
| 49 | Johan Adler | 1:12:35 | 14' | Open | 63.17 | D | 8.35 | 0:07:11 | |
| 50 | Oliver Potgieter | 1:12:50 | 14' | Open | 62.95 | D | 8.32 | 0:07:13 | |
MORE >>>>>
Downwind Dash Series – Race #1 RESULTS
Downwind Dash Series – Race #2 RESULTS 
Downwind Dash Series – Race #3 RESULTS