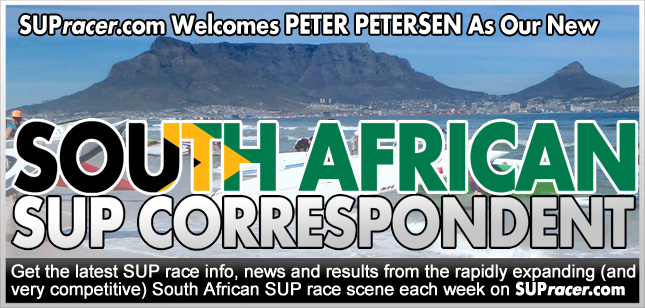 November 3, 2012
by Peter Petersen
[RESULTS] PRIMI Naish Downwind Dash Series (South Africa) Race #3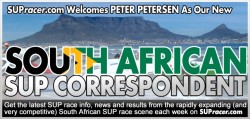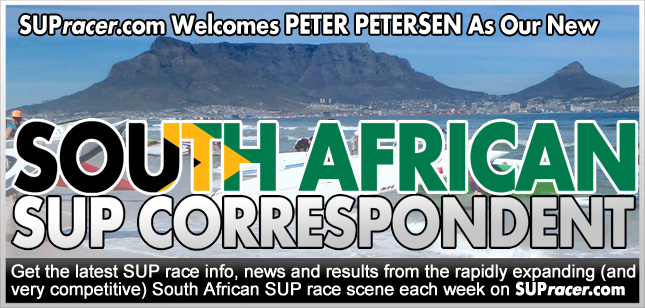 After last week's no-winder and non-event, on Wednesday we had another beautiful Cape Town downwinder to complete race #3 of the 2012/2013 PRIMI Naish Downind Dash Series. Winds of 15-23knots, no swell, high tide and very smooth runs once again made for hard paddling and excellent downwinding.
Series leader Dylan Frick was possibly feeling the efforts from the Coreban/Quickblade Battle of the Bay race on Saturday and was not his usual self tonight.
Dylan immediately got hooked off by a very aggressive race pace from the Italian "six-pack" Stallion; Pietro Muscas. Pietro had the two Bertish brothers Chris and Greg in tow and he stuck with them all the way to within 2km of the finish, when a concerted effort from Chris and Greg allowed them both to pass. This despite Pietro having built up a gap of 100m at one stage.
Greg came from behind to pass Chris as well but a late charge from Chris saw him take line honours just seconds ahead of brother Greg, with Pietro in a safe 3rd. The Bertish brothers finished in 51 minutes, which is a mighty fine time with such little wind. Dylan nearly got swallowed up by a hungry pack consisting of Peter Petersen, Colin Heckroodt and Brad Adams, but managed to get on the wave ahead of the pack to secure 4th. Meanwhile Colin and Brad outran the Ballie to the flags with ease, to take 5th and 6th. Note to flag-mounter: Finish line flags must be placed in water next week, please…
There was a welcome return for Gary van Coreban Rooyen in 10th place and big-wave charger James Taylor improved his time dramatically to take 19th.
There was an epic battle in the Juniors between Ethan Koopman and Kimon Dos Santos, both 15 years old and on the same board. It was eventually Ethan who got in about 30 seconds ahead. Our 3rd placed Junior did incredibly well on his maiden downwind race; at only 10 years old, Nathan van Vuuren, son of Coreban founder Ivan van Vuuren, was the highlight of the evening with a classic van Vuuren style already ingrained and executed to perfection. Ivan sacrificed his race to chaperone Nathan safely home – what a pleasure to see the talent coming through at such a tender young age! A legend was born tonight!
Our ladies field was slightly depleted but once again Brigette van Aswegen was miles ahead and in a class of her own, with young Mishka Steyn taking 2nd. Monica Wohlgemuth finished a fine 3rd and it was great to see Brigette nearly clip one hour in the relatively light wind.
In the overall standings, Chris and Dylan now swop places with Chris having a narrow lead going into the last 6 weeks of the Series. Greg Bertish is firmly in 3rd while Pietro cemented his place 4th in the overall standings. Brigette, Mishka and Monica hold onto their positions, while Ethan is holding onto the Juniors lead, while Kimon is closing in on Joshua Robertson, who had to sit out tonight.
There were 45 paddlers tonight and 68 paddlers in total have now taken part in the series – a shortage of rental boards meant a number of paddlers had to watch from the sideline – make sure you get your bookings in early for next week, or better yet, get down to your local shop and place an order for your own waaaaapen. A quick note from race-director: Please make sure that you start in the start that you have indicated at registration! With two starts you can imagine the confusion if you swap it around!
We also urge you to look at your grading in the race results – they indicate your gap to the winner of the race and you can monitor if you are able to close the gap from week to week!
Thanks to all our sponsors, PRIMI, Naish, BulkSMS, SUPHQ, VitaminWater, Swox, Coreban/Xpression, Buchulife and Watersports Warehouse. Also big thumbs up to our Timekeeping Team Lolo and Jen who are now a well-oiled unit!
Next weeks forecast is looking lekker so get a quick warm-up paddle at Brian Kayaks SUPSA sanctioned 7km race at Big Bay on Sunday 4th at 8am. Also don't forget Intaka Time Trial with braai and SUPSA AGM on Monday the 5th!
– Peter
*****
PRIMI Naish Downwind Dash Series – Race #3 RESULTS
Date: 31st October, 2012
Wind: SSE 15-23knots
Waves: 0.5m
Course: 10.1km

| # | Name | Time | Class | Division | % of 1st | Grade | km/h | min/km | Board |
| --- | --- | --- | --- | --- | --- | --- | --- | --- | --- |
| 1 | Chris Bertish | 0:50:59 | 14' | Open | 100.00 | Elite | 11.89 | 0:05:03 | Naish 14 Glide 2012 |
| 2 | Greg Bertish | 0:51:08 | 14' | Open | 99.71 | Elite | 11.85 | 0:05:04 | Coreban 14' Dart |
| 3 | Pietro Muscas | 0:51:49 | 14' | Masters | 98.39 | Elite | 11.70 | 0:05:08 | Naish 14 Glide 2012 |
| 4 | Dylan Frick | 0:53:39 | 14' | Open | 95.03 | Elite | 11.30 | 0:05:19 | Starboard 14' Ace Pro |
| 5 | Colin Heckroodt | 0:53:48 | 14' | Open | 94.76 | A | 11.26 | 0:05:20 | Starboard 14' OO |
| 6 | Brad Adams | 0:53:50 | 14' | Open | 94.71 | A | 11.26 | 0:05:20 | Fanatic 14 Falcon |
| 7 | Peter Petersen | 0:54:08 | 14' | Masters | 94.18 | A | 11.19 | 0:05:22 | Naish 14 Glide (2012) |
| 8 | Matthew van der Linden | 0:55:45 | 14' | Open | 91.45 | A | 10.87 | 0:05:31 | Naish 14 Glide AST |
| 9 | Francois Frick | 0:56:17 | 14' | Open | 90.58 | A | 10.77 | 0:05:34 | Starboard 14' Ace Pro |
| 10 | Gary van Rooyen | 0:58:43 | 14' | Masters | 90.58 | A | 10.77 | 0:05:34 | Coreban 14 Dart |
| 11 | Nicky Venter | 0:58:50 | 14' | Open | 86.66 | B | 10.30 | 0:05:50 | Starboard 14' OO |
| 12 | Ethan Koopman | 0:58:51 | 14' | Junior | 86.66 | B | 10.30 | 0:05:50 | Naish 14 Glide |
| 13 | Tom King | 0:58:55 | 14' | Open | 86.53 | B | 10.29 | 0:05:50 | Fanatic 14' Fly |
| 14 | Justin Bing | 0:59:02 | 14' | Open | 86.36 | B | 10.27 | 0:05:51 | Coreban 14' Alpha |
| 15 | Kimon Dos Santos | 0:59:24 | 14' | Junior | 86.36 | B | 10.27 | 0:05:53 | Naish 14 Glide |
| 16 | Dave Maxwell | 1:00:33 | 14' | Masters | 85.83 | B | 10.20 | 0:05:53 | Naish 14 Glide |
| 17 | Brigette van Aswegen | 1:00:34 | 14' | Women's | 84.18 | C | 10.01 | 0:06:00 | Starboard 14' Ace Pro |
| 18 | Glen Thompson | 1:00:39 | 14' | Open | 84.06 | C | 9.99 | 0:06:00 | Naish 14 Glide AST |
| 19 | Tyran Cooper | 1:01:18 | 14' | Open | 84.06 | C | 9.99 | 0:06:00 | Coreban |
| 20 | James Taylor | 1:01:56 | 14' | Open | 83.17 | C | 9.89 | 0:06:04 | Naish 14 Glide AST |
| 21 | Guy Bubb | 1:02:36 | 14' | Open | 82.32 | C | 9.78 | 0:06:08 | Naish 14 Glide (2012) |
| 22 | Rob Munro | 1:02:40 | 14' | Masters | 81.36 | C | 9.67 | 0:06:12 | Fanatic 14 OO |
| 23 | Michael Fiet | 1:04:10 | 14' | Open | 81.36 | C | 9.67 | 0:06:12 | Coreban 14' Dart |
| 24 | Gavin Dace | 1:04:26 | 14' | Open | 79.45 | D | 9.44 | 0:06:21 | Naish 14 Glide AST |
| 25 | Chris Scarpa | 1:04:34 | 14' | Open | 79.13 | D | 9.41 | 0:06:23 | |
| 26 | Wayne Robertson | 1:04:41 | 14' | Open | 78.96 | D | 9.39 | 0:06:24 | Coreban 14 Dart |
| 27 | Lucas Crous | 1:06:17 | 14' | Open | 78.82 | D | 9.37 | 0:06:24 | |
| 28 | Brad Orkin | 1:06:19 | 14' | Open | 76.92 | D | 9.14 | 0:06:34 | Naish 14 Glide |
| 29 | Dawid de Villiers | 1:06:21 | 14' | Open | 76.88 | D | 9.14 | 0:06:34 | Naish 14 Glide |
| 30 | Steve Tripney | 1:07:32 | 14' | Masters | 76.84 | D | 9.13 | 0:06:34 | Coreban 14 Dart |
| 31 | Mishka Steyn | 1:07:51 | 14' | Women's Jnr | 75.49 | D | 8.97 | 0:06:41 | Starboard 14' OO |
| 32 | Nicky Carstens | 1:08:22 | 14' | Open | 74.57 | D | 8.86 | 0:06:46 | Custom 14' |
| 33 | Calvin Ginsberg | 1:09:07 | 14' | Junior | 75.14 | D | 8.93 | 0:06:43 | Naish 14 Glide |
| 34 | Monika Wohlgemuth | 1:09:43 | 14' | Women's | 73.76 | D | 8.77 | 0:06:51 | Naish 14 Glide (2012) |
| 35 | Craig Ginsberg | 1:10:07 | 14' | Masters | 73.13 | D | 8.69 | 0:06:54 | Naish 14 Glide (2012) |
| 36 | Tammy Robarts | 1:10:43 | Unl | Women's | 72.71 | D | 8.64 | 0:06:57 | Naish 17' Glide |
| 37 | Nathan van Vuuren | 1:12:35 | 12'6 | Kids | 72.10 | D | 8.57 | 0:07:00 | Coreban proto |
| 38 | Ivan van Vuuren | 1:13:34 | 14' | Masters | 69.30 | D | 8.24 | 0:07:17 | Coreban 14' Dart |
| 39 | John Du Rooy | 1:16:23 | 14' | Open | 66.75 | D | 7.93 | 0:07:34 | Coreban |
| 40 | Robert du Rooy | 1:16:23 | 14' | Open | 66.75 | D | 7.93 | 0:07:34 | |
| 41 | Gavin Kannemeyer | 1:18:38 | 14' | Open | 66.75 | D | 7.93 | 0:07:34 | Naish 14 Glide |
| 42 | Neal Esterhuysen | 1:19:36 | 14' | Open | 64.84 | D | 7.71 | 0:07:47 | Coreban |
| 43 | Bruce Johnston | 1:20:12 | 14' | Masters | 63.57 | D | 7.56 | 0:07:56 | Naish 14 Glide (2012) |
| 44 | Brendon Scharfetter | 1:20:59 | 14' | Open | 63.57 | D | 7.56 | 0:07:56 | Fanatic 14 OO |
| 45 | John Henshilwood | 1:23:50 | 14' | Masters | 62.96 | D | 7.48 | 0:08:01 | Coreban 14' Dart |
MORE >>>>>
Downwind Dash Series – Race #1 RESULTS
Downwind Dash Series – Race #2 RESULTS