April 5, 2013
by Christopher Parker (@wheresbossman)
[RESULTS] 2013 Iron SUP Challenge Mataiea (Tahiti)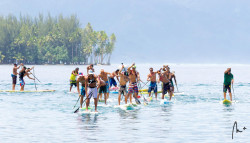 SUP racing is alive and well in Tahiti, with last weekend's Iron SUP Challenge Mataiea featuring plenty of world class paddlers.
Georges Cronsteadt, one of the strongest/most under rated paddlers in the world was defeated (for perhaps the first time in Tahitian waters) in Saturday's Beach Race by Lorenzo Bennett and Eric Leou On. The King did make up for it on Sunday though, taking out the Downwind Race in just under two and a half hours, over a minute ahead of Eric and with Raihei Tapeta in third.
Tahiti has a long history in the world of paddling, with many of the world's best outrigger paddlers calling French Polynesia home. There's now a growing Stand Up Paddling scene, and as we saw last month, Tahiti is a beautiful location for a SUP race…
Scroll down to see the full race results plus photos of the action from the Iron SUP Challenge Mataiea, and thanks to Raihei Tapeta from Mataiea Lifestyle for the updates.
*****
2013 Iron SUP Challenge Mataiea RESULTS
Men's Elite Beach Race
1st: Lorenzo Bennett Jr. (37:47)
2nd: Eric Leou On (38:02)
3rd: Georges Cronsteadt (38:03)
4th: Heiva Paie (38:04)
5th: Raihei Tapeta (38:05)
6th: Rangieta Bennett (38:12)
7th: Tamarua Cowan (38:34)
8th: Teina Ebb (38:53)
9th: Audibert Tama (39:01)
10th: Tehotu Wong (39:02)
11th: Steven Frogier (39:32)
12th: Matahi Clark (40:19)
13th: Poenaiki Raioha (40:19)
14th: Natua Teriitahi (40:39)
15th: Damien Girault (41:11)
16th: Tehei Pugibet (41:34)
17th: Heimata Ariitai (42:00)
18th: Gilles Tching (42:06)
19th: Lono Teururai (42:08)
20th: Tunui Sorman (42:09)
21st: Manoa Drollet (42:43)
22nd: Kevin Harehoe (43:02)
23rd: Haines Teriitaumihau (43:05)
24th: David Foster (43:13)
25th: Vaiari'i Layong (44:17)
26th: Raynald Chailloux (48:21)
Women's Beach Race
1st: Maguy Vivish (34:49)
2nd: Gwaldys Messerlin (35:19)
3rd: Hina Yiou (36:20)
4th: Heilani Cronsteadt (36:31)
5th: Mihilani Teixeira (36:18)
6th: Vaiana Turi (37:23)
7th: Hivalani Tetuamanuhere (37:36)
8th: Faremiro Terani (39:07)
9th: Wendy Rehia (39:28)
10th: Martine Fan (40:15)
11th: Arieta Temauu (50:54)
12th: Leilanie Laughlin (52:38)
Men's Downwind Race
1st: Georges Cronsteadt (2:28:58)
2nd: Eric Leou On (2:30:26)
3rd: Raihei Tapeta (2:32:38)
4th: Teiki Mai (2:36:04)
5th: Teina Ebb (2:37:44)
6th: Audibert Tama 2:38:59)
7th: Tehei Pugibet (2:39:15)
8th: Steven Frogier (2:39:16)
9th: Tamarua Cowan (2:42:39)
10th: Niuhiti Buillard (2:44:42)
11th: Kevin Harehoe (2:45:42)
12th: Vaiari'i la Yong (2:49:23)
13th: Lorenzo Bennett Jr. (2:51:29)
14th: Sebastien Berniere (2:56:24)
15th: Natua Teriitahi (2:57:08)
16th: Thierry Tching (3:02:40)
17th: Tapare Flavien (3:03:05)
18th: Kevin Mervin (3:08:42)
19th: Lorenzo Bennett (3:10:04)
20th: Moerai Mervin (3:12:01
21st: Olivier Lebrun (3:15:25)
22nd: Jimmy Tiapari (3:23:59)
23rd: Raynald Chailloux (3:29:56)
24th: Vaiani Temataua (3:35:39)
Women's Downwind Race
1st: Hinatea Bernadino (42:10)
2nd: Vaimiti Maoni (42:18)
3rd: Maguy Vivish (42:41)
4th: Heilani Cronsteadt (43:38)
5th: Gwaldys Messerlin (43:45)
6th: Hina Yiou (44:25)
7th: Martine Fan (44:59)
8th: Hivalani Tetuamanuhere (45:13)
9th: Mihilani Teixeira (45:46)
10th: Vaiana Turi (46:07)
11th: Wendy Rehia (46:50)
12th: Vehi Allain (1:00:46)
Photos © Mataiea Lifestyle/Raihei Tapeta, M+/Marama Drollet, Gregory Boissy