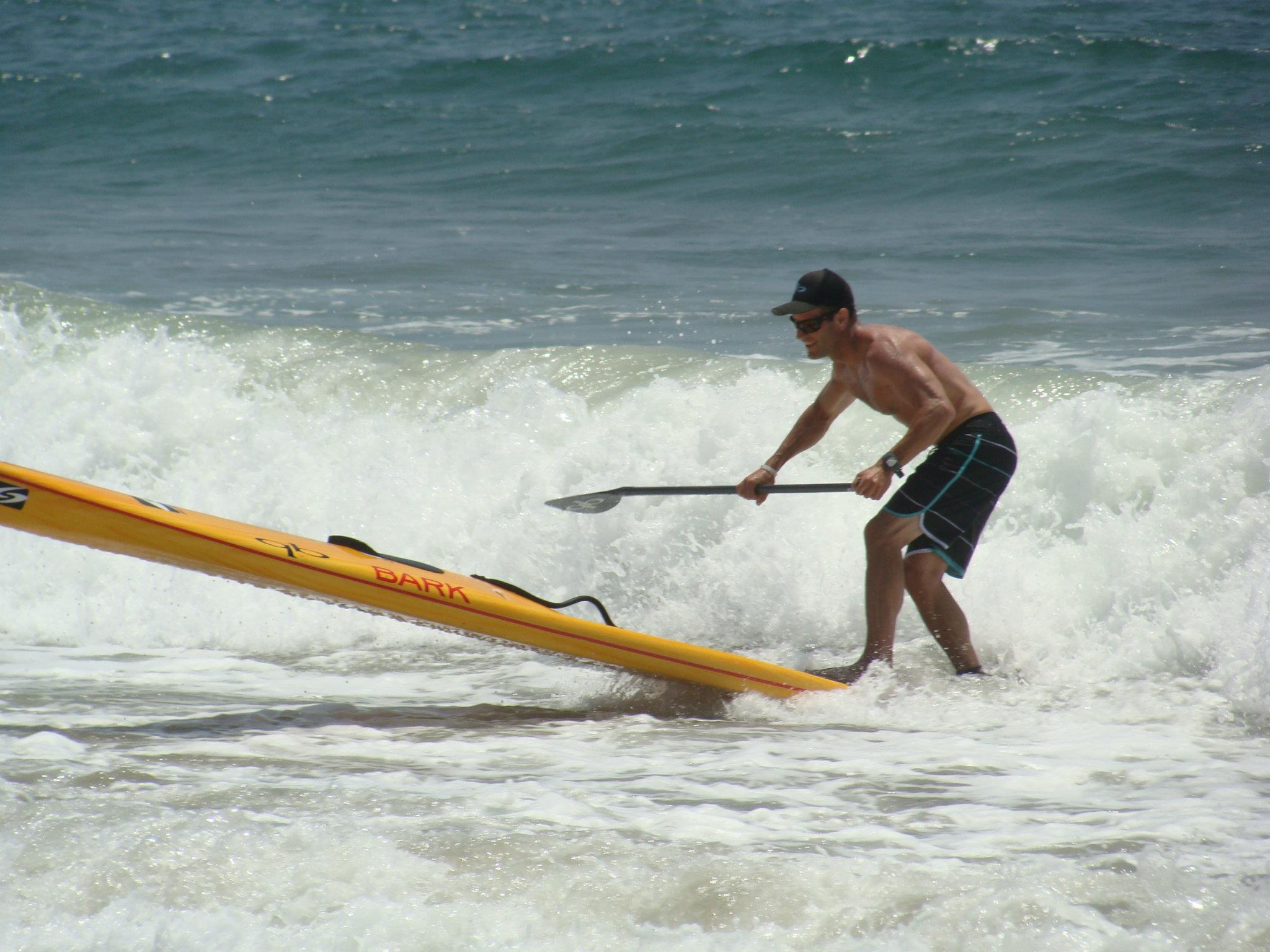 June 11, 2012
by Christopher Parker (@wheresbossman)
[RESULTS] Santa Monica Pier Paddleboard Race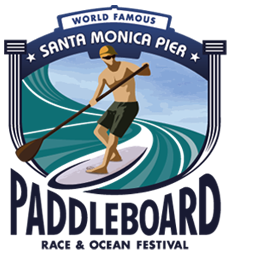 UPDATE: Check out the Santa Monica Pier Paddle VIDEO from Quickblade.
*****
Check out results from the 2012 Santa Monica Pier Paddleboard Race.
Byron Kurt took line honours exactly one minute ahead of Quickblade's Jim Terrell, while Mike Murphy won the stock 12'6″ class and scored a 4th place overall.
Meanwhile in the women's race it was the 2012 ISA World Champion (and recent U.S. Champion) Brandi Baksic who dominated, finishing five minutes clear of 2nd place Alison Riddle.
Check out the full race results below from both the 5.5 mile Elite Long Course and the 1.5 mile Fun course (…and click here for results from the prone paddleboard divisions, won by Candice Appleby and Anthony Vela).
Click here for some more pics of the action courtesy of On It Pro.
*****
Santa Monica Pier Paddle RESULTS: Long Course
Click "M/F" to switch between Men's and Women's Results
Click "Class" or "Division" to sort results by Board Class or Age Division

| # | M/F | M/F # | Name | Time | Class | Class # | Division | Div # |
| --- | --- | --- | --- | --- | --- | --- | --- | --- |
| 1 | M | 1 | Byron KURT | 1:05:14 | 14' | 1 | 40-49 | 1 |
| 2 | M | 2 | Jim TERRELL | 1:06:14 | 14' | 2 | 40-49 | 2 |
| 3 | M | 3 | Chance FIELDER | 1:06:47 | 14' | 3 | 40-49 | 3 |
| 4 | M | 4 | Mike MURPHY | 1:08:22 | 12'6" | 1 | 40+ | 1 |
| 5 | M | 5 | Brendan LIGHT | 1:09:04 | 14' | 4 | 16-39 | 1 |
| 6 | M | 6 | Dane MORRISSEY | 1:09:32 | 12'6" | 2 | Under 40 | 1 |
| 7 | M | 7 | Tucker INGALLS | 1:09:46 | 14' | 5 | 16-39 | 2 |
| 8 | M | 8 | Karl RING | 1:09:48 | 14' | 6 | 40-49 | 4 |
| 9 | M | 9 | Dave BOEHNE | 1:10:14 | 12'6" | 3 | Under 40 | 2 |
| 11 | M | 11 | Seth SPRINGER | 1:11:21 | 14' | 8 | 16-39 | 3 |
| 10 | M | 10 | Neal DRINKWARD | 1:11:21 | 14' | 7 | 40-49 | 5 |
| 12 | M | 12 | John BECKER | 1:11:52 | 14' | 9 | 50+ | 1 |
| 13 | M | 13 | Brent CAMPBELL | 1:12:16 | 14' | 10 | 16-39 | 4 |
| 14 | F | 1 | Brandi BAKSIC | 1:14:12 | F12'6" | 1 | Under 40 | 1 |
| 15 | M | 14 | Jayson CAMPBELL | 1:14:38 | 12'6" | 4 | Under 40 | 3 |
| 16 | M | 15 | Patrick O'hea O'HEA | 1:14:39 | 14' | 11 | 16-39 | 5 |
| 17 | M | 16 | Trent HICKMAN | 1:14:40 | 12'6" | 5 | Under 40 | 4 |
| 18 | M | 17 | Matthew HUGHES | 1:15:19 | 12'6" | 6 | Under 40 | 5 |
| 19 | M | 18 | Jack WYGAL | 1:16:22 | 14' | 12 | 40-49 | 6 |
| 20 | M | 19 | Chuck TROUT | 1:17:10 | 14' | 13 | 40-49 | 7 |
| 21 | M | 20 | Phil COFFMAN | 1:17:36 | 12'6" | 7 | 40+ | 2 |
| 22 | M | 21 | Gene Tarsan SMITH | 1:19:28 | 12'6" | 8 | 40+ | 3 |
| 23 | F | 2 | Alison RIDDLE | 1:19:54 | F12'6" | 2 | Under 40 | 2 |
| 24 | M | 22 | Bob FARRAR | 1:20:00 | 14' | 14 | 50+ | 2 |
| 25 | M | 23 | John GOODMAN | 1:20:09 | 12'6" | 9 | 40+ | 4 |
| 26 | F | 3 | Sara JUREK | 1:20:47 | F12'6" | 3 | Under 40 | 3 |
| 27 | M | 24 | Mace CAMHE | 1:21:46 | 14' | 15 | 40-49 | 8 |
| 28 | M | 25 | Tom CORBRIDGE | 1:22:14 | 14' | 16 | 50+ | 3 |
| 29 | F | 4 | Antoinette COCCO | 1:22:31 | F12'6" | 4 | Under 40 | 4 |
| 30 | M | 26 | Luke THOMAS | 1:22:41 | 14' | 17 | 16-39 | 6 |
| 31 | M | 27 | Christian SHUBIN | 1:23:16 | 14' | 18 | 16-39 | 7 |
| 32 | F | 5 | Michelle TARAJCAK | 1:23:34 | F12'6" | 5 | Under 40 | 5 |
| 33 | M | 28 | Mike VAUGHAN | 1:23:48 | 12'6" | 10 | 40+ | 5 |
| 34 | M | 29 | Doug ANDERSON | 1:24:19 | 12'6" | 11 | 40+ | 6 |
| 35 | M | 30 | Gerry WALLFESH | 1:25:15 | 12'6" | 12 | 40+ | 7 |
| 36 | M | 31 | Chris CURL | 1:26:20 | 14' | 19 | 16-39 | 8 |
| 37 | M | 32 | Tim SANFORD | 1:28:48 | 14' | 20 | 16-39 | 9 |
| 38 | M | 33 | Barkley UNKNOWN | 1:28:56 | 12'6" | 13 | 40+ | 8 |
| 39 | M | 34 | Marcus YOUNG | 1:29:48 | 12'6" | 14 | Under 40 | 6 |
| 40 | M | 35 | Alex PAPPAS | 1:31:33 | 14' | 21 | 16-39 | 10 |
| 41 | M | 36 | Aj JOHNSON | 1:32:13 | 12'6" | 15 | Under 40 | 7 |
| 42 | M | 37 | Nicholas DANGELO | 1:32:35 | 12'6" | 16 | Under 40 | 8 |
| 43 | M | 38 | Mat WESNER | 1:33:03 | 12'6" | 17 | 40+ | 9 |
| 44 | M | 39 | Allen BROSTOWICZ | 1:34:08 | 12'6" | 18 | 40+ | 10 |
| 45 | M | 40 | Simon SWART | 1:34:09 | 14' | 22 | 40-49 | 9 |
| 46 | M | 41 | Michael BROWN | 1:34:22 | 12'6" | 19 | 40+ | 11 |
| 47 | M | 42 | Evan JENSEN | 1:35:46 | 12'6" | 20 | Under 40 | 9 |
| 48 | M | 43 | Alan LATTERI | 1:36:22 | Surfboard | 1 | Open | 1 |
| 49 | M | 44 | Kyle KUSHNER | 1:45:40 | 12'6" | 21 | Under 40 | 10 |
| 50 | M | 45 | Greg WELCH | 1:45:50 | Surfboard | 2 | Open | 2 |
| 51 | M | 46 | Scott HUBBARD | 1:45:50 | Surfboard | 3 | Open | 3 |
| 52 | M | 47 | David THAU | 1:47:33 | Surfboard | 4 | Open | 4 |
| 53 | M | 48 | Nicholas IADONISI | 1:48:47 | 12'6" | 22 | Under 40 | 11 |
| 54 | M | 49 | Gary LEONG | 1:50:11 | 12'6" | 23 | 40+ | 12 |
| 55 | M | 50 | Kurt SIMPSON | 1:51:13 | 14' | 23 | 40-49 | 10 |
| 56 | M | 51 | Oso SNELL | 1:52:53 | Surfboard | 5 | Open | 5 |
| 57 | F | 6 | Sandy HILL | 1:54:18 | F12'6" | 6 | 40+ | 1 |
| 58 | M | 52 | Juerg GESER | 2:10:41 | 14' | 24 | 40-49 | 11 |
*****
Santa Monica Pier Paddle RESULTS: Fun Course
| Overall # | Name | Time | Division | Div # |
| --- | --- | --- | --- | --- |
| 1 | Raphael LUNETTA | 26:41 | 12'6" Men's Open | 1 |
| 3 | Mike VAUGHAN | 27:11 | 12'6" Men's Open | 3 |
| 2 | Seth SPRINGER | 27:11 | 12'6" Men's Open | 2 |
| 4 | Sam GEORGE | 27:12 | 12'6" Men's Masters | 1 |
| 5 | Andrew SOLMSSEN | 28:01 | Surfboard Men's Open | 1 |
| 6 | Benton WARD | 28:47 | Surfboard Men's Open | 2 |
| 7 | Mike DOWNEY | 29:17 | 12'6" Men's Masters | 2 |
| 8 | Chris WILINSKI | 29:44 | Surfboard Men's Open | 3 |
| 9 | Frank UMIPIG | 30:13 | 12'6" Men's Masters | 3 |
| 10 | Ross FURUKAWA | 30:55 | 12'6" Men's Open | 4 |
| 11 | Matthew MINICH | 32:08 | Surfboard Men's Open | 4 |
| 12 | Ian LIGHT | 32:12 | 12'6" Men's Open | 5 |
| 13 | Jean ROUSSEAU | 33:06 | 12'6" Men's Open | 6 |
| 14 | Cliff SIMON | 33:13 | Surfboard Men's Open | 5 |
| 15 | Jericho POPPLER | 33:35 | 12'6" Women's Masters | 1 |
| 16 | Kevin MCCARTHY | 34:06 | 12'6" Men's Masters | 4 |
| 17 | Scott AMMONS | 34:27 | Surfboard Men's Open | 6 |
| 18 | Emily DOLBER | 35:09 | 12'6" Women's Open | 1 |
| 19 | Jose GONZALEZ | 35:21 | 12'6" Men's Open | 7 |
| 20 | Jesse KREGER | 35:25 | Surfboard Men's Open | 7 |
| 21 | Brian BUSBY | 35:26 | 12'6" Men's Open | 8 |
| 22 | Kenny Yat-choi KWONG | 36:37 | 12'6" Men's Open | 9 |
| 23 | Daniel CHEVALLIER | 37:41 | 12'6" Men's Open | 10 |
| 24 | James YANOSCHIK | 39:29 | 12'6" Men's Masters | 5 |
| 25 | Tom DUNBABIN | 43:17 | Surfboard Men's Open | 8 |
| 26 | Randie HALLETT | 43:18 | 12'6" Women's Open | 2 |
| 27 | Juli SCHULZ | 45:16 | 12'6" Women's Masters | 2 |
| 28 | Erwin GALICINAO | 45:27 | 12'6" Men's Open | 11 |
| 29 | Tommy TILTON | 45:38 | Surfboard 13-16 yrs | 1 |
| 30 | Max SWART | 45:45 | Surfboard Under 12 yrs | 1 |
| 31 | Cade COHEN | 46:11 | Surfboard Under 12 yrs | 2 |
| 32 | Holly PERRY | 47:04 | 12'6" Women's Open | 3 |
| 33 | Gabe WALLACE | 47:27 | 12'6" Men's Open | 12 |
| 34 | Tom ANDERSON | 47:45 | 12'6" Men's Open | 13 |
| 35 | Shari DAVIS | 49:01 | 12'6" Women's Masters | 3 |
| 36 | Samson GRUNWALD | 49:40 | Surfboard 13-16 yrs | 2 |
| 37 | Ross ROMIEN | 49:59 | 12'6" Men's Open | 14 |
| 38 | Rey Cano CANO | 50:03 | 12'6" Men's Masters | 6 |
| 39 | Brittny BURFORD | 50:19 | 12'6" Women's Open | 4 |
| 40 | Suzy GREENWOOD | 51:23 | 12'6" Women's Open | 5 |
| 41 | Jose BACALLAO | 52:34 | 12'6" Men's Open | 15 |
| 42 | Jin PARK | 53:44 | Surfboard Men's Open | 9 |
| 43 | Marti WEST | 54:30 | 12'6" Women's Masters | 4 |
| 44 | Jacqueline PATT | 54:32 | 12'6" Women's Open | 6 |
| 45 | Carrie TILTON | 54:42 | 12'6" Women's Masters | 5 |
| 46 | Andrew BROWNE | 55:14 | 12'6" Men's Open | 16 |
| 47 | Ingrid FARO | 55:44 | 12'6" Women's Masters | 6 |
| 48 | Junior CACHERO | 58:45 | Surfboard Men's Open | 10 |
| 49 | Kate BURGER | 59:51 | Surfboard Women's Open | 1 |
| 50 | Kelly MUELLER | 59:52 | Surfboard Women's Open | 2 |
| 51 | Francesca MARTIN | 59:54 | Surfboard Women's Open | 3 |
| 52 | Mitch BRODY | 60:41 | 12'6" Men's Open | 17 |
| 53 | Judy ALINSANGAN | 64:36 | Surfboard Women's Open | 4 |