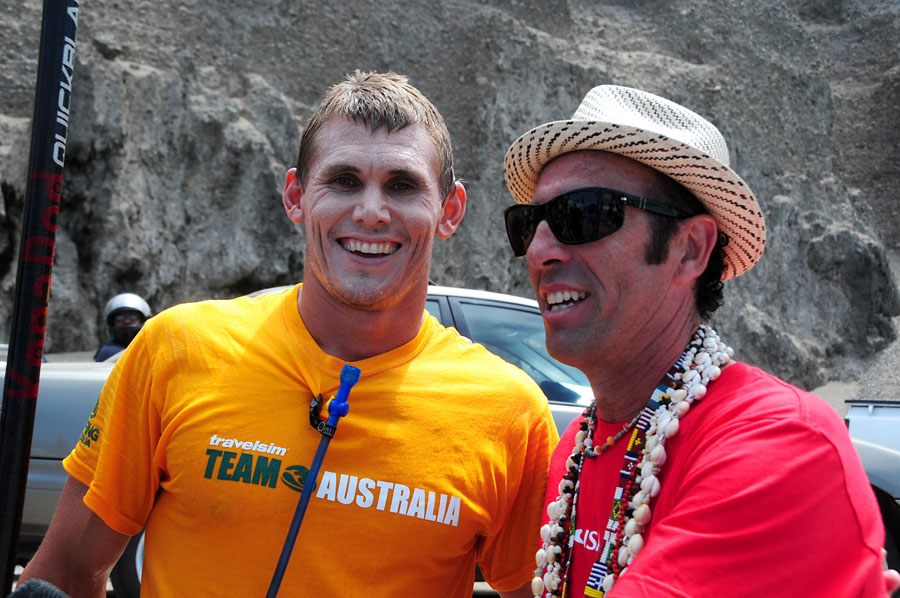 February 25, 2012
by Christopher Parker (@wheresbossman)
[RESULTS] World Champs Long Distance Race: Jamie Mitchell Wins GOLD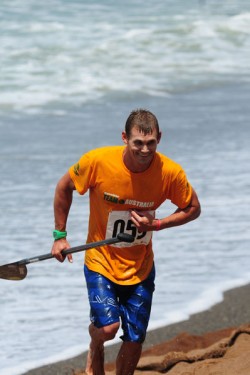 RESULTS from the LONG DISTANCE race @ the ISA World Standup Paddle and Paddleboard Championship in Peru.
The Aussie duo of Jamie Mitchell and Travis Grant led from start to finish to make it the second 1-2 finish for Team Australia in two days.
Mitchell claimed the Gold after breaking away from Grant just a few kms from the finish, reversing the result of yesterday's Short Course Final.
Eric Terrien put in a huge effort to claim the Bronze for France, with USA taking the Copper medal (4th) and New Zealand's Paul Jackson claiming 5th.
Meanwhile Brandi Baksic scored her 2nd Gold of the event, taking out the women's Long Distance race.
*****
World Championship Long Distance Race
MEN'S RESULTS
1st: Jamie Mitchell (AUS) | GOLD
2nd: Travis Grant (AUS) | SILVER
3rd: Eric Terrien (FRA) | BRONZE
4th: Jay Wild (USA) | COPPER
5th: Paul Jackson (NZ)
6th: Luiz Guido (BRAZIL)
7th: Gaetan Sene (FRANCE)
8th: Rob Rojas (USA)
9th: Belar Diaz (SPAIN)
10th: Felipe Rodriguez (MEXICO)
11th: Roman Frejo (SPAIN)
12th: Chris Bertish (SOUTH AFRICA)
13th: Alexandre Araujo (BRAZIL)
14th: Mark Slater (GREAT BRITAIN)
15th: Gonzalo Mirando (ARGENTINA)
16th: Greg Bertish (SOUTH AFRICA)
17th: Pietro Muscas (ITALY)
18th: Jean-Luc Malfroid
19th: John Harvey (GREAT BRITAIN)
20th: Jose Schiaffino (PERU)
21st: Sebastian Borbero (ARGENTINA)
22nd: Bruno Garcia (PERU)
23rd: Gian Paolo Lombardi (CHILE)
24th: Robert Etienne (SWITZERLAND)
25th: Ed O'Farrell (IRELAND)
26th: Keith Gorman (IRELAND)
27th: Carlos Navarro (CHILE)
WOMEN'S RESULTS
1st: Brandi Baksic (USA) | GOLD
2nd: Angie Jackson (AUSTRALIA) | SILVER
3rd: Brigette van Aswegen (SOUTH AFRICA) | BRONZE
4th: Barbara Brazil (BRAZIL) | COPPER
5th: Pat Hernandez (SPAIN)
6th: Jane Downes (IRELAND)
7th: Lorena Cemersoni (ARGENTINA)
8th: Antonella Podesta (CHILE)
>>> Also check out the overall World SUP Championship MEDAL TALLY