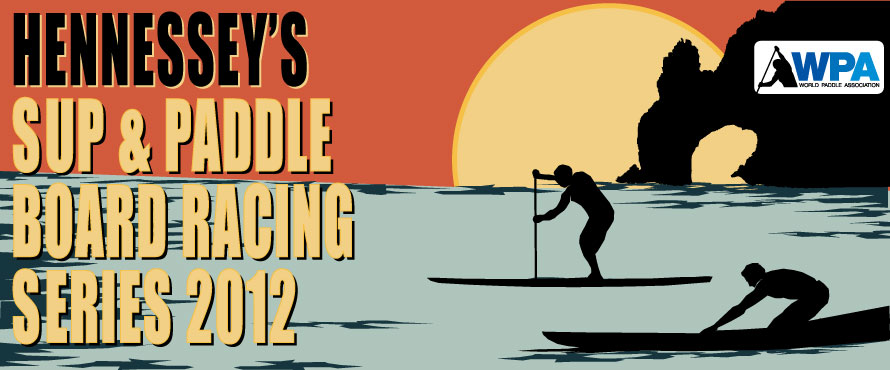 June 5, 2012
by Christopher Parker (@wheresbossman)
[RESULTS] Hennessey's US Championships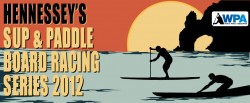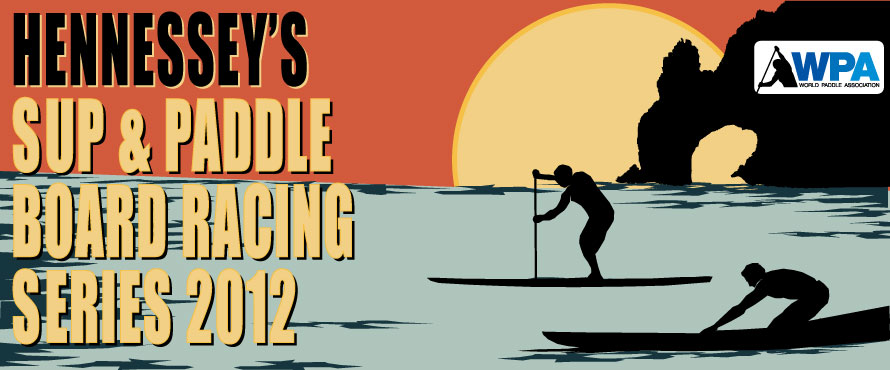 The Hobie & Hennessey's U.S. SUP Championships were held last Saturday @ Dana Point, with a whole bunch of international talent coming out to race.
There was a 6 mile course for the 12'6″ stock class, while the 14′ and Unlimited paddlers raced 8 miles.
Fernando Stalla won the 12'6″ class, while Brandi Baksic narrowly took out the women's race ahead of Candice Appleby. In the battle of the 14 footers it was Ryan Helm who snatched the victory, just seconds ahead of Kody Kerbox and Slater Trout.
Check out the full race results below and check back soon for photos of the race action.
*****
Hennessey's U.S. Championships – Elite SUP Race
Click "M/F" to switch between Men's and Women's Results
Click "Class" or "Division" to sort results by Board Class and Age Division
Notes: The 2'6″ class only paddled 6 miles while 14′ & Unlimited classes paddled 8 miles. Staggered start: 14′ class started 01:42 after the Unlimited paddlers and the 12'6″ class started 01:45 after the 14′ class (…times below have not been adjusted).
| Overall # | M/F | Name | Time | Division | Division # |
| --- | --- | --- | --- | --- | --- |
| 1 | M | Fernando STALLA | 1:08:13 | 12'6" 39U | 1 |
| 2 | M | Dane MORRISSEY | 1:09:53 | 12'6" 39U | 2 |
| 5 | M | David BOEHNE | 1:10:39 | 12'6" 39U | 3 |
| 7 | M | Dean CHRISTENER | 1:13:23 | 12'6" 39U | 4 |
| 8 | M | Chris BISHOW | 1:13:39 | 12'6" 39U | 5 |
| 9 | M | Brent PASCOE | 1:15:15 | 12'6" 39U | 6 |
| 10 | M | Brian HAAG | 1:15:20 | 12'6" 39U | 7 |
| 12 | M | Blaine MORGAN | 1:16:45 | 12'6" 39U | 8 |
| 13 | M | Jason CAMPBELL | 1:16:56 | 12'6" 39U | 9 |
| 28 | M | Spencer DINNEAR | 1:27:46 | 12'6" 39U | 10 |
| 30 | M | Nick SCHEEL | 1:28:11 | 12'6" 39U | 11 |
| 33 | M | Mick VOLLMER | 1:29:51 | 12'6" 39U | 12 |
| 48 | M | Michael MURPHY | 1:40:02 | 12'6" 39U | 13 |
| 6 | M | Keith METER | 1:12:41 | 12'6" 40-49 | 1 |
| 11 | M | Robert HOWSON | 1:16:35 | 12'6" 40-49 | 2 |
| 15 | M | Jake BARRET | 1:19:42 | 12'6" 40-49 | 3 |
| 16 | M | Eric DIGGINS | 1:20:02 | 12'6" 40-49 | 4 |
| 18 | M | Billy KHO | 1:21:27 | 12'6" 40-49 | 5 |
| 17 | M | Terry HAGGAR | 1:20:12 | 12'6" 50+ | 1 |
| 21 | M | Michael MAURI | 1:25:03 | 12'6" 50+ | 2 |
| 27 | M | Chris KOERNER | 1:27:40 | 12'6" 50+ | 3 |
| 45 | M | Junior JENKS | 1:35:40 | 12'6" 50+ | 4 |
| 23 | M | Ryan HELM | 1:25:48 | 14' 39U | 1 |
| 24 | M | Kody KERBOX | 1:25:52 | 14' 39U | 2 |
| 25 | M | Slater TROUT | 1:25:58 | 14' 39U | 3 |
| 26 | M | Rob ROJAS | 1:27:25 | 14' 39U | 4 |
| 29 | M | Jay WILD | 1:28:07 | 14' 39U | 5 |
| 38 | M | Sean PANGELINAN | 1:32:53 | 14' 39U | 6 |
| 41 | M | Daniel HUGHES | 1:33:53 | 14' 39U | 7 |
| 43 | M | Brendan LIGHT | 1:33:57 | 14' 39U | 8 |
| 47 | M | Colin MCPHILLIPS | 1:37:36 | 14' 39U | 9 |
| 49 | M | Patrick O'HEA | 1:40:52 | 14' 39U | 10 |
| 64 | M | Rob FRAZER | 1:51:24 | 14' 39U | 11 |
| 68 | M | Teva FOURCADE | 1:53:48 | 14' 39U | 12 |
| 32 | M | Byron KURT | 1:29:06 | 14' 40-49 | 1 |
| 35 | M | Rob PELKEY | 1:31:09 | 14' 40-49 | 2 |
| 36 | M | Jim TERRELL | 1:31:13 | 14' 40-49 | 3 |
| 37 | M | Chance FIELDER | 1:32:35 | 14' 40-49 | 4 |
| 39 | M | EJ JOHNSON | 1:33:04 | 14' 40-49 | 5 |
| 40 | M | Karl RING | 1:33:09 | 14' 40-49 | 6 |
| 44 | M | Ronnie AYROS | 1:34:18 | 14' 40-49 | 7 |
| 50 | M | Mike CAPUTO | 1:41:02 | 14' 40-49 | 8 |
| 51 | M | Shawn SHAMLOU | 1:41:25 | 14' 40-49 | 9 |
| 52 | M | Chad BASHOR | 1:43:18 | 14' 40-49 | 10 |
| 54 | M | john ENNIS | 1:44:00 | 14' 40-49 | 11 |
| 56 | M | Art AQUINO | 1:45:34 | 14' 40-49 | 12 |
| 57 | M | Kyle VESTERMARK | 1:46:32 | 14' 40-49 | 13 |
| 58 | M | Robert GRAHAM | 1:47:52 | 14' 40-49 | 14 |
| 70 | M | Alfred COOPER | 1:55:32 | 14' 40-49 | 15 |
| 74 | M | Spencer SNYDER | 2:03:50 | 14' 40-49 | 16 |
| 34 | M | Mitch KAHN | 1:30:37 | 14' 50+ | 1 |
| 55 | M | Adam CRAWFORD | 1:44:25 | 14' 50+ | 2 |
| 61 | M | John GOSSETT | 1:50:16 | 14' 50+ | 3 |
| 62 | M | Bob FARIRAR | 1:50:18 | 14' 50+ | 4 |
| 63 | M | Gary CURTIS | 1:51:01 | 14' 50+ | 5 |
| 66 | M | Michael COPLEY | 1:53:04 | 14' 50+ | 6 |
| 71 | M | Mark PIGHINI | 1:56:07 | 14' 50+ | 7 |
| 73 | M | Richard DAVIDSON | 2:02:07 | 14' 50+ | 8 |
| 75 | M | Anthony FORCIER | 2:08:48 | 14' 50+ | 9 |
| 76 | M | Robert RUMPH | 2:09:07 | 14' 50+ | 10 |
| 31 | M | Jared VARGAS | 1:28:16 | Unlimited 39U | 1 |
| 42 | M | Dialy NDIAYE | 1:33:54 | Unlimited 40-49 | 1 |
| 53 | M | Lance ERICKSON | 1:43:37 | Unlimited 50+ | 1 |
| 3 | F | Brandi BAKSIC | 1:10:20 | Women's 12'6" | 1 |
| 4 | F | Candice APPLEBY | 1:10:37 | Women's 12'6" | 2 |
| 14 | F | Allison RIDDLE | 1:18:25 | Women's 12'6" | 3 |
| 19 | F | Kristin THOMAS | 1:22:05 | Women's 12'6" | 4 |
| 20 | F | Emmy MERRILL | 1:24:43 | Women's 12'6" | 5 |
| 59 | F | Kristin THOMPSON | 1:48:36 | Women's 12'6" | 6 |
| 60 | F | Jennifer KURT | 1:50:13 | Women's 12'6" | 7 |
| 65 | F | Lauri WILSON | 1:52:47 | Women's 12'6" | 8 |
| 67 | F | Jill WINTERHALTER | 1:53:11 | Women's 12'6" | 9 |
| 22 | F | Betsy RISNER | 1:25:44 | Women's 12'6" 50+ | 1 |
| 46 | F | Peggy MUNOZ | 1:36:35 | Women's 12'6" 50+ | 2 |
| 69 | F | Kerstin OUELLET | 1:54:34 | Women's 14' | 1 |
| 72 | F | Suzy STRAZZULLA | 1:59:38 | Women's 14' | 2 |
*****
Hennessey's U.S. Championships – Open Race
Click "M/F" to switch between Men's and Women's Results
Click "Class" to sort results by Board Class

| # | M/F | M/F # | Name | Time | Class | Class # |
| --- | --- | --- | --- | --- | --- | --- |
| 1 | M | 1 | Jack WYGAL | 0:45:39 | 14' | 1 |
| 2 | M | 2 | Stephen WINIARSKI | 0:47:10 | 14' | 2 |
| 3 | M | 3 | Rick STINSON | 0:48:08 | 14' | 3 |
| 4 | M | 4 | Rod LOFTIS | 0:48:39 | 14' | 4 |
| 5 | M | 5 | Aaron HAZELRIGGS | 0:49:29 | 12'6" | 1 |
| 6 | M | 6 | Ryan BISHOP | 0:50:54 | 14' | 5 |
| 7 | M | 7 | Jeremy BUCKHAM | 0:51:56 | 12'6" | 2 |
| 8 | M | 8 | Raphael SEECK | 0:52:01 | 12'6" | 3 |
| 9 | M | 9 | Drew KURT | 0:53:36 | 12'6" | 4 |
| 10 | M | 10 | Cody ALTER | 0:54:02 | Surf | 1 |
| 11 | M | 11 | Mike WONG | 0:54:20 | 14' | 6 |
| 12 | M | 12 | Jonathan ROWNTREE | 0:54:29 | 14' | 7 |
| 13 | M | 13 | David LOECHNER | 0:54:41 | 12'6" | 5 |
| 14 | M | 14 | Bill MCGRATH | 0:54:46 | Surf | 2 |
| 15 | M | 15 | Gary PETERSON | 0:55:27 | 14' | 8 |
| 16 | M | 16 | Frank BAYR | 0:55:53 | 12'6" | 6 |
| 17 | M | 17 | Dave ANDERSON | 0:56:01 | 12'6" | 7 |
| 18 | F | 1 | Mery MILIAN | 0:57:10 | F12'6" | 1 |
| 19 | F | 2 | Suzette BARRICK | 0:57:59 | F12'6" | 2 |
| 20 | M | 18 | Jim WOLFE | 0:58:42 | 12'6" | 8 |
| 21 | F | 3 | Christine GRAHAM | 0:59:34 | F12'6" | 3 |
| 22 | F | 4 | Shannon GIBSON | 1:01:00 | F12'6" | 4 |
| 23 | M | 19 | Brett COATS | 1:02:10 | 14' | 9 |
| 24 | M | 20 | Mark MEIERHOEFER | 1:02:19 | Surf | 3 |
| 25 | M | 21 | Gerry SANTOS | 1:02:53 | Surf | 4 |
| 26 | F | 5 | Avery HAZELRIGGS | 1:03:46 | F12'6" | 5 |
| 27 | F | 6 | Rachel TILLY | 1:04:39 | F12'6" | 6 |
| 28 | M | 22 | Norm TOWNSEND | 1:04:44 | Surf | 5 |
| 29 | F | 7 | Lori PIGHINI | 1:06:10 | F12'6" | 7 |
| 30 | M | 23 | Alan MCCORKLE | 1:07:20 | Surf | 6 |
| 31 | M | 24 | Ryan MALONEY | 1:07:28 | 12'6" | 9 |
| 32 | F | 8 | Anna DINKELBACH | 1:21:22 | FSurf | 1 |