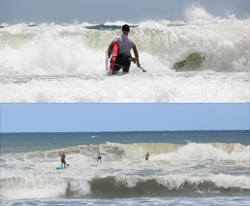 February 4, 2012
by Christopher Parker (@wheresbossman)
[RESULTS] 12 Towers Ocean Race (Gold Coast, Australia)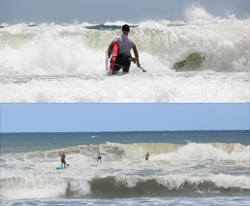 Results from the 12 Towers Ocean SUP Race held on the Gold Coast, Australia.
Conditions were awesome, with a good tail wind kicking in right before the start of the race to make for some super fun downwinder conditions.
There was a fair bit of swell though, which made it pretty tough getting out the back to the start line (and even tougher getting in to the finish line…).
Travis Grant put in a huge effort to beat an all-star field, narrowly edging out Jamie Mitchell. Amazingly, both finished the roughly 13km course in under an hour.
Local young-gun Jake Jensen took the final podium spot in a three-way battle with fellow Gold Coasters Beau O'Brian (4th) and Paul Jackson (5th).
The competition was intense on the women's side as well, where New South Wales' Terrene Black snatched victory from local favourite Angie Jackson.
Massive effort by the organisers, SUPSA, in pulling off such a great event. Huge credit also for the crew at Watershack.com.au, who stepped up as the major sponsor of the race.
UPDATE… POST-RACE INTERVIEWS:
– Travis Grant 
– Angie Jackson
– Paul Jackson
– Jamie Mitchell
*****
It was a mission just making it out the back to the start line…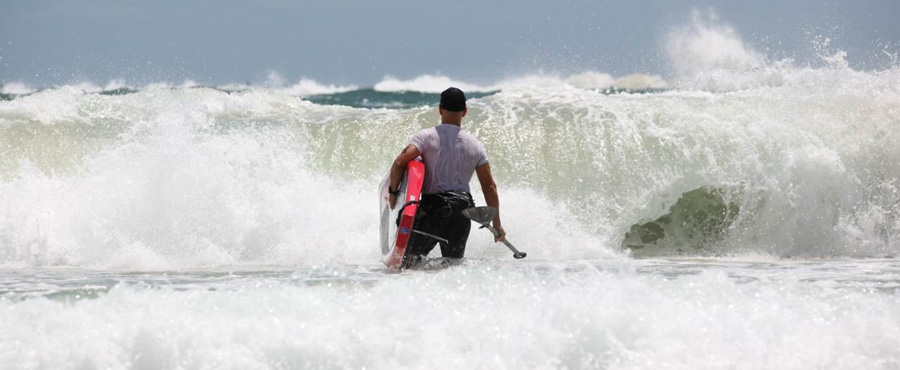 …and even more of a mission making it to the finish line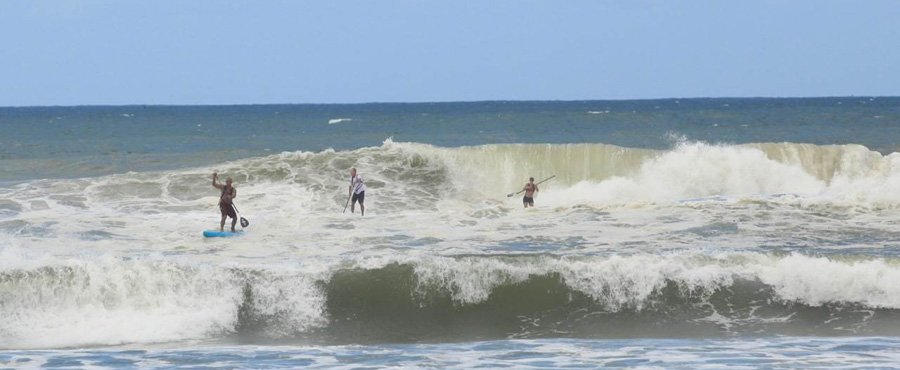 (Thanks to Piros for the great pics)
*****
12 Towers Ocean SUP Race RESULTS
Click "M/F" to sort Men's and Women's results.
Click "Class" to sort results by Board Class.
Click "Division" to sort results by Age Division.
Click "Overall" to reset the results.

| M/F | Overall # | Name | Time | Class | Class # | Division | Div. # |
| --- | --- | --- | --- | --- | --- | --- | --- |
| M | 1 | Travis GRANT | 0:56:18 | M12'6" | 1 | M Open | 1 |
| M | 2 | Jamie MITCHELL | 0:57:02 | M12'6" | 2 | M Open | 2 |
| M | 3 | Jake JENSEN | 1:00:15 | M12'6" | 3 | M Open | 3 |
| M | 4 | Beau O'Brian | 1:01:30 | M12'6" | 4 | M Open | 4 |
| M | 5 | Paul JACKSON | 1:01:40 | M12'6" | 5 | M Open | 5 |
| M | 6 | Lincoln Dews | 1:04:20 | M12'6" | 6 | M Open | 6 |
| M | 7 | Matt CARTER | 1:04:50 | Unlim | 1 | M Open | 1 |
| M | 8 | Dylan MAGEE | 1:05:00 | M14' | 1 | M Open | 1 |
| M | 9 | Mark WALDECK | 1:05:30 | Unlim | 2 | M 50+ | 1 |
| M | 10 | Andy DAVIES | 1:05:45 | M12'6" | 7 | M Open | 7 |
| M | 11 | Paul JONES | 1:06:10 | M12'6" | 8 | M Open | 8 |
| M | 12 | Ryan KECK | 1:07:14 | Unlim | 3 | M Open | 1 |
| M | 13 | Steve WALKER | 1:07:22 | Unlim | 4 | M Open | 2 |
| M | 14 | Heath BROWN | 1:08:15 | M14' | 2 | M 40-49 | 1 |
| M | 15 | Dale CHAPMAN | 1:09:43 | M12'6" | 9 | M 40-49 | 1 |
| M | 16 | Christopher PARKER | 1:12:52 | M12'6" | 10 | M Open | 9 |
| M | 17 | Steve QUILLER | 1:13:40 | M12'6" | 11 | M 40-49 | 2 |
| M | 18 | Wayne JOHNSTONE | 1:13:42 | M12'6" | 12 | M Open | 10 |
| M | 19 | Noel GRAHAM | 1:14:13 | M12'6" | 13 | M 40-49 | 3 |
| F | 20 | Terrene BLACK | 1:14:20 | F12'6" | 1 | F Open | 1 |
| F | 21 | Angela JACKSON | 1:15:11 | F12'6" | 2 | F Open | 2 |
| M | 22 | Greg BEER | 1:15:23 | M14' | 3 | M 40-49 | 2 |
| M | 23 | Kyle HUGHES | 1:16:20 | M14' | 4 | M Open | 2 |
| M | 24 | Errol VON BEINKE | 1:17:00 | M12'6" | 14 | M 50+ | 1 |
| M | 25 | Andrew HAMILTON | 1:17:33 | Unlim | 5 | M 40-49 | 1 |
| M | 26 | Dallas HALFORD | 1:17:50 | M14' | 5 | M Open | 3 |
| M | 27 | Dion PARKER | 1:18:15 | M12'6" | 15 | M Open | 11 |
| M | 28 | Michael STOKES | 1:18:25 | M12'6" | 16 | M 50+ | 2 |
| F | 29 | Karla GILBERT | 1:18:40 | F14' | 1 | F Open | 1 |
| M | 30 | Andrew Edhouse | 1:19:35 | M14' | 6 | M 40-49 | 3 |
| M | 32 | Shane LYNCH | 1:19:50 | M14' | 7 | M 40-49 | 4 |
| M | 31 | Warwick ROSE | 1:19:50 | M12'6" | 17 | M 50+ | 3 |
| F | 33 | Alison FULLAGAR | 1:20:10 | F12'6" | 3 | F Open | 3 |
| M | 34 | Adam SCOTT | 1:20:30 | M12'6" | 18 | M Open | 12 |
| M | 35 | Scott ROBERTS | 1:21:30 | M12'6" | 19 | M 40-49 | 4 |
| M | 36 | Julian BLANCHARD | 1:23:25 | M12'6" | 20 | M 50+ | 4 |
| F | 37 | Jenny RYAN | 1:25:17 | F12'6" | 4 | F Open | 4 |
| M | 38 | Rob CRIBB | 1:25:50 | M12'6" | 21 | M 40-49 | 5 |
| F | 39 | Molly WALKER | 1:26:00 | F12'6" | 5 | F Open | 5 |
| F | 40 | Elyse Comerford | 1:26:27 | F12'6" | 6 | F Open | 6 |
| F | 41 | Simone HORSFIELD | 1:26:36 | F14' | 2 | F Open | 2 |
| M | 42 | Alan MCARTHUR | 1:26:42 | M12'6" | 22 | M Open | 13 |
| M | 43 | Robert EYRE | 1:26:45 | M14' | 8 | M 50+ | 1 |
| M | 44 | Peter TURNER | 1:26:48 | M12'6" | 23 | M 50+ | 5 |
| M | 45 | Trevor TUNNINGTON | 1:26:59 | M12'6" | 24 | M Open | 14 |
| M | 46 | Ben Cahill | 1:27:35 | M14' | 9 | M Open | 4 |
| F | 47 | Sondra PURSER | 1:27:36 | F12'6" | 7 | F Open | 7 |
| M | 48 | Neil ENGLISH | 1:29:00 | Unlim | 6 | M 50+ | 2 |
| M | 49 | Scott PENWARN | 1:29:30 | M12'6" | 25 | M 40-49 | 6 |
| M | 50 | Justin SMALL | 1:30:30 | M12'6" | 26 | M 40-49 | 7 |
| M | 51 | David GULLIS | 1:31:30 | M12'6" | 27 | M 40-49 | 8 |
| M | 52 | Dave HILL | 1:32:43 | M14' | 10 | M 40-49 | 5 |
| M | 53 | Matt ROSER | 1:33:20 | M12'6" | 28 | M Open | 15 |
| M | 54 | Ryan RISTUCCIA | 1:34:00 | M12'6" | 29 | M Open | 16 |
| M | 55 | Duncan CORBEIT | 1:36:20 | M14' | 11 | M 50+ | 2 |