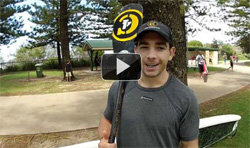 February 4, 2012
by Christopher Parker (@wheresbossman)
"12 Towers" Post-Race Interview: Travis Grant
Travis Grant won Saturday's 12 Towers Stand Up Paddle Ocean Race, beating an all-star lineup that included 10x World Champ Jamie Mitchell and probably half a dozen of the world's Top 15 paddlers.
We've got plenty more "12 Towers" post-race interviews coming soon, including Jamie Mitchell, Angie Jackson and Paul Jackson.
And if you're wondering what board a champion SUP racer rides… check out Travis' new C4 TGIF signature 12'6″ race board. It should be in all good SUP stores very soon.


RELATED: Watch our interview with Angie Jackson, runner-up in the women's race
Check out our chat with Paul Jackson, who battled for the podium in the men's race.
Watch our interview with Jamie Mitchell and hear what the 10x World Champ to say after the race.