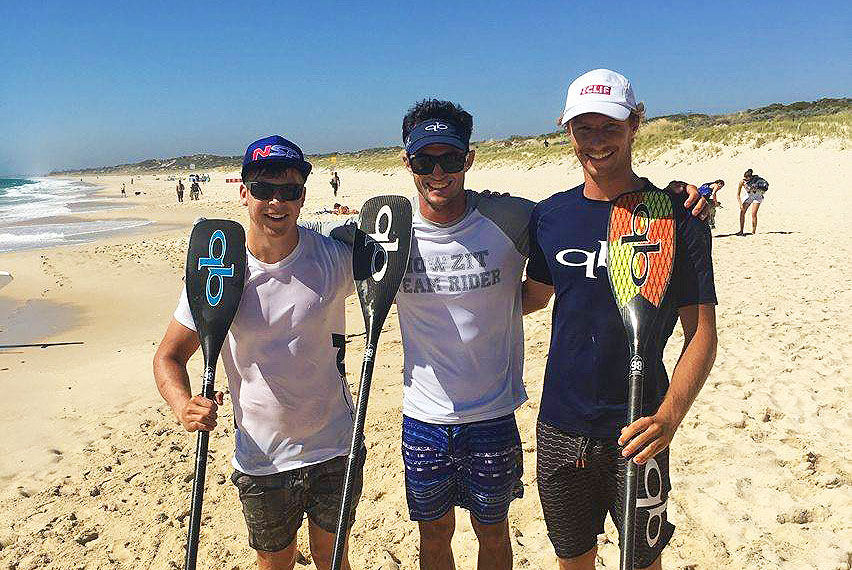 November 28, 2016
by Christopher Parker (@wheresbossman)
Trifecta for the Trifecta; Team QB Sweeps the Podium in West Oz
In one of the more interesting stories behind the news this week, it seems the Quickblade Trifecta paddle has taken the first trifecta of its own, with the top three guys at The Doctor race in West Oz on the weekend – Titouan Puyo (NSP), Marcus Hansen (NSP) and Lincoln Dews (JM) – all using the famous blade.
It's hardly the first time Team QB has swept the podium – they're the winningest paddle brand by a solid margin¹ – but any time they've made a clean sweep of a big race in the past, it's always been with a mixture of their current flagship models (the V-Drive and the Trifecta) or even some of their older 'Elite Racer' classics.
Ironically, the first trifecta for the Trifecta came without Travis Grant, not only the highest ranked paddler on Team QB but the guy who helped Jim Terrell test and tweak the early versions of this blade; If the V-Drive is synonymous with Dave Kalama, the Trifecta is attached to Trav.
It's also quite interesting to look at the preferences of Team QB's top stars, with a fairly even split between the V-Drive (eg. Casper Steinfath, Candice Appleby and Dave Kalama, among others) and the Trifecta (preferred by Travis Grant, Lincoln, Titou and many more).
The QB crew will have another chance at sweeping the podium this weekend, with the prestigious King of the Cut set to headline Aussie Downwind Week. However I daresay Matt Nottage, who finished 4th on the weekend but is the defending KotC champ, might have something to say about that, as will his Starboard team mate Michael Booth, who's been saving himself for the main event.
We'll have full coverage on either Saturday or Sunday — there's a two-day window for the King of the Cut, and right now it looks like Sunday will score the best bumps.

¹ I've been working on adding a "Paddle" column to the world rankings (it'll be done in a week or two), which will list each athlete's paddle of choice in addition to their board sponsor. It was pretty obvious Quickblade was always going to be the most popular brand, but even I've been blown away by just how many of the Top 100/Top 50 athletes are actually using QB sticks.