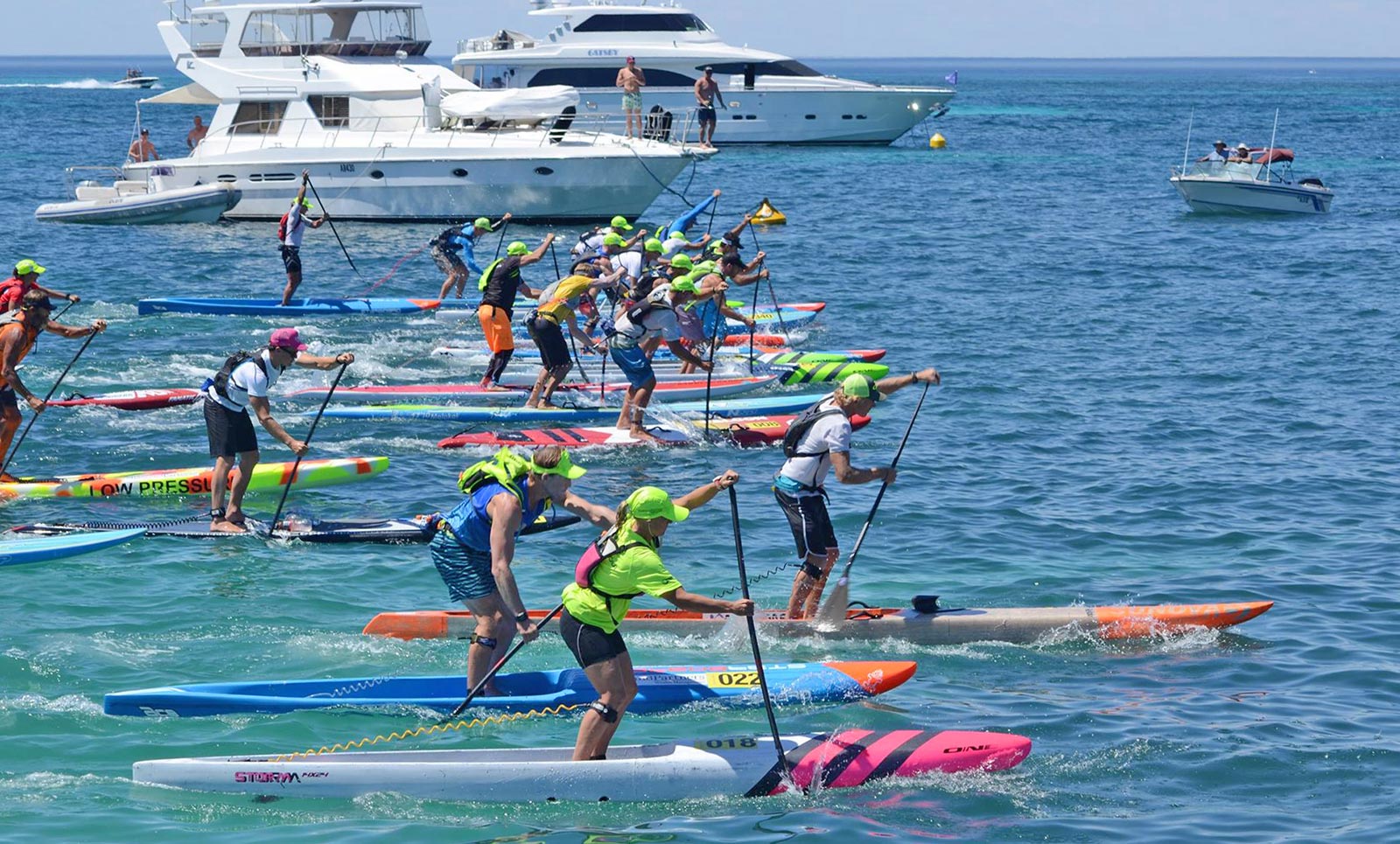 November 25, 2016
by Christopher Parker (@wheresbossman)
Titou Takes out 'The Doctor' Race in West Oz Ahead of NSP Team Mate Marcus Hansen; Angie Jackson Claims Third Title
Titouan Puyo has just won 'The Doctor' race in Perth, edging out NSP team mate Marcus Hansen in the opening event of "Aussie Downwind Week" after more than two and a half hours of flat, hot and grueling ocean paddling.
Titou completed the 28km (17.4 mile) crossing from Rottnest Island to Sorrento Beach in a time of 2 hours 32 minutes, just over a minute ahead of Marcus. Both of these guys flew to Western Australia pretty much straight from Fiji, where they represented their nations at last week's ISA Worlds.
Commenting on the brutally-hot conditions, Titou summed up his race to me by simply saying "I'm dead."
The result gives Team NSP an impressive one-two finish, which is even more impressive considering their top ranked paddler and West Oz regular, Travis Grant, is sitting out this year's Downwind Week festivities following the recent birth of his first child.
[notdevice] [/notdevice]
https://www.instagram.com/p/BNQ5YqbgGQ2/
[notdevice] [/notdevice]
Of course Titouan needs no introduction, with the current world number four cementing his place among the best in the world with a win at the prestigious Carolina Cup earlier this year. However this is probably Marcus' biggest result to date, with the under-the-radar Kiwi capping off a big couple of weeks that included a couple of top 10 finishes at the ISA Worlds in Fiji (which saw him rise to #33 on the SUP Racer World Rankings).
Coming home third today was Lincoln Dews from the JM Paddleboards stable, the top-placed Aussie in a time of 2 hours 35 minutes. Just like Titou and Marcus, Linc also flew to Perth just days after returning from the South Pacific.
Sounds like this year's race was pretty brutal, with light winds and soaring temperatures making it a real challenge. Highlighting just how slow conditions were today, defending champ Matt Nottage (Starboard) finished 4th in a time of 2 hours 38 minutes, exactly half an hour slower than his winning run from 12 months ago.
Veteran Kelly Margetts rounded out the top 5 on his new Sunova unlimited board, crossing the line just seconds ahead of Will Lee.
[notdevice] [/notdevice]

[notdevice] [/notdevice]
"The Doctor" is named after the
Fremantle Doctor
, the nickname given to the onshore trade wind that blows almost every day in Western Australia. Although the event is primarily a surf ski race, the SUP division has a storied history; Past winners include Connor Baxter, Travis Grant, Jake Jensen, Beau O'Brian, Paul Jackson, Matt Nottage, Annabel Anderson, Angie Jackson, Terrene Black and Karla Gilbert.
Western Australia's Aussie Downwind Week is quickly becoming the country's answer to Hawaii's Downwind Month, and will be punctuated by the headline event next weekend: The King of the Cut. That race will attract several more of the country's finest to the start line, including newly-minted world champ Michael Booth along with James Casey, Jake Jensen and other top ranked athletes.
WOMEN'S RACE UPDATE: Angela Jackson crossed the line moments ago on her new ONE board (aka 'Pinky') to claim the women's title. Belinda Stowell Brett was runner-up less than two minutes behind (unfortunately a very small turn out with only three women starting the race).
This is Angie's third crown and is a good warm-up for her King of the Cut title defense next weekend. Just like Titou (and no doubt every other competitor), Angie also felt the conditions were extreme, summing up the race with one word: "HOT!"
[notdevice] [/notdevice]
https://www.instagram.com/p/BNRnQp3hCjB/
---
1st: Titouan Puyo – 2:32:36 (France/NSP)
2nd: Marcus Hansen – 2:33:54 (New Zealand/NSP)
3rd: Lincoln Dews – 2:35:13 (Australia/JM)
4th: Matt Nottage – 2:38:51 (Australia/Starboard)
5th: Kelly Margetts – 2:41:43 (Australia/Sunova) *unlimited
6th: Will Lee – 2:41:52 (Australia)
7th: Sam Parker – 2:42:51 (Australia) *unlimited
8th: Paul Jackson – 2:43:17 (Australia/ONE)
9th: Beau O'Brian – 2:46:00 (Australia/Starboard)
10th: Ben Tardrew – 2:47:01 (Australia/ONE)
11th: James Knowles – 2:47:28 (Australia)
12th: Dale Chapman – 2:48:56 (Australia/DC) *unlimited
13th: Phil Gregory – 2:55:05 (Australia) *unlimited
14th: Nico Schenk – 2:56:12 (Switzerland/ONE)
15th: Craig Winnett – 2:58:01 (Australia)
16th: Luke Jenkins – 3:09:55
17th: Luke Hallam – 3:11:53
18th: Matt Blakers – 3:17:56
19th: Kieran O'Riordan – 3:18:54 *unlimited
20th: Julius Wright – 3:19:47
21st: Joe Frey – 3:20:15
22nd: Andrew Picker – 3:28:57
23rd: Andy van Kool – 3:29:08
24th: Tony Strang – 3:30:32
25th: Gordon 'Stimo' Stimson – 3:32:22
26th: Kent Wright – 3:34:44
27th: Anthony Rose – 3:36:19
28th: Blair Harrison – 3:49:11 *unlimited
29th: Jonathan King – 3:55:44
30th: John Lamble – 3:59:23 *unlimited
1st: Angie Jackson – 3:01:48 (Australia/ONE)
2nd: Belinda Stowell Brett – 3:03:17 (Australia)
3rd: Cristiana Chessa – 3:27:36
Click here for the raw results
---
https://www.instagram.com/p/BNRXDroBSz1/
https://www.instagram.com/p/BNRV4JABR4Y/
https://www.instagram.com/p/BNRrZJJAgcY/