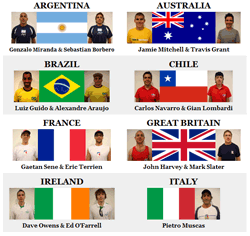 February 24, 2012
by Christopher Parker (@wheresbossman)
RACE PREVIEW: Long Distance Race @ World Champs
UPDATE: RESULTS for the Long Distance Race are now available – Jamie Mitchell takes GOLD for Australia!
*****
Tomorrow is the fifth and final day of competition at the Peru World Champs and they've saved the best for last.
The prestigious Long Distance SUP Race hits the water on Saturday afternoon. It'll be an 18km ocean race from La Punta to La Pampilla with both men's and women's races.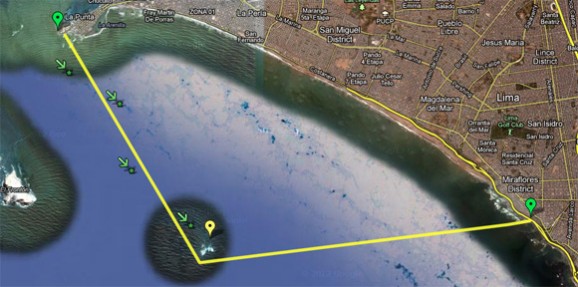 UPDATE: The race format has CHANGED from the original course (above). There will now be 3x 6km laps of the bay near Miraflores (the main contest site).
SATURDAY'S SCHEDULE:
7:30am | SUP Surfing, Women's Repechage Round #4
7:55am | Club Waikiki Air Show
8:40am | SUP Surfing, Men's Repechage Round #6
9:00am-2:15pm | LONG DISTANCE RACE (staggered starts)
Group #1: Men's SUP
Group #2: Men's Prone Paddleboard
Group #3: Women's SUP
Group #4: Women's Prone Paddleboard
9:05am Club Waikiki Aloha Cup
9:50am | SUP Surfing Men's Final
10:20am | SUP Surfing Women's Final
All times are local Peru Time (time converter)
You'll be able to watch the LIVE WEBCAST on SUPracer.com, and we'll keep you up to date with the latest results as they happen.
After finishing 1st & 2nd in the Short Course Race, Australia's Travis Grant and Jamie Mitchell will be the ones to beat again.
MEN'S LONG DISTANCE RACE

18km ocean race | Saturday, February 24th

ARGENTINA

Gonzalo Miranda & Sebastian Borbero

AUSTRALIA

Jamie Mitchell & Travis Grant


BRAZIL

Luiz Guido & Alexandre Araujo


CHILE

Carlos Navarro & Rafael Tapia


FRANCE

Gaetan Sene & Eric Terrien


GREAT BRITAIN

John Harvey & Mark Slater

IRELAND

Keith Gorman & Ed O'Farrell


ITALY

Pietro Muscas

MEXICO

Hector Gonzales & Felipe Rodriguez

NEW ZEALAND

Paul Jackson


PERU

Jose Schiaffino & Bruno Garcia


SPAIN

Belar Diaz & Roman Frejo

SOUTH AFRICA

Chris Bertish & Greg Bertish


SWITZERLAND

Robert Etienne & Jean-luc Malfroid

USA

Jay Wild & Rob Rojas

VENEZUELA

Fransisco Hernandez

& [to be decided]
WOMEN'S LONG DISTANCE RACE

18km ocean race | Saturday, February 25th

ARGENTINA

Lorena Cemersoni

AUSTRALIA

Angela Jackson

BRAZIL

Greta Sisson

IRELAND

Jane Downes

PERU

Romina

SPAIN

Pat Hernandez

SOUTH AFRICA

Brigette van Aswegen

USA

Brandi Baksic

AUSTRIA
Karina Figl

CHILE
Antonella Podesta
*****