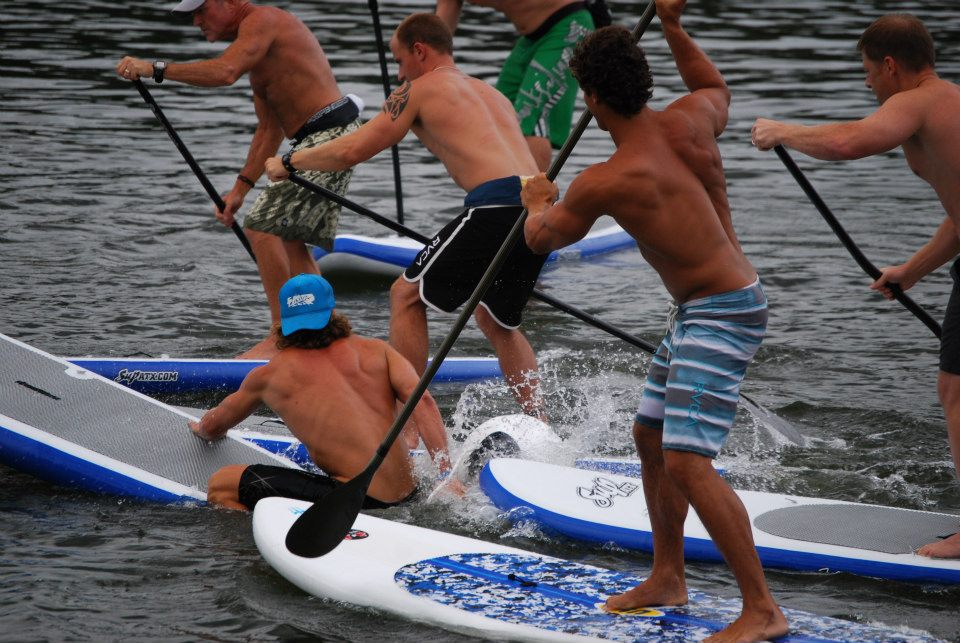 August 25, 2012
by Christopher Parker (@wheresbossman)
[RESULTS] Watermans Paddle For Humanity, Washington DC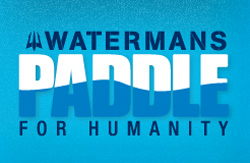 [Skip to the results: 10K Race | 5K Race]
The latest event in the Watermans Paddle For Humanity SUP race series hit it off in Washington DC on the weekend. Over 17o paddlers came out for the 5K and 10K SUP races, as well as the chaotic Chuck Patterson Rally.
Slater Trout and Annabel Anderson took out the top spots in the 10K'er, while Infinity's hipster-in-residence, Dave Boehne, finished 2nd before going on to claim victory in the carnage-filled Chuck Patterson Rally.
The Watermans Paddle For Humanity is a charity SUP race series that's been running for several years. Previous races in the 2012 series were held in Dana Point (California), Deerfield Beach (Florida) and Lake Tahoe (California). This is the second-last leg of the series, with the finale in Austin, Texas on Sept 15th.
Scroll down past the pics for the full SUP race results.
*****
Watermans Paddle For Humanity, Washington D.C.
10K SUP Race Results
Click "M/F" to switch between Men's and Women's Results
Click "Division" to sort results by Board Class/Age Division

| # | M/F | M/F # | Name | Time | Division | # | Age |
| --- | --- | --- | --- | --- | --- | --- | --- |
| 1 | M | 1 | Slater Trout | 0:52:58 | 14' | 1 | 17 |
| 2 | M | 2 | Dave Boehne | 0:53:04 | 14' | 2 | 36 |
| 3 | M | 3 | Wesley Stolp | 0:53:08 | 14' | 3 | 34 |
| 4 | M | 4 | Christopher Johnson | 0:53:56 | 14' | 4 | 28 |
| 5 | M | 5 | Billy Miller | 0:54:37 | 14' | 5 | 27 |
| 6 | M | 6 | William Grant | 0:54:56 | 14' | 6 | 32 |
| 7 | M | 7 | Bill Gassett | 0:55:22 | 14' | 7 | 52 |
| 8 | M | 8 | Ron Gossard | 0:55:38 | 12'6 | 1 | 38 |
| 9 | M | 9 | Danny Mongno | 0:55:49 | 14' | 8 | 39 |
| 10 | M | 10 | Greg Lew | 0:56:18 | 14' | 9 | 43 |
| 11 | M | 11 | Alex Hedman | 0:56:32 | 14' | 10 | 33 |
| 12 | M | 12 | Ted Blair | 0:57:15 | 14' | 11 | 24 |
| 13 | M | 13 | Basil Tydings | 0:57:41 | 14' | 12 | 42 |
| 14 | M | 14 | Neil Macindoe | 0:57:42 | 14' | 13 | 43 |
| 15 | M | 15 | Nathan Bankson | 0:58:10 | 14' | 14 | 33 |
| 16 | M | 16 | Matt Caines | 0:58:16 | 14' | 15 | 24 |
| 17 | M | 17 | John Beausang | 0:58:22 | 14' | 16 | 42 |
| 18 | M | 18 | Kurt Soucy | 0:58:27 | 14' | 17 | 27 |
| 19 | F | 1 | Annabel Anderson | 0:58:30 | F12'6" | 1 | 31 |
| 20 | M | 19 | Robin Delgado | 0:58:41 | 14' | 18 | 27 |
| 21 | M | 20 | Eric Burns | 0:58:59 | 14' | 19 | 40 |
| 22 | M | 21 | Henry Van Wagenberg | 0:59:12 | 12'6 | 2 | 22 |
| 23 | M | 22 | Ben Butterwei | 0:59:20 | 14' | 20 | 29 |
| 24 | M | 23 | Matt Catino | 0:59:34 | 14' | 21 | 32 |
| 25 | M | 24 | Sandy Deeley | 0:59:45 | 50+ | 1 | 63 |
| 26 | M | 25 | Brian Meyer | 1:00:03 | 12'6 | 3 | 25 |
| 27 | M | 26 | Jeremiah Lyons | 1:00:17 | 12'6 | 4 | 29 |
| 28 | M | 27 | Greg Lines | 1:00:58 | 14' | 22 | 27 |
| 29 | M | 28 | Bob Arnot | 1:01:07 | Unlimited | 8 | 64 |
| 30 | M | 29 | Chip Boggs | 1:01:08 | 14' | 23 | 39 |
| 31 | M | 30 | Kevin Baum | 1:01:37 | 14' | 24 | 36 |
| 32 | F | 2 | Dawn Ehman Marohl | 1:01:48 | F12'6" | 2 | 40 |
| 33 | M | 31 | Joe Trevisani | 1:01:49 | 14' | 25 | 46 |
| 34 | F | 3 | Kimberley Sutton | 1:02:25 | F12'6" | 3 | 29 |
| 35 | M | 32 | John Redos | 1:02:48 | 14' | 26 | 57 |
| 36 | M | 33 | Mark Saunders | 1:03:10 | 12'6 | 5 | 32 |
| 37 | M | 34 | Larry Lubbers | 1:03:25 | 50+ | 2 | 63 |
| 38 | M | 35 | Tim Summers | 1:03:29 | 14' | 27 | 41 |
| 39 | M | 36 | Jamie Fedorka | 1:04:16 | 14' | 28 | 42 |
| 40 | M | 37 | Johannes Wehebrink | 1:04:54 | 14' | 29 | 45 |
| 41 | F | 4 | Elizabeth Deeley | 1:05:16 | F12'6" | 4 | 45 |
| 42 | M | 38 | Chris Koerner | 1:05:56 | Inflatable | 1 | 54 |
| 43 | M | 39 | John Fox | 1:06:05 | 14' | 30 | 31 |
| 44 | M | 40 | Dario Cubric | 1:06:12 | 14' | 31 | 34 |
| 45 | M | 41 | Mark Bandy | 1:06:35 | 50+ | 3 | 54 |
| 46 | M | 42 | Frank Fumich | 1:07:04 | Surfboard | 1 | 44 |
| 47 | M | 43 | John Mott | 1:07:31 | 50+ | 4 | 53 |
| 48 | F | 5 | Anne Gassett | 1:07:52 | F12'6" | 5 | 44 |
| 49 | F | 6 | Kate Dowling | 1:08:30 | F12'6" | 6 | 49 |
| 50 | F | 7 | Kate Lewis | 1:09:37 | F12'6" | 7 | 35 |
| 51 | M | 44 | Timothy Burke | 1:09:54 | 12'6 | 6 | 44 |
| 52 | M | 45 | Chris Stellatella | 1:10:05 | 12'6 | 7 | 39 |
| 53 | M | 46 | Steve Michalos | 1:10:34 | 12'6 | 8 | 26 |
| 54 | M | 47 | Jonathan Moore | 1:10:36 | Surfboard | 2 | 49 |
| 55 | M | 48 | Allan Navo | 1:11:02 | 12'6 | 9 | 37 |
| 56 | M | 49 | Ed Pierce | 1:11:26 | 12'6 | 10 | 58 |
| 57 | M | 50 | Brian Smith | 1:13:27 | 12'6 | 11 | 45 |
| 58 | M | 51 | Adam Mendizabal | 1:17:38 | Surfboard | 3 | 34 |
| 59 | M | 52 | Nathaniel Day | 1:18:20 | Surfboard | 4 | 37 |
| 60 | M | 53 | Brian Dickhaus | 1:23:59 | Surfboard | 5 | 32 |
| 61 | M | 54 | Edwin Stanley | 1:24:14 | Surfboard | 6 | 40 |
| 62 | M | 55 | Edward Robinson | 1:24:19 | 12'6 | 12 | 40 |
| 63 | M | 56 | Andrew Mergen | 1:26:23 | 14' | 32 | 48 |
| 64 | M | 57 | Karel Morales | 1:27:11 | Inflatable | 2 | 39 |
| 65 | M | 58 | William Sheffel | 1:28:18 | 50+ | 5 | 55 |
| 66 | M | 59 | Matthew Hilton | 1:29:15 | Surfboard | 7 | 34 |
| 67 | M | 60 | Todd Bewley | 1:29:26 | Inflatable | 3 | 30 |
| 68 | F | 8 | Denise Westman | 1:29:34 | F 50+ | 1 | 58 |
| 69 | M | 61 | Bryan Rupert | 1:35:11 | 12'6 | 13 | 24 |
| 70 | F | 9 | Jenny Ferrel | 1:47:18 | F12'6" | 8 | 43 |
5K SUP Race Results
Click "M/F" to switch between Men's and Women's Results
Click "Division" to sort results by Board Class/Age Division

| # | M/F | M/F # | Name | Time | Division | # | Age |
| --- | --- | --- | --- | --- | --- | --- | --- |
| 1 | M | 1 | Macky Hall | 0:31:35 | 12'6" | 1 | 42 |
| 2 | M | 2 | Jason Beakes | 0:31:37 | 12'6" | 2 | 39 |
| 3 | M | 3 | Chris Lee | 0:31:56 | 12'6" | 3 | 45 |
| 4 | M | 4 | Chris Sperry | 0:32:13 | 12'6" | 4 | 30 |
| 5 | M | 5 | Michael Faulkner | 0:32:21 | 12'6" | 5 | 44 |
| 6 | M | 6 | Buck Jorss | 0:32:56 | 50+ | 1 | 50 |
| 7 | M | 7 | George Burke | 0:33:10 | 14' | 1 | 30 |
| 8 | M | 8 | Michael Higgins | 0:34:11 | Surfboard | 1 | 52 |
| 9 | M | 9 | Bryan Smith | 0:34:26 | Unlimited | 1 | 39 |
| 10 | M | 10 | Tim Scheuerman | 0:34:38 | 14' | 2 | 47 |
| 11 | M | 11 | Tom Schmitz | 0:35:41 | 12'6" | 6 | 44 |
| 12 | M | 12 | SoHyun Boo | 0:36:38 | 14' | 3 | 35 |
| 13 | F | 1 | Mary Bain | 0:36:39 | F12'6" | 1 | 31 |
| 14 | M | 13 | Thomas Kovacs | 0:37:07 | Surfboard | 2 | 39 |
| 15 | M | 14 | Jeff Cook | 0:37:25 | Surfboard | 3 | 35 |
| 16 | F | 2 | Karen Apollony | 0:37:38 | F Surfboard | 1 | 27 |
| 17 | F | 3 | Marissa Hedman | 0:37:51 | F12'6" | 2 | 30 |
| 18 | F | 4 | Katie Elzer-Peters | 0:38:19 | F14' | 1 | 33 |
| 19 | F | 5 | Jenn Boggs | 0:38:37 | F12'6" | 3 | 36 |
| 20 | M | 15 | Matthew Hoel | 0:38:42 | 12'6" | 7 | 22 |
| 21 | M | 16 | Rich Price | 0:38:43 | 12'6" | 8 | 32 |
| 22 | M | 17 | Bill Thomson | 0:38:58 | 50+ | 2 | 65 |
| 23 | M | 18 | David Wacht | 0:39:06 | Surfboard | 4 | 35 |
| 24 | F | 6 | Wendy Simpson | 0:39:11 | F12'6" | 4 | 46 |
| 25 | M | 19 | David Farnie | 0:39:15 | Surfboard | 5 | 45 |
| 26 | M | 20 | Josh Morgan | 0:39:16 | 13&Under | 1 | 12 |
| 27 | M | 21 | Edward Ebert | 0:39:18 | Surfboard | 6 | 36 |
| 28 | F | 7 | Camille Smith | 0:39:26 | F12'6" | 5 | 42 |
| 29 | M | 22 | Troy Morgan | 0:39:31 | 12'6" | 9 | 44 |
| 30 | M | 23 | Chad Vincent | 0:39:34 | 12'6" | 10 | 36 |
| 31 | M | 24 | Clyde Kunst | 0:39:35 | Surfboard | 7 | 48 |
| 32 | F | 8 | Pam Bader | 0:39:36 | F12'6" | 6 | 49 |
| 33 | F | 9 | Jessica Morgan | 0:39:48 | F Surfboard | 2 | 41 |
| 34 | M | 25 | Andrew Hume | 0:39:54 | Surfboard | 8 | 30 |
| 35 | M | 26 | Ryan Kish | 0:40:18 | 12'6" | 11 | 44 |
| 36 | M | 27 | Dan Reagan | 0:40:34 | Surfboard | 9 | 33 |
| 37 | F | 10 | Dawn Rudolph | 0:40:40 | F12'6" | 7 | 41 |
| 38 | M | 28 | Shawn Morrow | 0:40:43 | 12'6" | 12 | 48 |
| 39 | M | 29 | Michael Valach | 0:40:48 | 50+ | 3 | 50 |
| 40 | M | 30 | Eric Astor | 0:40:58 | 12'6" | 13 | 40 |
| 41 | M | 31 | Christopher Connelly | 0:41:07 | Surfboard | 10 | 46 |
| 42 | M | 32 | Ramsey Sulayman | 0:41:12 | 14' | 4 | 40 |
| 43 | M | 33 | Kevin Ownes | 0:41:35 | Surfboard | 11 | 42 |
| 44 | F | 11 | Katy Scheuerman | 0:41:44 | F12'6" | 8 | 43 |
| 45 | M | 34 | Michael Yablonski | 0:41:52 | 50+ | 4 | 50 |
| 46 | M | 35 | Jeff McIntyre | 0:42:01 | Surfboard | 12 | 45 |
| 47 | M | 36 | David Hume | 0:42:06 | Surfboard | 13 | 30 |
| 48 | M | 37 | Don Semmler | 0:42:55 | 12'6" | 14 | 58 |
| 49 | M | 38 | Nicholas Sidlin | 0:43:07 | 12'6" | 15 | 31 |
| 50 | M | 39 | Eric Nepomuceno | 0:43:14 | Surfboard | 14 | 36 |
| 51 | M | 40 | Ryan Montgomery | 0:43:53 | Surfboard | 15 | 33 |
| 52 | M | 41 | Tom Dudley | 0:45:11 | 12'6" | 16 | |
| 53 | F | 12 | Patricia Tikkala | 0:45:18 | F 50+ | 1 | 50 |
| 54 | M | 42 | Mike Poulton | 0:45:36 | Surfboard | 16 | 40 |
| 55 | M | 43 | Paul Foldi | 0:45:40 | Surfboard | 17 | 47 |
| 56 | F | 13 | Jamie Bay | 0:45:55 | F12'6" | 9 | 30 |
| 57 | M | 44 | Rafael Maldonado | 0:46:25 | Surfboard | 18 | 44 |
| 58 | M | 45 | Scott Shalett | 0:46:47 | 12'6" | 17 | 41 |
| 59 | M | 46 | Thomas Srun | 0:46:57 | Surfboard | 19 | 32 |
| 60 | F | 14 | Sarah Lewallen | 0:47:08 | F12'6" | 10 | 53 |
| 61 | F | 15 | Sandra Niedzwiecki | 0:47:11 | F12'6" | 11 | 37 |
| 62 | F | 16 | Sandy Hoag | 0:47:32 | F Inflatable | 1 | 39 |
| 63 | M | 47 | Sandy Cohan | 0:47:40 | 12'6" | 18 | 37 |
| 64 | M | 48 | John Gelineau | 0:47:58 | 12'6" | 19 | 31 |
| 65 | F | 17 | Jenny Kordick | 0:48:36 | F Inflatable | 2 | 24 |
| 66 | F | 18 | Teresa Byrnes | 0:48:58 | F12'6" | 12 | 45 |
| 67 | M | 49 | David Sweeney | 0:48:59 | 12'6" | 20 | 54 |
| 68 | F | 19 | Stephanie Brown | 0:49:22 | F Surfboard | 3 | 25 |
| 69 | M | 50 | Laithe Zughaib | 0:49:52 | 13&Under | 2 | 12 |
| 70 | M | 51 | Edward Zughaib | 0:49:53 | 50+ | 5 | 54 |
| 71 | F | 20 | Brenda Nickel | 0:50:09 | F Surfboard | 4 | 45 |
| 72 | F | 21 | Nicole Gelineau | 0:50:26 | F12'6" | 13 | 32 |
| 73 | F | 22 | Lauren McCollough | 0:50:44 | F Surfboard | 5 | 32 |
| 74 | F | 23 | Helen Yablonski | 0:51:03 | F 13&Under | 1 | 12 |
| 75 | F | 24 | Melissa Johnson | 0:51:26 | F Surfboard | 6 | 42 |
| 76 | F | 25 | Elyse Donahue | 0:51:35 | F Surfboard | 7 | 49 |
| 77 | M | 52 | Chris Churchill | 0:51:50 | Surfboard | 20 | 41 |
| 78 | F | 26 | Mali Math | 0:51:55 | F Surfboard | 8 | 31 |
| 79 | M | 53 | Charles Haberlein | 0:51:56 | 50+ | 6 | 69 |
| 80 | M | 54 | John Baek | 0:52:39 | Inflatable | 1 | 37 |
| 81 | F | 27 | Sarah Blynn | 0:52:53 | F Surfboard | 9 | 34 |
| 82 | F | 28 | Maureen Williams | 0:53:23 | F Inflatable | 3 | 46 |
| 83 | M | 55 | Richard Remigro | 0:53:50 | Surfboard | 21 | 30 |
| 84 | M | 56 | Kevin Rhodes | 0:54:12 | 14' | 5 | 46 |
| 85 | F | 29 | Tracy Burnett | 0:54:34 | F12'6" | 14 | 44 |
| 86 | F | 30 | Debbie MacKay | 0:54:46 | F Surfboard | 10 | 51 |
| 87 | F | 31 | Elena Wehebrink | 0:55:11 | F 13&Under | 2 | 12 |
| 88 | F | 32 | Melissa Nepomuceno | 0:55:15 | F Surfboard | 11 | 32 |
| 89 | F | 33 | Denby Flynn | 0:56:46 | F Surfboard | 12 | 33 |
| 90 | F | 34 | Kristy Clason | 0:57:05 | F Surfboard | 13 | 44 |
| 91 | F | 35 | Clare Williams | 0:58:05 | F 13&Under | 3 | 11 |
| 92 | F | 36 | Sparkee Jorss | 1:02:41 | F 13&Under | 4 | 12 |
| 93 | F | 37 | Yasmin Bowers | 1:02:57 | F Inflatable | 4 | 29 |
| 94 | M | 57 | Ryan Jakoby | 1:06:46 | 13&Under | 3 | 12 |
| 95 | M | 58 | Garry Jakoby | 1:06:47 | Surfboard | 22 | 44 |
| 96 | M | 59 | Paul Robb Jr. | 1:10:35 | Surfboard | 23 | 34 |
| 97 | M | 60 | Carole Perez | 1:10:44 | F Surfboard | 14 | 36 |
| 98 | F | 38 | Victoria Levi | 1:27:03 | F 13&Under | 5 | 7 |
| 99 | F | 39 | Julie Lang | 1:27:05 | F Surfboard | 15 | 42 |