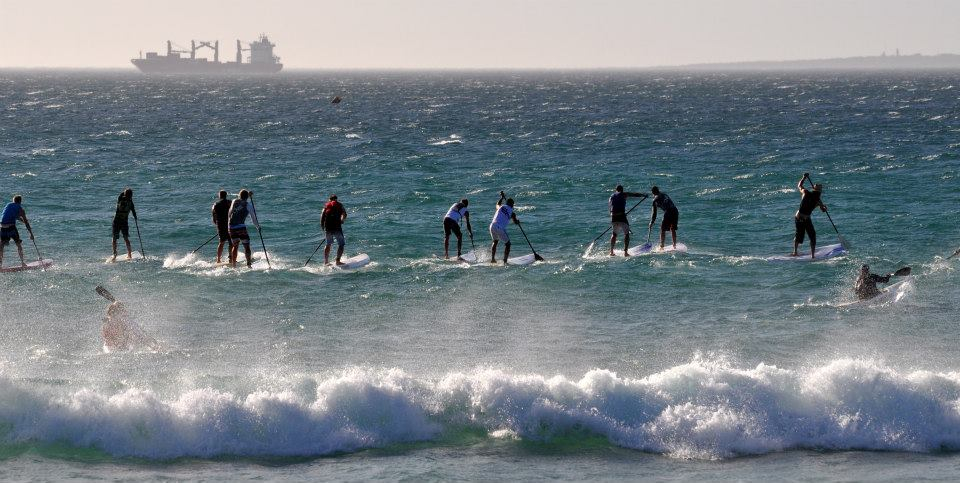 January 30, 2013
by Peter Petersen
Yet Another Cracking Downwinder In South Africa Sees Young Gun Dylan Frick Victorious Again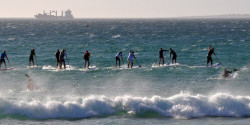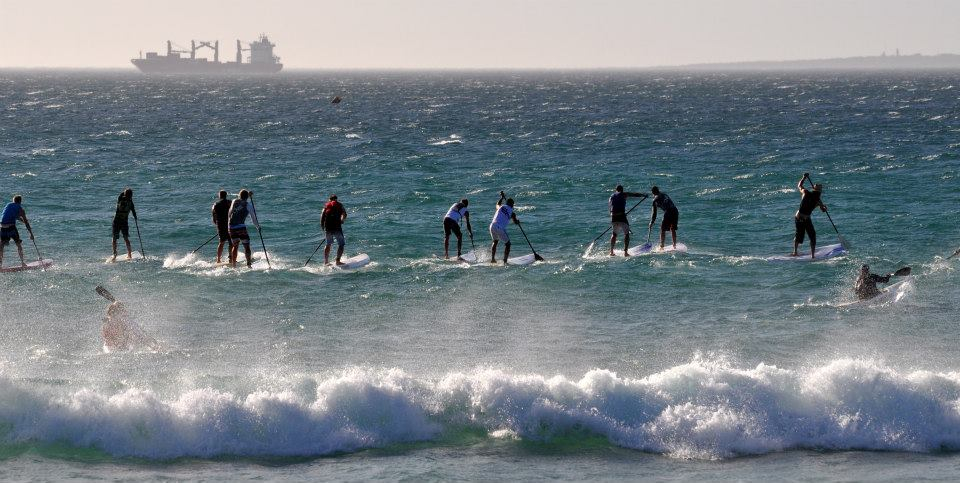 Boss Man's note: Here's a recap of the latest Stand Up Paddle race in Cape Town, thanks to our South Africa Correspondent, Peter Petersen from SUP Culture. Each week in Cape Town the locals hold a "Downwind Dash" SUP race. Below is race #2 from the new series, which you can follow here >> 2013 PRIMI Naish Downwind Dash SUP races.
*****
Today was Race #2 in our Downwind Dash series and the Cape Doctor (the name of our local South East tradewind here in Cape Town) kept us waiting until 4pm before she made her entry. We had been watching the barometer rise like a homesick angel so we knew she'd be pulling in! And did she pull in? Solid 25knots, with 36knot gusts, with pure SE and flat, swell-less-perfection. It doesn't get better than this and thankfully most heeded the early calls made that the event was going to be on, and we had 37 SUPs and one prone paddler on the start line.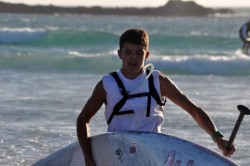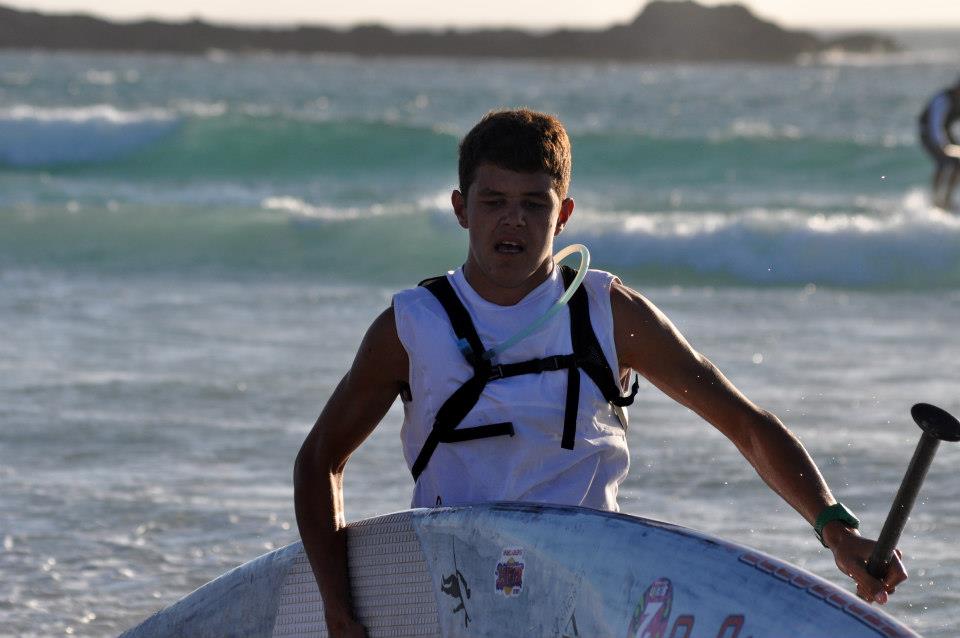 Exciting and close racing up at the front, lots of Personal Bests and a handful of newcomers made for a great evening. As usual, Dylan Frick led out proceedings on his Starboard, but with the higher windspeeds the Coreban, Fanatic and Naish paddlers excelled and almost chased him down. Greg Bertish got closest; being pipped on the line by just six seconds to give Dylan his second win of the series.
Ivan van Vuuren loves the stronger winds and came in a strong third only 45 seconds adrift. In the Ladies division young upstart Mishka Steyn was just beaten into third by Patricia Kohrs who is improving every week. Brigette van Aswegen is still a couple of minutes ahead…
Juniors were unchanged from last week with Ethan Koopmans managing 8th overall ahead of Joshua Robertson and Calvin Ginsberg.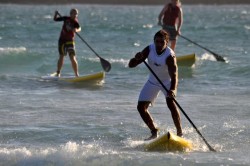 10x personal bests and some great paddles by Tammy Robarts, Patricia Kohrs, "Birthday boy" Craig Ginsberg and son Calvin, John De Rooy, Armien Wohlgemuth, Francois Ferreira, Sebastian Cattelan, Tom King and Wayne Robertson. Good to see the training paying off – conditions were good, but they still get a lot faster!
Four newcomers, three of them ladies, Iva lopes, Amanda Rootman and Annalisa O'Brien. Fourth newcomer was none other than Ike Frans from Holland, Ike is an enthusiastic wind and kite surfer who has been visiting Cape Town for the past 15 years. He also managed to take 4th in the 11-Cities race in Holland last year! He came in 20th position on his only 2nd downwinder ever – well done!
Our SA Prone paddle lady representative at the ISA worlds in Peru, Anna Knotten also took part and finished in a respectable 1:10:49 – she is using the series as part of her preparations for worlds at the end of Feb. With Dylan clearly also finding form we look forward to the ISA Worlds!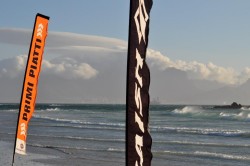 With no swell, most of the course gets very smooth and there were heaps of runs making for very close racing. Several different lines were taken but ultimately fitness and technique will decide your fortunes as Ivan commented on watching Dylan and Greg battle it out just ahead of him: "I reckon Dylan takes 2-3times as many paddle-strokes as Greg….." to which Greg replied: "No ways I could paddle any harder… The youngsters are clearly flying!" Great to see the spirit amongst the guys and we look forward to next edition of the PRIMI Naish Downwind Dash.
Once again thanks to time keepers, Lolo, Jennifer and Aden + Big Bay Surf Lifesaving Club and all our sponsors!
Photos and full race results below.
– Peter
2013 PRIMI Naish Downwind Dash – Leaderboard
| | | | | |
| --- | --- | --- | --- | --- |
| # | Name | Race #1 | Race #2 | TOTAL |
| 1 | Dylan Frick | 0.7 | 0.7 | 1.4 |
| 2 | Greg Bertish | 9 | 2 | 11 |
| 3 | Francois Frick | 2 | 9 | 11 |
| 4 | Peter Petersen | 7 | 4 | 11 |
| 5 | Brad Adams | 8 | 5 | 13 |
| 6 | Ethan Koopmans | 5 | 8 | 13 |
| 7 | Pietro Muscas | 10 | 6 | 16 |
| 8 | Joshua Robertson | 5 | 11 | 16 |
| 9 | Nico Pfitzenmaier | 13 | 13 | 26 |
| 10 | Armien Wohlgemuth | 12 | 14 | 26 |
2013 PRIMI Naish Downwind Dash – Race #2 Results
Date: 30th January, 2013
Wind: 25-36 knots SE
Swell: none
Course: 10.1km

| # | Name | Time | Class | Division | % | Grade | km/h | min/km | Board |
| --- | --- | --- | --- | --- | --- | --- | --- | --- | --- |
| 1 | Dylan Frick | 0:47:06 | 14' | Open | 100.00 | Elite | 12.87 | 0:04:40 | Starboard 14' Ace Pro |
| 2 | Greg Bertish | 0:47:11 | 14' | Open | 99.82 | Elite | 12.84 | 0:04:40 | Coreban 14 Dart |
| 3 | Ivan van Vuuren | 0:47:56 | 14' | Masters | 98.26 | Elite | 12.64 | 0:04:45 | Coreban 14 Dart |
| 4 | Peter Petersen | 0:48:42 | 14' | Masters | 96.71 | Elite | 12.44 | 0:04:49 | Naish 14 LE |
| 5 | Brad Adams | 0:49:24 | 14' | Open | 95.34 | Elite | 12.27 | 0:04:53 | Fanatic Falcon 14' |
| 6 | Pietro Muscas | 0:49:45 | 14' | Masters | 94.67 | A | 12.18 | 0:04:56 | Naish 14 Glide |
| 7 | Sebastian Cattelan | 0:49:51 | 14' | Open | 94.48 | A | 12.16 | 0:04:56 | Starboard 14' OO |
| 8 | Ethan Koopmans | 0:50:24 | 14' | Junior | 93.45 | A | 12.02 | 0:04:59 | Naish 14 Glide |
| 9 | Francois Frick | 0:50:55 | 14' | Open | 92.50 | A | 11.90 | 0:05:02 | Starboard 14' Ace Pro |
| 10 | Tom King | 0:51:46 | 14' | Open | 90.99 | A | 11.71 | 0:05:08 | Fanatic Falcon 14' |
| 11 | Joshua Robertson | 0:51:47 | 14' | Junior | 90.96 | A | 11.70 | 0:05:08 | Naish 14 LE |
| 12 | John de Roy | 0:52:01 | 14' | Open | 90.55 | A | 11.65 | 0:05:09 | Coreban 14 Dart |
| 13 | Nico Pfitzenmaier | 0:52:12 | 14' | Open | 90.23 | A | 11.61 | 0:05:10 | Naish 14 Glide AST |
| 14 | Armien Wohlgemuth | 0:52:40 | 14' | Masters | 89.43 | B | 11.51 | 0:05:13 | Naish 14 Glide |
| 15 | James Taylor | 0:54:19 | 14' | Masters | 86.71 | B | 11.16 | 0:05:23 | Naish 14 Glide |
| 16 | Dave Maxwell | 0:54:45 | 14' | Masters | 86.03 | B | 11.07 | 0:05:25 | Naish 14 Glide |
| 17 | Justin Bing | 0:54:46 | 14' | Open | 86.00 | B | 11.07 | 0:05:25 | Coreban 14 Dart |
| 18 | Mike Fiet | 0:54:49 | 14' | Open | 85.92 | B | 11.06 | 0:05:26 | Coreban 14 Dart |
| 19 | Brigette van Aswegen | 0:55:03 | 14' | Women's | 85.56 | B | 11.01 | 0:05:27 | Starboard 14' Ace Pro |
| 20 | Ike Frans | 0:55:13 | 14' | Open | 85.30 | B | 10.97 | 0:05:28 | Starboard 14' OO |
| 21 | Craig Ginsberg | 0:56:00 | 14' | Masters | 84.11 | C | 10.82 | 0:05:33 | Naish 14 Glide |
| 22 | Rob Munro | 0:56:42 | 14' | Masters | 83.07 | C | 10.69 | 0:05:37 | Fanatic 14 OO |
| 23 | Tyran Cooper | 0:57:11 | 14' | Open | 82.37 | C | 10.60 | 0:05:40 | Coreban 14 Dart |
| 24 | Neal Esterhuysen | 0:58:11 | 14' | Open | 80.95 | C | 10.42 | 0:05:46 | Coreban 14 Dart |
| 25 | Patricia Kohrs | 0:58:27 | 14' | Women's | 80.58 | C | 10.37 | 0:05:47 | Naish 14 Glide AST |
| 26 | Mishka Steyn | 0:58:39 | 14' | Junior women's | 80.31 | C | 10.33 | 0:05:48 | Starboard 14' OO |
| 27 | Wayne Robertson | 0:59:03 | 14' | Open | 79.76 | D | 10.26 | 0:05:51 | Coreban 14 Dart |
| 28 | Francois Ferreira | 0:59:11 | 14' | Open | 79.58 | D | 10.24 | 0:05:52 | Starboard 14' OO |
| 29 | Steve Tripney | 0:59:59 | 14' | Masters | 78.52 | D | 10.10 | 0:05:56 | Coreban 14 Dart |
| 30 | Monika Wohlgemuth | 1:00:04 | 14' | Women's | 78.41 | D | 10.09 | 0:05:57 | Naish 14 Glide |
| 31 | Calvin Ginsberg | 1:00:05 | 14' | Junior | 78.39 | D | 10.09 | 0:05:57 | Naish 14 Glide AST |
| 32 | Tammy Robarts | 1:01:37 | 12'6 | Women's | 76.44 | D | 9.84 | 0:06:06 | Coreban 12'6 Alpha |
| 33 | Jonathan Donner | 1:06:42 | 14' | Open | 70.61 | D | 9.09 | 0:06:36 | Naish 12' Glide |
| 34 | Iva Lopes | 1:07:31 | 14' | Women's | 69.76 | D | 8.98 | 0:06:41 | Naish 14 Glide AST |
| 35 | Anna Knotten | 1:10:49 | prone | Women's | 66.51 | D | 8.56 | 0:07:01 | 10'6 Proneboard |
| 36 | Amanda Rootman | 1:11:37 | 14' | Women's | 65.77 | D | 8.46 | 0:07:05 | Starboard 14' OO |
| 37 | Annalisa o'brien | 1:15:00 | 14' | Women's | 62.80 | D | 8.08 | 0:07:26 | Naish 14 Glide AST |
| 38 | Kim Docherty | DNF | 14' | Open | 0.00 | D | 0.00 | 0:00:00 | RRD 12'6 |