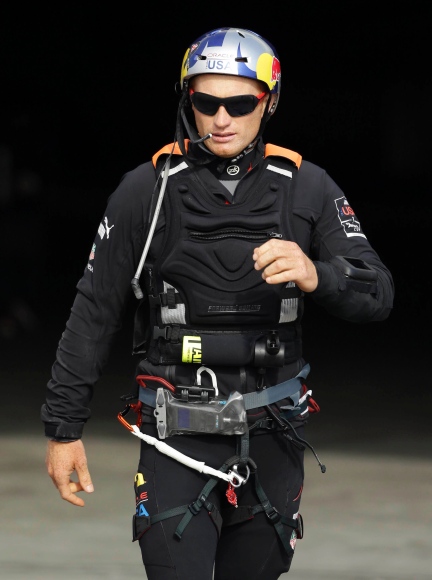 September 10, 2013
by Christopher Parker (@wheresbossman)
Why The Entire Sporting World Is Watching A Stand Up Paddler Racing This Week…
Forget Dave Kalama. Forget Connor Baxter. Forget Danny Ching, Kai Lenny or even Jamie Mitchell. There's one Stand Up Paddler who's a much bigger celebrity in the ocean, one who, this week at least, will have the eyes of pretty much the entire sporting world tracking his every start, finish and buoy turn. They'll be watching perhaps the most famous Stand Up Paddler in the world…
I am of course talking about Jimmy Spithill.
The America's Cup, arguably the biggest water-based spectacle in the world, is happening for the 34th time this week in San Francisco and Jimmy is skipper (aka head honcho) for the Cup defenders, Oracle Team USA.
He's also a mad keen SUP racer.
I first met Jimmy at the 2012 Battle of the Paddle, when some random dude came up and asked to borrow my Quickblade paddle for the Open Race. I duly obliged but had no idea who was using my blade until a couple of weeks later, when I saw Jimmy again at the Battle of the Bay in San Fran and someone mentioned he was, despite not being the fastest paddler on the course, easily the most famous athlete at the event.
Jimmy became the youngest winning skipper in America's Cup history (and instant celebrity) after defeating the mighty Team Alinghi in 2010, when the Cup was last contested. Since then Oracle Team USA have been training to defend the Cup, with the finals against Emirates Team New Zealand happening in San Francisco right now (which is also why the Stand Up World Series was in town recently for their "AC Open").
Apart from competing in races like the Battle of the Paddle and Molokai, Jimmy has a strong connection with stand up paddling in general and has certainly helped bring it more into the mainstream.
There have been numerous news articles about he and his team mates' unique cross training methods (fellow Team Oracle member Shannon Falcone has also been spotted at several SUP races), while the Fanatic crew spent time training with Oracle last year.
Jimmy and his 72 foot catamaran also matched off against superstar Kai Lenny recently, in what was a very clever Red Bull promotion, while Kai has been Instagram'ing his VIP view of the action the past couple of days as well.
Despite being a full-time sailor and part-time paddler, Jimmy Spithill's results in Stand Up Paddle races have actually been quite impressive (he beats most of the amateurs and isn't far behind the pros), but it's his job as one of the main men in the uber-prestigious America's Cup that has the world watching him.
Oracle Team USA will be racing for glory all this week and next (depending on results), so if you want to cheer on a fellow SUP racer in what is probably the biggest ocean event in the world, check out the race schedule and then find out where to watch it live.