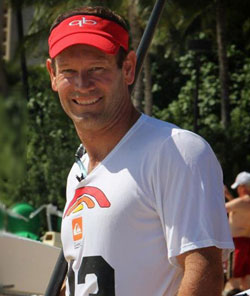 October 29, 2013
by Christopher Parker (@wheresbossman)
Jim Terrell Sets New Record: Only Paddler To Compete In Every Single Battle Of The Paddle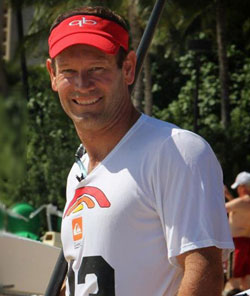 Jim Terrell: Four-time Olympian. Quickblade Paddles founder. Technique master. Equipment pioneer. Forward thinker. The Mad Scientist of SUP…
Well now Jimmy has a new feather to put in his crowded cap.
By traveling to the recent BOP Brazil, Jim Terrell became the only paddler in the world to have competed in every single Battle of the Paddle.
All nine of them…
Six in California. Two in Hawaii. And now one in Brazil.
Not only has he attended every single BOP, but Jim has also competed in the main event – the Elite Race – every single time, including qualifying for every Elite Race Final.
So from Dana Point to Waikiki to Cabo Frio, Jim is the only paddler that's been on the start (and finish) line every time.
Jim was standing next to Chuck Patterson in that very first ever Battle of the Paddle way back in 2008. He finished in the top 5 that day, and although a new generation of speedsters have come through to fill the podium since then, the Mad Scientist is still a very strong, fit paddler even as he closes in on 50.
So our hats off to you, Jim, for flying the flag of SUP racing since the very beginning and for always making a session on the water that much more enjoyable.
Word is Sparky Longley is lobbying for a bronze statue of Jim to be erected at Doheny State Beach…