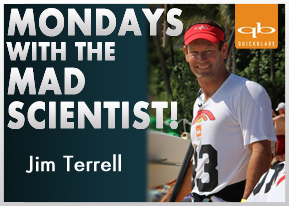 May 28, 2012
by Jim Terrell
[VIDEO] Jim Terrell's Sprint SUP Racing Secrets & Weird New Concept Race Board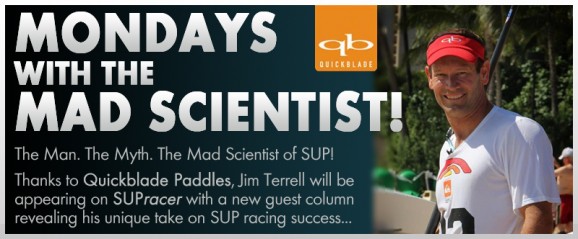 This footage is from the Silver Blade Regatta SUP race that was held at the Olympic Canoe & Kayak training venue in San Diego two weeks ago (click here for results).
I raced reasonably well at the 2011 Silver Blade event, where I won the 200m sprint race. However this year I wanted to try some new equipment to see if I could improve my times…
As you can see from the video I was paddling a totally new concept race board, which came about after Joe Bark and I collaborated to create a SUP board that's fast for flat water racing.
I also changed up my paddle: I used a 110 square inch blade (Quickblade Magic 110) that's only 74 inches long, or 4 inches shorter and 20 inches larger than my regular paddle.
This year at the Silver Blade Regatta we again had two main SUP races: the 2,000m and the 200m sprint.
For the 2,000m race I used the parallel stance (the regular stance that most stand up paddlers use) and paddled on both sides of the board just like normal. The new concept board and shorter/larger paddle worked great: I was fortunate enough to come away with a victory over Matt Becker and Anthony Vela (who are also part of the Quickblade Team!).
However for the 200m sprint I mixed things up by using the split stance, which is also known as the "Plunge Stroke" (Boss Man's note: I hereby declare it the Jim Terrell Stroke!).
Standing in the split stance (see the photo below) allows me to get much more body weight off the board and onto the paddle, which should produce more power and faster speeds.
I also paddled entirely on one side of my board, which saved me from losing speed when you switch sides. Of course you can only keep this up for short races, like this 200m sprint, otherwise you're going to have very sore arms.
To paddle on one side without going off course, I added a special angled fin that I've helped develop with Futures (click here for more info). This fin is slightly offset and keeps you going straight even when you only paddle on one side, which is great for sprint racing or even ocean racing when you're up against a strong side-wind.
So basically there were three equipment changes for the sprint race: New concept race board, shorter paddle with a larger blade and the angled fin.
The changes worked great and I was fortunate to win 200m sprint race again this year.
My 200m sprint time in 2011 was 60 seconds. This year it was 53 seconds, or just over 10% faster. My average speed was 8.5 miles (13.6km/h) and the only way I was able to achieve this improvement was through experimenting with new SUP race equipment.
As an interesting side note: I covered the 200 metres in just 54 strokes, which is about 3.7 metres per stroke or 86% of the board length. That level of efficiency is similar to Olympic Sprint Canoeing, where the elite guys cover 200m in about 48 strokes (4.16 metres per stroke in canoes that are 5.2 metres in length).
It's been great fun trying out new SUP racing equipment and I'm stoked that it paid off. It's also really exciting to see our sport of Stand Up Paddle racing evolving so quickly.
Though personally I think it would be wise to pin down some minimum width requirements for the stock and 14′ classes, purely for the longevity of the sport. But I think that's a topic for another Monday…
– Jim
Get more from the Mad Scientist!
Check out the Mondays With The Mad Scientist! archives. Highlights include:
>> Jim's Take On "Drafting" in SUP Racing
>> Why Jim Terrell Thinks We've Got Too Many Board Classes
>> Jim's Carolina Cup Race Insights
*****
Photos Copyright © Silver Blade Regatta
Video produced by Chris Aguilar from Soul Surf Media