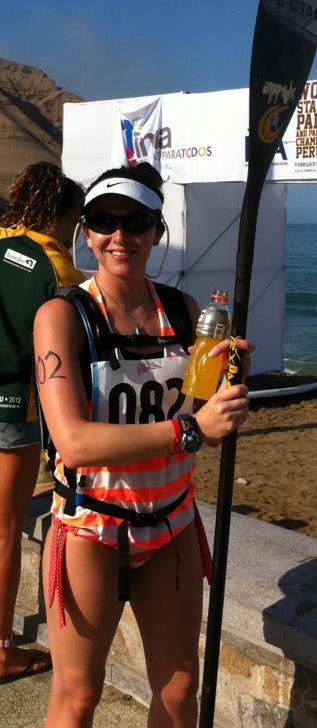 February 22, 2012
by Christopher Parker (@wheresbossman)
[INTERVIEW] Team Ireland's Jane Downes @ The SUP World Championship, Peru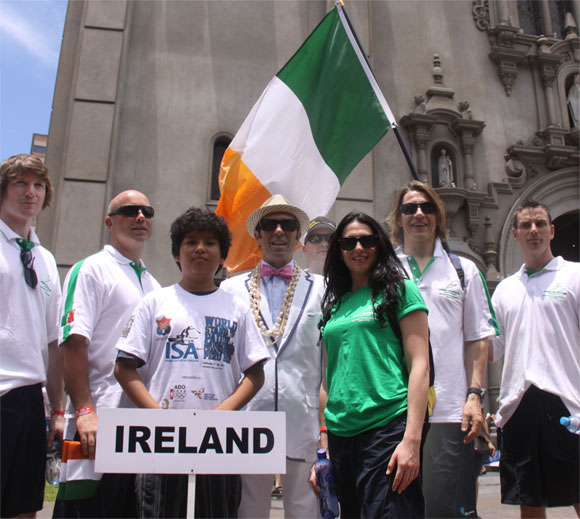 Jane Downes (centre) and her Irish teammates @ the Opening Ceremony
Right now Jane Downes is probably relaxing and recovering from a day spent paddling in the beautiful, warm waters of Miraflores, Peru. It's a long way from dodging ferries and training in cold, sub-zero darkness back home in Ireland.
Jane is in Peru for the inaugural ISA World Standup Paddle and Paddleboard Championship, representing Team Ireland in the SUP racing events. Like a lot of teams, the Irish have had to put in a huge effort just to make it to the start line.
So while Ireland may not be the world's most recognisable paddling nation, the team's fighting spirit shows what this event is all about and hopefully sets the sport up for some huge growth back home as well.
Jane was generous enough to take a break from the action in Peru and have a chat with us…
SUPracer.com: What have been your first impressions of Peru?
Jane Downes, Team Ireland: My first impression of Peru has been unreal. I have only been in Miraflores, but since we arrived everyone has been so welcoming. We got a great response from the locals at our opening ceremony and Miraflores itself is beautiful, with stunning views from the cliff over the water.
What's the vibe like among the paddlers?
Jane: I have no doubt on the water it is competitive but off the water everyone is so relaxed and friendly. This is my first major competition so I did not know what to expect. All the teams are supporting each other and everyone is happy to share advice, tips and even equipment.
How would you rate Miraflores as a location for SUP races?
Jane: I think it is a challenging location. The waves are really consistent so you have to negotiate surf while doing any shorter technical racing. But it is a World Championship so one should expect a few obstacles. I have my 18km marathon on the final day of the championship so I'll know then how it fares for the longer distance!
We saw some footage of the Irish Team doing some pretty hardcore training (ferry waves, darkness, etc). How hard has it been to train and prepare for this event?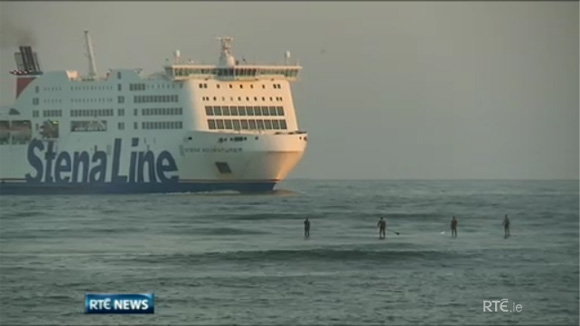 Jane: It has been hard but it has also been great to have this goal to work towards. We only confirmed our involvement in late December. So in order to try and be competition ready we have had to find ways of getting out after work in the evenings.
Luckily there is a spot in Dublin that is well lit by apartments so a lot of our training has been out there (at night in sub zero temperatures). But it's not too bad once you get out there! In general anyone involved in watersports in Ireland needs to be fairly hearty.
The Ferry Wave you are referring to has been a good spot for getting a bit of East coast training during the week. It is pretty surreal seeing surfers right there beside an enormous ferry waiting for its wake. But these are the things you have to do!
[CLICK HERE to see the video of Team Ireland's hardcore training sessions…]
What's your training routine looked like over the past weeks/months?
Jane: I live right by the water basin that we paddle on in darkness. I have been trying to get out on the dock two nights and week and at weekends get to the sea, and the Ferry Wave. Between that and working I usually incorporate some running and yoga into my schedule for cardio and strength.
What's the SUP scene like in Ireland, and do you think the coverage you and your team have received will boost the sport back home?
Jane: I would describe it as a growing sport. I think more and more people will be attracted to SUP for its versatility. It is a good crossover for windsurfers when the conditions are calm, so that connection seems to drive the sport at the moment.
We have had national media coverage with this event and hopefully it will draw more people in this year, especially in the coming summer months. Also it may encourage more and more SUP events across Ireland so that the people who do get involved have goals and more competitions to train for.
How does it feel to represent your country at the inaugural event?
Jane: We are all super stoked. Its an honour and we just want to do ourselves proud. It is the inaugural year and we are the first ever Irish SUP team so it is just amazing to be part of that history.
Is there anything else you'd like to say about the event and your experiences so far?
It has just been incredible to be involved with the sport and in the event. It has been such a fun experience so far. On another note I also want to thank the other members of my team Keith Gorman, Finn Mullen, Dave Owens for their support while we have been in Peru, and especially Paul Byrne and Ed O'Farrell for doing all the ground work to get us out here.
******
You'll be able to see if chasing giant ferries has paid for Jane and her teammates – the Technical Course SUP Race (4.5km) is happening on Friday, with the Long Distance (18km) on Saturday.
You can watch all the SUP races LIVE from Peru, thanks to the ISA's awesome webcast.
And of course stay tuned to SUPracer for more coverage of the ISA World Standup Paddle and Paddleboard Championship!