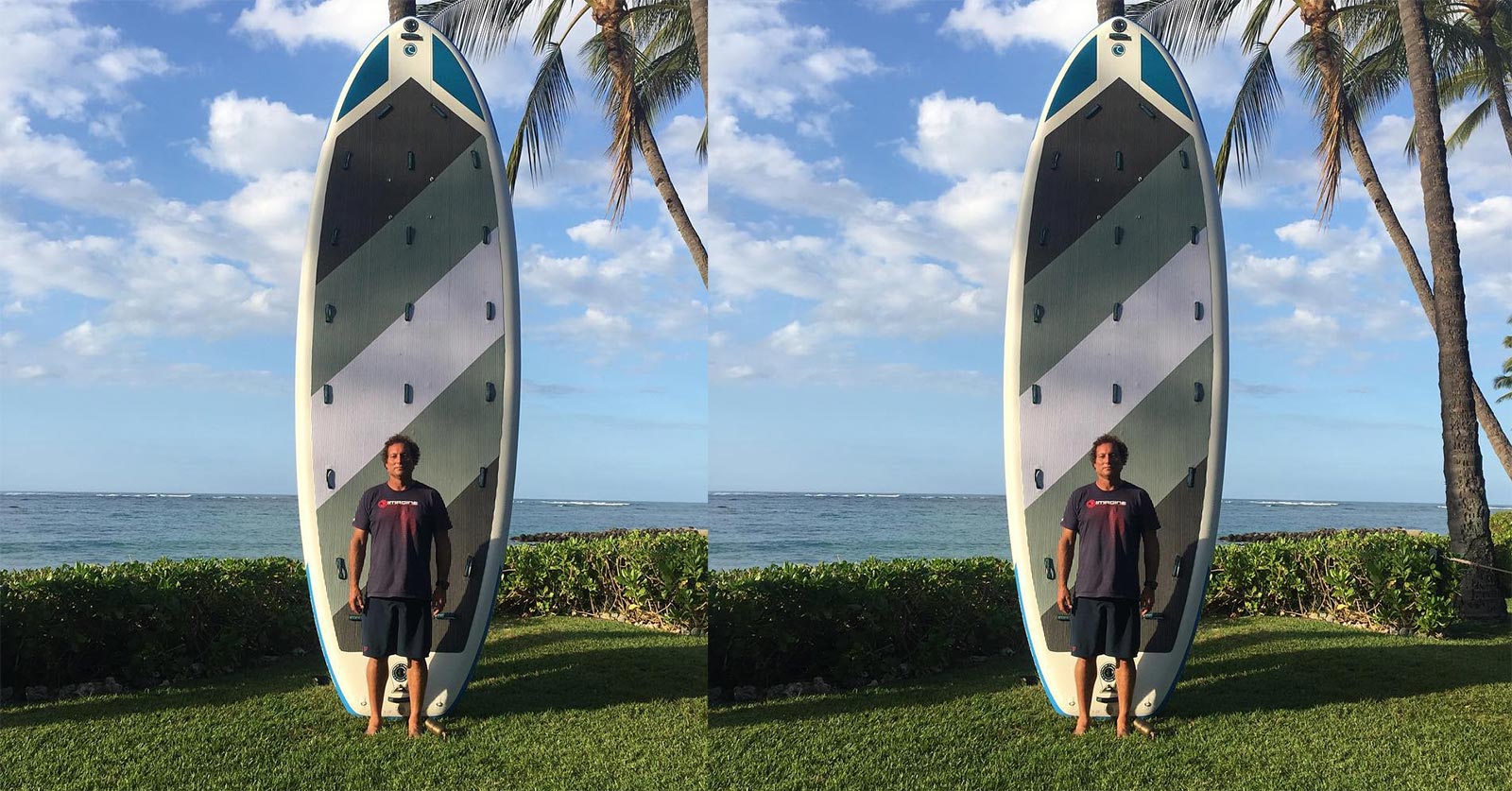 January 10, 2016
by Christopher Parker (@wheresbossman)
Big SUP, Big Fun: Dave Kalama and Imagine Launch the 'Invader' Inflatable Behemoth
https://www.instagram.com/p/BATUMRtoh-f/
So I spotted this shot of Dave Kalama on Instagram a couple of days ago. He's standing in front of what looks to be a ridiculously oversized inflatable stand up paddle board, and he's got that very subtle grin on his face that you just know means one thing: Fun.
Dave and Imagine Surf have just launched the "Invader" big SUP, an inflatable board that can carry up to 10 riders at once. According to the Imagine Surf website, the Invader is 17 feet long, 58 inches (almost 5 feet) wide and 1,213 litres in volume.
(Isn't it odd how the sport uses imperial for length but metric for volume?)
The whole thing weighs 26kgs (59 pounds) though don't worry about lifting it: The Imagine Invader comes with a whopping 24x carry handles on the deck. There's also up to five fins on the bottom, the most of any big SUP on the market, which you'd think would let this behemoth handle the surf without requiring one brave paddler to hang off the back (though oddly, that's exactly what they're doing in the clip down below).
Imagine is hardly the first brand to launch a big SUP though, and indeed they join a crowded lineup of "Big SUP" boards: There's the Starboard Starship (which has gotten some celebrity treatment lately), inflato pioneers Red Paddle Co have their XL Ride, Mistral sells one that's simply called the Big SUP, there's the Fanatic Fly XL, along with half a dozen other brands that are trying to get in on the fun as well.
Though perhaps most famous of all is the original big SUP, the C4 'SUPsquatch' that pro surfer Jamie O'Brien had some fun with on Oahu's North Shore.
I hope we see Dave taking this thing for a spin in the next few weeks — Maui has been getting hammered by massive swells lately, and nothing would look cooler than Kalama and friends riding down the face of a 17ft wave on a 17ft board…
https://www.instagram.com/p/BATfZR5OOWR/