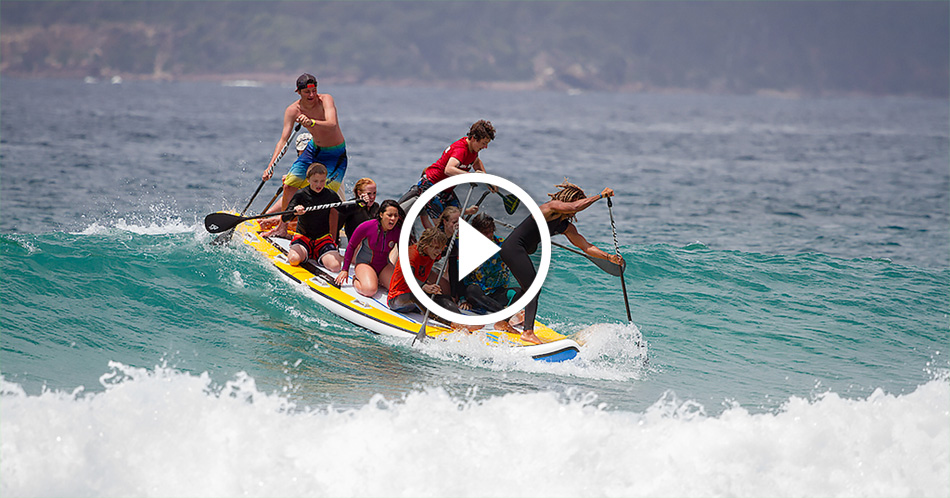 Fanatic Launches The 'Fly Air XL' Giant Inflatable SUP Board; Battle Of The Bohemeths Heats Up
[notdevice][fbvideo link="https://www.facebook.com/Fanatic.SUP.International/videos/780178568742553/" width="645″ height="363″ onlyvideo="1″][/notdevice][device][fbvideo link="https://www.facebook.com/Fanatic.SUP.International/videos/780178568742553/" width="322″ height="181″ onlyvideo="1″][/device]

Fanatic has just released a big inflatable SUP, the Fly Air XL, to join the fast-growing market for oversized, inflatable stand up paddle boards.
The Battle of the Bohemeths I guess you could call it…
The Fanatic Fly Air XL was actually first spotted in the wild last year, when the Gold Coast crew took a prototype giant inflatable SUP board out for a spin in the surf. But now the board is officially in production, with Fanatic joining several other brands in marketing these beasts.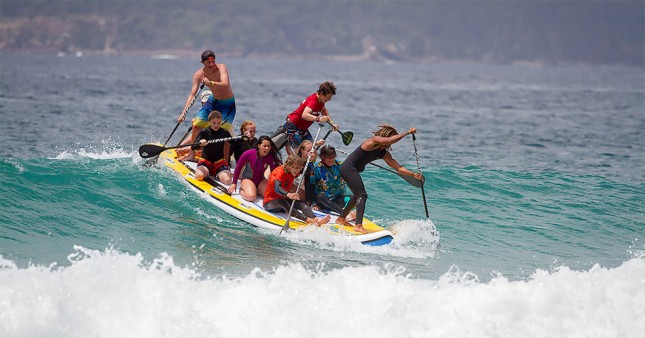 A few months ago we helped name the Starboard STARSHIP, a mightily impressive, 18 1/2 feet long inflatable monster.
Another brand that has a big focus on inflatable SUP boards, Mistral have their own version that's simply called the "Big SUP," which has been spotted everywhere from California to Brazil.
Meanwhile you can still find a few of the original giant inflatable SUP boards floating around – the "SUPsquatch" from C4 Waterman (remember that brand?). That board got a lot of attention recently when Jamie O'Brien and his pro surfing friends went on an inflatable North Shore rampage.
Interestingly, the new Fly Air XL inflatable is marketed as being "designed by C4," so I'm guessing this is some sort of SUPsquatch private label deal between Fanatic and the (now largely deceased) Hawaiian brand.
So there you go: If you're in the market for a ridiculously large, inflatable stand up paddle board, you're now spoilt for choice: Fanatic, Starboard, Mistral and C4.
I hear that inflatable-specialist Red Paddle Co is also working on their own version (which, if it's anything like their new inflatable SUP pump, will be very good).
To whet your appetite, here's a choice selection of the Battle of the Bohemeths: