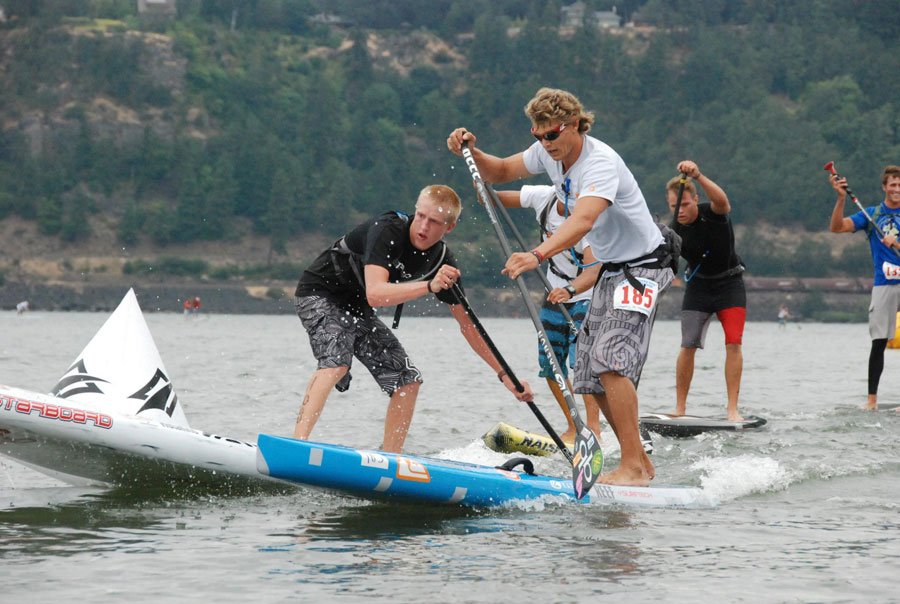 August 18, 2012
by Christopher Parker (@wheresbossman)
[RESULTS] Naish Gorge Paddle Challenge: Kai Lenny, Candice Appleby Dominate
The 2012 Naish Columbia Gorge Paddle Challenge has just wrapped up at Hood River, Oregon, in spectacular fashion. The stacked field of paddlers and awesome race conditions combined to help make this one of the best SUP racing events of the year.
With $18,000 in prize money on the line, a virtual "who's who" of the stand up paddle race scene battled it out for this year's Gorge Paddle Challenge. Just making the Top 10 in this event is as impressive as a podium spot in almost any other SUP race around the world.
——————————————————————————————————————————————————–
SKIP TO RESULTS: Elite Course | Open Course | Elite Downwinder | Open Downwinder
——————————————————————————————————————————————————–
Jamie Mitchell, Kai Lenny, Chase Kosterlitz, Talia Gangini, Slater Trout, Chuck Patterson, Candice Appleby, Fernando Stalla, Anthony Vela, Jim Terrell, Matt Becker, Tucker Ingalls, Dave Kalama, Noa Ginella, Dan Gavere, Jay Wild, Jenny Kalmbach, Thomas Maximus and the list goes on…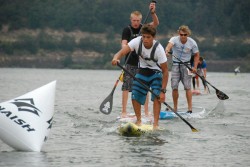 Yeah, it was a stacked field.
But who stood up and took the glory…?
Just as SUPracer.com predicted, Candice Appleby won the women's Elite Course Race on Day 1, while Kai Lenny took out the men's Elite race ahead of Jamie Mitchell (2nd) and Chase Kosterlitz (3rd).
But what we didn't see coming was that Kai would go on to absolutely dominate the Downwind Race on Day 2…
With 35+ knot winds making conditions perfect for a Gorge Downwinder, and with Maui downwind specialists such as Livio Menelau, Jeremy Riggs and Dave Kalama joining the likes of Connor Baxter and Jamie Mitchell in the starting line-up, you could have forgiven Kai Lenny for resting on his laurels and enjoying the race. But instead, the 19-year-old stepped things up to another level entirely, taking the victory by one and a half minutes ahead of Baxter (2nd) and three and a half minutes in front of 10x World Champ Mitchell (3rd).
Candice Appleby also took out the downwinder, claiming the double win along with Kai. Jenny Kalmbach was 2nd and Karen Wrenn grabbed third. However Talia Gangini (2nd woman over the line) was apparently disqualified for riding the wrong board (more on that later).
Kai Lenny's dominance of the Gorge Paddle Challenge is quite fitting. This was a Naish event (his main sponsor) plus he hosted a feel-good, record-breaking "Grom SUP" event on the Friday. It was Kai's weekend, basically. The crew at Team Naish couldn't have written the script any better if they tried.
Check out reactions from the paddlers themselves below, then scroll down for the full SUP race results (also take a look at some epic Gorge Paddle Challenge SUP Race photos).
So stoked to have won the Naish SUP Challenge Course Elite Race today!! It was a tough one competing along side… fb.me/1nO4mtdq1

— Kai Lenny (@Kai_Lenny) August 19, 2012
Good tough Race today ! Congrats @kai_lenny ! Good job!

— Jamie Mitchell (@jamiemitcho) August 18, 2012
Congrats, super stoked for Kai Lenny & Candice Applebee taking the win at Naish Columbia Gorge Paddle Fest… fb.me/1QaPCk3GF

— Chuck Patterson (@ChuckPatterson) August 19, 2012


*****
2012 Naish Columbia Gorge Paddle Challenge RESULTS
——————————————————————————————————————————————————–
JUMP TO: Elite Course | Open Course | Elite Downwinder | Open Downwinder
——————————————————————————————————————————————————–

Elite Course Race (Saturday)
Click "M/F" to switch between Men's and Women's Results
Click "Time" to reset the results
Men: 14′ boards, women: 12'6″

| # | M/F | M/F # | Name | Time | Age |
| --- | --- | --- | --- | --- | --- |
| 1 | M | 1 | Kai LENNY | 0:50:26 | 19 |
| 2 | M | 2 | Jamie MITCHELL | 0:50:39 | 35 |
| 3 | M | 3 | Chase KOSTERLITZ | 0:50:46 | 26 |
| 4 | M | 4 | Slater TROUT | 0:50:51 | 17 |
| 5 | M | 5 | Connor BAXTER | 0:52:09 | 17 |
| 6 | M | 6 | Kody KERBOX | 0:52:46 | 18 |
| 7 | M | 7 | Cyril BURGUIERE | 0:52:57 | 33 |
| 8 | M | 8 | Matt  BECKER | 0:53:05 | 17 |
| 9 | M | 9 | Byron KURT | 0:53:56 | 48 |
| 10 | M | 10 | Anthony VELA | 0:54:01 | 38 |
| 11 | M | 11 | Thomas MAXIMUS | 0:54:12 | 43 |
| 12 | M | 12 | Dan GAVERE | 0:54:31 | 42 |
| 13 | M | 13 | Tucker INGALLS | 0:54:36 | 14 |
| 14 | M | 14 | Kaeo ABBEY | 0:54:49 | 25 |
| 15 | M | 15 | Dustin SOUSLEY | 0:54:50 | 18 |
| 16 | M | 16 | Jim TERRELL | 0:54:58 | 47 |
| 17 | M | 17 | Matt PARKER | 0:55:00 | 33 |
| 18 | M | 18 | Noa GINELLA | 0:55:10 | 18 |
| 19 | M | 19 | Mike TAVARES | 0:55:16 | 29 |
| 20 | M | 20 | Ej JOHNSON | 0:55:21 | 49 |
| 21 | M | 21 | Ingo RADEMACHER | 0:55:54 | 41 |
| 22 | M | 22 | Kristian MULHOLLAND | 0:56:51 | 40 |
| 23 | M | 23 | Dean CHRISTENER | 0:56:57 | 22 |
| 24 | M | 24 | Ben GRODNER | 0:57:20 | 16 |
| 25 | M | 25 | Matt SPENCER | 0:57:31 | 29 |
| 26 | M | 26 | Gary PARSONS | 0:57:44 | 52 |
| 27 | F | 1 | Candice APPLEBY | 0:57:56 | 26 |
| 28 | M | 27 | James THESIGER | 0:58:15 | 32 |
| 29 | M | 28 | Yannick MICHAUD | 0:58:46 | 35 |
| 30 | M | 29 | Livio MENELAU | 0:58:48 | 34 |
| 31 | F | 2 | Jenny KALMBACH | 0:59:03 | 29 |
| 32 | F | 3 | Allison RIDDLE | 1:00:03 | 26 |
| 33 | F | 4 | Lina AUGAITIS | 1:00:11 | 31 |
| 34 | M | 30 | Jeremy RIGGS | 1:00:23 | 40 |
| 35 | F | 5 | Karen WRENN | 1:00:55 | 40 |
| 36 | F | 6 | Shannon BELL | 1:01:01 | 38 |
| 37 | F | 7 | Talia GANGINI | 1:01:06 | 19 |
| 38 | F | 8 | Alyson FROMM | 1:01:41 | 18 |
| 39 | F | 9 | Brit OLIPHANT | 1:02:14 | 17 |
| 40 | F | 10 | Fiona WYLDE | 1:03:31 | 15 |
| 41 | F | 11 | Lysanne LAVIGNE | 1:11:16 | 29 |
Open Course Race (Saturday)
Click "M/F" to switch between Men's and Women's Results
Click "Class" or "Division" to sort results by Board Class or Age Division
Click "Time" to reset the results

| # | M/F | M/F # | Name | Time | Class | # | Division | # | Age |
| --- | --- | --- | --- | --- | --- | --- | --- | --- | --- |
| 1 | M | 1 | Derek FROMM | 0:30:26 | 14' | 1 | M 17&U | 1 | 15 |
| 2 | M | 2 | TJ GULIZIA | 0:30:32 | 14' | 2 | M 18-49 | 1 | 36 |
| 3 | M | 3 | Art AQUINO | 0:31:27 | 14' | 3 | M 18-49 | 2 | 46 |
| 4 | M | 4 | J. Macrae WYLDE | 0:31:48 | 14' | 4 | M 18-49 | 3 | 48 |
| 5 | M | 5 | Patrick AIO | 0:32:21 | 12'6" | 1 | M 18-49 | 1 | 39 |
| 6 | M | 6 | Rob DIES | 0:32:28 | 14' | 5 | M 18-49 | 4 | 36 |
| 7 | M | 7 | Spencer SLAVEN-LAZZAR | 0:32:37 | 12'6" | 2 | M 18-49 | 2 | 24 |
| 8 | M | 8 | Jan BOERSMA | 0:32:56 | 14' | 6 | M 18-49 | 5 | 43 |
| 9 | M | 9 | Scott VANDE VUSSE | 0:33:01 | 12'6" | 3 | M 18-49 | 3 | 33 |
| 10 | M | 10 | Tom HANNY | 0:33:06 | 14' | 7 | M 18-49 | 6 | 37 |
| 11 | M | 11 | John  SCHALKA | 0:33:22 | 14' | 8 | M 50+ | 1 | 56 |
| 12 | M | 12 | Jim STEVENS | 0:33:24 | 14' | 9 | M 18-49 | 7 | 44 |
| 13 | M | 13 | Keith COLEMAN | 0:33:34 | 14' | 10 | M 18-49 | 8 | 32 |
| 14 | M | 14 | Dave BILLENNESS | 0:33:35 | 12'6" | 4 | M 18-49 | 4 | 43 |
| 15 | M | 15 | Jeff BIGLER | 0:33:49 | 12'6" | 5 | M 18-49 | 5 | 35 |
| 16 | M | 16 | Paul WILLERTON | 0:34:03 | 14' | 11 | M 18-49 | 9 | 43 |
| 17 | M | 17 | Brook  STAPLES | 0:34:05 | 14' | 12 | M 18-49 | 10 | 44 |
| 18 | M | 18 | Gregg LEION | 0:34:12 | 14' | 13 | M 50+ | 2 | 54 |
| 19 | M | 19 | Tom BURKE | 0:34:43 | 14' | 14 | M 50+ | 3 | 55 |
| 20 | M | 20 | Doug HOPKINS | 0:35:01 | 14' | 15 | M 50+ | 4 | 51 |
| 21 | M | 21 | Bob RUETER | 0:35:08 | 14' | 16 | M 50+ | 5 | 57 |
| 22 | M | 22 | Nakoa DECOITE | 0:35:14 | 12'6" | 6 | M 18-49 | 6 | 24 |
| 23 | M | 23 | Ford HUNTINGTON | 0:35:19 | 14' | 17 | M 17&U | 2 | 15 |
| 24 | M | 24 | Izaak TYRRELL | 0:35:23 | 12'6" | 7 | M 18-49 | 7 | 34 |
| 25 | M | 25 | Bret WILHELM | 0:35:26 | 14' | 18 | M 18-49 | 11 | 42 |
| 26 | M | 26 | Ryan BROWN | 0:35:54 | 14' | 19 | M 18-49 | 12 | 41 |
| 27 | M | 27 | Brian TRACY | 0:36:26 | 12'6" | 8 | M 18-49 | 8 | 29 |
| 28 | M | 28 | Patrick CORCORAN | 0:36:46 | 12'6" | 9 | M 50+ | 1 | 51 |
| 29 | M | 29 | Kristian DEWOLFE | 0:36:52 | 14' | 20 | M 17&U | 3 | 14 |
| 30 | F | 1 | Elizabeth  SCHALKA | 0:37:07 | F12'6" | 1 | F 18-49 | 1 | 24 |
| 31 | M | 30 | Randall BARNA | 0:37:20 | 14' | 21 | M 50+ | 6 | 62 |
| 32 | M | 31 | Michael WITHERITE | 0:37:24 | 14' | 22 | M 18-49 | 13 | 40 |
| 33 | M | 32 | Oscar MACIEL | 0:37:34 | 14' | 23 | M 18-49 | 14 | 42 |
| 34 | F | 2 | Victoria HOPKINS | 0:37:46 | F12'6" | 2 | F 18-49 | 2 | 39 |
| 35 | F | 3 | Linda DE JONG | 0:37:55 | F12'6" | 3 | F 50+ | 1 | 53 |
| 36 | M | 33 | Michael SKELLY | 0:37:57 | 14' | 24 | M 50+ | 7 | 53 |
| 37 | F | 4 | Maria RANDLE | 0:38:04 | F12'6" | 4 | F 18-49 | 3 | 47 |
| 38 | M | 34 | Travis RONK | 0:38:12 | 12'6" | 10 | M 18-49 | 9 | 45 |
| 39 | M | 35 | Mike GRODNER | 0:38:22 | 14' | 25 | M 50+ | 8 | 54 |
| 40 | M | 36 | Todd CLAY | 0:38:32 | 12'6" | 11 | M 50+ | 2 | 51 |
| 41 | M | 37 | Jason LEXA | 0:38:36 | 14' | 26 | M 18-49 | 15 | 37 |
| 42 | M | 38 | Nick OGILVIE | 0:38:40 | 12'6" | 12 | M 18-49 | 10 | 28 |
| 43 | M | 39 | Greg WHITTAKER | 0:38:58 | 14' | 27 | M 18-49 | 16 | 41 |
| 44 | F | 5 | Tatiana BIGLER | 0:39:06 | F12'6" | 5 | F 18-49 | 4 | 31 |
| 45 | M | 40 | Tyler MEBUS | 0:39:12 | 14' | 28 | M 18-49 | 17 | 48 |
| 46 | M | 41 | Mike JACOBY | 0:39:27 | 14' | 29 | M 18-49 | 18 | 43 |
| 47 | M | 42 | Aijiro SUZUKI | 0:39:40 | 14' | 30 | M 18-49 | 19 | 41 |
| 48 | M | 43 | Kenny MALLGREN | 0:40:08 | 14' | 31 | M 18-49 | 20 | 25 |
| 49 | F | 6 | Jennifer LAWSON | 0:40:28 | F12'6" | 6 | F 18-49 | 5 | 31 |
| 50 | F | 7 | Bonnie FROMM | 0:40:31 | F12'6" | 7 | F 50+ | 2 | 50 |
| 51 | F | 8 | Lori PARK | 0:41:02 | F14' | 1 | F 18-49 | 1 | 38 |
| 52 | M | 44 | Dean BREWER | 0:44:35 | 12'6" | 13 | M 18-49 | 11 | 47 |
| 53 | F | 9 | Cindy WRIGHT | 0:46:06 | F12'6" | 8 | F 18-49 | 6 | 44 |
| 54 | M | 45 | Mike DOWD | 0:48:48 | 14' | 32 | M 50+ | 9 | 53 |
| 55 | F | 10 | Kathy KINGEN | 0:55:18 | F12'6" | 9 | F 50+ | 3 | 56 |
Open Course Race: Surfboard Class (half distance)
1st: Bill Babcock (0:19:34) Age 65
2nd: J Ohlson (0:21:27) Age 50
Elite Downwind Race (Day 2)
Click "Division" to switch between Men's and Women's Results
Click "Time" to reset the results
Men: 14′ boards, women: 12'6″

| # | Name | Time | Division | Div # | Age |
| --- | --- | --- | --- | --- | --- |
| 1 | Kai LENNY | 0:55:57 | Elite Men | 1 | 19 |
| 2 | Connor BAXTER | 0:57:26 | Elite Men | 2 | 17 |
| 3 | Jamie MITCHELL | 0:59:24 | Elite Men | 3 | 35 |
| 4 | Kaeo ABBEY | 1:00:36 | Elite Men | 4 | 25 |
| 5 | Slater TROUT | 1:01:47 | Elite Men | 5 | 17 |
| 6 | Kody KERBOX | 1:02:02 | Elite Men | 6 | 18 |
| 7 | Dave KALAMA | 1:02:15 | Elite Men | 7 | 47 |
| 8 | Jeremy RIGGS | 1:02:25 | Elite Men | 8 | 40 |
| 9 | Livio MENELAU | 1:03:32 | Elite Men | 9 | 34 |
| 10 | Chase KOSTERLITZ | 1:05:19 | Elite Men | 10 | 26 |
| 11 | Noa GINELLA | 1:05:29 | Elite Men | 11 | 18 |
| 12 | Chuck PATTERSON | 1:05:53 | Elite Men | 12 | 43 |
| 13 | Matt  BECKER | 1:07:01 | Elite Men | 13 | 17 |
| 14 | Tucker INGALLS | 1:07:59 | Elite Men | 14 | 14 |
| 15 | Dan GAVERE | 1:08:11 | Elite Men | 15 | 42 |
| 16 | Matt PARKER | 1:11:32 | Elite Men | 16 | 33 |
| 17 | Dean CHRISTENER | 1:11:36 | Elite Men | 17 | 22 |
| 18 | Anthony VELA | 1:11:48 | Elite Men | 18 | 38 |
| 19 | Ingo RADEMACHER | 1:13:11 | Elite Men | 19 | 41 |
| 20 | Ben GRODNER | 1:13:34 | Elite Men | 20 | 16 |
| 21 | Thomas MAXIMUS | 1:14:07 | Elite Men | 21 | 43 |
| 22 | Candice APPLEBY | 1:14:20 | Elite Women | 1 | 26 |
| 23 | Byron KURT | 1:14:56 | Elite Men | 22 | 48 |
| 24 | Jenny KALMBACH | 1:15:35 | Elite Women | 2 | 29 |
| 25 | Karen WRENN | 1:16:31 | Elite Women | 3 | 40 |
| 26 | Mike TAVARES | 1:16:59 | Elite Men | 23 | 29 |
| 27 | Arthur  AQUINO | 1:17:20 | Elite Men | 24 | 46 |
| 28 | Rod PARMENTER | 1:18:42 | Elite Men | 25 | 47 |
| 29 | Ej JOHNSON | 1:20:27 | Elite Men | 26 | 49 |
| 30 | Cyril BURGUIERE | 1:20:59 | Elite Men | 27 | 33 |
| 31 | Kristian MULHOLLAND | 1:21:30 | Elite Men | 28 | 40 |
| 32 | Fiona WYLDE | 1:23:37 | Elite Women | 4 | 15 |
| 33 | Alyson FROMM | 1:24:58 | Elite Women | 5 | 18 |
| 34 | Alison RIDDLE | 1:25:24 | Elite Women | 6 | 26 |
| 35 | Gary PARSONS | 1:25:32 | Elite Men | 29 | 52 |
| 36 | Dustin SOUSLEY | 1:25:44 | Elite Men | 30 | 18 |
| 37 | Nikki GREGG | 1:26:56 | Elite Women | 7 | 35 |
| 38 | Lina AUGAITIS | 1:27:29 | Elite Women | 8 | 31 |
| 39 | Yannick MICHAUD | 1:27:39 | Elite Men | 31 | 35 |
| 40 | Paul WILLERTON | 1:41:40 | Elite Men | 32 | 43 |
Open Downwind Race (Day 2)
Click "M/F" to switch between Men's and Women's Results
Click "Class" or "Division" to sort results by Board Class or Age Division
Click "Time" to reset the results

| # | M/F | M/F # | Name | Time | Class | # | Division | # | Age |
| --- | --- | --- | --- | --- | --- | --- | --- | --- | --- |
| 1 | M | 1 | Matt SPENCER | 1:09:36 | 14' | 1 | M18-49 | 1 | 29 |
| 2 | M | 2 | Doug HOPKINS | 1:10:40 | 14' | 2 | M50+ | 1 | 51 |
| 3 | M | 3 | Derek FROMM | 1:10:42 | 14' | 3 | M17&U | 1 | 15 |
| 4 | M | 4 | Nick STUART | 1:10:54 | 14' | 4 | M18-49 | 2 | 32 |
| 5 | M | 5 | Keith COLEMAN | 1:11:32 | 14' | 5 | M18-49 | 3 | 32 |
| 6 | M | 6 | Patrick AIO | 1:11:43 | 14' | 6 | M18-49 | 4 | 39 |
| 7 | M | 7 | Rob DIES | 1:11:53 | 14' | 7 | M18-49 | 5 | 36 |
| 8 | M | 8 | Gerry LOPEZ | 1:13:26 | 14' | 8 | M50+ | 2 | 63 |
| 9 | M | 9 | Nakoa DECOITE | 1:13:47 | 14' | 9 | M18-49 | 6 | 24 |
| 10 | M | 10 | Gregg LEION | 1:13:52 | 14' | 10 | M50+ | 3 | 54 |
| 11 | M | 11 | Bruce  BARRY | 1:14:18 | 14' | 11 | M50+ | 4 | 61 |
| 12 | M | 12 | Izaak TYRRELL | 1:16:18 | 14' | 12 | M18-49 | 7 | 34 |
| 13 | M | 13 | Tj GULIZIA | 1:17:06 | 14' | 13 | M18-49 | 8 | 36 |
| 14 | M | 14 | Dave BILLENNESS | 1:17:19 | 14' | 14 | M18-49 | 9 | 43 |
| 15 | M | 15 | J. Macrae WYLDE | 1:17:24 | 14' | 15 | M18-49 | 10 | 48 |
| 16 | M | 16 | Jim STEVENS | 1:18:01 | 14' | 16 | M18-49 | 11 | 44 |
| 17 | M | 17 | Bob RUETER | 1:18:10 | 14' | 17 | M50+ | 5 | 57 |
| 18 | M | 18 | Bill BABCOCK | 1:18:55 | 14' | 18 | M50+ | 6 | 65 |
| 19 | M | 19 | Ford HUNTINGTON | 1:19:05 | 14' | 19 | M17&U | 2 | 15 |
| 20 | M | 20 | Don WYLIE | 1:19:11 | 14' | 20 | M50+ | 7 | 51 |
| 21 | M | 21 | Jeff BIGLER | 1:19:13 | 12'6" | 1 | M18-49 | 1 | 35 |
| 22 | M | 22 | Lukas DEWOLFE | 1:19:36 | 14' | 21 | M17&U | 3 | 14 |
| 23 | M | 23 | Sean THOMAS | 1:20:37 | 12'6" | 2 | M18-49 | 2 | 35 |
| 24 | M | 24 | Tyson TURNER | 1:22:23 | 12'6" | 3 | M18-49 | 3 | 34 |
| 25 | M | 25 | Ryan BROWN | 1:22:43 | 14' | 22 | M18-49 | 12 | 41 |
| 26 | M | 26 | Alexander RODDVIK | 1:23:06 | 14' | 23 | M18-49 | 13 | 39 |
| 27 | M | 27 | Brook  STAPLES | 1:23:28 | 14' | 24 | M18-49 | 14 | 44 |
| 28 | M | 28 | Randall BARNA | 1:23:35 | 14' | 25 | M50+ | 8 | 62 |
| 29 | M | 29 | Nelson WINGARD | 1:23:39 | 14' | 26 | M18-49 | 15 | 40 |
| 30 | M | 30 | Dennis OLIPHANT | 1:24:10 | 14' | 27 | M50+ | 9 | 56 |
| 31 | M | 31 | Matthew ELSASSER | 1:24:44 | 12'6" | 4 | M18-49 | 4 | 18 |
| 32 | M | 32 | Robert FINLAY | 1:24:50 | 14' | 28 | M18-49 | 16 | 40 |
| 33 | M | 33 | Tom HANNY | 1:25:17 | 14' | 29 | M18-49 | 17 | 37 |
| 34 | M | 34 | Mike GRODNER | 1:26:00 | 14' | 30 | M50+ | 10 | 54 |
| 35 | M | 35 | Forrest WELLS | 1:26:19 | 14' | 31 | M18-49 | 18 | 32 |
| 36 | M | 36 | Fabrice LE DET | 1:27:17 | 14' | 32 | M18-49 | 19 | 43 |
| 37 | M | 37 | Tyler MEBUS | 1:27:26 | 12'6" | 5 | M18-49 | 5 | 48 |
| 38 | M | 38 | Greg GILBERT | 1:27:32 | 12'6" | 6 | M18-49 | 6 | 45 |
| 39 | F | 1 | Victoria HOPKINS | 1:27:52 | F12'6" | 1 | F18-49 | 1 | 39 |
| 40 | M | 39 | Aijiro SUZUKI | 1:28:17 | 14' | 33 | M18-49 | 20 | 41 |
| 41 | M | 40 | Jim DEWOLFE | 1:30:06 | 14' | 34 | M50+ | 11 | 57 |
| 42 | F | 2 | Lori PARK | 1:30:11 | F14' | 1 | F18-49 | 1 | 38 |
| 43 | F | 3 | Maria RANDLE | 1:30:53 | F14' | 2 | F18-49 | 2 | 47 |
| 44 | F | 4 | Linda DE JONG | 1:31:08 | F12'6" | 2 | F50+ | 1 | 53 |
| 45 | M | 41 | Spencer SLAVEN-LAZZAR | 1:31:12 | 12'6" | 7 | M18-49 | 7 | 24 |
| 46 | M | 42 | Travis RONK | 1:31:23 | 12'6" | 8 | M18-49 | 8 | 45 |
| 47 | M | 43 | Tom BURKE | 1:31:38 | 14' | 35 | M50+ | 12 | 55 |
| 48 | M | 44 | Patrick CORCORAN | 1:32:23 | 12'6" | 9 | M50+ | 1 | 51 |
| 49 | M | 45 | James THESIGER | 1:32:58 | 12'6" | 10 | M18-49 | 9 | 32 |
| 50 | M | 46 | John  SCHALKA | 1:33:35 | 14' | 36 | M50+ | 13 | 56 |
| 51 | M | 47 | Scott VANDE VUSSE | 1:34:03 | 12'6" | 11 | M18-49 | 10 | 33 |
| 52 | M | 48 | Todd HORN | 1:34:30 | Surf | 1 | M18-49 | 1 | 31 |
| 53 | F | 5 | Bonnie FROMM | 1:34:35 | F12'6" | 3 | F50+ | 2 | 50 |
| 54 | M | 49 | Greg WHITTAKER | 1:34:39 | 12'6" | 12 | M18-49 | 11 | 41 |
| 55 | M | 50 | Claude BAZINET | 1:34:51 | 12'6" | 13 | M18-49 | 12 | 33 |
| 56 | M | 51 | Larry PHILLIPS | 1:35:10 | 14' | 37 | M18-49 | 21 | 43 |
| 57 | F | 6 | Lysanne LAVIGNE | 1:35:42 | F12'6" | 4 | F18-49 | 2 | 29 |
| 58 | F | 7 | Tatiana BIGLER | 1:35:53 | F12'6" | 5 | F18-49 | 3 | 31 |
| 59 | F | 8 | Tonia FARMAN | 1:37:03 | F12'6" | 6 | F18-49 | 4 | 41 |
| 60 | M | 52 | Andre SAPP | 1:37:05 | 12'6" | 14 | M18-49 | 13 | 46 |
| 61 | F | 9 | Elizabeth  SCHALKA | 1:37:09 | F12'6" | 7 | F18-49 | 5 | 24 |
| 62 | M | 53 | Michael WITHERITE | 1:37:32 | 14' | 38 | M18-49 | 22 | 40 |
| 63 | M | 54 | Brian TRACY | 1:37:55 | 12'6" | 15 | M18-49 | 14 | 29 |
| 64 | M | 55 | Glen HAUPT | 1:39:21 | 12'6" | 16 | M18-49 | 15 | 46 |
| 65 | M | 56 | Darryl NAKAHIRA | 1:39:23 | 14' | 39 | M50+ | 14 | 53 |
| 66 | M | 57 | Anthony SCATURRO | 1:39:57 | 14' | 40 | M50+ | 15 | 70 |
| 67 | M | 58 | Michael SKELLY | 1:41:31 | 12'6" | 17 | M50+ | 2 | 53 |
| 68 | M | 59 | Jay LAZZAR | 1:43:09 | 12'6" | 18 | M50+ | 3 | 50 |
| 69 | M | 60 | Jason LEXA | 1:44:27 | 14' | 41 | M18-49 | 23 | 37 |
| 70 | F | 10 | Jennifer LAWSON | 1:44:27 | F12'6" | 8 | F18-49 | 6 | 31 |
| 71 | M | 61 | Jeffrey KNAPP | 1:45:19 | 12'6" | 19 | M50+ | 4 | 52 |
| 72 | M | 62 | Jon THOMSEN | 1:45:47 | 14' | 42 | M18-49 | 24 | 42 |
| 73 | M | 63 | Michael UFFELMAN | 1:46:35 | 12'6" | 20 | M18-49 | 16 | 38 |
| 74 | F | 11 | Ashlee REDFERN | 1:46:35 | F12'6" | 9 | F18-49 | 7 | 31 |
| 75 | M | 64 | Dan HAGHIGHI | 1:46:49 | 14' | 43 | M18-49 | 25 | 49 |
| 76 | M | 65 | Eric LE DET | 1:46:57 | 12'6" | 21 | M18-49 | 17 | 48 |
| 77 | M | 66 | Oscar MACIEL | 1:47:01 | 14' | 44 | M18-49 | 26 | 42 |
| 78 | F | 12 | Judy SHASEK | 1:47:01 | FSurf | 1 | F50+ | 1 | 55 |
| 79 | M | 67 | Brady MEBUS | 1:47:18 | Surf | 2 | M17&U | 1 | 17 |
| 80 | M | 68 | Steven DAVIS | 1:47:45 | 14' | 45 | M50+ | 16 | 54 |
| 81 | M | 69 | Ben RUSSELL | 1:47:47 | 12'6" | 22 | M18-49 | 18 | 38 |
| 82 | M | 70 | Sam CUNARD | 1:47:57 | Surf | 3 | M18-49 | 2 | 20 |
| 83 | M | 71 | Nick OGILVIE | 1:48:13 | 12'6" | 23 | M18-49 | 19 | 28 |
| 84 | M | 72 | Fred MERRILL | 1:48:19 | 12'6" | 24 | M50+ | 5 | 53 |
| 85 | M | 73 | Brandon WILLEMS | 1:49:37 | Surf | 4 | M18-49 | 3 | 24 |
| 86 | M | 74 | Ohlson JERRY | 1:50:06 | Surf | 5 | M50+ | 1 | 50 |
| 87 | M | 75 | William WORTHINGTON | 1:50:23 | 14' | 46 | M50+ | 17 | 50 |
| 88 | M | 76 | Mike JACOBY | 1:51:31 | 14' | 47 | M18-49 | 27 | 43 |
| 89 | F | 13 | Leanne MEBUS | 1:52:04 | FSurf | 2 | F18-49 | 1 | 48 |
| 90 | M | 77 | Mark THOMAS | 1:52:26 | Surf | 6 | M18-49 | 4 | 37 |
| 91 | M | 78 | Tyler TSCHITTER | 1:52:39 | 12'6" | 25 | M17&U | 1 | 16 |
| 92 | M | 79 | Dave LARKMAN | 1:52:53 | 12'6" | 26 | M50+ | 6 | 69 |
| 93 | F | 14 | Jacquie BROWN-BARONE | 1:54:02 | F12'6" | 10 | F18-49 | 8 | 46 |
| 94 | F | 15 | Katie PUDDEFOOT | 1:54:12 | F12'6" | 11 | F18-49 | 9 | 37 |
| 95 | M | 80 | Ed FURRY | 1:54:32 | 12'6" | 27 | M18-49 | 20 | 40 |
| 96 | M | 81 | Randy ORR | 1:57:43 | 14' | 48 | M18-49 | 28 | 45 |
| 97 | M | 82 | Dean BREWER | 1:59:56 | 12'6" | 28 | M18-49 | 21 | 47 |
| 98 | M | 83 | Tyson LANGELIERS | 2:00:05 | 14' | 49 | M18-49 | 29 | 35 |
| 99 | F | 16 | Anna RIEKE | 2:00:33 | FSurf | 3 | F18-49 | 2 | 44 |
| 100 | M | 84 | Francois CARRETE | 2:03:25 | 12'6" | 29 | M50+ | 7 | 54 |
| 101 | F | 17 | Cindy WRIGHT | 2:04:01 | F12'6" | 12 | F18-49 | 10 | 44 |
| 102 | M | 85 | Chris KASTNER | 2:05:23 | 12'6" | 30 | M50+ | 8 | 50 |
| 103 | F | 18 | Margot BOLSTAD | 2:07:23 | F12'6" | 13 | F50+ | 3 | 56 |
| 104 | F | 19 | Lisa NELSON | 2:09:09 | F12'6" | 14 | F50+ | 4 | 50 |
| 105 | M | 86 | Travis FUHRER | 2:09:37 | 14' | 50 | M18-49 | 30 | 35 |
| 106 | M | 87 | Robby CARVER | 2:12:48 | 14' | 51 | M18-49 | 31 | 29 |