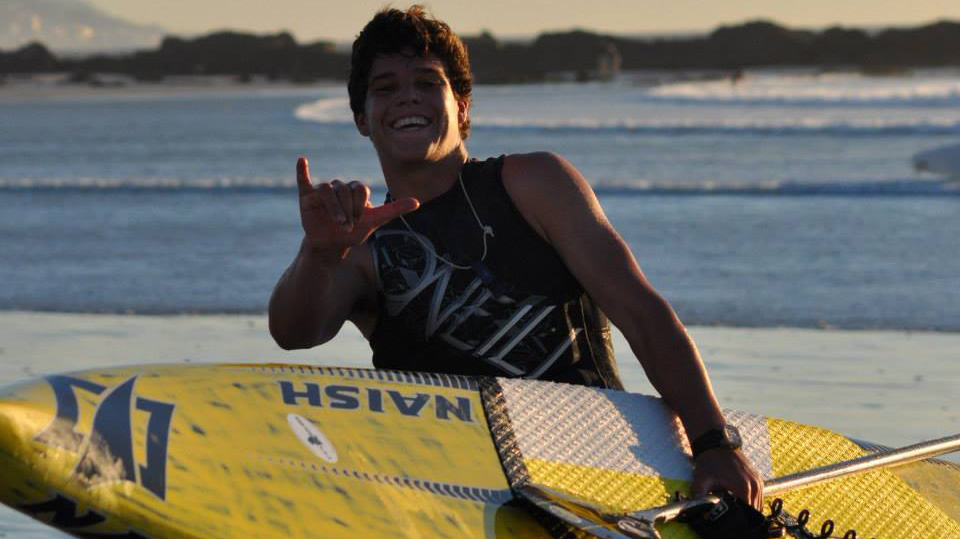 November 19, 2014
by Peter Petersen
Ethan Koopmans Breaks The Cape Town Downwind Race Record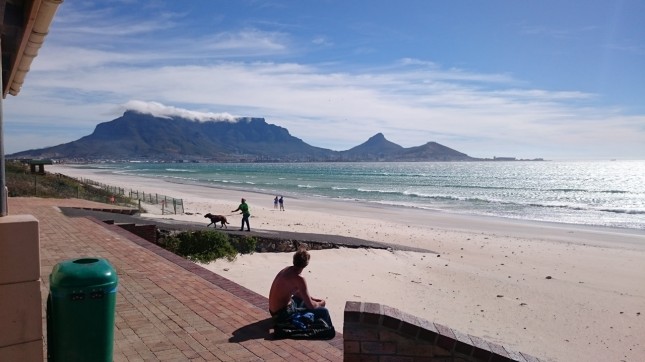 It was looking good the whole week. The wind had been firing every day since Sunday, especially on Tuesday when it was seriously cranking and several guys set personal bests. So expectations were high for tonight's 3rd race in the latest PRIMI Naish Downwind Dash Series here in Cape Town, South Africa.
The wind had been gusting over 30 knots since Tuesday, at times hitting 38-40 knots. That's an 8 out of 12 on the Beaufort scale. That's strong, even by our standards. So we were able to make the call early that Wednesday night's race would be ON.
By the time the downwinder was to start the wind had backed off a little but was still averaging 20 knots and gusting to as much as 31 knots. Not all time but close to it. There was no swell to conflict with the bumps, so the conditions were close to perfect.
To add to the excitement, our 6pm downwind race start coincided with the start of the second leg of the Volvo Ocean Race, which was heading from South Africa to Abu Dhabi. The Volvo 66 footers were screaming off their startline in the distance and perhaps Ethan Koopmans took heed of this.
Because tonight Ethan shot out the blocks like a man possessed…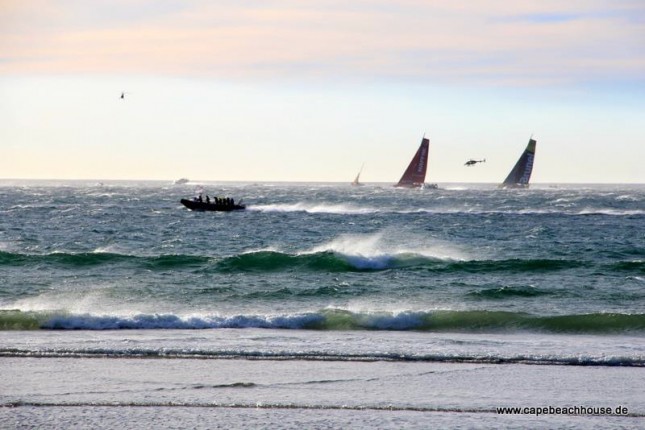 It was good to see Dylan Frick back in the swing of things on his new Allstar board. However the recent South Africa national champion and longtime Downwind Dash supporter was caught out a little at the start and had a lot of chasing to do. Tom King stuck with Dylan and, once the runners started building, even managed to gap the youngster.
There was no stopping Ethan though – he kept increasing his lead, slicing his 23″ wide Naish LE from one bump to another, quickly tearing through the stragglers from the earlier, open race start.
Two years ago, Coreban founder and downwind TV pioneer Ivan van Vuuren set a lightning fast time of 42 minutes, 57 seconds along our 10.1 kilometre course (we use the exact same course every week). However Ethan's been in such great form on the Downwind Dash Series over the past twelve months that it was only a matter of time before he beat the record.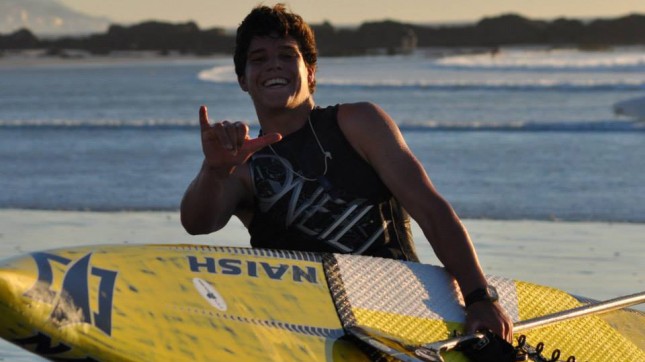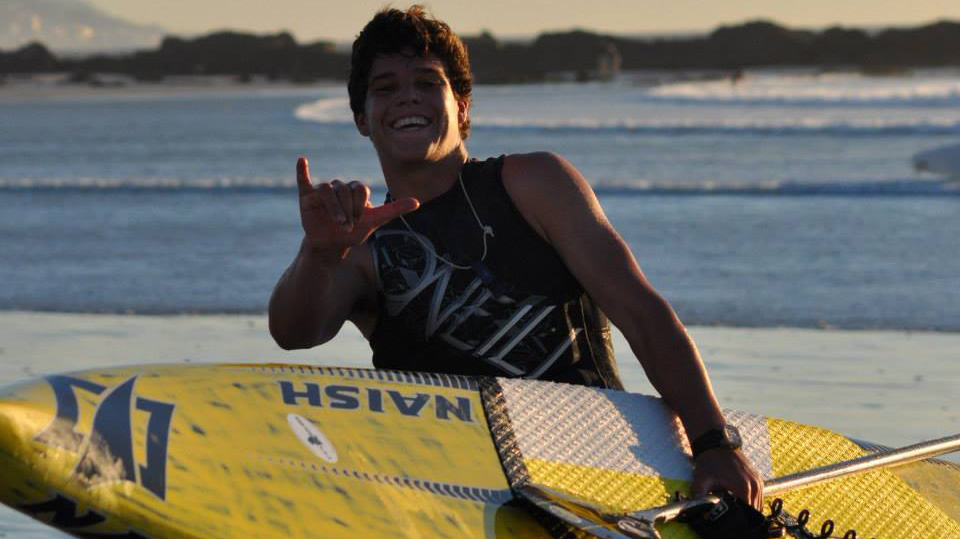 And sure enough, tonight was the night. Ethan beat the record. In fact he beat it easily in the end…
Ethan hit the beach 50 seconds faster than Ivan's time, setting the new mark at 42.07 for the 10.1km downwind run. That's an astonishing average speed of 14.4 kilometres per hour, even with the relatively slow start/finish in and out through the surf included.
Well done Ethan!
And the conditions weren't nearly as good tonight as they were 24 hours earlier. I was actually surprised he'd beaten the record as big sections of the run weren't optimal. So the future potential is looking very bright.
Tom King wasn't far behind in the end and nearly eclipsed the record himself, bumping Dylan down to 3rd in the process. Ivan van Vuuren took out 4th and was happy to hand over the batton to the youngster, having entered the over 45-year-old Legends division himself.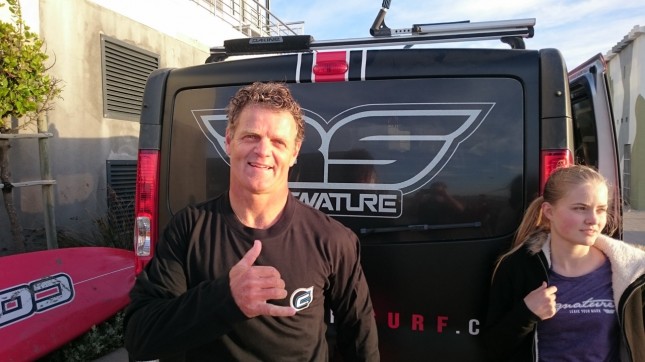 We were also stoked to have Chase Kosterlitz from the USA take part in tonight's race. Chase is visiting South Africa on his honeymoon with his beautiful wife Sarah and, after meeting up with Dylan to borrow a board, decided to jump in on the race and have some fun.
Chase was so enthralled by the beauty of the setting that he kept finding himself looking back at the awesome Table Mountain and checking out the Volvo Ocean racers thundering across the bay. As we all know downwinding requires your full attention on whats going on ahead of you, so Chase took a more leisurely course to finish 26th place on his maiden outing. He was super stoked to take part and we hope he'll have a chance to join us again sometime soon.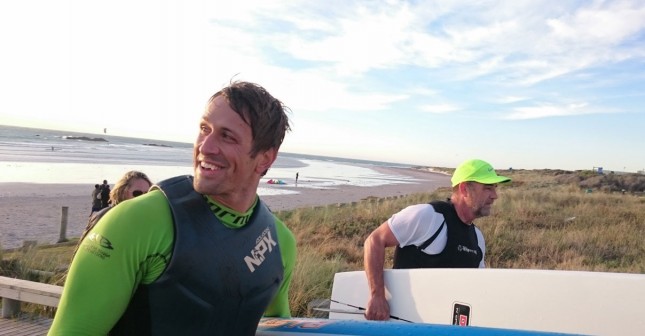 Tarryn Kyte smoked the Ladies field with Tammy Robarts taking a solid 2nd ahead of Mishka Steyn, who was battling to keep the nose of her flatwater race board above the bumps. Monica once again took the Divas with Kim Duvenage 2nd.
All in all a great evening with a new benchmark time set by Ethan. I predict he'll smash the 40 minute barrier soon – a bit more wind and it'll be in the bag.
You might have seen Ivan van Vuuren's XLTV programme about downwinding in Cape Town – it features classic conditions and is worth a watch. Chase said he was stoked to see our Milnerton to Big Bay downwind run first-hand. We're all just grateful we get to call this place home!!!
All photos by Peter Petersen (except the Volvo Ocean Race pic – that's from capebeachhouse.de)